If you're the kinda guy or gal looking especially for a copper fire pit then you've found a kindred spirit here.
I think copper is such a great material, and I love the opportunity of getting a range of household products in it.
There is nothing quite like enjoying a calm, relaxing evening under the stars with a fire crackling in front of you. Enjoying a fire on an autumn evening is an activity that most people can get on board with.
While many people love sitting around a fire, not everyone has space or a yard to accommodate a larger bonfire.
This is where fire pits come in handy. Fire pits are a great tool to utilize when you have a small outdoor space or a space that doesn't allow for burning directly on the ground.
The Best Copper Fire Pit
Fire pits come in all shapes and sizes to fit any style or size of home – you can even get portable propane fire pits for camping!
Some of the more common fire pit styles include:
Fire Bowls – a giant bowl-shaped structure that can either be used above or below ground
Fire Columns – an oblong-shaped column that holds a small fire around the eye level of a sitting person
Fire Tables – a table that includes a spot for a fire in the middle
Chimineas – a Spanish term for the chimney, is a fire pit built to resemble a stand-alone fireplace
Outdoor Fireplaces – a replicated fireplace built on a patio or other solid structure as an exact of an indoor fireplace
Fire/Water Features – fire pits that also include water features for an ambient, calming vibe
You will also find patio heaters. These are used in place of having an open fire for safety reasons.
Patio heaters are typically in use at events where a wood-burning fire pit may not necessarily be the best option due to the fire maintenance.
Each style is designed for a specific purpose and to fit the user's specific style needs. While each style and design offers benefits to the user, one of the best materials for use in a fire pit is copper.
While this post is dedicated to fire pits made from or coated with copper, check out our fire pit guide for more info on other fire pit materials, shapes, uses, and tips.
If copper is the material of your desired outdoor fire pit, you need to decide next what style and design best fits your entertainment space.
The options are endless, and if you still end up struggling to choose, check out these great fire pit ideas for more inspiration.
NOTE: Down below, I link to where you can purchase these copper fire pits on Amazon. However, I highly recommend visiting the Sunnydaze website for more great options. Compare prices and get the best deal!
1. Global Outdoors Hand Hammered Copper Firepit
The Global Outdoors branded 30" copper fire pit is 100-percent, hand-hammered copper.
The solid copper fire pit is thick and sturdy with a wide diameter allowing for larger fires. Not only is this large copper fire pit perfect for outdoor gatherings, but it also is reported as being great value for the price.
The design provides a product that is easy to maintain and has an overall aesthetic look.
Overall reviews of the Global Outdoors hand-hammered copper fire pit boast the high quality of the hand-hammered copper and the ease of assembly.
Drawbacks are the quality of the legs and the lid hook reported as being cheap and poorly designed for the heat.
Pros:
100% copper
Aesthetic look
Rust-free
Easy assembly
Cons:
Flimsy legs
Cheap lid hook
---
2. Fire Sense Palermo Copper Fire Pit
The Fire Sense Palermo copper fire pit is made of metal and coated in a copper finish.
This product comes with a mesh screen, steel grate, screen lift tool, and a vinyl weather cover to protect it from outdoor elements. This saves you from needing to buy a new spark screen separately.
The lightweight design makes for easy maneuverability and proves a great option for those with a small entertainment space. It is the perfect copper wood-burning fire pit for small spaces.
Reviews conclude the overall quality of the Fire Sense Palermo copper fire pit is a high-quality product and worth the price tag. The painted copper finish offers the copper look even though the bowl is not 100% copper.
One drawback reported by consumers is the fact that there were no extra screws or assembly materials shipped with the product the way there are with most products that require assembly.
Pros:
Easy assembly
Sturdy build
High quality
Cons:
Painted finish
No extra assembly materials
---
3. Sunnydaze Copper Finished Fire Pit Bowl
Listed at just over $200, the Sunnydaze copper finished fire pit bowl is another great option for a large copper-coated fire pit.
The contemporary design gives the copper firepit bowl a unique look that is sure to stand out in any entertaining space.
The copper coating makes for a rust-free product made of a durable 0.7mm thick metal. The 30-inch diameter ring is great for entertaining large or small crowds. Sunnydaze offers a 1-year warranty that grants peace of mind for this product.
This copper finished fire pit bowl from Sunnydaze offers a unique design and easy carry handles that are well-received by users.
The drainage holes in the bottom of the bowl serve as both a pro and con as the inability of the bowl to hold water is a plus.
However, the opportunity for hot ash to escape onto the ground or structure underneath is a downside. This could also damage your fire pit heat mat.
Pros:
Unique design
Easy carry handles
Drainage holes
1-Year warranty
Cons:
Drainage holes
Poker stick quality
---
4. TITAN GREAT OUTDOORS Copper Firepit
The TITAN Great Outdoors copper fire pit is 40" in diameter, and its solid steel base brings the item weight to 66 pounds.
The large size of the fire pit makes it a great accessory to use year-round as a larger fire offers more heat in the winter months and grants the opportunity for larger cookouts in the warmer months.
The vent holes on the TITAN Great Outdoors fire pit are again helpful if you leave your fire pit out without a fire pit cover.
The weight of this product is another drawback as moving the fire pit can become a hassle, so finding a more permanent spot for the TITAN Great Outdoors copper fire pit may prove the best option.
The taller stature of the fire pit is reviewed as a positive as it keeps the surface underneath protected from the heat and offers a better heat distribution.
This fire bowl can be inserted into a stone or concrete fire pit surround, but doesn't have to be.
Pros:
Elegant design
Size
Durability
High base
Cons:
---
5. Fire Sense Copper Fire Bowl
At just over $100, the Fire Sense copper fire bowl is an option for those looking for small, maneuverable copper fire bowls that do not break the bank.
At just 15 pounds, this fire pit boasts easy storage and small spaces. Specifically designed to burn wood, this is a 26" copper-covered bowl that sits in a metal base and comes with a mesh screen.
This copper fire pit bowl is portable and lightweight. Its small size is both a pro and con as it makes it easy to move around but only holds a small fire.
The overall durability is considered average, but the price point and ease of assembly make up for it.
My fire pit is almost as low as this one, but I use the Safeparty fire pit mat to protect the ground underneath. You can also add a base of sand to help insulate the ground from the heat.
Pros:
Price
Maneuverability
Lightweight
Assembly
Cons:
---
6. John Timberland Copper and Black Outdoor Fire Pit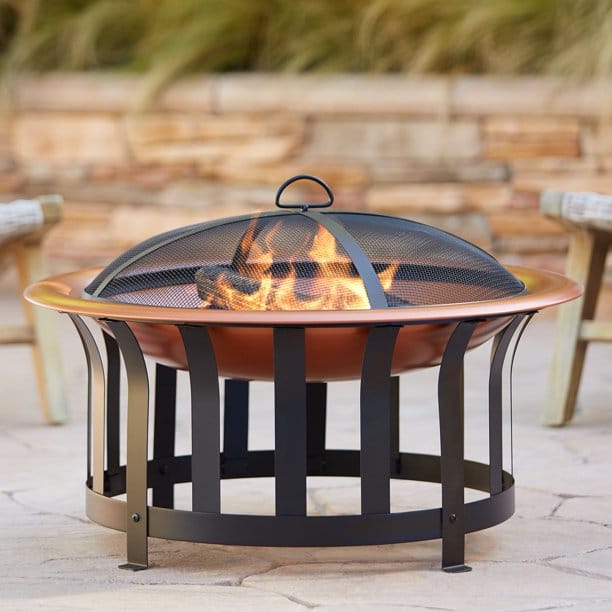 On the lower end of the price range, the John Timberland copper fire pit is the perfect option for a backyard patio or camping deck.
Made of steel with a copper finish, it is a lightweight product with a 30-inch diameter ring granting the opportunity for a large fire. This product comes with a steel mesh screen, protective cover, and fire poker.
One drawback for John Timberland Zurich fire pit is the time-consuming assembly process. Otherwise, the size and weight of the fire bowl make it an option for small entertainment spaces.
Pros:
Size and weight
Price
Sturdy
Cons:
Difficult assembly
Overall quality
---
7. Pure Garden Copper Colored Fire Pit
The deep bowl and log grate that makes up the Pure Garden Copper Colored fire pit are features that allow for hotter burning fires that the whole family can enjoy for long periods.
Portable in nature, this fire pit, made up of a steel base and copper bowl, offers a durable and appealing design that is enjoyable anywhere in your outdoor entertainment space.
Reviews come in mixed in regards to the overall stability of the product. Some reviewers state the product is stable, while others note the product is flimsy.
While these reviews are mixed, the majority say the product is stable and easy to assemble with a practical design that is great for entertaining.
Get some stylish fire pit chairs and start creating some memories!
Pros:
Low maintenance
Easy assembly
Practical Design
Cons:
Overall stability
Only copper colored
---
8. Fire Sense Lumina Copper Finished Fire Bowl
The Fire Sense Lumina is a 24″ copper finished fire pit.
It's a lightweight fire pit option that fits in virtually any outdoor entertainment space. The copper finished bowl paired with the steel legs and mesh screen create an attractive, rustic appeal.
This high-quality and sturdy designed fire pit holds an attractive design that fits well into almost any outdoor space.
While assembly is a con, the overall consensus is that assembly is time-consuming for one person. So to ensure ease of assembly, it is advised to have a helper when the product arrives.
Overall, customers have been pleased with their purchase.
Pros:
Sturdy
Attractive design
High quality
Lightweight
Cons:
---
9. Fire Sense Steel Copper Rail Fire Pit
Made of painted steel, the Fire Sense copper rail fire pit has a copper fire ring round the top that gives it a unique look to spice up any backyard entertainment area.
This fire pit burns wood, and its round shape and 28-inch diameter make it easy to gather around for entertainment purposes.
The copper fire ring is the key selling point for this copper fire pit as it offers a comfortable spot for users to prop their feet up and enjoy a fire.
The innovative design, price, and lightweight make for key selling points of this product.
Because the bowl is made of alloy steel and not copper, it is susceptible to rust. Fire pit rings are another option, many of which are rust resistant.
Pros:
Innovative design
High quality
Price
Lightweight
Cons:
Poor quality mesh cover
Rust
---
10. Safaviah Outdoor Copper and Black Fire Pit
Made with cast iron and a copper finish, the Safaviah copper fire pit is durable and eye appealing.
This fire pit comes with a grate and fire poker and could be set up quite nicely with a fire pit grill attachment.
The price and style of this product make for an appealing buy.
The lightweight of the fire pit makes it easy to maneuver and store away if needed. While the lightweight is a direct correlation to the size of the product, the size is considered a negative as it only allows for smaller, more intimate fires.
It is reviewed that this product wears easily; therefore, taking care and covering the fire pit when not in use is essential.
Pros:
Assembly process
Lightweight
Style
Price
Cons:
---
Why Copper Fire Pits?
Copper fire pits not only offer a rustic, outdoorsy look but also are built to withstand the elements.
Copper outdoor fire pits can virtually last a lifetime.
The durability of copper makes it a great option if you are looking for a product that will fit your outdoor space while remaining effective for its designed use.
Copper is also rust-proof, unlike cast iron, which makes it a great option for anyone who does not have the time or ability to ensure it is stored in a covered space that is not exposed to rain or snow.
Fire pits made of copper can hold virtually any shape, so it is not difficult to find a design that fits your style.
Best Copper Firepits
It is important to note that copper firepit tables are also an option for outdoor entertainment spaces.
While copper fire pit tables are an excellent option for entertainment purposes, they come with a thousand dollar price tag and are typically propane-based, which means they have a specific customer base.
If you are interested in a copper fire pit table, Sunnydaze offers a wide variety of copper fire pit tables.
Fire pits create a cozy atmosphere and are perfect for hosting an outdoor party. Whether you prefer a solid copper fire pit, copper fire pit bowl, hammered copper fire pit, or a copper fire ring, there are options to fit your entertainment style and space.
Do you want a more traditional outdoor fireplace?
Check out the Sunjoy fireplace range as they have some really good options.