The Stihl FS 56 Weed Eater is a 22.7 cc trimmer that's suitable for grass and light brush trimming.
We used and reviewed the earlier version of this saw, the Stihl FS 55, and were impressed. The FS 56, while similar, is even better. It's another straight shaft trimmer that can take a number of attachment heads beyond the standard string line.
The FS 56 is technically a homeowner-level trimmer, rather than a professional model, but it's at the top of that range and is more powerful than the FS 38, FS 40, FS 45, and FS50. It has a flex shaft rather than the better solid steel shaft.
Here are the different versions of the Stihl FS 56 and what users think of this grass trimming tool.
Stihl FS 56 RC-E and C-E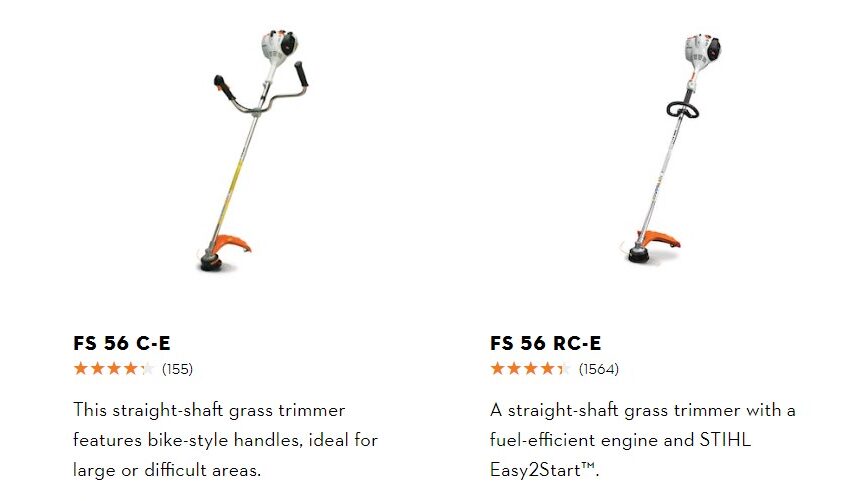 There are two versions:
Stihl FS 56 C-E – bike style handle with Easy2Start system
Stihl FS 56 R-CE – loop handle with Easy2Start system
The R on Stihl trimmers and cutters means the tool has a rounded loop handle. When it does not have the R designation, the trimmer will have a bike-style handle.
Our preference is for the bike-style handle. It makes these trimmers so much easier to use, especially for longer periods. The loop handle can be very awkward and difficult to use for longer than 15 minutes or so.
C on Stihl trimmers and cutters means the tool has an additional comfort or safety feature. This can be a range of things, but in the case of the FS 56, it's designated E, which is the Easy2Start system.
The STIHL Easy2Start system simplifies the process of activating STIHL outdoor power tools by minimizing the need for a strong pull of the starting cord. This functional system is aimed at making the use of STIHL products more accessible and efficient for a wide range of users.
Other than the different handles, these versions are the same.
Stihl FS 56 Reviews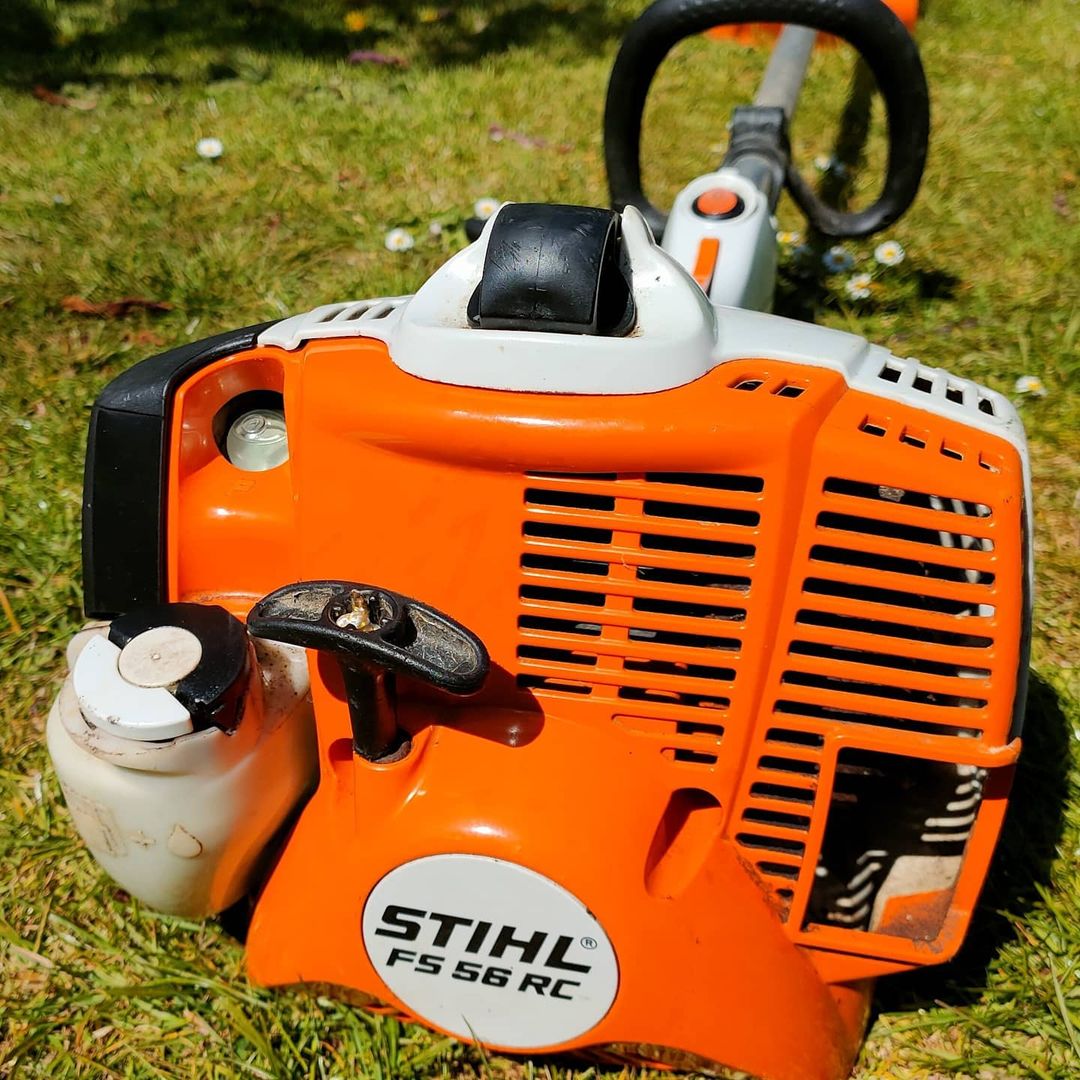 The FS 56 Trimmer is very good, but the problem is that the pro-level Stihl Trimmers are so much better.
The big difference between the homeowner models and pro models, other than that the latter is higher powered, is that the pro versions have a solid shaft rather than a flex shaft. Solid shafts are stronger and more durable. They can take more abuse and are best for commercial or heavy use.
In the Stihl Chainsaws FB group, a chap called Tom asked this question:
Does anyone use the STIHL FS 56 RC for brush cutting? If so, how do you like it?

Looking for something to use at the Hunt camp a couple times a year.
These were the responses:
The 56 is too small.
No, get a bigger one. I have a 56 it doesn't have a solid shaft and I wish I'd got the bigger one.
Get an FS 94 at least. The 56 has a flex shaft and you want a solid shaft. The 94 and above have that so you can run the blades.
Buy yourself an Echo SRM-2620tT instead. You won't regret it.
I've used mine and while it got the job done I'd go with a bigger model. I'd go at least FS 91.
I use the grass blade on my 56 all the time the one with 4 points on it.
56 is a solid shaft. I have a grass blade and it works ok for occasional use.
Jim said:
It will do it, slowly. If you use it hard the clutch gets hot and starts melting things. The 91 isn't bad but if you are doing serious brush cutting get the 111, you won't regret spending the extra few dollars.
Dennis said:
The Stihl FS 56 has a cable driveshaft. It's not intended for use with brush cutting blades because the cable drive shaft will snap… A poly cut head would work fine.
And Clarence said:
The 56 won't do a good job. I got the 91 with the brushcutter blade that has the teeth like a chainsaw. Its a little heavy but it cuts better than any trimmer I've used. Cuts up to 3 inch stuff pretty easy. Good fuel economy and loads of power. I don't know why I even bought the 56 so I sold it to my brother.
These comments are typical of those who have the FS 56. Basically that it's a good trimmer for grass and weeds, but not suitable for anything denser than that. Also, there are many who express regrets about not going for a more powerful model.
Specs And Features
| Specification | Details |
| --- | --- |
| Power Source | Gas |
| Weight | 10.6 lbs. / 4.81 kg |
| Cutting Width | 16.5 in. |
| Engine Power | 1.07 bhp / 0.798 kW |
| Fuel Capacity | 11.5 oz. |
| Displacement | 27.2 cc / 1.66 cu in. |
| Purge Pump Primer | Yes |
| Stihl Easy2Start | Yes |
| Translucent Fuel Tank | Yes |
| Adjustable Handle | Yes |
| Carrying System | Yes |
| Steel-On-Steel Clutch | Yes |
| Reduced Emissions | Yes |
| Solid Shaft | No |
| Fully Lined Drive Shaft | Yes |
| Gearbox Attachments | No |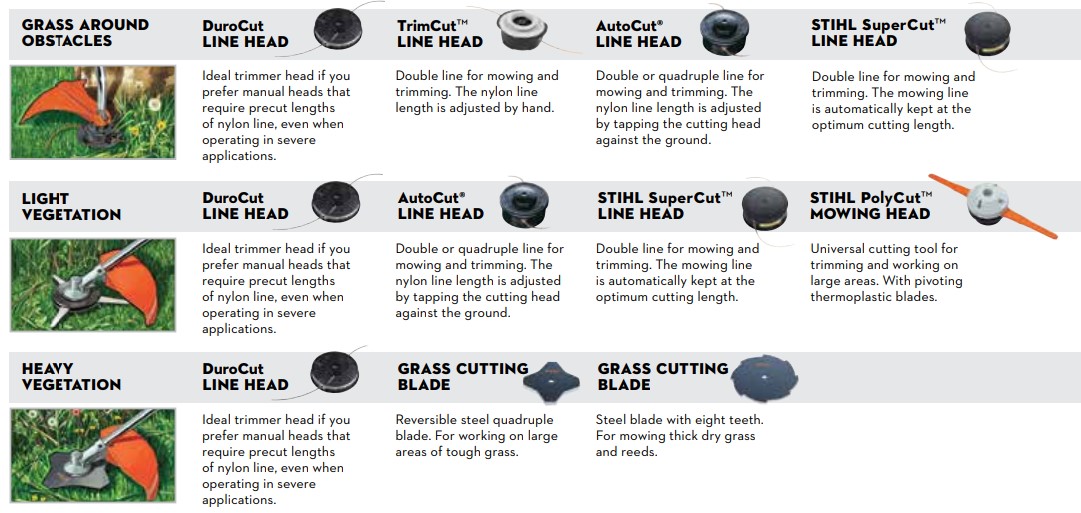 The Stihl FS 56 can be used with the following heads.
Light Grass Trimmer Heads:
AutoCut 25-2, C 25-2, C 26-2
DuroCut 20-2
FixCut 30-2, 31-2
SuperCut 20-2
TrimCut C 32-2
Heavy Grass Mowing Heads And Blades:
PolyCut 20-3, 28-2
Grass 4 (25.4 mm)
Grass 8 (25.4 mm)
The FS 56 is not rated for use with any of the Brush Knives or Forestry Saw Blades.
Stihl FS 56 Weed Eater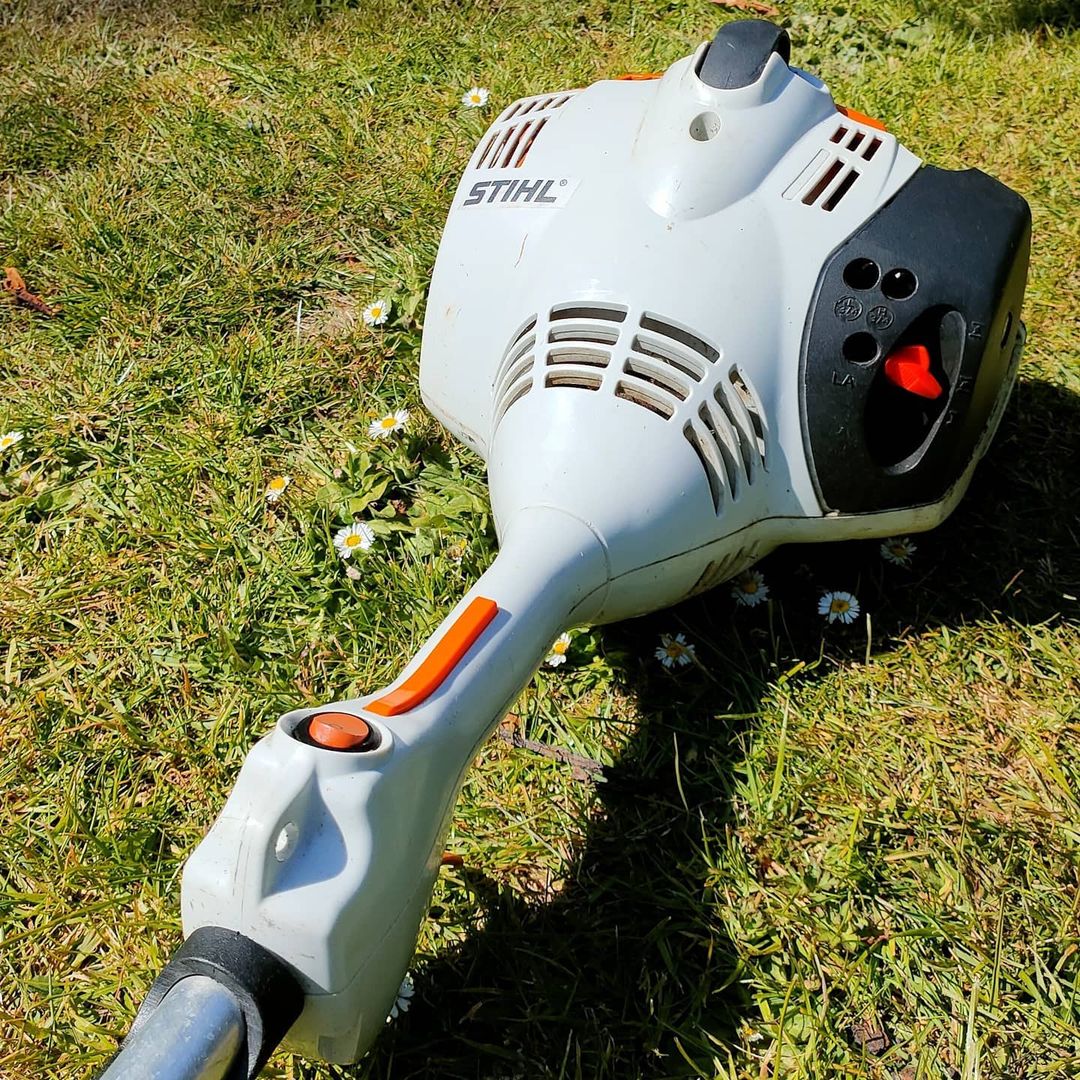 Like 99% of Stihl tools, the FS 56 is a good line trimmer and weed eater. When it's used for the tasks it's designed for it performs well and gets the job done.
The only problem comes when people want to do heavier or longer work with it. It's not good for regular brush cutting. Though it can handle light brush cutting, it's not ideal for that task and you'll risk damaging or destroying the drive shaft.
If the budget can be stretched, upgrade to a better professional brush cutter for heavy-duty work, and don't rely on the FS 56 to get it done. Professional models work harder and faster and can deal with a greater variety of grasses, reeds, brushes, plants, and other unwanted growth.
Let us know your thoughts in the comment section below. Lastly, for interest's sake, do you know what FS means? And check out this guide to stop your line trimmer string from breaking.