Buying a used chainsaw usually goes one of two ways: very well or very badly.
I've personally bought 4 or 5 different used Stihl and Husqvarna chainsaws and they've mostly been positive experiences.
I just bought this Stihl 011 AV from a local guy, and it went really well. Also, I bought this used Husqvarna 450 a while back as well, and it's been a great saw.
However, I also bought this Stihl 180c and had a lot of problems with the saw. I don't think the guy selling it to me represented the condition very accurately if you know what I mean?
In this post, I've summarized the Stihl Chainsaw Facebook group's guidelines on buying used chainsaws because they really do cover all the bases.
How To Buy A Used Chainsaw
This is the video from Tom Scandian who is one of the Stihl Chainsaw Fans FB group moderators – you can find him on his YouTube channel Vintage Engine Repairs.
One of the pinned posts in this 100,000+ member group is about chainsaw scams. There are always people buying and selling chainsaws and parts in the group, and this of course attracts scammers.
Just today I saw this post about someone who had been ripped off.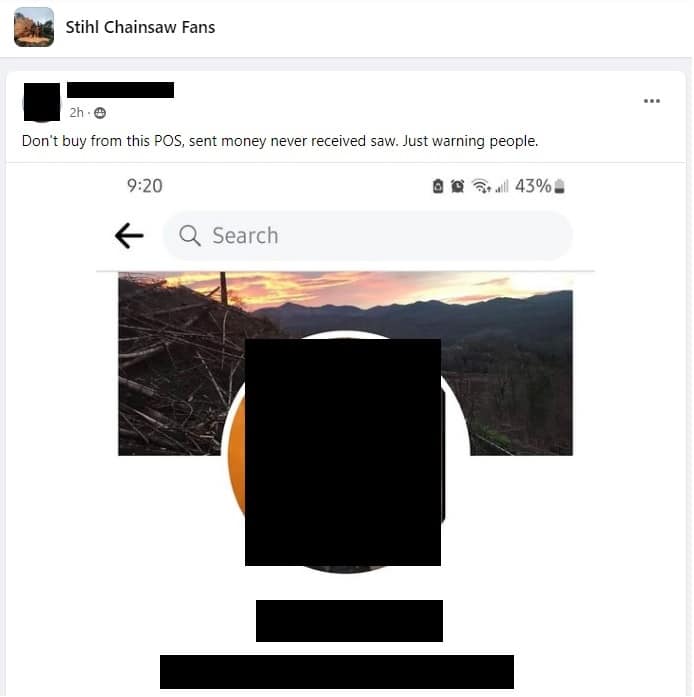 And I also came across this scam in a New Zealand chainsaw FB group.
This dude is selling a mint condition Stihl 070 for $300 stating it can be converted to an 090.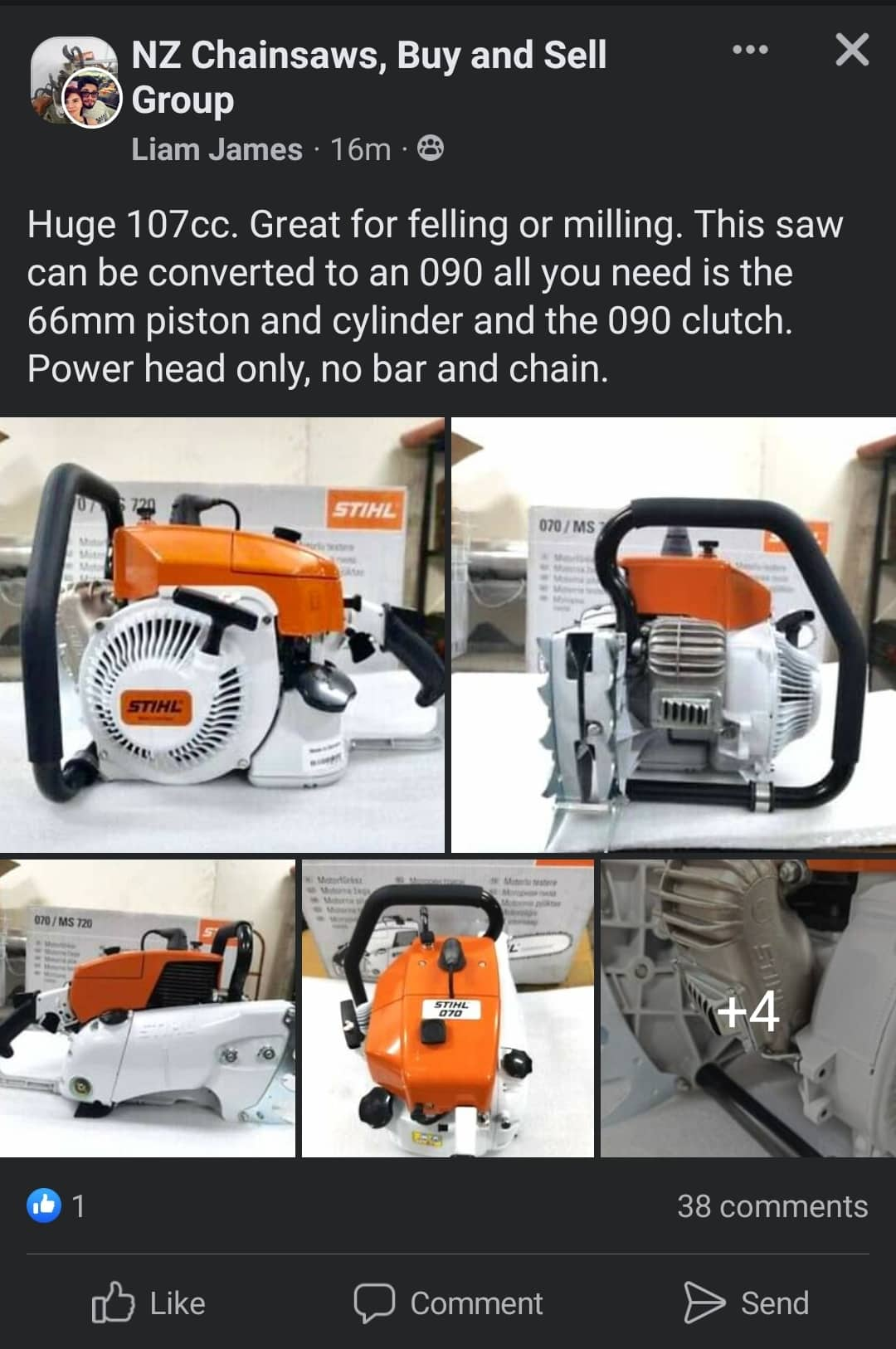 The unrealistically cheap price should be enough for most people to see through the scam, but just taking a look at the guy's profile reveals all.
It was obviously set up using a fake image, though he didn't go to the trouble of making it look authentic. Despite saying in the comments he would be shipping from California, his location was an African country, and it only went downhill from there.
No one was taken in by this obvious scam, though some played along for a bit.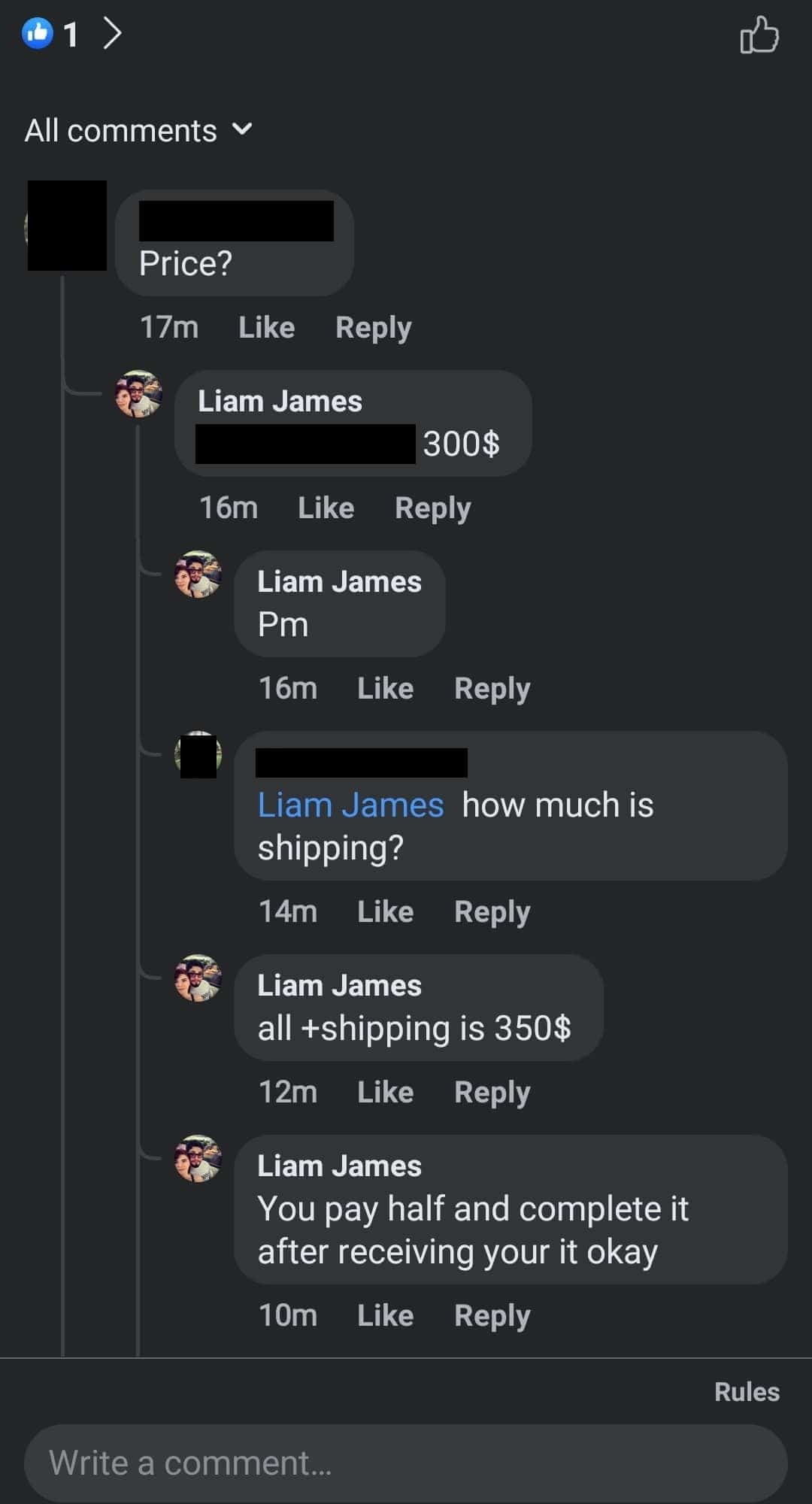 And someone else in the thread had found where the images were taken from – a listing on eBay Australia.
So this type of chainsaw scam is easy to spot, but others are less so.
The pinned post in the Stihl FB group states:
**BEWARE OF SCAMMERS WHEN BUYING FROM THIS GROUP**

Myself and the mod team constantly get reports of people being scammed. The option you DO NOT want to use is paypal "friends and family".

Most of the time victims of a scam use this option for paying people. This does not give you any recourse if the item does not show up.
They state that the two most important things to do are:
Only use paypal "Goods and Services". Paypal will give you the option to launch a dispute if this item does not show up to you in the mail.

Only pay with a credit card. ABSOLUTELY DO NOT USE A BANK CARD/TRANSFER. Most credit cards these days have zero fraud liability if you are concerned about information being compromised. If PayPal ends up becoming useless in the dispute, just simply launch the dispute from your credit card. Chase bank credit cards are the best for winning disputes. American Express would be second.
You can see the entire post here if you're part of the group.
Or just read it here.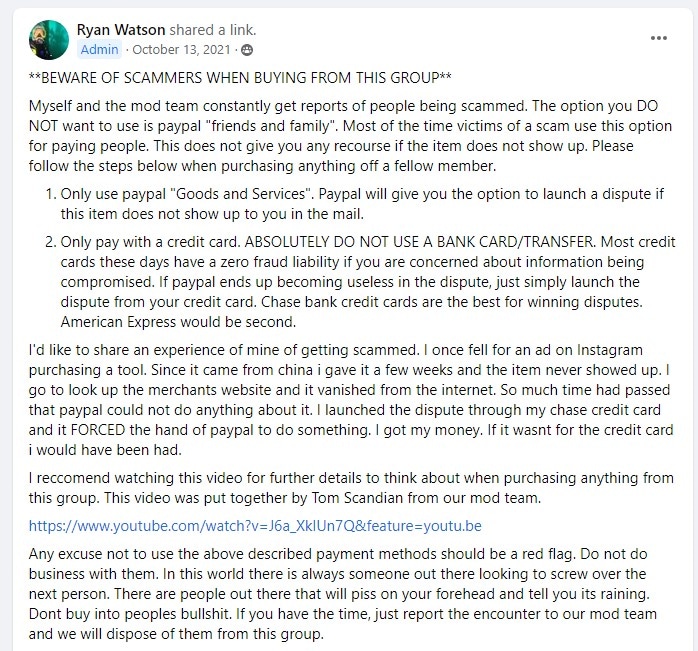 The YouTube video linked in the screenshot is the one embedded above, or you can check it out here.
The following list on how to buy a used chainsaw is a summary of what Tom shares in that video.
1. The Seller
In your conversations with the seller, judge whether or not you think the deal is legit.
Sometimes you can feel in your gut whether or not someone is trying to scam you, and if you get that feeling, pay attention to it.
---
2. Payment Method
Only pay for second-hand chainsaws online using PayPal Goods and Services.
There are other options, of course, including bank transfer, crypto, or the friends and family option on PayPal that doesn't have any fees.
When you pay with PayPal Goods and Services, you are able to open up a dispute if there ends up being a problem.
If you use the Friends and Family method of payment, you cannot open a dispute.
Alternatively, pay with your credit card, rather than a regular bank card or debit card, as the former also has insurance against scams whereby you can open a dispute.
---
3. The Chainsaw
Check for new parts on old chainsaws.
This doesn't necessarily mean there's a problem, but it can mean the chainsaw has suffered more extensive damage that has been covered up.
If it has new casings or handles, it's possible it was dropped and may have sustained more serious damage inside. If you see new parts on a chainsaw, find out the story behind it.
Has the saw been ported? Ask if it's been run with ethanol fuel. Or if they've used motor oil for bar oil instead of regular oil.
---
4. Aftermarket Parts
Are the news parts OEM or a lesser quality aftermarket part?
OEM (original equipment manufacturer) parts are made by the original manufacturer and are often much more pricey. Whereas aftermarket parts are made by a 3rd party and are a lot cheaper.
As you can guess, aftermarket parts are not the same quality as OEM. That's why it's important to find out what type of parts the second-hand chainsaw has been repaired with.
---
5. General Condition Of The Saw
Does the chainsaw look like it has been treated well?
Consider whether or not it has been looked after.
Has the owner completed general maintenance tasks like cleaning the air filter?
Are there any significant dents, scratches, or cracks in the casing?
If the saw looks like it has been abused, it probably has been, and it might be best to pass on it.
---
6. The Muffler
Next up is the muffler.
Tom recommends taking the muffler off to check the cylinder, piston, and crank (the most expensive parts of a chainsaw).
It's also a way to check if there are any aftermarket parts under there – OEM will have the Stihl logo on the parts.
Check for scoring on the piston (watch the video to see what this looks like).
Ensure that there is a good film of oil over the piston, that there are no cracks on the muffler mounting hole/threads, and that the overall condition of the muffler is good.
---
7. Magnesium Rot
Most pro chainsaws have magnesium casings, and many old non-pro saws, such as the McCulloch 610 also have them.
This magnesium can deteriorate from being wet or from cutting particular types of trees like palms.
Check the bottom of the saw, under the clutch cover, inside the fuel tank, and wherever else you've got magnesium.
---
8. The Clutch
The clutch, clutch drum, and crankshaft bearings can also be checked once the cover is off.
See if there is any wriggle in the nut in the center of the clutch drum.
Check if the sprocket and the clutch drum are worn – the drive links of the chain wear down the teeth of the sprocket over time, so it's important to check especially on older chainsaws.
---
9. Air Filter
Check if the air filter is damaged and also consider the type of air filter.
Old saws tend to have mesh filters that can let a lot of dust etc. through, whereas more modern filters protect the engine much better.
You might want to find out how easy or difficult it is to find new replacement air filters for the saw you're looking at.
---
10. Start The Chainsaw
Start the chainsaw and see how well she goes.
How many pulls do you need to give it to get it started? How easily does it start after you take it off choke? Does it idle well?
Listen for any abnormal rattling or knocking.
If the seller is happy for you to put it through some wood, certainly give it a go.
---
Cheap Used Chainsaws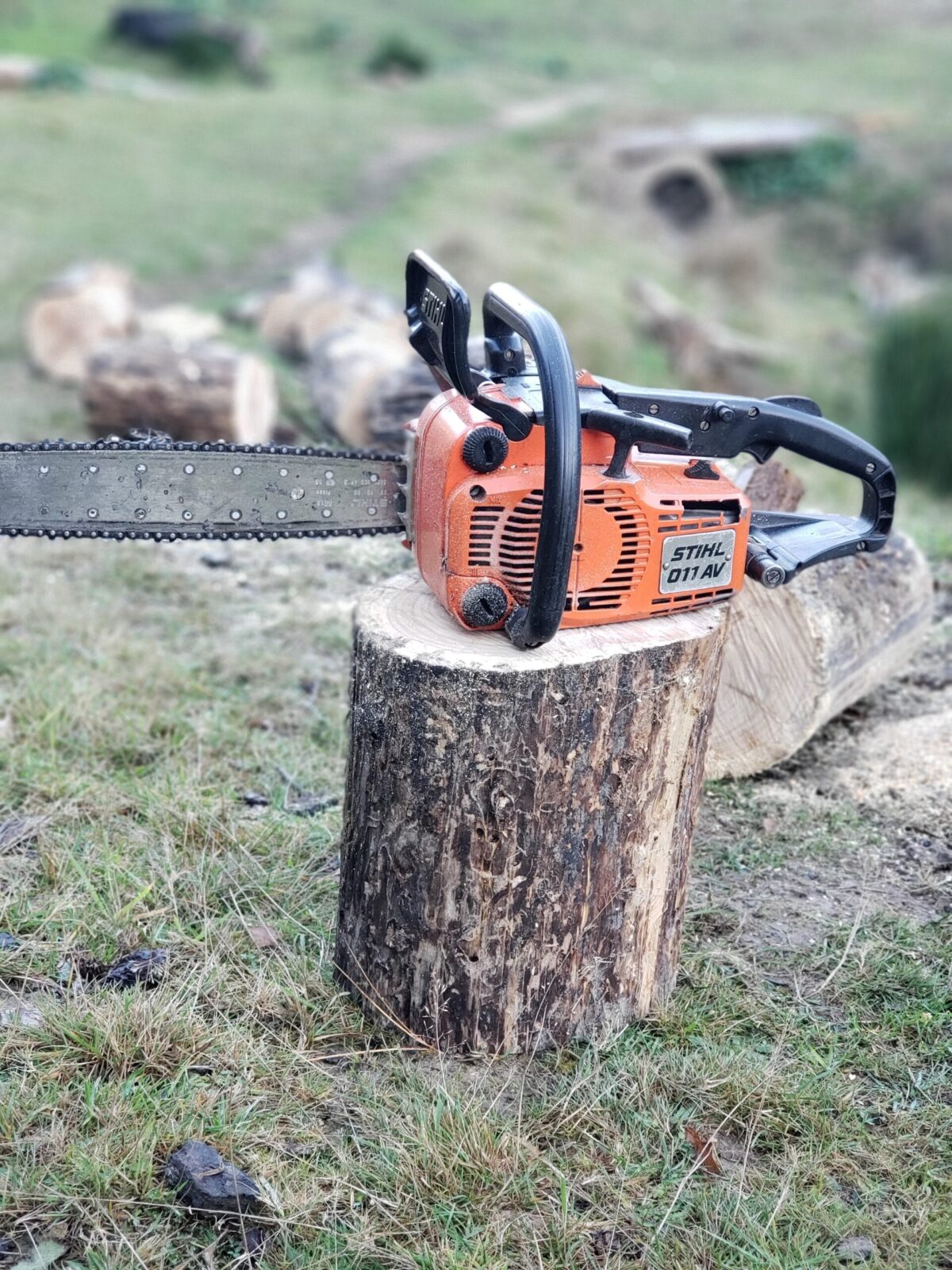 Some of these steps and checks could be overlooked if you're just buying a cheap used chainsaw.
If you've found a working Stihl MS 200T for $50, take it and run (unless you suspect it's stolen)!
Or if you're just looking at cheaper homeowner chainsaws, you might get away with just checking the general condition of the saw and getting a feel for the seller.
If you're buying a pro saw and paying a good price for it, definitely try and give it as good a viewing as you can before handing over your money.
Either way, always remember to use the Goods and Services option in PayPal if you're buying online.
Where To Buy Used Chainsaws
While many people do successfully buy used chainsaws from Facebook Groups, unless it's a known member of the group with a good reputation, it's sometimes best to avoid it.
Facebook Marketplace is somewhat better because you can usually learn a bit more about the seller and you'll likely be dealing with a local person.
Ebay and other online marketplaces are also good because you can usually read previous buyer feedback and reviews.
If they are a brand new seller without any history, beware.
Here are some spots for buying a used chainsaw:
But otherwise, there are many different marketplaces like Craiglist, Gumtree, Trade Me, and so that might present some good opportunities.
Used Chainsaws For Sale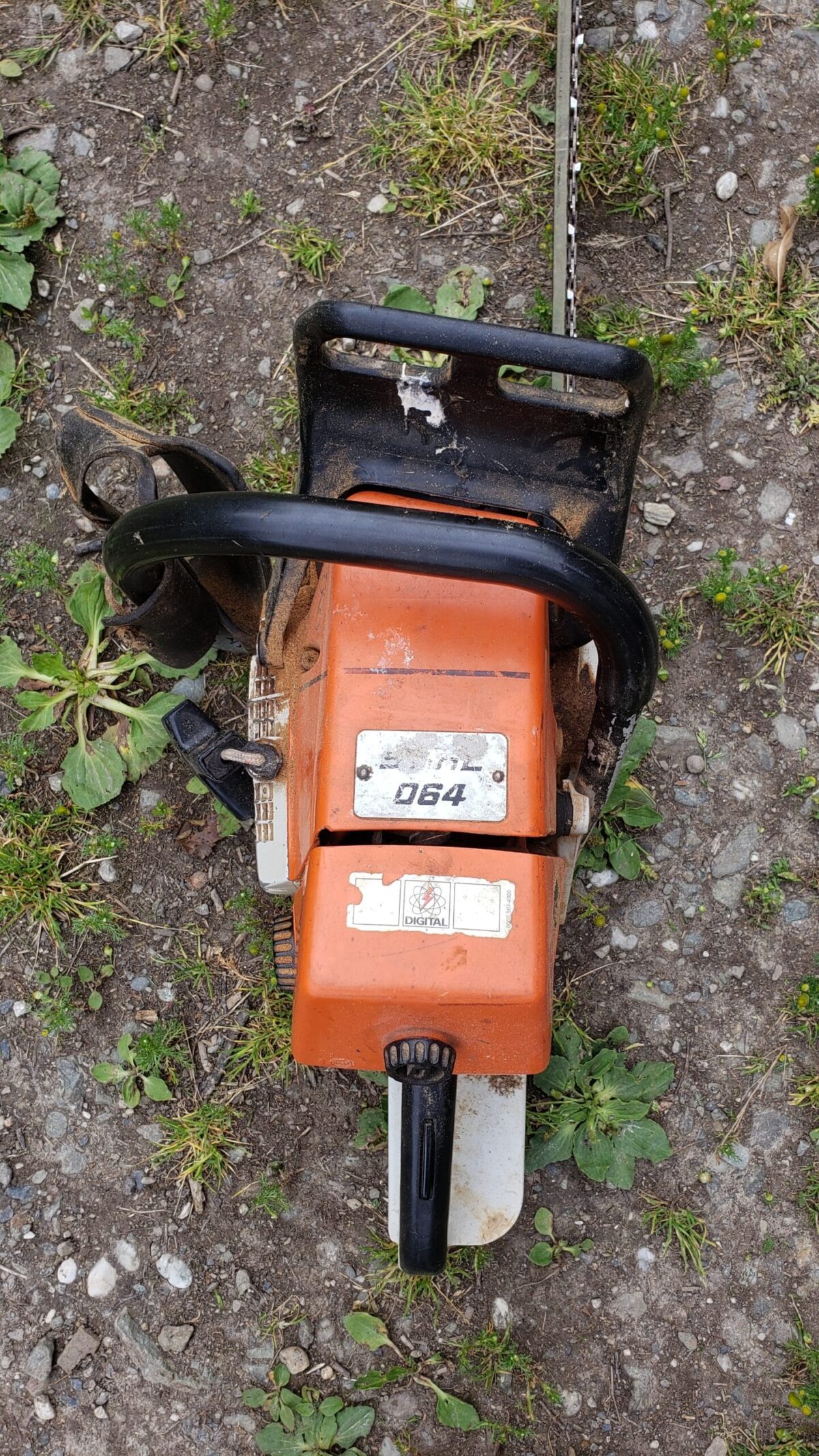 Finding good used chainsaws for sale can be difficult, but taking the right approach is important.
Like I said at the start of this post, I've had a number of successful used chainsaw buys and one that didn't go so well.
If you don't know much about chainsaws, you might be able to take a friend who does along with you – that's better than buying a lemon.
Whether you're buying a Stihl 064 or a DEWALT battery-powered chainsaw use your gut first and foremostly. If something seems off, it usually is.
If a chainsaw is listed far cheaper than you know it should be, then it's likely stolen. Deals do come up every now and again when someone doesn't know what they have, but you don't want to come into the possession of a hot chainsaw.
Let me know your used chainsaw buying or selling experiences down below. Most chainsaws for sale near me are Stihl or Husqvarna, and sometimes the odd Farmertec Holzfforma, but what do you mostly find for sale?