The Stihl MS 311 is a 59 cc, 4.2 hp chainsaw. It's a top-selling Stihl saw, but it doesn't always get the best reviews. The 311 is NOT a professional chainsaw but rather, it is part of their farm and ranch series.
This range includes powerful chainsaws that are good for semi-regular non-commercial use. They aren't entry-level saws like the MS 170, but they're not the best STIHL saws either.
Those wanting a saw for regular use would be better off getting a pro saw with a better power-to-weight ratio. But those simply wanting a saw for cutting firewood on the weekend will find the MS311 a good choice.
*Compare prices at Ace Hardware and Northern Tool. Used MS 311s in a range of conditions can be found on eBay.
Stihl MS 311 VS 391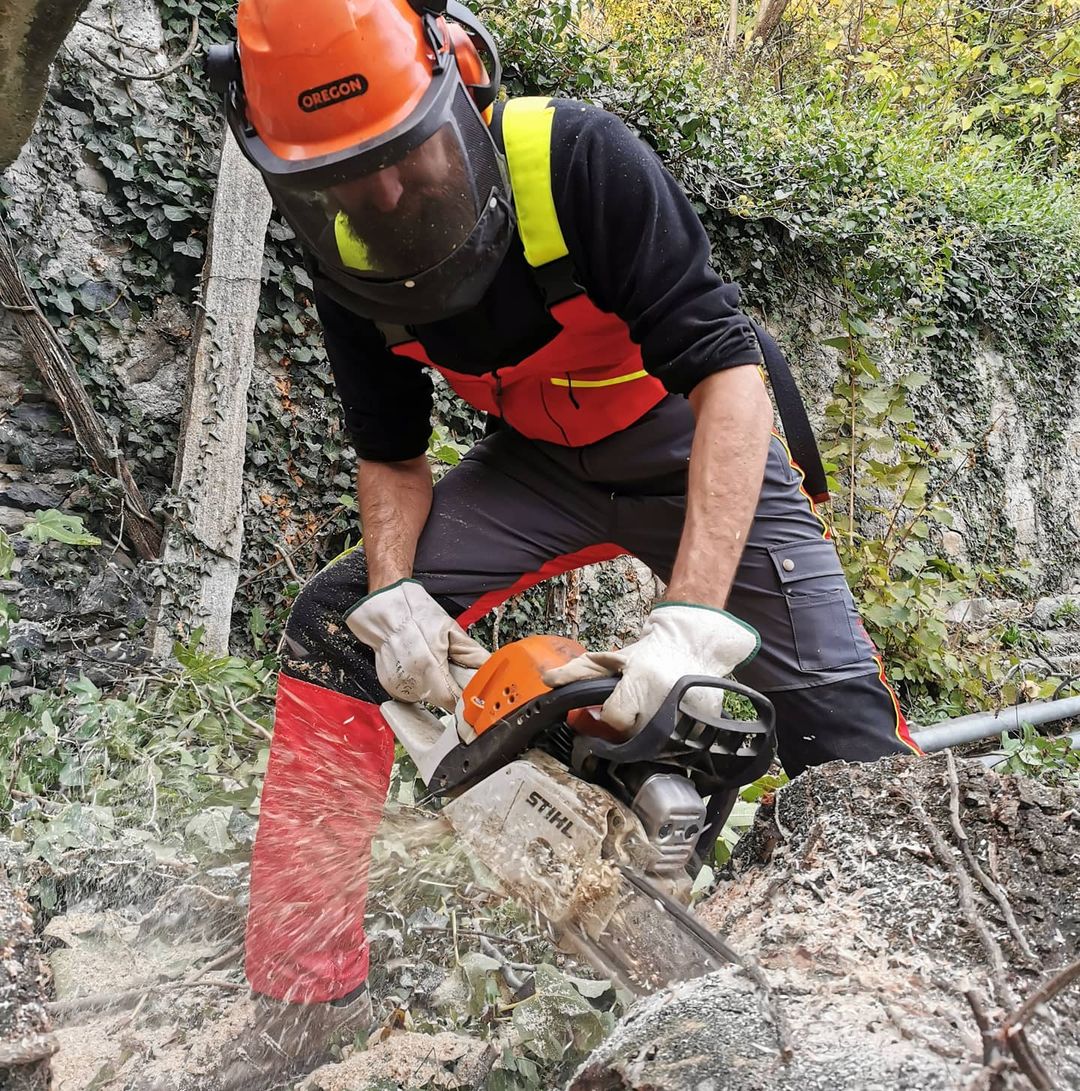 The STIHL rancher chainsaw range also includes the MS 290 and MS 391. They are all similar saws that users either love or hate. They often feature in round-ups of the worst Stihl chainsaws, but that doesn't mean they aren't good for some users.
Coming after the STIHL MS 310, the MS 311 entered production in 2009 and is still in production in 2023. It hasn't undergone major changes during this time and there aren't other versions such as an 'MS 311 C' or anything like this.
The MS 311 is most often compared to the MS 391 and the question "Which is best, the 311 or 391?' is often asked. They are basically the same saws, it's just that the 391 is more powerful – 59 cc compared to 64 cc.
| | | | |
| --- | --- | --- | --- |
| | MS 291 | MS 311 | MS 391 |
| Displacement | 55.5 cc /3.3 ci | 59 cc / 3.6 ci | 64.1 cc / 3.9 ci |
| Horsepower | 3.7 hp / 2.7 kW | 4.2 hp / 3 kW | 4.4 hp / 3.2 kW |
| Weight | 12.1 lb / 5.4 kg | 14.1 lb / 6.4 kg | 14.1 lb / 6.4 kg |
| Bar Length | 16 – 20″ | 16 – 20″ | 16 – 24″ |
Here are a few comments from FB on which is best:
If you're set on one of these two, then 391, the same weight, more power.
I have a 311 and have used the 391. Both are good saws.
I have a 311. Never had an issue. I used it for 3 years almost daily when I worked for my cousin's tree service. I work for a fire department and we have a 311 with a carbide chain. It's a beast.
311 and 391 are the same saws, just one has a bigger bore than the other. My opinion is to get the 391 due to more hp vs weight, plus it'll do everything the 311 will but also pull a bigger bar if ever needed.
But a great many people will recommend the STIHL MS 261 as the best alternative to both of these saws. The 261 is a 50 cc pro saw that generally outperforms and outlasts any of the Stihl farm and ranch saws.
Stihl MS 311 Reviews
Those who have the MS 311 tend to really like the saw. Most of the negative comments come from those who only use pro saws and may not even have used them.
Like any STIHL saw, the 311 is well-built, reliable, and will last decades with the right care. No, it's not as good as other STIHL saws, but not everyone has the budget for the top end of the range.
Here are some comments from those who have used the saw, first the positive:
I absolutely love mine.
I'm happy with my 311 saw.
The 311 is a highly underrated saw.
Ms311 is a nice saw. I have one and for what I do I'm happy with it. 20″ bar as well.
I like it even though it's technically just a "Farm & Ranch"… aka high consumer saw!
I learned a lot on mine that I bought back in 07 or 08. Haven't used it since I bought my 461 but I do intend to send it to the shop and have it gone through and put it back in the lineup.
And the negative:
311 sucks compared to 261, 362, 400, 466. Even my old-ass farm boss outperforms the 311.
The 311 is one of the worst saws out there. I say that because of how it's designed with the side plate that ALWAYS comes off of the head. Not a good saw at all.
The 311s power-to-weight ratio is horrible.
I think the 291, 311, and 391 need their own support group.
Only a real man's saw if you're 3 years old
Plastic case saws will never outlast pro saws unless you're Johnny Homeowner that cuts for 10 minutes a year.
Oh they are just the best especially when the glued on plate by the transfers pops loose causing an air leak. Straight up quality.
You'd have to be a hell of a man to lug that heavy medium powered saw around!
Chris started a thread in the Stihl FB group, posting:
Ok Stihl guys now I hate to admit this, but I have some good news for you all. I am a diehard Husky fan and own 2 460 Ranchers, my go-to for my brush cutting side business. Recently, a very nice customer of mine sold me his barely used Stihl MS 311 and wanted me to buy it badly. Well, after using it, I am glad I did. The 311 cuts a little better than my 460s. I can get more firewood cut per gas tank as well because it cuts through the thicker logs better. They all have 20" bars. Now I'm glad I did buy it. The 311 is a beast.
To which Richard replied:
You will immediately get a whole bunch of comments suggesting the 311 is all sorts of inferior to any number of larger professional grade saws. Yeah well possibly true, but irrelevant in your experience. If the saw is doing what you want and impressing you then go with the evidence of your own eyes, arms, and wood pile… We don't all need full house pro saws, a lot of us just cut wood to keep warm or after a storm to clear the yard or driveway, for that a home or farmer saw is just fine. Only real reason you need a pro saw is when you are earning money with it.

Sometimes you get a saw that others might have a low opinion of and you will find it goes great, my 390 gave me years of trouble free service and I earned money with it for several years – got plenty of comment about cheap saws but it still runs perfectly today… Only reason it is sidelined now days is because I picked up a really nice 440 for pocket money, and yeah, that was a good step up… Enjoy your 311. Keep the fuel ethanol free, the chain sharp, the tuning a bit fat, the synthetic oil premix at 40:1 and should be good for decades to come.
Brandon replied to this saying:
They were wanting you to buy it because it sucks. Both of those saws, the 311 and the 460, are both plastic clamshell homeowner saws. If they twist you up, awesome; but they're decidedly not awesome.
Patrick chipped in:
The 460 sucks and the 311 is even worse. They both are heavy and underpowered. Buy a real saw like 261/400/440/462/500i/ then tell me what you think.
And Mark said:
A 346 XP or a MS261 will cut circles around that 460… The only thing those Rancher saws are good for is a boat anchor. Get yourself into the pro series and you'll be even happier.
But again, no one's suggesting using the MS 311 for heavy-duty or professional work. As one of the commenters said, it's good for light-to-medium homeowner use.
Specs And Features
| MS 250 / 250 C Specs | Details |
| --- | --- |
| Cylinder displacement | 59 cm³ / 3.6 cu. inch |
| Power | 3 kW / 4.2 hp |
| Cylinder Bore | 47 mm / 1.85 inch |
| Piston Stroke | 34 mm / 1.34 inch |
| Max RPMs | 13,000 |
| Idle RPMs | 2,800 |
| Powerhead weight | 13.7 lbs / 6.2 kgs |
| Fuel tank volume | 0.6 l / 20.03 fl oz |
| Oil tank volume | 0.350 l /11.8 fl oz |
| Oil pump type | Automatic, fixed flow |
| Chain gauge, pitch | 0.063″ / 3/8″ |
| Bar length | 40 – 63 cm / 16 – 25 inch |
Full specifications, features, and instructions can be found in the MS 311/391 manual (download here).
Stihl MS 311 Bar
The 311 is recommended by STIHL as being suitable for use with 16, 18, and 20-inch bars. But as with all saws, guys run much longer bars on them than that. It's even sold with 25-inch bars.
While there are disagreements on the best bar for an MS311, 20 inches is best in our opinion. But here are a range of comments in response to "What is the best bar for a 311?"
My 311 runs better with the 20-inch bar.
I have a 311 to run for firewood they have 16-inch bars on them I love them.
I've been running a 25″ on mine daily and it eats right through all I put it in.
20 is just fine for that saw. Get a bigger saw if you want a bigger bar.
20" is plenty for a 311, anything more and you will just blow it up a few years earlier than it's destined for already. We ran a few until blowing them up after a couple of years then went to 361s to replace them.
I have a 28" Forester for stumping. Pulls it fine. Stihl is worried about the plastic saw housing.
Run 25 inches on mine… sharp chain, let the saw do work you'll be fine. I have 20 and 18 for smaller jobs but usually 25 with full chisel works for anything.
And Chatham said:
Been cutting a ton of firewood with a 311 recently. 20″ is the max "id ever run on one though. Bogs at times in hardwoods with a 20. Mod it and use a good hand-filed full chisel chain and it will cut some serious amounts of wood. Wanna play with the big boys buy a bigger saw. I prefer to keep my timber saws and chains away from cutting firewood til they retire.
Price And Parts
As we shared in the intro, you can compare current prices at Ace Hardware and Northern Tool. At the time of writing, a new STIHL MS 311 is going for around US$629 – $649. When Stihl has a sale prices can drop another $40 or $50.
The price of used MS 311s on eBay depends on location and condition. The 311 doesn't hold its value or have as good a resale value as many other Stihl saws, just because it's not as popular or rare. Plus, because they're often run by homeowners without a lot of experience they haven't been looked after.
A 311 in excellent condition can be expected to sell for between $400 and $500, but for a well-used saw, you might only expect $100 – $200. It's not highly desired like 015s or 250s.
Stihl MS 311 Chainsaw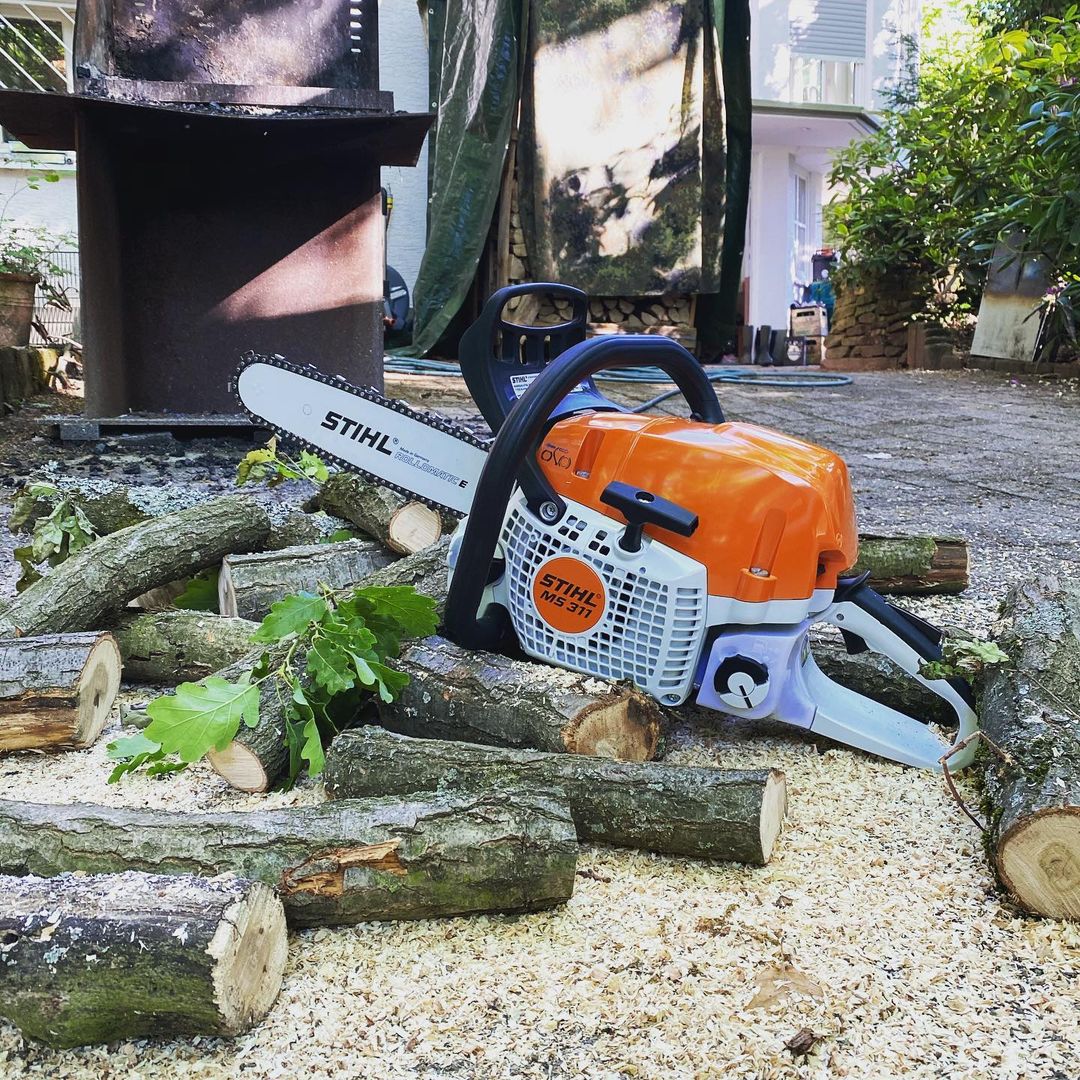 The STIHL MS311 is a good chainsaw for homeowners and firewood cutters. While it gets a lot of hate from the Stihl community, that doesn't mean it's completely worthless. Plenty of guys are having lots of success with it.
The best pro alternative is the MS 261, and any of the other Farm Boss saws are similar substitutes both in price and performance. The Husqvarna Rancher range is comparable Husky alternatives. The 460 was already mentioned above, but the 450, 455, and 465 are other saws in the series.
Let us know your thoughts on and experiences with the MS 311 in the comment section below. Do you love it or hate it?