The Husqvarna 465 Rancher was released in 2016 and was only sold for about two years – one of the shortest Husqvarna chainsaw production runs ever.
The big difference between it and the other Rancher chainsaws is that it had the AutoTune feature. The AutoTune system is essentially an intelligent carburetor adjustment system. It is designed to automatically adjust the fuel/air mixture in the chainsaw's engine in real time, ensuring optimal performance regardless of conditions.
The only problem was that not everyone liked this feature, or, as one commenter put it, "The 465 was one of the worst Husqvarna saws ever made. The autotune was junk and not tested well with Rancher materials." However, not everyone agrees with that sentiment, as we'll share below.
*Check out the old Husqvarna 465R listing on Amazon here.
Husqvarna 465 Versions
The Husqvarna 465 Rancher was described by Husqvarna like this:
A robust all round saw, ideal for demanding cutting jobs where more power is required for work with a longer bar. Equipped with X-Torq® engine with high torque over a wide rpm range. The saw's body is ergonomically designed allowing for easy handling of the saw's power. Further features include AutoTune, Smart Start®, Air Injection, LowVib® and combined choke/stop control.
It's much the same description as the 460 Rancher, just with the addition of AutoTune.
Technically the 465 was called the Husqvarna 465 Rancher II, and that was the only version of this saw. It shares a manual with the 455 Rancher II, 455e Rancher II, 455e TrioBrake Rancher II (there are many versions of the 455 Rancher), and the 460 Rancher II.
It was sold with the following bars and chains:
20″, 3/8 pitch, .050 ga. 64.1cc, 4.3hp, lrg mount – 966 76 27-10
20″, 3/8 pitch, .058 ga. 64.1cc, 4.3hp, lrg mount – 966 76 27-20
24″, 3/8 pitch, .050 ga. 64.1cc, 4.3hp, lrg mount – 966 76 27-14
24″, 3/8 pitch, .058 ga. 64.1cc, 4.3hp, lrg mount – 966 76 27-24
28″, 3/8 pitch, .050 ga. 64.1cc, 4.3hp, lrg mount – 966 76 27-18
28″, 3/8 pitch, .058 ga. 64.1cc, 4.3hp, lrg mount – 966 76 27-28
And while it was sold and recommended for use with up to a 28″ bar, it's best with either a 20 or 24″. 28 inches is too much for optimal use on a 64 cc saw, especially a non-pro saw like the Rancher.
Specs And Features
| Engine | |
| --- | --- |
| Cylinder displacement | 64.1 cc / 3.91 cu in |
| Power Output @ 9600 rpm | 3.2 kW / 4.29 hp |
| Cylinder bore | 49 mm / 1.93 inch |
| Stroke | 34 mm / 2.07 inch |
| Idle speed | 2700 rpm |
| Weight | 6.1 kg / 13.4 lbs |
| Spark plug | Champion RCJ 7Y/ NGK BPMR 7A |
| Electrode gap | 0.5 mm / 0.02 inch |
| Fuel and lubrication system | |
| Fuel tank capacity | 0.44 liter |
| Oil tank capacity | 0.32 liter |
| Type of oil pump | Adjustable |
| Chain/bar | |
| Standard bar length | 20″ / 50 cm |
| Recommended bar lengths | 15 – 28″/ 38 – 71 cm |
| Pitch | 3/8″ |
| Gauge | 0.058; 0.050″ |
| Type of drive sprocket/number of teeth | Spur / 7 |
| Chain speed at max. power | 21.4 m/sec |
The 465 Rancher has the same features as the other 2017 non-pro Husky saws (like my 2017 450e) but with two notable additions: the 465R has AutoTune and an adjustable oiler. The other Rancher saws have regular carbs (not AutoTune) and automatic oilers that are not adjustable (I'll share some user comments and reviews about these features in the next section).
Some of the regular or standard features include an X-Torq engine, quick-release air filter, LowVib anti-vibration system, air purge button, three-piece crankshaft, front handle ergonomics, Smart Start, felling marks, side chain tensioner, and a snap-lock cylinder cover.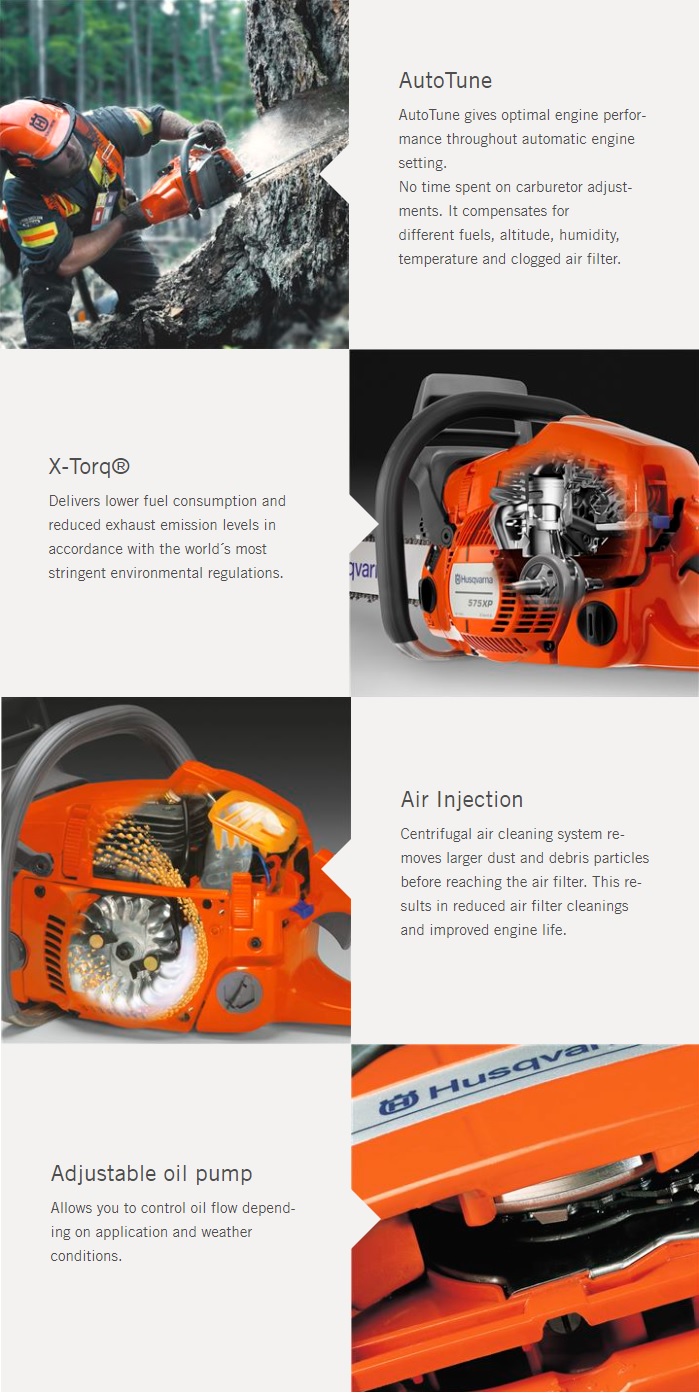 Find out more about the 465R's specs and features in the user manual (instant download here).
465 Rancher Review
*This video review comes from the burglgesandramenbread YouTube Channel. He's running the 465R with a 20″ bar and says it "Cuts like butter".
Most guys who use the 465 Rancher love their saw, but a few have found them to be more trouble than they're worth. However, you can always expect some units to have faults.
It is a bad sign that the saw was discontinued so soon after being released, but this might not be because "it's a bad chainsaw". It's more likely that Husqvarna ended production because it was too close in price to their XP saws. People were either going with the cheaper Husky 460R or the slightly more expensive 550 XP, which is better. The 465R filled a space between the homeowner and pro range that perhaps didn't need filling.
The other problem with the saw being discontinued is that parts availability is limited. While it shares some parts with other saws, it doesn't share all of them. If you are thinking about buying a used 465 Rancher, keep that in mind when making the decision and settling on a price.
Here are some user reviews; first the positive ones and then the negative…
Shorter positive comments:
Great saws! Only made one year…
I bought a 465 Rancher last fall I noticed more power than my 460… very nice lil saw.
They seem to be just fine, as long as your ego doesn't require a pro saw…
Plastic and magnesium break with the same sound when run them over. The 465 is really a good saw.
I have one down here in the south, in Georgia, and I love it. It kicks ass for felling medium-sized pine.
It is a decent saw. Mine cuts pretty well with a 24″ bar. I'm not sure if the oiler would keep up properly with a 28″.
And some longer comments…
Corey said:
They were not that popular of a saw and didn't sell long. You could buy a pro saw for the same price like the 562 . They didnt have near the power of a 562 either.
Dave said:
I like mine… little finicky starting with the auto tune, but once warmed up easy to start. I use it as my work horse for cutting firewood, mostly hardwoods, here in middle Tennessee. Mine came with 28″ bar and I put a 20″ Sugi with the Husky X-cut chain. The saw has a nice weight balance. Decent power for not being an XP. I've also got a 395 XP for larger wood.
Derek said:
I don't care what any of the haters say. My 465 is a beast and has had a 28 bar strapped to it's whole life. Starts right up. I also knocked the baffle out of the muffler. She screams.
William said:
I've had one for a few years. It's been a great saw. I modded the muffler and it woke the saw up. Been using 91-93 octane gas and 40:1 mix with no problems. You do need to make sure and keep the air filter clean.
And Walter said:
Nothing wrong with them; they were a bit of an orphan as they were discontinued. They were an Autotune saw but also based loosely on the 455-460 chassis. Not a whole lot crosses over hence the "Orphan" comment. Their price point had them on top of saws like the 555 so they were dropped from the line up. Not certain how long parts will be available for them.
Cons and negative reviews:
Was not a big seller – an overpriced plastic clamshell.
They run fine just a lot of money for a clamshell motor.
The 555 I think is comparable in price and performance to the 465 and is a good alternative.
I look back now and wish I hadn't gone with a 465 Rancher (air leak problems).
I've used the 465 it has decent power but if you are after auto-tune the 550 is way better
You can buy a brand new Echo CS-590 for $399 and it's a magnesium case engine instead of a plastic case like the Rancher.
I like tinkering with saws, so with that being said, I would much rather buy a pro saw that needs a little work for far less money than a consumer-grade saw costs new.
It's a play toy, throw it away.
And Brian said:
The 465 was one of the worst Husqvarna saws ever made. The autotune was junk and not tested well with rancher materials.
Price And Parts
This screenshot from Facebook is one example of what 465Rs are selling for in 2023.
This chainsaw sold for $400 including shipping. The seller stated "Paypal friends and family" which avoids fees, but read our article on buying used chainsaws to learn why you should never do that!
In another thread on how much the 465 Rancher is worth, one guy said "$400 is too much. $200-$300 maybe depending on the condition of the internals." And the price really does depend on location and condition.
With the 465R, keep in mind that parts are harder to find because it had such a short production run and that it might be more prone to faults because of the AutoTune. It's not a bad feature, and it's on other good saws like the 550 XP, 560 XP, and 562 XP, but it can play up and require a visit to the dealers.
At the time of writing, there are zero 465 Ranchers for sale on eBay (check the current 465 listings on eBay here) but they usually sell for between $200 – $400 for a working model in good used condition.
Husqvarna 465 Rancher Chainsaw
After researching this saw and reading hundreds of reviews and comments from users, I think I'd personally choose another saw. I'd either go with the 460 Rancher (2023 model on Amazon here) or the 550 XP (on Acme Tools here).
I think that just because parts are hard to come by it's worth giving it a miss, unless you have found one for a very good price. Or, if you like collecting rare, unusual, or unique saws, the 465R is worth having as well. It's not a one-of-a-kind Stihl Jetsaw, but there's certainly less of them than the 372 XP!
Do you have or have you used a Husqvarna 465 Rancher chainsaw? Let us know your experiences in the comment section below.