All tree-workers must have a good pair of tree-climbing boots.
Arborists, in particular, shouldn't stop looking until they find a boot that both fits and performs well for them.
We've spent hours and hours scouring arborist Facebook Groups and forums to find out what really are the best tree-climbing boots. The 10 pairs that we've listed here are the 10 tree-climbing boots that are recommended, discussed, and used most often.
The pair of arborist boots that are most often recommended is the Pfanner Boas, while the Andrew Cervino Boots are next. They're followed closely by Meindl Airstreams and the Haix Protector Pro.
Check out the full list to discover the pros and cons and read comments from real tree-workers.
Best Tree Climbing Boots
Pfanner BOA Chainsaw Boots

A very durable boot with abrasion protection
A very safe system to use within the forestry and arborist industry, especially for climbing
A light chainsaw boot with Class 2 chainsaw protection

View On Amazon

Haix Protector Ultra

Nubuck leather upper with rubber toe and heel overlays
Soft top collar prevents sawdust and woodchips from getting inside
Gore Tex membrane and Haix Climate System keep feet dry and temperature balanced

View On Amazon

Arbpro EVO 2 Climbing Boots

High performance climbing boots specially designed for arborists
High grip Vibram sole with 'climbing zone' tip
Semi-rigid midsole offers good combination between support and flexibility

View On Amazon
And before we start looking at the boots a little closer, here are a few comments on tree-climbing boots that I think summarizes things nicely.
David said:
Anyone getting much more than a year out of their boots, probably doesn't move their feet enough.

Pfanner and Haix generally last better than Meindl. Pfanner Matterhorn and Zermatt are great, but expensive.

I've currently got Boas.

They're lightweight, good for branchwalking and no laces to get snagged in conifers. Uncomfortable for spiking though, and the heel is a bit soft if you need to kick the shit out of stuff. Also make you look like a Power Ranger.

Heard good things about Andrews but not had a pair myself.

Arbortec Scafell are horrible, avoid at all costs.
Andrew shared:
In this day and age, if you're having to spend a month breaking boots in you've bought crap. Meindl Airstream and Hiax come straight out of the box comfortable. I personally couldnt afford to have stuffed, painful feet for any length of time doing this job.
And John said:
Whichever boots you buy, if you are constantly wearing them, they will break down fast.

I usually buy a pair for spiking, a pair for tree climbing and a pair for ground work.

Sounds like a lot I know, but by alternating boots, they last A LOT longer then just rocking the same pair for everything. Even if you got 2 different pairs and alternated, that would help.
And there are plenty more comments below.
1. Andrew Cervino Wood Boots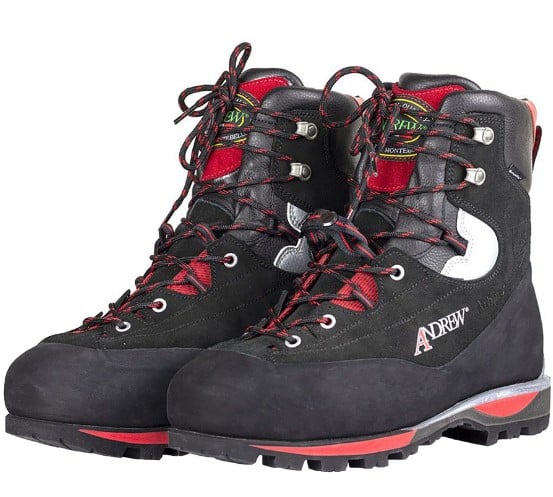 Manufactured in Italy, these boots are specifically designed for arborists.
The boots are lightweight, which makes them ideal for climbing trees. The price of Arbpro Cervino Wood Boots is approximately $400.
You can purchase the Arbpro Cervino Wood Boots online. The boot comes with a Vibram sole model allowing outstanding performance across various surfaces. You can be comfortable in Andrew Cervino Wood boots anywhere you go, not just in the forest.
Some of the other features of Arbpro Cervino Wood Boots are:
Sympatex membrane
High grip rubber
Steel toe cap
Arbpro Cervino Wood boots have no metal hooks at the front end, meaning you can tie climbing ropes onto the shoe.
The slim and compact shape of Arbpro Cervino Wood boots makes them easy to store and clean. The boots weigh 2.5 lbs. and offer chainsaw protection set in Class 3, which can withstand saw speeds of up to 28 m/s.
Pros:
Class 3 protection
Compatible with climbing ropes
Lightweight
Cons:
The boots have steel toe caps which may not be ideal for climbing in areas with electrical hazards
The price tag is a bit high
Comments from arborists:
Was initially the most uncomfortable boot I'd ever worn, but once they were broken in they were fantastic.
Comfy and hard-wearing but get the next size up. Not the best with spikes, the bottom part slips out the grove easily.
I've had mine for a year and a half and they still look practically new. Comfortable too.
Just got some Andrews and am pretty impressed so far.
I've had two years out of two pairs of Andrews, would have gotten way longer if I had been bothered re-soling them.
Bought the Andrews two years ago, took a few weeks to get them broken in but still waterproof and light enough to wear walking dogs as well. I'm only using them for groundwork but any man complaining about the price of something you wear for 50+ hours a week is silly in my eyes…
---
2. Haix Protector Pro 2.0 Arborist Botts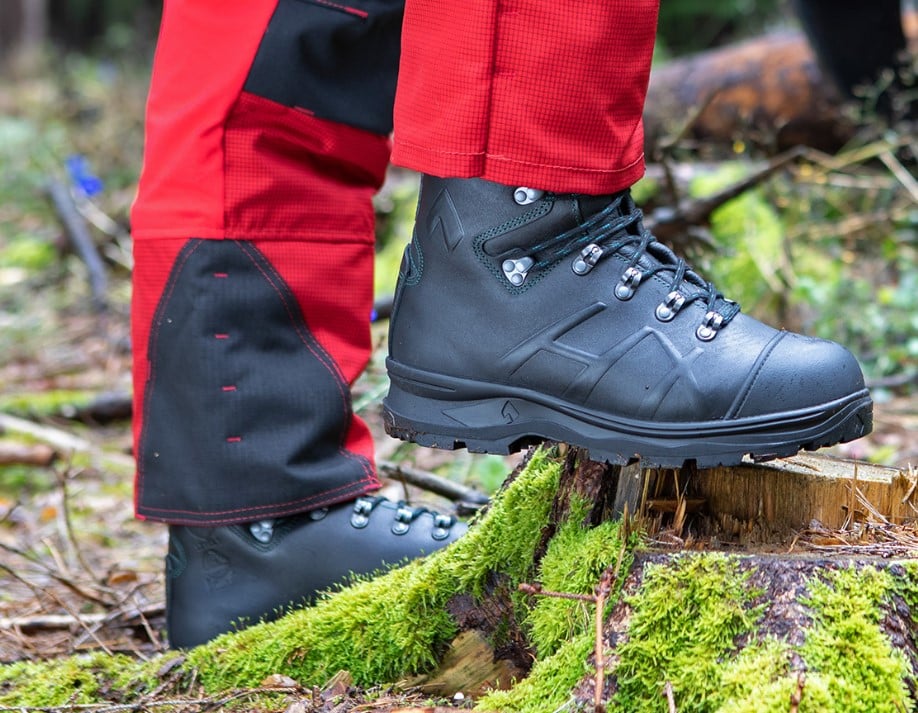 Haix Protector Pro 2.0 provides level 1 cut protection for loggers who are tree climbers.
Thus, you can safely work with chainsaw speeds of up to 20 m/s. The sole is slip resistant and sturdier, an improvement of the earlier model.
The boots come with a classic lacing system for improved stability. Other technical specs of the Haix Protector Pro 2.0 are:
Lace-up foot closure
Upper leather material
Over-the-ankle footwear height
Waterproof
Haix Protector Pro 2.0 Boots have a certification for orthopedic insoles underfoot comfort. So you can feel supported and stable as you climb trees, work or go hiking.
The inner liners are specially made to reduce the shoes' overall weight and repel water.
Pros:
Enhanced comfort and stability
The boots can be easily equipped with spikes
Greater comfort due to Gore-Tex Liners
Enhanced puncture protection
Cons:
Not ideal for tree climbing in snowy weather
Too heavy for professional tree climbers who aren't loggers
Reviews from arborists:
Haix Protector Best boot – I've had and tried Arbtec and they are rubbish compared to the Haix
My employees and I all wear Haix Protector Pro. Great shoes and good for not having your spikes slide to the back.
Haix are a good boot for spikes.
Love my haix protector ultra boots, I don't wear them in the summer but there a very good all-around boot. Like them on the ground and on spurs spurless.
Haix Protector Pro. 100% waterproof and comfortable out of the box. Great on spikes with a higher ankle.
---
3. Meindl Airstream Rock Class 2 Chainsaw Boots
The Meindl Airstream Rock Class 2 Chainsaw Boots are ideal for chainsaw protection.
The main features of the Meindl Airstream Rock Class 2 Chainsaw Boots are:
Digafix lacing
Gore-Tex lining
Aluminum toe cap
Accentuated heel
Cuff closure
The Meindl Airstream Rock Class 2 Chainsaw Boots are much more stable than their predecessor due to a two-part sole. You don't have to worry about dirt or snow getting into the boot due to the close-fitting closure at the heel.
The outer sole of the boot consists of abrasion-resistant rubber, making Meindl Airstream Rock Class 2 Chainsaw Boots more durable. It also gives the boot a remarkable performance in rough terrain.
The boot has a unique memory Foam System (MFS) feature that allows it to fit your feet perfectly in any weather or temperature. It works by adjusting to the shape of your feet once warmed by your body's temperature. The MFS feature allows for greater comfort and stability.
The retail price for Meindl Airstream Rock Class 2 Chainsaw Boots may vary from $450 to $470. The tongue consists of perforated sponge material and 3D mesh. It enhances the comfort of the shoes, especially if you have to wear them for several hours.
Meindl Airstream Rock Class 2 Chainsaw Boots have an aluminum toe cap. It reduces their weight and provides greater security for your toes. The features of the Meindl Airstream Rock Class 2 Chainsaw shoes make them the perfect arborist boots.
Pros:
Class 2 protection
Enhanced breathability, especially in hot climates
MFS feature provides greater comfort and stability
Ideal for any weather or season
Cons:
A bit pricey
Not ideal for snowy locations
Not compatible with climbing spikes or tree climber spurs
Reviews from the tree climbing community:
I would recommend Meindl Airstream, very comfortable and long-lasting if looked after. I currently have the Meindl Airstream Rock, Class 2 Chainsaw Boot. Had them for 3 months mainly for takedowns and so far so good. A bit on the pricey side though.
Comfiest boots for tree work ever.
Meindl are comfy. Got 2 and a half years out of mine, climbing and groundwork. Their stuff is good quality.
Meindl airstreams every time! On my 4th pair.
IMO, Meindl has gone downhill massively since they don't use Vibram soles. Had a new pair 4 months ago and they have died already! But that being said they are still as comfy as they have always been.
Comfiest boot. Don't need to be broken in. Unfortunately, these $500.00 boots didn't even last me a full year. I'm trying the Meindl rocks now. Hopefully they hold up!
I've got at least a year out of about 4 pairs of Air Streams… it's just the tread that goes and the finisher, the inner toe that wears to the metal in the end.
---
4. Pfanner BOA Climbing Boots

As the name suggests, these boots are perfect for tree-climbing and chainsaw.
The most noticeable thing about this boot is the BOA Fit System. The system distributes the pressure the laces create uniformly across the boot for enhanced comfort.
The price range for the Pfanner BOA Chainsaw Boots will depend on the retailer.
Some of the features that make this boot stand out as tree-climbing footwear are:
Rubber sole
Higher shaft
Class chainsaw protection
The laces of the Pfanner BOA Chainsaw Boots are not loose when tightened. Thus, there is no risk that they get entangled when you are tree climbing, using a chainsaw, or even hiking.
Moreover, the cut protection and upper material remain together because they are strategically riveted.
Pfanner is also well-known for its Protos helmet – arguably the best arborist helmet.
Pros:
Ideal for both loggers and tree climbers
Greater comfort
Flexible lacing system
Greater protection due to enhanced riveting
No laces
Cons:
A bit expensive
Not the ideal option for use with climbing Spikes
Comments from Pfanner Boa wearers:
My first set is still going reasonably well after 9 months. They've covered a lot of ground and had some proper abuse booting tractor implements. Still grip fairly well up a tree too. I find the ankle strap on the spike sits right on top of the bottom reel. That's my only major issue.
My first pair lasted about 7 months. I went back to my Airstreams but have again gone back to the Boas as they are much nicer to wear and will just wait till they completely fall apart. Not had a single problem with the Boa system itself which was my concern.
In spurs they have amazing really stiff side walls but loosening up in the ankles makes it comfortable.
Best boots ever for spikes ???
---
5. Arbortec Scafell Lite Chainsaw Shoes
The standout features of the Arbortec Scafell Lite Cobalt Chainsaw Boots include the following:
Steel toe cap
4D sole
3 Zone lacing system
Pierce resistant midsole
The 4D sole allows for excellent movability when tree climbing.
The multi-zonal lacing system provides support for your feet. In addition, the inner tongue is moveable and designed with an i-fit concept.
Pros:
Enhanced lacing system for additional support
Pierce resistant midsole
Ideal for spurless tree climbing
Cons:
Doesn't protect against electrical hazards
Not ideal for use in different climatic conditions
Mentions in the arborist community:
I get about 18 months of wear out of them wearing them for both climbing and ground.
They are like walking on a cloud, I forget to take them off when I get home, they wear fast though.
Took over a month of incredibly painful heels and tough boots. I'm about 3 months in now and they're nicely comfortable, and I'm hoping that the discomfort initially should get me 2 years out of these rather than 18 or so months out of the Airstreams I used to use.
I had these for a bit, horrible boots, you know it's bad when you can't wait to get them off when you haven't even finished work. Went back to the Airstreams which are much better.
Mine took a good month or so to break in at the heal but the size was spot on from the get-go. With a gel inner sole in them they are way more comfortable than the Andrew's I was previously wearing. I've had mine for a good 8 or so months and wear them all day every day and they are still holding up great. I find them to be plenty grippy enough in the tree for pruning and the soles are solid enough that I don't even notice if I have spurs on. My advice to anyone who does buy them is to wear them without the laces done up properly for the first few weeks while you break in the heal and you will break them in much quicker.
---
6. Haix Protector Ultra Chainsaw Boots

These boots have a Gore-Tex lining for ultimate comfort in different climatic seasons.
Haix Protector Ultra Chainsaw Protective Boots Lime Green are lightweight and have a two-zone lacing system.
Additional features of the Haix Protector Ultra Chainsaw Protective Boots include:
Vibram sole
Steel toe cap for better protection
Watertight sole with perforations for improved breathability
The boot has a special HAIX rubber compound added to its sole. This helps prevent slipping and improves protection for tree climbers.
Pros:
Enhanced grip due to the Vibram sole
Ideal for use in hot climates
Multi-zonal lacing system for improved stability
Cons:
Not insulated against electrical hazards
Not ideal for daily use, especially for non-tree climbing activities
Reviews and comments from users:
I have Haix Ultra and I can't get them to break in. I can only manage to get up to lunch out them before having to take them off and then I'm walking like a cripple for the next day. Chops my heels up badly and feels like someone is standing on top of my feet. Bring back the good old boots like the Oregon green leather ones.
Haix Protector Pro are the best. Used them for 9 years now, replacing them through wear every 2 years or so. Good with spikes.
So after a year I really like the Haix boots but not for extended periods of time – just ground and pounding. Great in the air, warm, and waterproof. They hold spikes well enough. One clip for the shoestring broke after half a year. Would I buy them again? Probably not for the price but I expect they'll still last some time. My Arbpros lasted two years before falling apart but I can see myself buying another pair of those. Straps are flawless… much smoother than leather straps and comfy. Just watch for dry leaves or dirt etc. getting in the velcro.
---
7. Red Wing Loggermax Work Boots
The Loggermax is a simple boot rising high above the ankle and featuring a steel toe cap for greater protection.
Some of the other notable features of the Loggermax are:
Aggressive Vibram sole
Advanced waterproofing
A heavy-duty welt construction platform
Loggermax offers protection against electrical hazards, and the Vibram sole is specifically designed to withstand wet weather. The lacing system extends well above the ankle for additional support and protection.
Although Loggermax isn't one of the tree-climbing boots with spikes, it provides excellent traction and stability. Thus, it is the ideal boot if you need chainsaw protection while logging.
Pros:
Ideal for loggers who are tree climbers
Good for spur climbing
Cons:
Not the best fit for tree climbing in hot weather
What arborists say about Red Wings:
Big boys wear Redwing.
My Red Wings last one year. I'm on my 5th pair in 5 years.
Go with Red Wings they guarantee for a year and will condition the boots for free.
Hoffman makes a badass logger boot – they are pricey though. I never had it in me to drop the cash for them when I could buy Redwings for half the price. I could get two summers outta them but they were trash going into the second winter and would get soaked from the snow.
Redwings are great. I was sent down to LA for storm work. I brought a pair of Arbpros and they wouldn't breath at all. My feet roasted the whole time even when I was just sitting. The Redwings I had before were a bit heavier but they breathed so well and they always stayed waterproof for me.
---
8. Kayo Chainsaw Boots For Arborists

Kayo Chainsaw Boots' lacing system rises slightly above the ankle.
It provides more support and movability, making the boot ideal for professional tree climbers. Kayo Chainsaw Boots provide class 2 protection.
The main features of the Kayo Chainsaw Boots are:
Steel toe cap
High-quality leather material
Vibram sole
Waterproof membrane
The lacing system employed by Kayo Chainsaw Boots is specifically tailored to improve the comfort of tree climbers. But tree climbers need to have an integrated climbing loop.
Kayo Chainsaw Boots have a specialized gator to keep debris and other materials out. The inner sock is similar in design to the boot's shape for improved comfort.
Pros:
Provides Class Protection
Ideal for both loggers and tree climbers
Waterproof membrane
Cons:
The price is slightly high
Lower cut than alternatives
Not durable for everyday use
Reviews from arborists:
Been using these for 6 months and love them so far.
Perfect with spikes on and great for general climbing.
First impressions are great but have to learn how to tie laces again after using Boas.
I've had the new Arbortec Kayos for about a week now and couldn't be happier with them!
---
9. Arbpro EVO 2 Climbing Boots

These water-resistant climbing boots are ideal for arborists.
The boots come with a Vibram sole instead of tree-climbing boots spikes. The Arbpro EVO 2 Climbing Boots are durable and offer more ankle support.
Other features that make these boots ideal tree climbing shoes are:
Vibram sole for enhanced grip and comfort
Loop attachment feature
A reinforced and customizable lacing system
Water-resistant membrane
The soles on these boots are not as hard as other options. But this makes them ideal for climbing trees, especially long-term.
Arbpro EVO 2 Climbing Boots retail a lot cheaper than Andrews and Boas, so are good for those not wanting to spend the maximum.
Pros:
Affordable
Ideal for spikeless and spurless tree climbing
Have a reinforced and customizable lacing system
Cons:
Not ideal for loggers who need to do in-tree work
Not the best for tree climbing in all climates
Comments on Arbpro EVO 2:
I usually buy Arbpros and can stretch them out a year but are pretty beat up, probably should replace them every 8 months or so. From what I've seen though that's about the standard unless u get a set of Hoffman's or some other logger boot. Those last 2 years. But the soles don't grab onto anything.
Arbpro 2 on my 4th pair. Hands down the best boot.
Depends on what kind of climbing you do. For spurless climbing, I love the Arbpro Evo 2s. But for removals on spikes, I definitely prefer the Arbortec Scafell Lites….. evo2's are designed for climbing so they share characteristics to rock climbing shoes with the full rap around rand and a narrower profile for fitting in tight unions. Scafell Lites are definitely much wider and still are decent to climb spurless on but the wider platform makes spurs much more comfortable. I've also had the Haix ultra forestry boots which were great at first but didn't hold up as well as the Arbortecs have.
---
10. Carhartt Men's Leather Logger Boot

One of the unique features of these boots is the non-metallic toe protection.
This helps protect you from electrical hazards of 18,000 volts or less.
Additional features of the Carhartt Logger Boot are:
Goodyear Welt construction
Heel stabilizer
Cushion comfort insole
Rubber outsole
Carhartt Men's Composite Toe Leather Logger Boots are resistant to oil and chemicals. These boots are ideal for loggers who occasionally climb a tree or two.
You can work in wet weather due to the storm defender waterproof feature.
The heel stabilizer improves stability for your ankles, allowing for greater mobility. These boots are quite affordable, retailing much cheaper than alternative chainsaw boots.
Pros:
Very affordable
Ideal for loggers working outside who may occasionally have to climb a tree or two
Cushion comfort insole
Cons:
It's not designed for enhanced breathability, especially in hot climates
---
What To Think About When Buying Boots
The main difference between climbing and logging boots is that one is designed to enhance grip and movement up a tree.
Logging boots are designed explicitly for chainsaw protection. Thus, logging boots are usually heavier and have numerous protection features than tree climbing boots.
Climbing boots may come with spurs or spikes. Logging boots often have Vibram soles for better grip and functionality on different surfaces.
Logger boots are more durable than climbing boots. Tree climbing boots often do not have metal hooks but have a feature designed to attach a harness or rope.
Arborists transitioning from groundwork to in-tree work must remember that logging and climbing boots have different features. Loggers who have to climb trees need to consider getting logging boots with additional features suited for climbing.
For instance, you can get logger boots with Vibram soles and waterproofing features. The boot material and toe cap protection are features you need to consider when buying boots for groundwork and in-tree work.
The first thing one thinks about when making a purchase decision is price.
But buying tree climbing boots requires that you consider certain factors first, such as:
Weight
Breathability
Durability
Sole quality
Toe cap material
Weight
Always go for lightweight tree-climbing boots that have outstanding durability.
Innovations in foot technology allow manufacturers to make boots that don't weigh that much and have higher functionality.
Look for a tree-climbing boot that has a balanced weight. This is because some tree-climbing boots are too light and do not offer the best protection. Some lightweight boots may be that durable.
Breathability
Good quality tree climbing boots come with special features for improved breathability.
Many tree-climbing boots have a foam system that facilitates better air circulation inside the shoe. Thus, moisture can escape, and more air gets in, helping to keep your feet cold if you are tree climbing in hot weather.
Durability
Tree climbing boots have to withstand the test of time even when used in rough terrain.
Examine a boot's material, sole, waterproof feature, and if it is abrasion-resistant to determine durability.
Sole Quality
A majority of tree climbing boots are now developed using Vibram soles.
This sole offers a better grip to enhance one's tree-climbing abilities. Vibram sole is ideal for wet or dry terrain.
Toe Cap Material
The majority of tree climbing boots have a metallic toe cap. But this is not necessarily the best protection feature.
A non-metallic toe cap may be ideal for tree climbing areas with electrical hazards.
Different Types of Climbing Boots
There are several different climbing boots based on their features and what they offer tree climbers or loggers.
Chainsaw boots also differ from climbing boots used by arborists based on elements such as the availability of Vibram soles. The majority of chainsaw boots have Vibram soles for enhanced durability and grip.
Vibram soles also provide excellent slip resistance. The tread pattern in most chainsaw boots is heavier because many users often have to go hiking.
Chainsaw boots also have different lacing systems. Most chainsaw boots have a multi-zonal lacing system to improve ankle support when working in rough terrain.
The color patterns used in designing chainsaw boots also differ from tree climbing boots. For instance, chainsaw boots have a brighter color pattern, such as lime green or red. The color helps you see your feet clearly when working with a chainsaw.
Climbing boots for arborists may have features similar to chainsaw boots. But they are lighter and don't have to belong to any chainsaw protection class.
There are boot regulations that tree climbers have to follow in the United States.
Some of these regulations are:
Boots that fit perfectly around the ankle and heel when laced
Boots need to have a protective toe cap
Boots used in tree climbing as an occupation need to have electric hazard resistance
Tree climbing boots have to be close-toed
Climbing boots and chainsaw boots have to meet higher standards set by OSHA in commercial settings. The standards for footwear safety may differ from state to state. Thus, it is vital to check the state or local requirements for chainsaw and tree-climbing boots.
Chainsaw boots are very different from climbing boots due to their protection classification.
Chainsaw boots can either have a classification:
Class 1 Boots
These chainsaw boots are specifically designed for small saws.
The classification belongs to boots that can withstand chainsaw cutters reaching speeds of up to 20 m/s.
Class 2 Boots
Class 2 offers more protection against small saws because they can withstand speeds up to 24 m/s.
These boots have to meet a certain height standard to get their classification. For instance, many chainsaw boots have to cover the ankle and go higher up the leg than tree-climbing boots.
Class 3 Boots
These boots can offer protection against chainsaw speeds of up to 28 m/s.
Such chainsaw boots are usually too heavy for tree climbing.
FAQs
Here are the frequently asked questions about tree climbing boots.
What makes a good tree climbing boot?
The factors that make an excellent tree-climbing boot are weight, comfort, and stability.
A good tree climbing boot reduces fatigue and can function in various terrains. Ideal climbing boots protect your feet if you are a logger who also has to climb trees.
The sole also determines whether a tree climbing boot is good or not.
A Vibram sole offers great grip and is ideal for wearing outdoors. Other features that make a good tree-climbing boot are:
Water resistance
Heel and ankle support
Comfortable inner linings
Are logger boots good for tree climbing?
Yes, logger boots built in the modern age have features that make them suitable for climbing.
For instance, logger boots often have raised heels, which helps improve vertical mobility. The raised heel provides additional ankle support.
Logger boots such as the Carhartt Loggers have a rubber sole and a non-metallic toe cap. It reduces the boots' weight and makes them ideal for climbing trees.
What's the best boot for hot climates?
The Haix Protector Ultra Boots are one the best for hot climates.
These boots have a unique foam feature to improve air circulation within the shoe. Thus, moisture can escape, and air can enter the shoe effortlessly.
The breathability of Haix Boots helps keep your feet cool. Another tree-climbing boot ideal for hot climates is the Lowa Renegade GTX Mid Boots.
Can you buy arborist boots with spurs?
Yes, you can buy arborist boots with spurs. Some retailers offer arborist boots and climbing spurs compatible with that boot.
Can you use spurs with all boots?
Some boots are not designed in a way that supports the use of spurs.
Using spurs with such boots can result in severe injuries to your feet. Boots that are not compatible with spurs do not have a heel.
Thus, you can use spurs with most tree-climbing boots because they have a heel. Choose a spur that fits well with the shoe type and design to minimize the risk of injury.
What's the best boot for being in spikes for a long time?
The best tree climbing boots with spikes are those that have a durable sole.
The ideal boot for being in climbing spikes for a long time, according to many users, is the Pfanner Boa Boots.
Any boot that has a heel stabilizer that provides outstanding balance and support if you have to be in tree-climbing boots spikes for a long time.
How long should a pair of boots last if used every day?
The average lifespan of boots is between 8 months to a year if used daily.
The lifespan of a boot will depend on various factors, such as:
Frequency of usage
Type of material used in the manufacture of the boot
How the boots are put to use
Also, the conditions will play a major part.
Best Arborist Boots
Arboreal work is challenging work that can be made easier and safer with the best gear.
It's best not to focus on the price when getting tree climbing boots, but get the most durable and comfortable boots available. Sometimes it takes testing out a few brands/models to find the right fit for you.
Consider factors such as the sole pattern, weight, breathability, and functionality with spurs or spikes. The best tree-climbing boots offer support, comfort, and stability.
The Pfanner Boa Boots are the most highly recommended boot that I've seen, but any of these 10 are really top-notch.
Let us know if you have any questions or comments down below. Which are your favorite tree climbing boots?
Next up, check out our reviews of these popular climbing chainsaws – the Stihl 200t and the ECHO CS 2511 T.