The Stihl 010 is a 37cc light-duty chainsaw made between 1978 and 1985.
I spoke briefly with 010 owner Wesley Green, who has used the saw for a couple of years and took the images throughout this post. He bought the saw in poor condition, cleaned it up, and got it running well again.
The 010 and the Stihl 011 (which I own) are basically the same saw. They look the same and parts are mostly interchangeable, but the 011 is slightly more powerful at 41 ccs.
The Stihl 010 Saw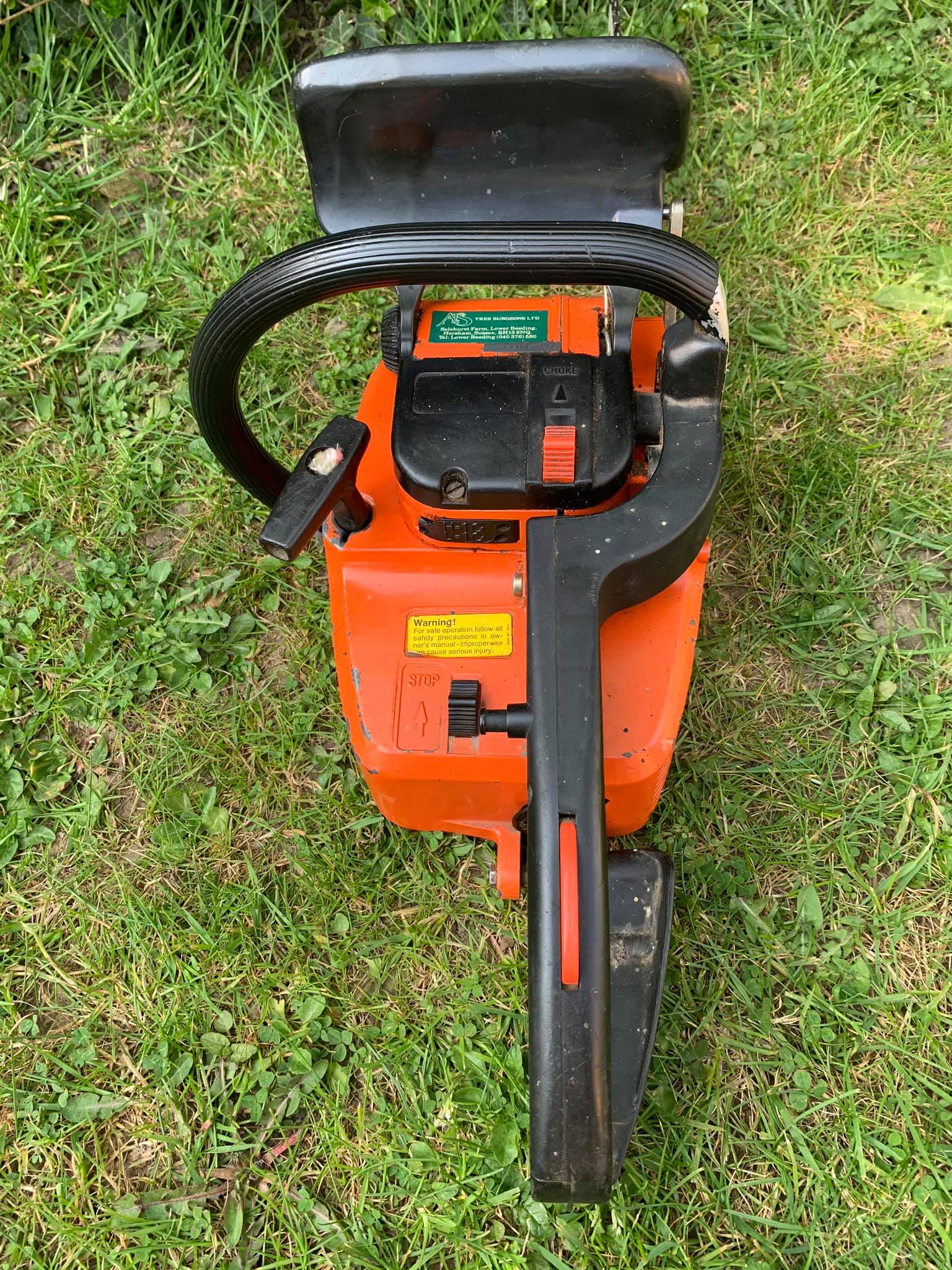 When the Stihl 010 was still being sold new, Stihl called it an "occasional use saw."
There were two versions of the saw:
The 'Q' means the saw had a chain brake system (which has been standard on all Stihl saws for many years now). You can learn more about it in our post on Electronic Quickstart.
The saw is recommended for use with 12, 14, and 16″ bars (30, 35, and 40 cm), so it is best used for light pruning, limbing, and clean-up tasks.
It's not the type of saw you buy for firewood unless you're often doing thinner branches. However, it can be used for dropping small trees and that sort of thing every so often.
At 9.9 lbs, the 010 is light enough to be used for hours on end, but if you wanted something to use all day, you'd be better off with a higher-powered saw.
It is rumored that the 009, 010, and 011 saws were the only chainsaws that Stihl let Americans engineer. This is joked at being the reason why they are more difficult to work on!
Stihl 010 Specs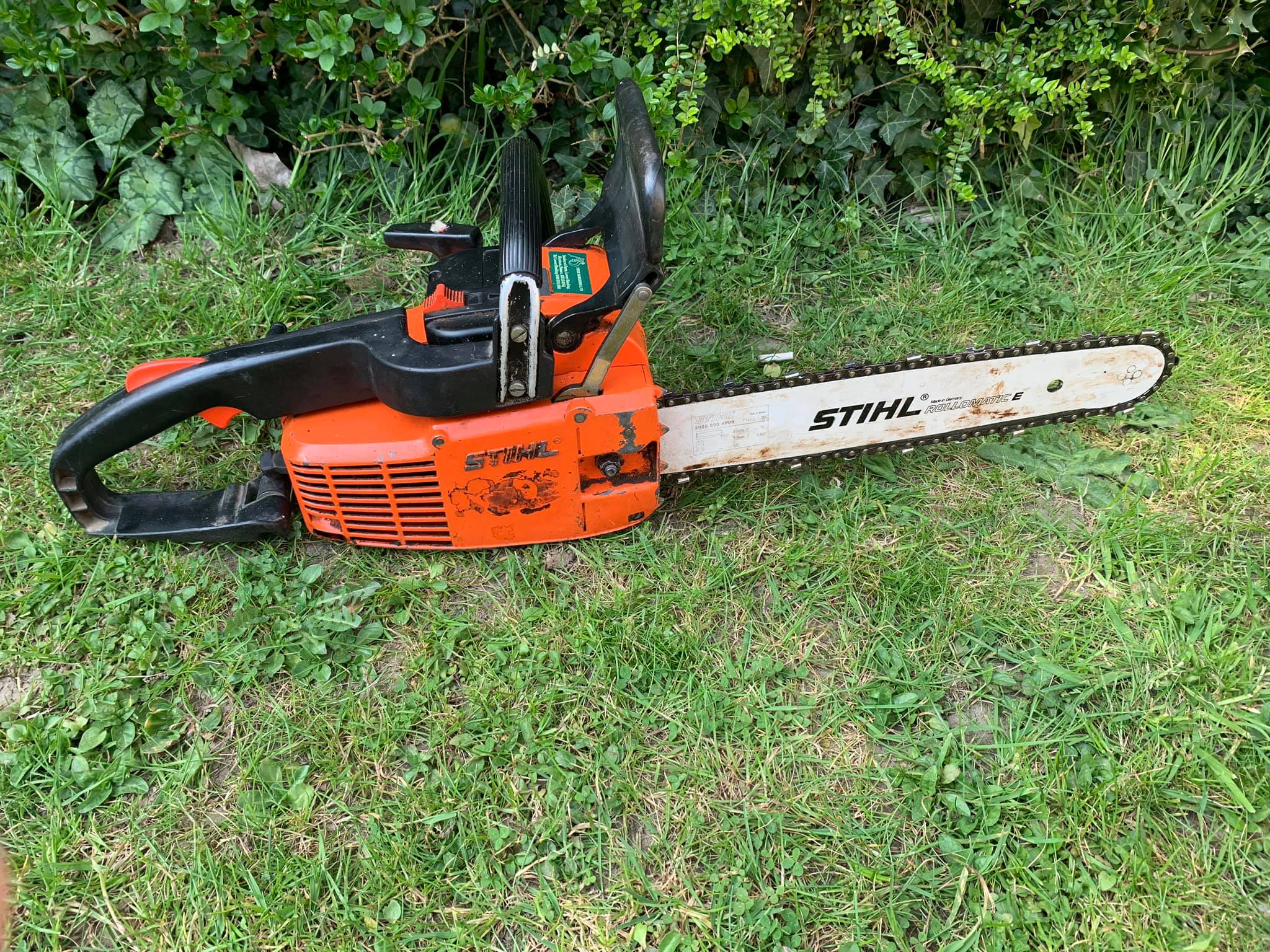 010 specs:
37 cc/2.26 cu. in.
9.9 lbs/4.5 kgs
12 – 16″/30 – 40 cm bar
0.24 L/0.51 pint oil tank
0.25 L/0.53 pint fuel capacity
Bosch WSR 6 F, Champion RCJ 6 Y spark plug
Felt mat air filter
Breaker-controlled magneto ignition
It has the standard features of a saw of this era, such as an anti-vibration system (denoted by the AV designation), a front hand guard, and automatic oiler.
For those who like old diagrams, here are the parts of the 010.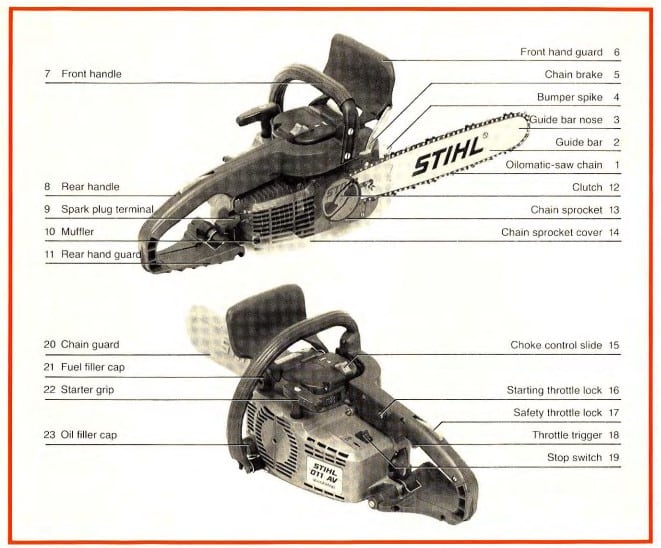 This comes from the 010/011 manual (download here).
As already mentioned, the 010 is very similar to the 011.
It shares parts with the 009 and 012 of the same era as well.
Stihl 010 Review
The 010 is a popular little saw but it's not exceptional.
It's one of the cheapest Stihl saws you can buy (or sell), usually fetching between $50 and $100. It's not uncommon for people to pick these saws up for $20 from yard sales – if you spot one for that price, it's a good deal.
Part of the reason for the lower price is that some parts, like oil pump diaphragms, are very hard to find.
User reviews of the 010 from around the web:
Great saw use it all the time.
Handy reliable saws!
They work well until the oil pump diaphragm goes. They are no longer available.
They're good little saws.
Fantastic little saw.
Overall, the 010 is a well-respected chainsaw for what it is.
The main downsides of the 010 are about what you'd expect:
Parts can be hard to find – for example, oil pumps, diaphragms, and fuel lines are not plentiful
The power-to-weight ratio isn't as good as more modern saws
The 009, 010, 011, and 012 are more difficult to pull apart and work on
And because these saws are old and usually well used, they are prone to having problems. They'll often just be harder to start and require more maintenance, but that's the price for nostalgia and history.
One of the other things I've noticed personally when using my 011 is that the emissions are very high.
You don't realize how saws have changed in that regard until you go from using a modern homeowner saw to using a saw designed in the 70s. They do put out a lot more fumes, but, on the upside, they sound a lot better.
010 Chainsaw
The 010 is a good little for light tasks and has been popular among Stihl fans.
It's the type of saw that is passed down from father to son and treasured for generations.
It holds some value as a collector's item, but because of the scarcity of parts (and because it's not a powerful or pro saw), it's not highly valuable. However, most Stihl chainsaws these days seem to be increasing in value faster than in previous times.
For pruning, I've been using my battery-powered DEWALT more and more lately, just because it's hassle-free. But when I'm going futher away from the house, I'll always use gas saws like the 010.
Drop any questions down below and feel free to share your experiences with this saw. Thanks!