What is the WORST Husqvarna Chainsaw?
While most Husky saws are great, some of them get a lot more negative feedback than others. These are mostly saws from the entry-level/homeowner range.
To find out what users considered to be the worst I ran a poll in the 35,000+ member Husqvarna Facebook Group.
At the time of writing, there were 118 votes. It's not a huge number, but enough to shed some light on what could be considered bad saws.
The poll has been up for 3 days and the winner for the #1 WORST Husqvarna chainsaw is… the 240 with 30% of all votes.
Let's dig into all the results!
The Worst Husqvarna Chainsaw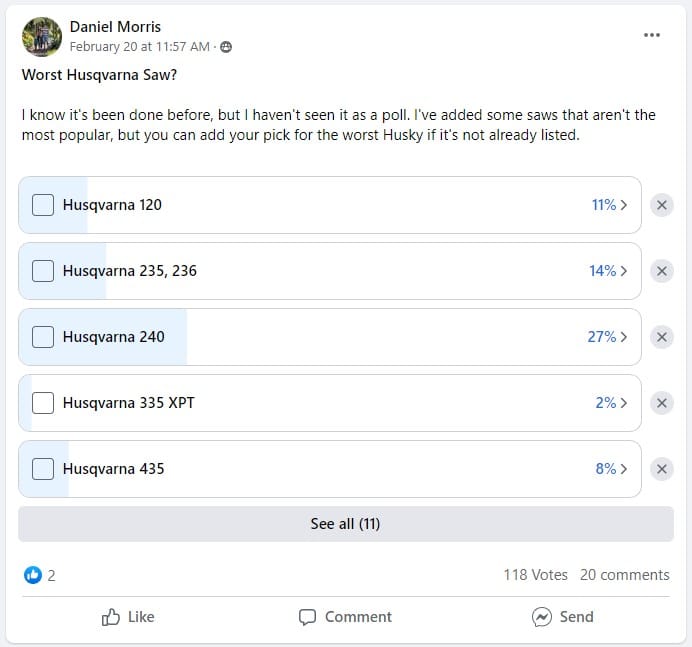 The question I asked the group was:
Worst Husqvarna Saw?

I know it's been done before, but I haven't seen it as a poll. I've added some saws that aren't the most popular, but you can add your pick for the worst Husky if it's not already listed.
Voters were only allowed a single vote but could add their own 'bad Husqvarna chainsaw' to the list. It's the same as when I ran a poll for the worst Stihl chainsaw.
I added the Husqvarna 120, 235 and 236, 240, T335XP, 435, Rancher saws, and the 550XP, to the list, and then there were another 8 saws added by the group (a total of 16ish).
Here are the end results:
240 – 30%
235/236 – 14%
450, 455, 460 Ranchers – 11%
120 – 10%
435 – 8%
575 XP – 6%
550 XP – 5%
135 – 4%
350 – 4%
T440 435 XP – 4%
The 235 and 236 were listed together, as were the Rancher chainsaws, because they are so similar to each other.
Someone asked in the comments, "what defines worst saw?" To which I replied, "Usually it's performance problems, poor power-to-weight ratio, not worth the price, failure to live up to expectations, and those sorts of things."
Here's a bit more info about each of these so-called "worst Husqvarna chainsaws" and why people don't like them.
1. Husqvarna 240
The Husqvarna 240 was the winner of the poll with 30% of people saying it is the worst Husqvarna chainsaw.
The poll screenshot above only says 27%, but someone added the 240 again further down which picked up another 3% of the vote.
There have been a few versions of the 240 over the years, and it's not the old version that was produced in the 70s, 80s, and 90s that is considered bad. Rather, it's the 2008 and beyond model.
So why is the 240 considered the worst?
Here are some comments from users:
240 lacks the power to pull .325 or 3/8 chain
Not a whole lot of power there, it's really an orange Poulan. I'm not the biggest fan, price wise here you can get into a higher-end Poulan Pro for around the same money.
The 236 and 240 are horrible saws. Better to spend a little more and get a 435.
The 240 has poor performance and does not hold good resale value.
235/240 are very finicky. It is by far my least favorite Husqvarna saw. An orange Poulan. If you need a reliable saw I would return it and get a different model.
Worst saw ever made – I won't even work on them.
For me it is the most troublesome Husqvarna model – a lot of engine seals are damaged
I almost got a 240 til I read a few reviews. I got a 435 instead. Been a good little saw for me.
And Shawn said:
If someone gave me a brand new 240 I would throw it in the trash. They are the most erratic pieces of crap. They simply do not run properly, nor do they tune properly.
And Dennis said:
My dad had a 240 and I hated it cause it never ran right and didn't have power. Almost happy someone stole it. Fixed a used 345 up for him. Has a .325 chain and cuts so much better.
While someone else said:
The 235, 236, 240, and 120 Mark II are all pretty much the same crappy saw.

The 36, 41, 136, 141, 137, and 142 were far superior.
But not everybody hates the 240.
Here are some more positive comments:
Damn the 240 has a lot of hate. My 2014 240 has had the spark plug and bar replaced and still runs cuts and oils fine.
I have had my 240 for 3 years and it's been a great saw. Not a problem with it and have cut about 40 cords of small stuff on it.
I have a 240. I paid 109 from eBay refurbished. It runs great. I think I got a good one.
Some 240s are made in the Poulan factory and you should stay away from those. Mine are all made in Sweden and are much better quality.
Ultimately, the reasons the 240 is considered a bad saw by many is that it's cheaply made, performs poorly compared to other models, and is prone to mechanical troubles.
The 435 is often mentioned as a far better alternative.
2. Husqvarna 235, 236
The Husqvarna 235 and 236 are two more of the least powerful Husqvarna chainsaws (same as the 240 but with smaller bore).
They're designed for the lightest of tasks and not intended for serious firewood duties or anything like that. However, many think they fail to perform well even at this.
The models scooped up a combined 14% of the vote, mostly because they are "underpowered," "sluggish," and "not fit for purpose."
Other comments:
I owned 3 235s and none lasted more than 8 months. Bought 3 240s for smaller stuff 3 years ago and had no trouble with them.
It basically a Poulan just worse to work on.
Unless you're getting it for free you're overpaying.
And Daniel said:
A friend of mine just got one given to him in "awesome condition, only cut up a couple trees, but stopped running all of the sudden."

Well those saws are bad for shearing flywheel keys and when that happened it took out the bottom end which then took out the top end with the metal flakes.

Not a saw for anyone that's going to do any more than prune some branches with it.
The entry-level Stihl MS170 and MS180 tend to be better reviewed than the entry-level Huskies.
3. Husqvarna 450, 455, 460 Ranchers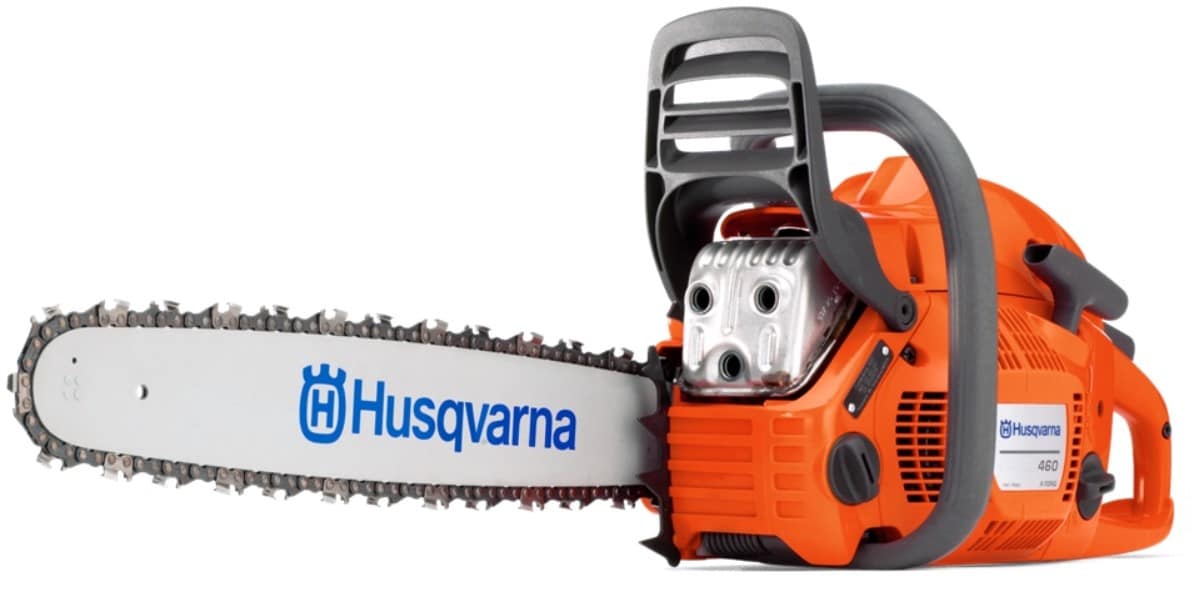 People either love or hate the Husqvarna Rancher Chainsaws, there doesn't seem to be many in between.
I personally have and use the 450 (an older one not marked Rancher), and it has been fantastic. She's a bit slow on the thicker hardwoods, but ultimately goes well and hasn't given me any trouble.
The Ranchers are at the top of the Husky range before you get into the pro saws. They're a bit better built and more powerful than the homeowner saws.
They are generally pretty good chainsaws when running a reasonable bar length for the saw.
The most common complaint is that they're "plastic junk" or that they've "got no guts," but as long as you're using them sensibly, I think they're good.
It's important to use them as they're intended and not expect them to perform like an XP chainsaw. The 550 XP Mark II is a good alternative to the Rancher saws.
4. Husqvarna 120
The Husqvarna 120 is another saw that has some legitimate downsides.
Here are some comments:
Picked up a 120 so I could have something to throw in the SxS. Very disappointed, starts ok but won't stay running between cuts.
The 120 mark 2 is not actually a Husky, it's a Poulan with the Husky name.
They are re-badged Poulana. Knock on wood mine has been ok so far but I only bought it because I got it for 80$ on a parking lot sale rides in my truck.
I have a new 120 Mark II… Bogs down when under load, loses power, and sometimes just stalls out…
Often all that's needed is a carb adjustment, but most people who are buying saws in this category don't know how chainsaws work and find this type of thing too technical.
Here are some comments about common 120 problems:
I've got one. It needed the carb tweaked a bit when I got it but it wasn't too far off. It's a pretty good little saw for its size and price once it is tuned in properly.
Sometimes they come off the factory floor with the carb gasket flipped and the hole for the impulse line in the wrong spot.
Replace the Champion plug with NGK…
And Russel said:
If you don't have the tool for the carb get one. If you're not comfortable do some reading and watch youtube videos.

Carb tool kits that have the odd drivers for all different kinds of carburetors are very cheap on Amazon and are worth every penny and will save trips to the small engine shop.
It would be better if the saw could be good to go, but there's often a need for some adjustments.
5. Husqvarna 435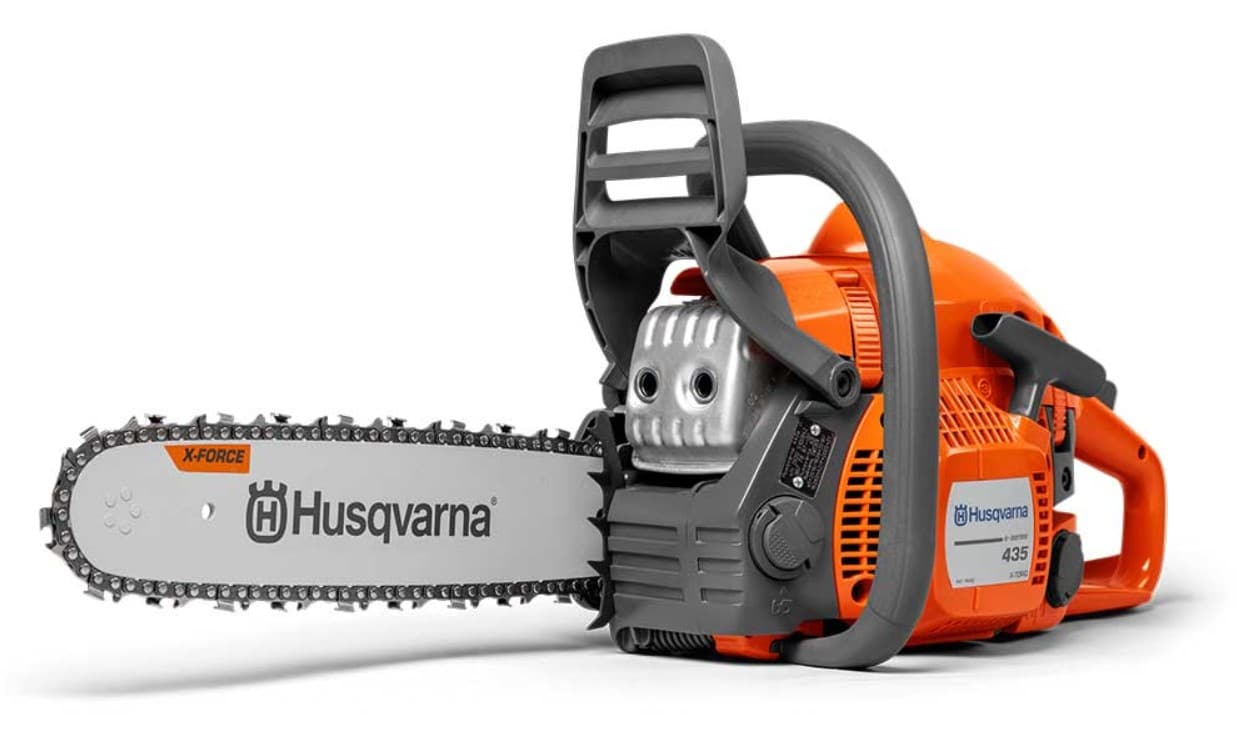 While the 435 was recommended as a good alternative to the 240, it also made our list of the worst Husky saws with a hefty 8% of the vote.
It's another of Husqvarna's homeowner range chainsaws and some of the hate will be due to people wanting more from it than it was designed to give.
A comment in the Husky FB group by Robert says:
The 435 gets a real bad reputation because out of the box the carb is adjusted way too lean.

My father in law got one and once I pulled the carb limiters it ran good. His is the etech so it has a very restricted exhaust.

I bought one for my daughter that's not an etech and it definitely runs allot better. EPA needs to get there hands off of small engines.

My husky weed eater ran like garbage until I removed the limiters. Don't know how they deal with the comebacks from the leaned-out idle jets.
It's described by many as being a weak saw, but that's kind of what you're buying when choosing a 35cc chainsaw.
It is suitable for pruning fruit trees and those types of jobs.
6. Husqvarna 575 XP
The Husqvarna 575 XP wins the award for worst pro-level Husky saw.
The main reason for this is that it's "heavy with no power." And it's the Auto-tune models that get the most complaints.
Wayne said:
I have a 575 that exploded.

I can't remember what they told me happened but the whole top end is junk.

I plan to put it back together eventually but who knows might part it out. I'm not excited about the 5 series saws, but I like the 3 series and old saws.
And Robert said:
They're good saws. The power-to-weight ratio is off on them that's why a lot of guys don't like them.

I have a 2005 that's been going strong. It's a smooth running saw with plenty of power and definitely worth rebuilding.
7. Husqvarna 550 XP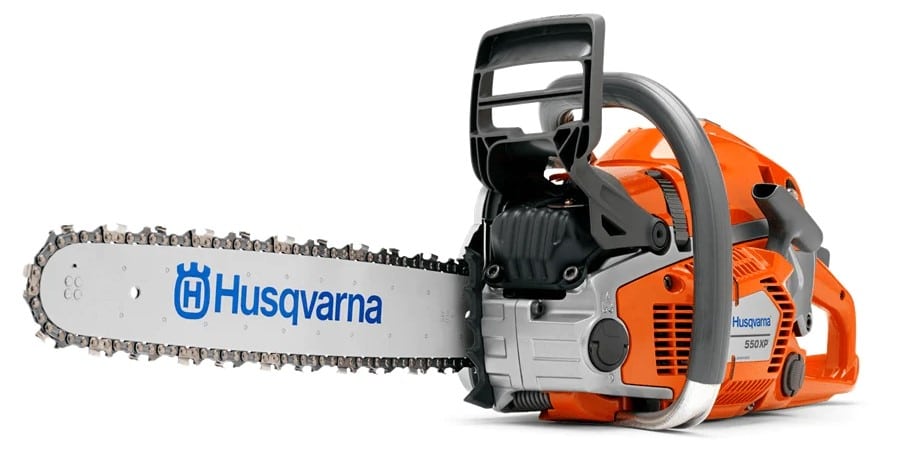 There are two very different 550 XP versions – the first model and the Mark II.
It's the early model that is considered worse, while the Mark II is generally considered to be very good.
Many users love the first version and haven't had any issues with it, but will probably admit a lot of improvements were made with the almost completely different second version.
In a comment thread, Elliot said:
550's pre mark2 are cold weather saws.

I have one been having problems with running in this heat, took it to my local Husky dealer he explained that they loose compression when hot then regain when they cool down.

I asked why did he even sell it to me and he replied he wouldn't have sold any 550s if he known what kind of issues would come with them…

If you hold 550xp next to 550 Mark 2 you'll notice the 550 is very slim, apparently they redesigned the 550 and came out with the Mark 2.
Others really like the original 550:
I have two first versions 550 xp and they have many hours on them, like maybe 200 hours each and they gave been flawless.
My 1st Gen 550 has been a good saw. Still getting after it.
8. Husqvarna 135 Mark II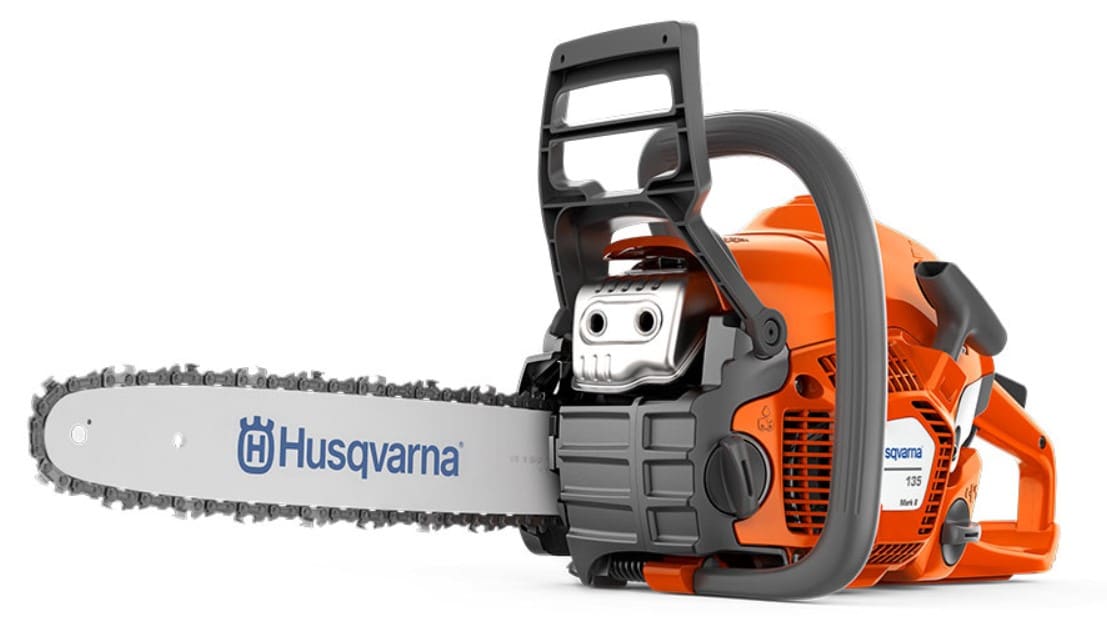 The 135, another small entry-level saw, got 4% of the vote.
Reasons it's considered a bad saw:
It leaks bar oil like no other
Weak saw that bogs down easily
Not a lot of use for it
A tip to stop or lessen the amount of bar oil being lost between uses is to open the tank and reclose it after use. This releases the pressure and may stop it from happening altogether.
One commenter said:
I was happy for mine until I started taking bigger trees down… then I needed a 550xp and a 560xpg…

I still have the 135 as a "limbing" saw because of its lightweight.
While someone else said:
So tiny. I'm too impatient in my old age to use such a saw.
9. Husqvarna 350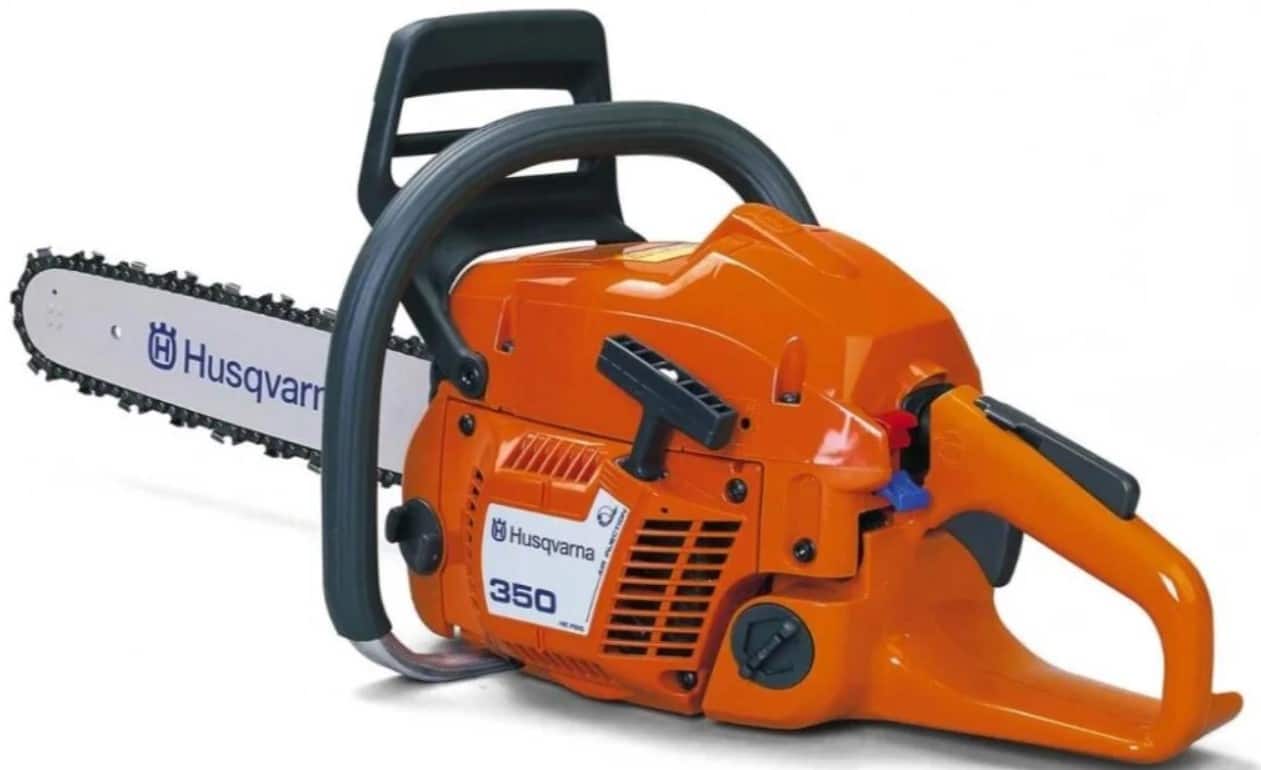 The Husqvarna 350 got another 4% of the votes for worst Husqvarna chainsaw.
It's said by some to "develop an air leak just sitting on the shelf in the shop." The 350s are plagued by air leaks that burn them up.
Other problems:
The muffler falls off as the bolts won't stay tight
Cylinder comes loose
Bad diaphragms
Clamp fails on intake boot
Some of these things are easy fixes, but usually, the kinds of people buying these saws don't know where to start and don't have the confidence to do it themselves.
However, plenty of users think there's no better Husky for the money, describing them as "good little camp saws."
10. Husqvarna 440, 445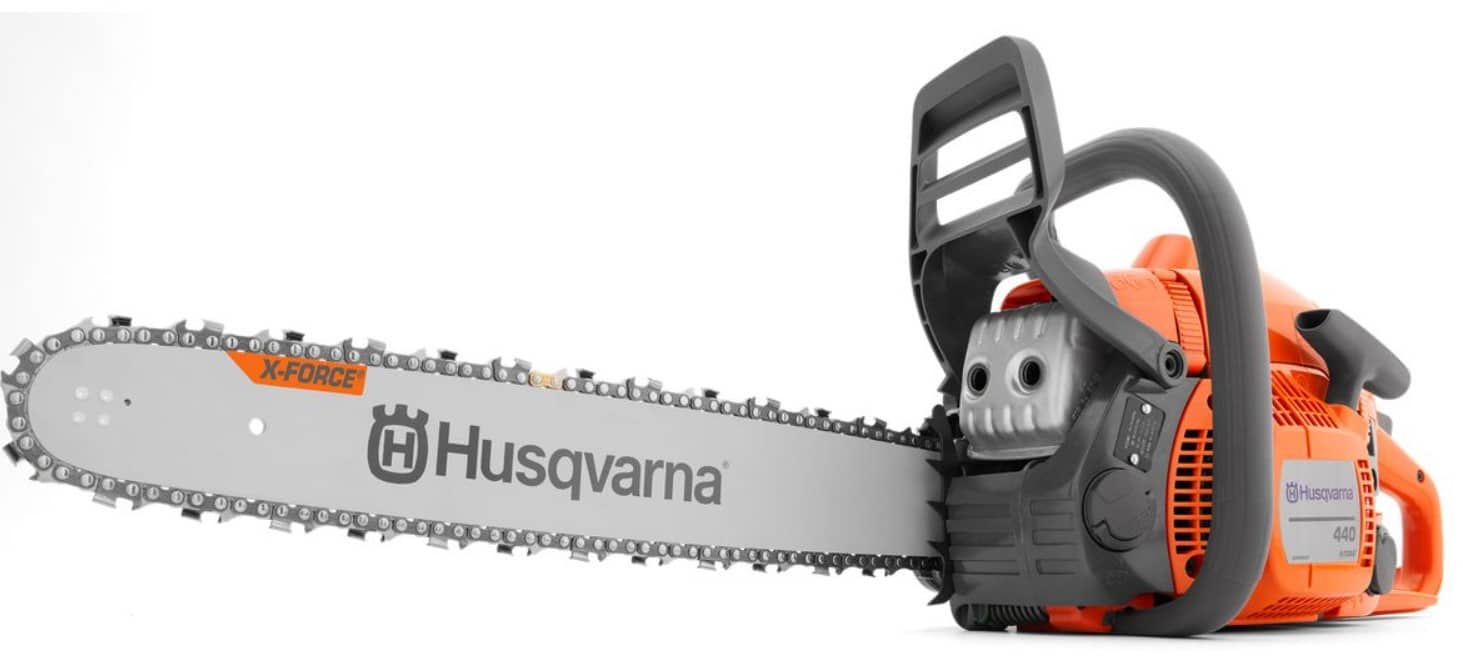 Lastly, another 4% of people voted the 440 and 445 as the worst chainsaws from Husqvarna.
There are a mix of reviews for these saws like:
I have a 440 e and have hated it ever since I bought it. It chooses when it will even start and when it does it will die 5 min later.
While Andrew said:
My first purchase was a 440, great saw for occasional cutting and trimming.

Found a 550XP to be much more capable for my needs, but still have the 440.

Went to start the 440 the other day after sitting for a few weeks. Primed three times, choke on, started with one pull, amazing.
Other Dishonorable Mentions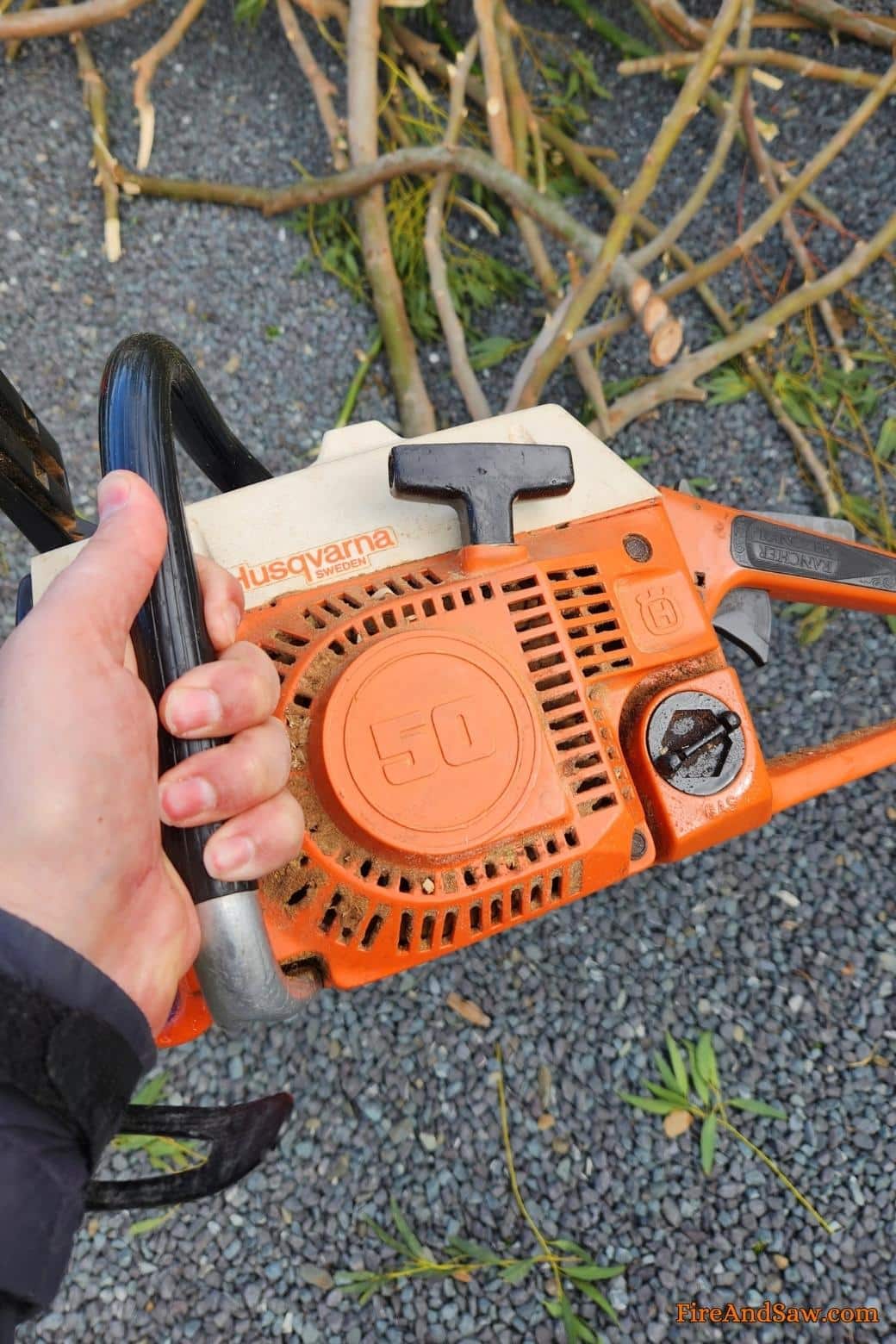 Besides these top 10 worst saws, there were a few other chainsaws, or categories of chainsaws, that also got a mention.
Here they are:
Classic 2 series and 3 series have always been great saws – all the hardware store saws are junk not really Huskies.
Anything from Lowes or Amazon.
Husqvarna top handles aren't very reliable.
The T540 XP: "My experience was with the original ones. Saw a bunch of them just quit running and dealerships had no clue how to fix them."
Any box store chainsaws and the 555 – I actually smiled when a guy stole it out of the back of my truck.
Any 5 series chainsaw. Autotune should not exist.
And someone put '565 Rancher,' though I don't think there's such a thing.
The 465 wasn't labeled a Rancher, but it was only made for a few years and has been described as "Rancher materials with autotune – a terrible combination."
Not everyone will agree that the saws mentioned here are bad chainsaws!
Bad Husqvarna Chainsaws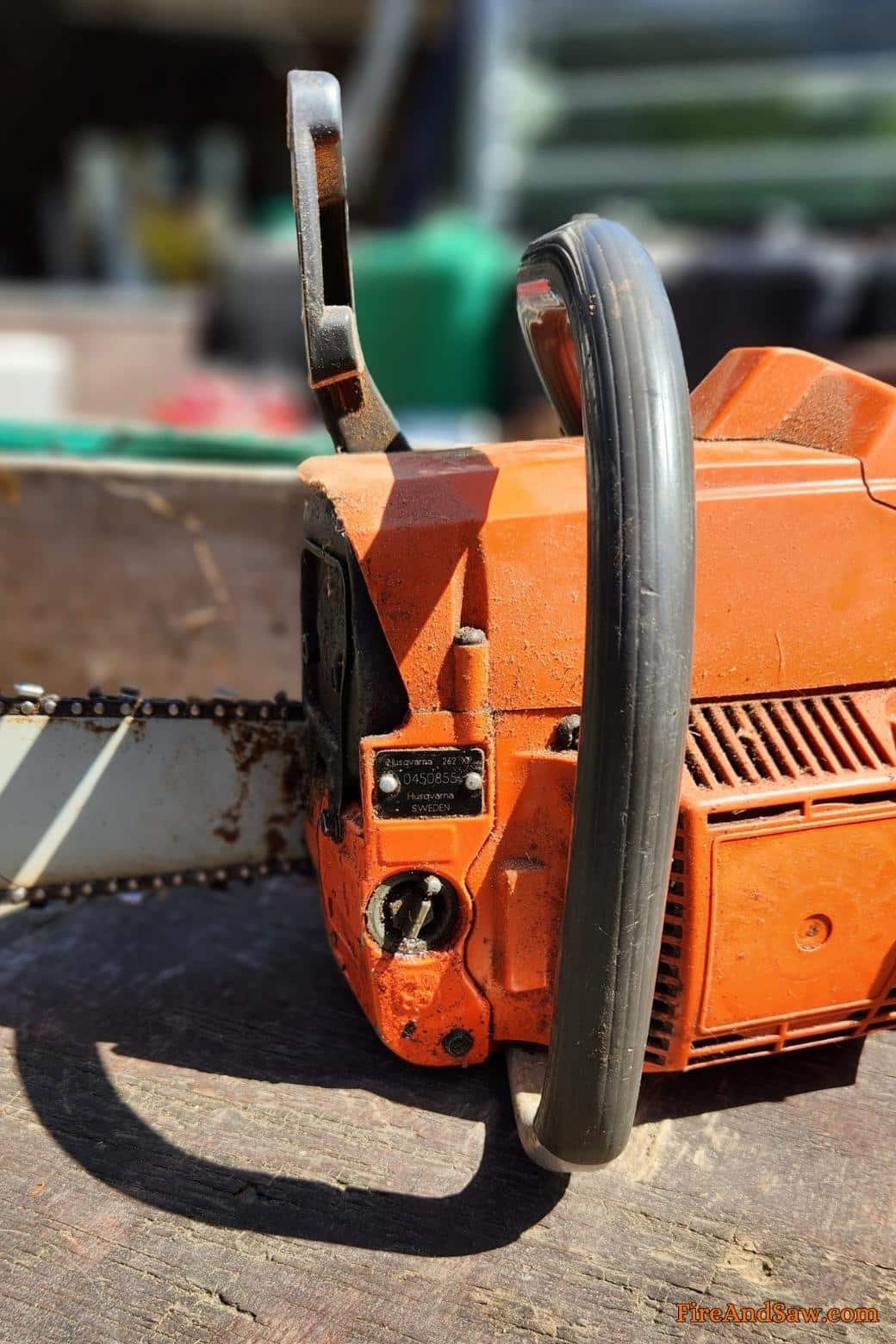 That's our list of bad Husqvarna chainsaws…
The poll didn't receive too many votes (a little over 100) so take the results with a grain of salt. However, it's probably a good idea to choose an alternative to the 240, 235, 236, and 120, unless you're sure it's right for your needs.
For the most part, Husqvarna chainsaw models are extremely good tier-1 chainsaws that are reliable, durable, and powerful. They are highly respected and used for the most demanding tree and forestry work.
Some recommended models are the 357, 560, and 562. Let us know your favorites (or least favorite) in the comment section below!