You can't have a fire pit without some decent fire pit chairs.
The two go together, fire pits and sitting – along with marshmallows, a beer or wine, and a bit of good food, of course!
So after you've picked out your favorite type of fire pit, it's time to decide what seating is going to look best around it.
I found some really comfortable wooden chairs for around my small fire pit that work perfectly for us – they are super easy to relax in for hours chatting around the fire.
Check out our list of outdoor chairs for fire pits and see if you think any will be suited to your home and situation.
*You can find similar chairs to what's pictured above on Amazon here, Northern Tool here, or on Etsy here.
Best Fire Pit Chairs
There is nothing quite as relaxing as sitting around a fire pit on a cool fall evening.
From the warm light illuminating the faces of your surrounding family and friends to the pleasant smell of burning logs and smoke wafting overhead, it is the perfect way to pass the time.
Adding a couple of high-quality chairs for fire pits and an outdoor bench or sofa will take your fire pit evenings, campfires, or bonfires to the next level.
We have compiled a list of seven amazing fire pit chairs and outdoor furniture sets we think would make a great addition to your firepit.
These stylish chairs will look spectacular as fire pit seating, but they are also comfortable for long periods of sitting and look great.
If you haven't yet purchased a fire pit, check out the patio furniture with fire pit range – these sets include seating AND a fire pit!
1. Serwall Folding Adirondack Chair For Fire Pit
Adirondack-style chairs have everything you want in a piece of outdoor furniture. Their style is iconic.
Each chair features a wide, high back with slanted seats and extra-wide armrests that are designed for lounging, napping, or relaxing around a campfire. They are also durable in addition to being comfortable.
Serwall makes the best Adirondack chairs for fire pits. These folding fire pit chairs are made from a weatherproof composite material that feels like real wood.
It is sturdy without being too heavy and has a load capacity of up to 380 pounds.
It also comes in a wide range of colors, from bright yellows and oranges to various shades of blue and green, so you can pick a style that suits your outdoor space best.
What's wonderful about these chairs is that they fold up. Traditional Adirondack chairs are extremely bulky and heavy, which can make them difficult to move and store during the colder months.
Pros:
Iconic style
Sturdy design
Fold-out for easy storage or transportation
Easy to clean and maintain
Weather-resistant
Cons:
Not real wood
Comfortable for shorter periods
---
2. Bali Outdoors Stackable Outdoor Fire Pit Chairs
This set of two bonfire chairs has a sleek, streamlined design that is versatile enough to be used anywhere in your backyard.
However, they would look charming surrounding a fire pit.
They are made of polyethylene rattan, an environmentally friendly version of rattan.
It comes in an attractive dark brown color and has a wave-like pattern on the back and seat that lets air through.
It is also weather-resistant, so a bit of rain or snow won't hurt these outdoor chairs for fire pits.
Each chair is large enough to sit comfortably, but it is relatively lightweight at only 29.7 pounds.
They also stack nicely together for storage purposes.
The best part of these chairs is how easy they are to maintain.
If stray ash from a wood-burning fire pit lands on the chair, you simply need to apply a damp, wet cloth to the surface or use a feather duster to wipe the chair clean. They can also be vacuumed.
Pros:
Easy to clean and maintain
Stackable
Come in packs of two
Weather-resistant
Cons:
Slightly uncomfortable material
Difficult to assemble
---
3. Walker Edison Outdoor Fire Pit Seating
If you're looking to add outdoor fire pit chairs that are both stylish and inviting to surround your fire pit, these beautiful acacia hardwood dining chairs are just the ticket.
They have a slatted ladder back and sides and a large square seat with an accompanying cushion.
The chairs come in three different colors:
Warm orange-brown
Dark brown
Gray
Each chair can handle up to 250 pounds and is 20 inches wide.
They are both sturdy and comfortable to sit in for long periods, which is ideal for a fire pit chair.
These do require a little maintenance to keep the wood looking nice.
It is recommended that teak oil be applied to the wood every 2-3 months. This will help the chairs resist moisture and weather events like rain.
The only negative of these chairs is that they don't stack, so chair covers may be something to consider for winter.
Pros:
Lovely color options
The visually interesting slatted design
Real wood
Cons:
Unstackable
Difficult to assemble
---
4. GCI Outdoor Bonfire Chairs
Many enjoy their fire pits while camping. If that's the case for you, the GCI Outdoor Freestyle Rocker is a great choice that will suit roughing it in style.
These comfy fire pit chairs have a steel frame and a canvas seat. The armrests are padded for extra comfort, and there is a built-in canvas cup holder on the front for your beverages.
A favorite feature of this chair is its spring-action rocking technology that allows you to comfortably rock while enjoying the warmth and comfort of a fire.
When you're finished using these outdoor campfire chairs, they fold up flat for easy transport to the next campsite.
Pros:
Easy to transport
Lightweight
Comfortable for long periods of sitting
Cons:
The rocking motion isn't as smooth as a traditional rocker
Shallow, short seat
---
5. Adirondack Chairs For Around Fire Pit
If you like the look of Adirondack chairs but aren't crazy about plastic fire pit chairs or those made with composite materials, this chair is a great alternative.
It is made of acacia, a dense and durable hardwood that resists water and will last a long time.
This rustic fire pit chair has the same wide back and slanted seat as a traditional Adirondack chair. It also folds up flat for easy storage in the smallest of sheds or garages.
Where this chair shines is its beautiful color. It has a warm, reddish-brown hue that will look nicer than black fire pit chairs.
Pros:
Easy to assemble
Fold up for winter storage
Good customer service
Beautiful look and design
Cons:
Should be treated with a seal to increase longevity
---
6. Keter Eden Fire Pit Bench Seating
This fire pit bench seating would make a stylish addition to any outdoor setup.
It is easy to put together, waterproof, and comfortably seat two to three people.
It comes in a solid dark brown, dark gray, or light beige and would look great with added cushions or a pair of colorful outdoor pillows.
The bench is made of both plastic and wood but is durable. It also feels more expensive, making this an excellent choice for chairs around a fire pit.
The best part of this bench is that it can double as a storage box, so you can hide away all of your fire pit accessories in addition to yard and garden tools.
Pros:
Multi-purpose functionality
Great value
Large storage capabilities
Waterproof
Easy to assemble
Cons:
Does not come with a seat cushion
Made from plastic
Manufacturing flashing is common
---
7. Valentina Khaki Fire Pit Conversation Set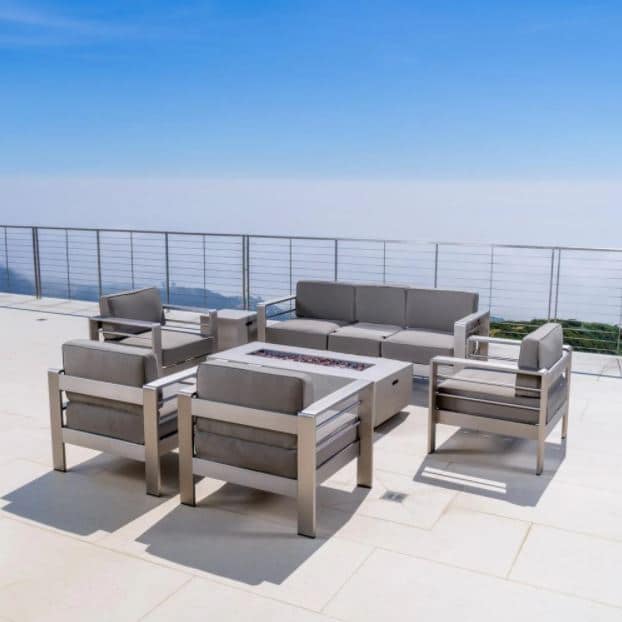 This stunning 7-piece fire pit table and chairs set includes four aluminum chairs, one love seat, and a propane fire table with a tank holder.
It is a larger, more expensive option than some of the other outdoor seats we've looked at on this list. However, it can comfortably seat an entire family or your guests.
The fire pit and chairs have a sleek, modern design. The frame is gray aluminum, which contrasts nicely against the khaki-colored polyester cushions.
Polyester is fairly easy to keep clean and maintain. Both the cushions and accompanying pillows are water-resistant as well, making these an excellent option for outdoor fire pit chairs.
The set is relatively expensive compared with buying a chair or two. However, you are purchasing a full-set, so the cost isn't out of the question.
Overall, this set provides excellent patio chairs for fire pits.
Pros:
Full, matching set
Comfortable cushions
Made from weather-resistant materials
90-day warranty
Cons:
Pricey
Sharp edges
Lower quality aluminum framing that is susceptible to dings and scratches
Fire pit tank is not concealed under table
---
Fire Pit Chair Buying Guide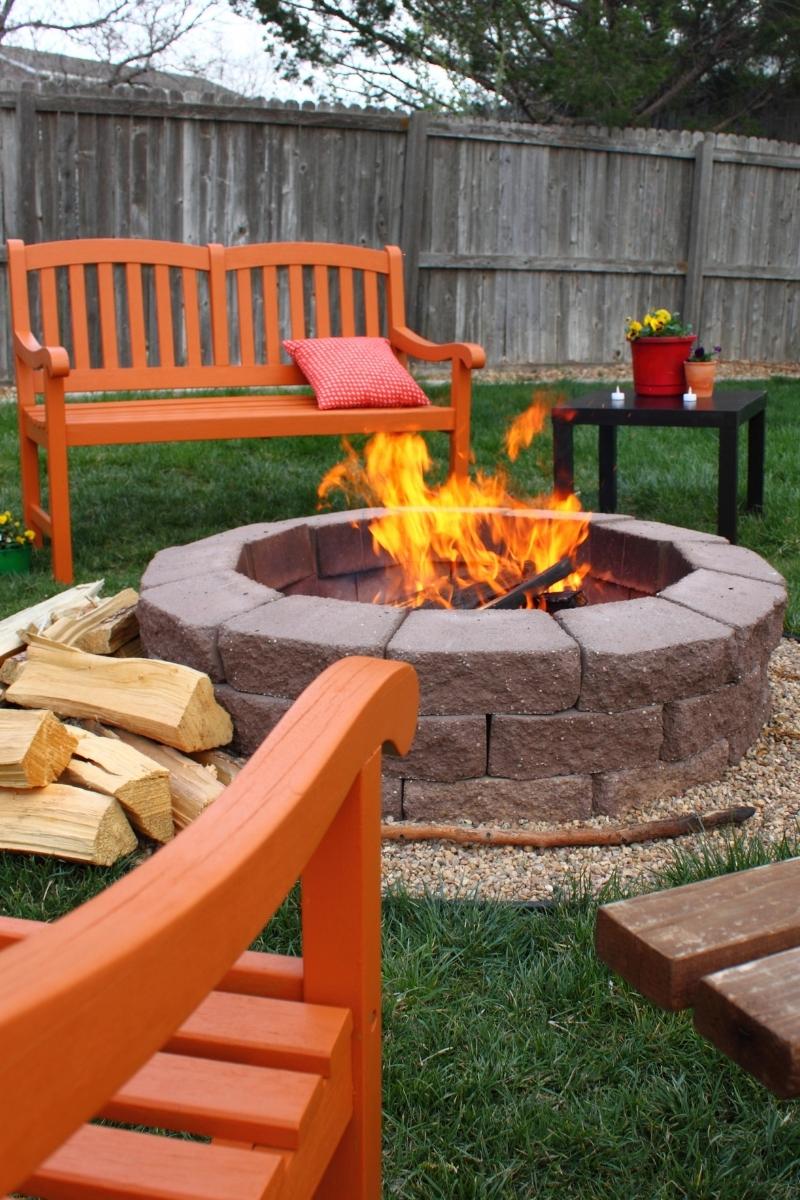 It is important to follow a couple of guidelines when buying fire pit chairs to achieve the ultimate level of comfort, longevity, and durability.
First, consider the type of fire pit you have.
There are dozens of fire pit styles, from rustic steel fire pits and chimineas to fire pit tables.
The style of chair you choose should complement and enhance the fire pit from an aesthetic standpoint.
It is also essential to think about how many people you want to entertain around your fire pit.
If you only have a couple of people at a time, you can potentially invest in two or three high-quality chairs.
However, if you plan to entertain large groups of people, you'll want to look at outdoor furniture sets that can seat everyone.
The material your fire pit chairs are made of should also play an important role in your buying decision.
It is best to avoid overly flammable materials such as cotton or silk for sturdier materials like polyester or vinyl.
Finally, before buying an outdoor campfire chair, make sure it is made from material that is resistant to weather.
Materials like metal or aluminum are durable and heavy, meaning they can withstand heavy winds and won't fade over time.
They will rust without careful maintenance.
Composites, plastic, and resin materials are lightweight and generally cheaper, and while they are resistant to rain and snow, they aren't as sturdy in high winds.
Fire Pit Chair FAQs
Let's look at some frequently asked questions regarding fire pit seating.
What kind of chairs are good around a fire pit?
Chairs that are comfortable to sit in for long periods and those made of high-quality, durable materials are suitable for placing around a fire pit.
How far should my fire pit seat be from the fire?
Generally speaking, it is best to keep a fire pit chair between 24-30 inches away from the fire pit's edge.
How much space is needed for a fire pit and chairs?
Keeping between 7-10 feet around the edge of a fire pit is needed to have enough room to place your chairs around it safely, and people can easily move around.
What should you not put around a fire pit?
You should avoid putting your fire pit beneath low-hanging tree branches, power lines, or roof overhangs.
How can I protect my fire pit chairs from sparks and ash?
Keeping fire pit chairs clean and keeping all furniture a safe distance away from the fire pit are the best ways to keep them free of spark and ash damage.
It is also advisable to keep a fire extinguisher or garden house nearby in case of an emergency.
A fire pit spark screen can also help with protecting furniture from damage.
Fire Pit Seating Ideas
Fire pits are a fun way to enjoy the outdoors and the company of friends and family long after the weather has turned cold.
Above all else, the furniture you choose for your outdoor fire pit should reflect your style and be comfortable.
The Serwall Adirondack chair will tick all the boxes for most people due to its sturdy and classic design, but the Walker Edison Rendezvous is a better option if you're looking for something a little more stylish.
If you choose a wood-burning fire pit, you'll also need wood!
Check out these top chainsaws for cutting firewood and start collecting it yourself today.