The Blue Rooster chiminea range is definitely worth considering if you are looking for a premium outdoor fireplace.
They do not sell traditional clay chimineas that are prone to cracking from heat and decay from moisture. Rather, Blue Rooster manufacture and sell quality cast iron and cast aluminum chimineas. Some of their products can even be used with propane or natural gas, which is something quite different from the ordinary wood-burning chiminea.
We love sitting out beside our chiminea on cool nights, cooking pizza, flatbread, or meat on the grill. There's nothing like the ambiance chimineas create, along with the flavor and smells of food cooked on a woodfire!
The Blue Rooster Chiminea Review
Where are Blue Roster chimineas made?
The company is located in Northern Minnesota and the chimineas are designed by Blue Rooster and then parts manufacture is contracted to China to be sand cast.
When they get the parts in they are all inspected to make sure they meet Blue Rooster's high specifications. Next, they're put together to ensure a tidy fit, then broken down and packaged, and shipped from Minnesota.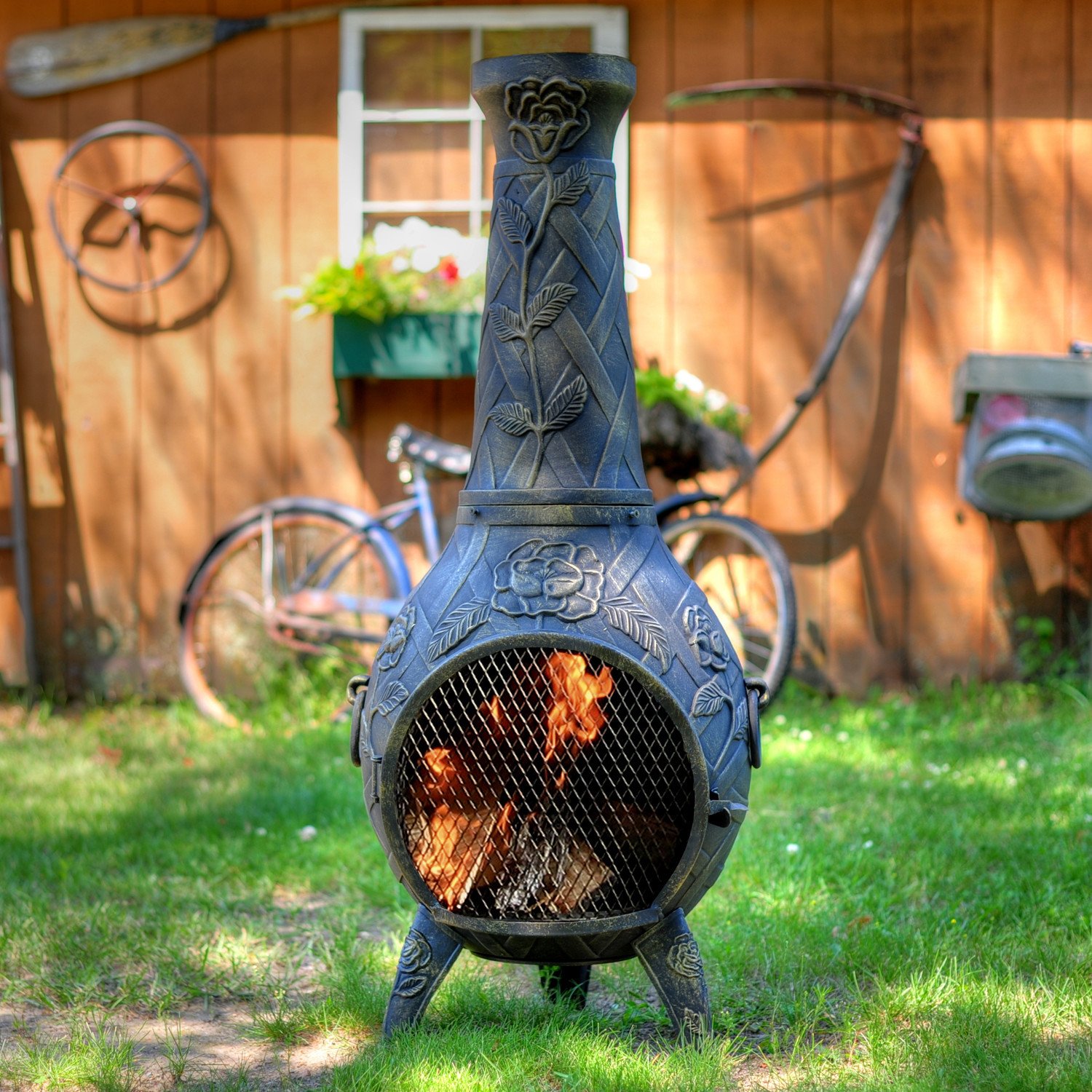 The Blue Rooster Co. has been around since 1997.
Its mission has been to design and engineer high-quality, long-lasting chimineas for families and friends to enjoy their time together outdoors. In fact, they are so confident in the quality of their products that they come with a lifetime warranty. Without a doubt, they are among the best chimineas on the market.
You can generally cook on most wood fire chimineas, though some are easier to use for this purpose than others. Many models in the Blue Rooster range are perfect for cooking because they have a wider mouth for inserting a grill and manoeuvering food around. Many of their chimineas will come with grills as well, or you can pick them up separately here on Amazon.
This is what they state in their manual about cooking with a Blue Rooster chimenea.
The chiminea may be used for cooking (grill grate not included in some models).

Remove the chiminea neck to insert the grill grate at top of body opening on all large and medium sized chimineas.

Be sure to remove the grill grate after cooking and replace neck.
The chiminea will be HOT. Be careful when removing food from the grill.
Fatty foods, like hamburgers, can have excess grease that can cause flare ups. Use caution to avoid being burned.
Never use glass, plastic or ceramic cookware on the chiminea.
If using the chiminea with the gas conversion, do not use for cooking.
Many of their chiminea models can be purchased online here. Having them shipped to your door is certainly the preferable option as they are not very light, nor will they fit very easily into your vehicle.
Check out these portable propane firepits if you were wanting something to take camping or on holiday (though remember, these are not good for cooking over).
1. The Blue Rooster Gatsby Wood Burning Chiminea
The Gatsby Chiminea is one of Blue Rooster's most popular outdoor fireplaces.
It is constructed of cast aluminum (which will not rust) and usually comes with a cast iron cooking grate. The door safety screen, hinge, latch, and other hardware are made from stainless steel. It is charcoal colored. It comes with a lifetime warranty, a screen, a wood tool, and some touch-up paint.
This is considered a medium-sized chiminea, weighing in at 65 pounds with a 12.5-inch fire bowl, but it will put out a decent amount of heat with the right wood.
Overall, the Gatsby Chiminea is a very good option and will fit into most settings to create a warm and vibrant atmosphere.
Other features include:
Carry handles for easier moving
A removable rain lid
The removable neck with a cooking insert
Spark arrestor neck insert
---
2. Blue Rooster Venetian Grill Chiminea
The Venetian Chiminea from Blue Rooster is another wonderful cast aluminum outdoor fire.
This model is a slightly larger option that could be more imposing on small areas, and therefore better for those with extra space. It weighs about 92 lbs, so it's a third heavier than the Gatsby model.
This fireplace has a very large mouth, offering an almost 180-degree view of the fire, and making it all the easier to cook in. This means you can cook larger items like pizza as well!
It's another excellent choice for those who want a large chimenea and like the Venetian design.
Other than the design, it is very similar to the previous Blue Rooster Chimenea:
A spark arrestor neck insert (keeps sparks going up and away)
Decorative rain lid
Solid carry handles
A lifetime warranty
A cast-iron grilling plate insert
---
3. The Blue Rooster Dragonfly Chiminea
The Blue Rooster Dragonfly Chiminea is a beautiful little fireplace that will complement any area.
This stunning design comes in Charcoal (here on Amazon) Gold (here on Amazon), or Antique Green (here on Amazon) – the latter being the nicest in my opinion!
However, the Blue Rooster recommends the Charcoal color because it will look better longer. The Antique Green coloring may darken during the ordinary use of the fireplace.
It is a large, heavy cast aluminum chiminea with a unique and functional outdoor fireplace design. It can handle larger logs than many of the alternatives and has a large mouth opening for a good view of the fire.
As with all of Blue Roosters' chimineas, the hinged safety door provides easy access for adding wood, roasting marshmallows, or cooking.
The quality of the Cast Aluminum construction combined with Stainless Steel hardware is excellent.
It requires very little maintenance and will last for many years of use -though keeping it covered when not in use is a good idea.
Other points of note:
Don't worry about rust
Could be used during power outages for cooking
Weighs 80 pounds, so it's a little lighter than the Venetian
Removable rain lid
Spark arrestor neck insert
Includes cast iron grill for cooking
Built-in handles
---
4. Blue Rooster Casita Grill
This is the Blue Rooster's largest chiminea fireplace – the Casita Grill.
Weighing in at 285 lbs, it's designed to last a lifetime and more. This outdoor fire can take full-sized logs and be built up to a roaring fire.
It has a specially designed cooking platform that is perfect for cooking pizza, smoking fish, or grilling a steak. It is easy to set up, easy to light, easy to clean, and easy to love! And, as long as you're burning well-seasoned wood, it will also be smoke-free.
One of the major differences between this Blue Rooster chiminea and the others (besides the size and design), is that is made of cast iron. However, the hardware and safety cover are stainless steel.
While the Casita Grill is less like a chiminea, and more like the Sunjoy Outdoor Fireplaces, it's made with a lot of care and attention.
Other features of this large chiminea include:
A well-styled rain lid
Hinged mouth screen
Can do 14″ pizzas
Easy assembly
Only comes in charcoal color
---
5. The Blue Rooster Pine Chimenea
And last on our list of featured chimineas from the Blue Rooster is the Pine chiminea.
This has a similar shape to the Dragonfly Chimenia but will have slightly different design features. It's a small cast aluminum outdoor fireplace that weighs approximately 65 pounds – the same as the Gatsby.
As with all of the other BlueRooster.com chimineas we've featured here, it has:
Stainless steel hardware
A rain lid
Paint for touch-ups
Rust free
Grilling inserts
The Blue Rooster Company

The Blue Rooster Company is a seasoned outdoor fireplace manufacturer specializing in chimineas, with an emphasis on delivering superior design and functionality over common fire pits.
With over a decade of industry experience, they're known for their durable, high-quality chimineas constructed from cast iron or cast aluminum. They believe in producing long-lasting products as a response to a throw-away society and claim their "better outdoor fireplaces", when used and maintained properly, will stand the test of time.
The company offers chimineas with a traditional design which are easier to light, especially in windy conditions, compared to fire pits. Their products come with added safety features, such as efficient drafting to reduce smoke and smoldering.
Furthermore, they offer flexible deck protectors and recommend their usage for safe operation on decks or patios. The company is also involved in providing maintenance services and accessories to ensure their chimineas remain in top condition.
Blue Rooster Chimineas
Our favorite Blue Rooster chiminea is the Dragonfly, which you can see in action in this video.
We really like the design, functionality, ease of use, and size. It's the perfect chiminea for us – but is it right for you? Find out more about it and read the Blue Rooster reviews in the product listing here on Amazon.
We also prefer wood-burning chiminea as opposed to gas, but as with some of these options, you can change between the two. It's not as difficult as converting a wood-burning fireplace to gas.
Lastly, we are unaware of any The Blue Rooster coupon codes or discount offers. They are sometimes on sale on Amazon.
If you were wanting a solution for cooking pizza outdoors, consider Ooni Pizza ovens. These are a premium solution for the pizza obsessed. Let us know if you have any questions down below, and we'll get you an answer asap!