There's nothing better than sitting on the porch in the cooler months with the warmth of a fire pit.
It's relaxing, comforting, and a great way to spend quality time with friends and family. A fire pit makes sitting on the porch more of a destination in and of itself.
Decorating or making over a porch to make these times all the more enjoyable and memorable is therefore important. These ideas for decorating, accessorizing, and making over your porch for fire pit season should help to inspire!
Fire Pit Porch Decoration Ideas
How you decorate or makeover your porch this fire pit season will depend on how much space you have available.
However, whether you have a large or small porch, deck, or veranda, most of these ideas can be implemented to some extent anywhere. Just always remember to play it safe with fire pits, keeping combustibles at least 5 feet away.
Propane fire pits are usually safest for porches as wood-burning fire pits tend to spark a lot more, but that doesn't exclude them altogether as you'll see in the images below. A fire pit with a spark screen can be used safely.
Now, to the ideas!
1. Create a comfortable seating area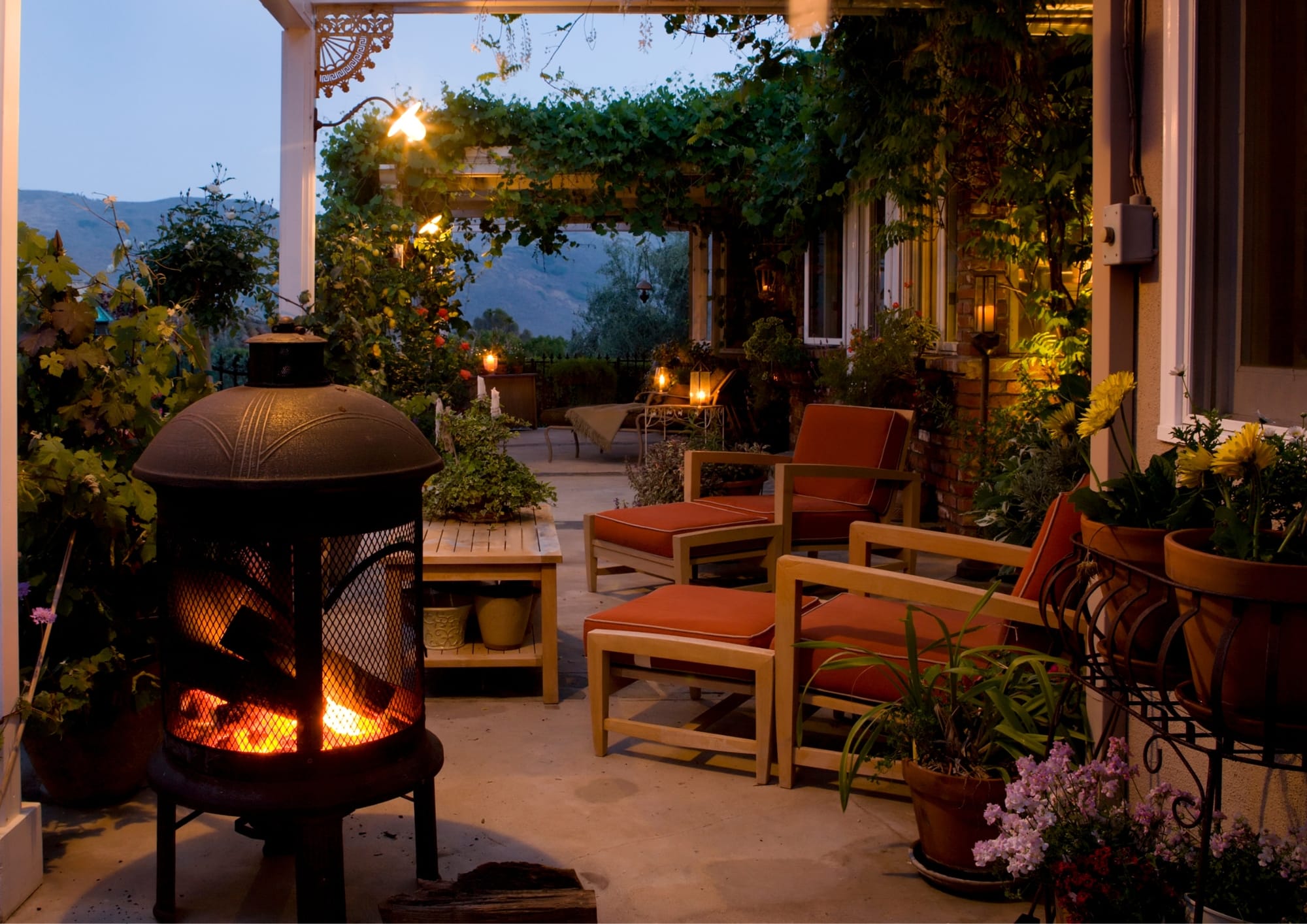 It's not going to be much of a porch fire pit night without comfortable seating.
Common fire pit seating ideas like Adirondack chairs and wicker chairs are great, but there are plenty of even more comfy outdoor lounge suites that can be used. Wood furniture is often more durable than plastic or metal, and its heftiness complements most fire pits.
Pick your cushion color carefully; match other accents and blend in with your overall aesthetic.
2. Add ambient lighting
Ambient lighting is a must for nights on the porch beside a fire pit.
String lights, candles, and outdoor table lamps will all serve to create a warm and lively atmosphere alongside the light from the fire. Place lights at different levels for a more organic look and feel. A DIY fairy light candle holder or similar craft project can also be a nice touch.
You can also install outdoor wall sconces or landscape lighting to add more illumination.
3. Incorporate natural elements
Natural elements are a must when decorating or making over a porch for entertaining (or just for yourself)!
Plants, whether they're pot plants or in a garden bed, help create a relaxing and calming atmosphere on a porch. They give a freshness and vibrancy that's hard to create without them.
Plants can add color, texture, and beauty to a porch, creating an inviting and aesthetically pleasing space. They can be focal points or used as a backdrop for other decorative elements.
Tiles around a fire pit or porch could be made of stone – another natural element that helps anchor the space in its place. Alternatively, decorate with driftwood, rocks, or brick.
4. Use decorative accents
Even with the fire pit going, it can still get cool on the porch depending on the time of the year.
Incorporate decorative items like blankets and cushions that people can pick up and use to get warm or stay comfortable when needed.
Other items that can be used to decorate a porch include lamps, sculptures, other forms of outdoor art, pots, outdoor rugs, plants in hanging baskets, and outdoor furniture other than chairs.
5. Use furniture
If there is room, a table and chairs on the porch are perfect for meals beside the fire pit.
Some furniture can even be quite functional, such as tables used to hide propane fire pit gas tanks. Other furniture can be purely decorative, such as stands for holding multiple plants.
Some people opt for fire pit conversation sets which include both the fire pit and furniture. If you're using the space during the day a sun umbrella can be another important addition.
Porch Decor For Fire Pits
The porch decorating ideas from this home has hopefully helped give you some ideas on how you might makeover or decorate your porch.
While we promised 31 ideas and only had 5 sections, all the ideas add up to far more than what was promised… don't you think?
A picture tells a thousand words after all, and we've included a number of porch decor pictures!
Here are two final ideas for your porch, patio, deck, or outdoor space: get a Stoke Pizza Oven or install a two-sided fireplace (you can see them from inside and outside)!