There is no better feeling than huddling around the warmth of a fire pit on a chilly evening with the sun just starting to set in the sky.
Stone fire pits are some of the most delightful outdoor accessories any home can have, and their welcoming aesthetic is guaranteed to spice up your next outdoor gathering.
But how to choose the best stone fire pit for your home?
We've rounded up the seven best stone fire pits being sold right now so you can bring light and life to your yard, whether you just want a fire pit with rocks or a fancy propane-fueled brazier.
Best Stone Fire Pits
The Pavestone RumbleStone Round Fire Pit is our best choice due to its all-around quality, but there are plenty of options out there.
We'll discuss the different kinds of stone firepits, including stone-look, natural stone, wood-burning, and propane.
1. Pavestone RumbleStone Round Fire Pit Kit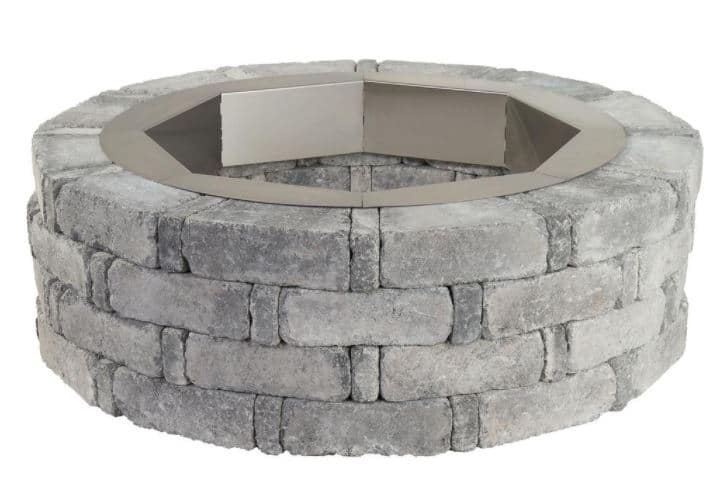 VIEW ON HOME DEPOT →
46″ diameter
14″ high
Concrete
Of the four fire pit kits on this list, Pavestone's RumbleStone Round Fire Pit Kit features the best overall combination of qualities.
Many fire pit kits sacrifice good looks for simple assembly and end up looking just like a mound of rocks put together.
This kit blends a more complex aesthetic with easy installation by using two different stone types in an easy-to-follow pattern that takes a little more time but is well worth the wait.
The stone for this Home Depot fire pit kit comes in three different color finishes: Greystone, Sierra Blend, and Cafe.
The kit also comes with an octagonal fire pit ring to protect the wood while burning.
Check out these paving ideas for around fire pits to get the backyard design that suits you and your property best.
Pros:
Easy to install
Color doesn't fade
Protective ring
Cons:
---
2. Necessories Fire Pit With Cooking Grate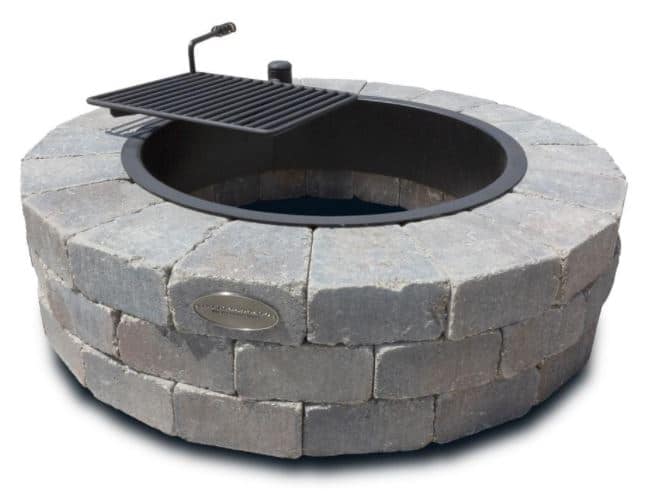 VIEW ON HOME DEPOT →
48″ wide
12″ high
Comes with steel fire pit ring
It is tough to beat the taste of fresh food cooked over an open fire—and it's even tougher to beat the flavors you'll be getting from this fire pit.
With a nearly 300-square inch cooking grate, this pit will allow you to cook everything from a vegetable dinner to thick cuts of meat.
This is one of the highest-rated stone fire pit kits out there, and it's clearly the best for those who want to cook with their fire pit.
Like all the fire pit kits on our list, it's made of natural stone. You can choose between Bluestone, Santa Fe, and Beechwood color finish options.
It assembles in 30 minutes to an hour, and the kit includes all materials needed for installation (even gloves!) except for a shovel, caulk gun, level, and gravel/sand fill.
If you're feeling flexible on the stone, check out these other great fire pit grills made of cast iron, copper, and steel.
Pros:
Accessories included
High-quality ring insert
The cooking grate meets ADA standards
Cons:
The ring may not fit perfectly
---
3. Peaktop Propane Stone Look Fire Pit
28″ diameter
9″ high
Stone-look
If you're looking for a propane fire pit on a budget, the Peaktop Round cast stone option is the one for you.
This beautiful stone-look fire pit is as light on your wallet as it is easy to use.
This fire pit also emits a good deal of warmth at 40,000 BTUs—enough to keep a party warm even on some colder winter nights!
It is powered by propane gas bottles, but it doesn't have a spot for them inside the firepit. That means you'll need to place the fuel somewhere discreetly next to the pit.
Pros:
Adjustable flames
Durable
Includes waterproof cover
Cons:
---
4. Sun Joe Fire Stone Wood Burning Fire Pit
VIEW ON AMAZON →
35″ diameter
20.5″ high
Cast stone
If you're looking for a cheaper wood-burning fire pit, on the other hand, the Sun Joe Stone Fire Pit could be for you.
It's a pit with gorgeous masonry that won't bust your budget. That's a steal for the amount of value it contains!
This fire pit also comes with a mesh spark screen with a handle that will protect you and your guests from sparks, as well as a 24-inch screen hook to remove it when it's hot.
This model will also accommodate logs up to 21.5 inches.
Pros:
Mesh protects against sparks
The base comes assembled
Cons:
The mesh and screen may not be durable
---
5. Newcastle Propane Firebowl Column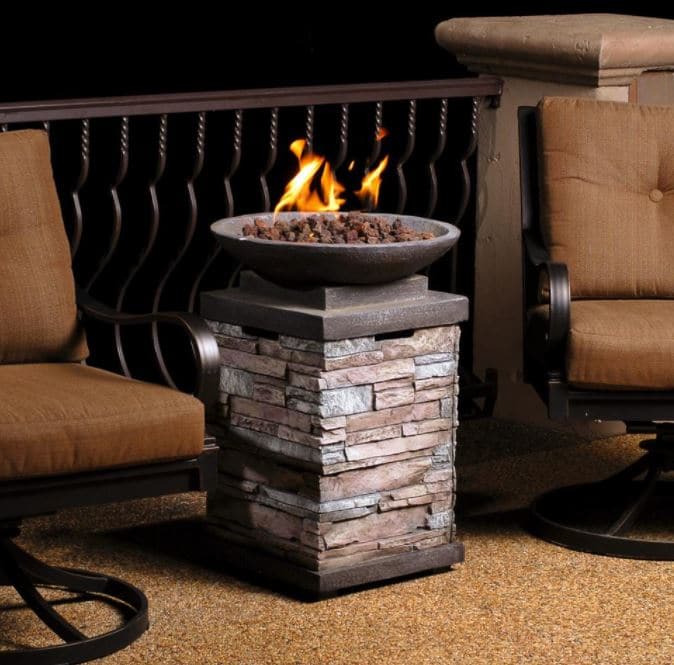 VIEW ON AMAZON →
20″ wide
30″ high
Propane
If you want to lean into the warmth-provision side of a fire pit with a unique aesthetic twist, consider Newcastle's Propane Firebowl Column.
This innovative take on a stone look fire pit is perfect for an evening party – its column-style height distributes both light and warmth exceptionally effectively.
The titular "Firebowl" features a dancing flame and realistically glowing pumice rocks that will make your backyard pop to visitors of all kinds.
This unit produces 40,000 BTUs of heat.
This model also does have space to accommodate a propane tank inside the unit itself, so you won't need to worry about finding a place for the fuel outside.
Pros:
Lightweight
High-quality coating system
Concealed propane tank
Cons:
Cover is not super waterproof
---
6. Ledgestone Stone Fuel Fire Pit Ring Kit
VIEW ON HOME DEPOT →
47″ diameter
14″ high
Wood burning
If you want the natural look that a fire pit kit provides without a lengthy assembly process, consider the Ledgestone Round Concrete Wood Fuel Fire Pit Ring Kit.
This model boasts assembly in minutes.
This kit is a simple but elegant option, and its fire pit stones come in four different colors: Brown, Gray, Gray Variegated, and Tan.
Any of these colors will provide one of the best outdoor stone firepits on your block.
This one also does require an especially level surface, as many reviewers noted in frustration that their surfaces didn't cut the mustard there.
You can buy fire pit rings separately if you prefer to cobble together the stone, brick, or concrete surrounding yourself.
Pros:
Beautiful design
14 in. and 18 in. height available
Cons:
Blocks may not fit together well
---
7. Hudson Stone Round Fire Pit Kit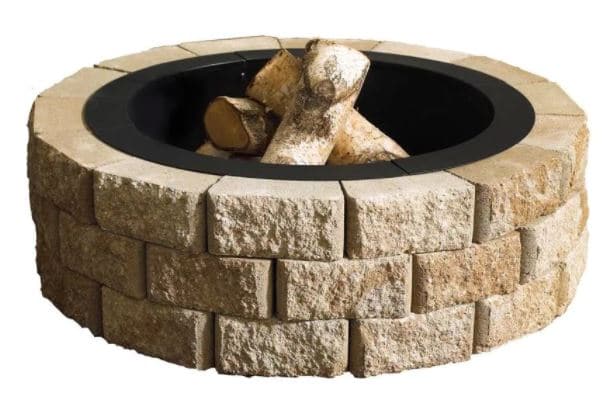 VIEW ON HOME DEPOT →
Size: 40 in.
12″ high
Concrete
The Hudson Stone Fire Pit Kit is technically stone-look, but that doesn't mean it's flimsy.
This lovely model is made of constructed concrete with a stone-look finish that could fool the most talented masons in the world.
And don't worry, just because it's concrete doesn't mean it's ugly—this is one of the best-looking fire pit kits on our list!
But because it's concrete, it's also by far the most durable – possibly even more durable than a heavy-duty steel fire pit.
Pros:
Cheaper than other concrete pits
Functional and eye-catching design
Cons:
The ring paint may peel off
---
Stone Fire Pit Pros And Cons
Now that we've gone through the best stone fire pits on the market today, let's examine a little more the benefits of stone fire pits, as well as how to choose the right one for you.
Going with a stone fire pit instead of different material has benefits, and it has drawbacks.
The most obvious benefit is the look—a stone fire pit has a unique aesthetic that will always spice up your yard. If you aren't a fan of it, there are plenty of other materials to choose from.
Stone fire pits also often last much longer than fire pits made of other materials, like steel or PVC.
Of course, it's important to note that this benefit only applies to genuine stone fire pits—most stone-look ones lack the durability of actual stone.
But there are some significant drawbacks to going with a stone fire pit. Typically, they're either cumbersome and hard to handle or extremely light, flimsy, and susceptible to strong winds.
A natural stone firepit is usually very heavy, making it annoying to move once you've set it up in your yard.
Stone-look fire pits, on the other hand, tend to be much lighter. This makes them easy to move around in your yard but dangerous if you suffer from powerful winds.
Finally, when it comes to fire pit kits, many buyers enjoy the assembly process, but for others, it just feels like an unnecessary hassle.
Stone-look Vs Natural Stone Fire Pits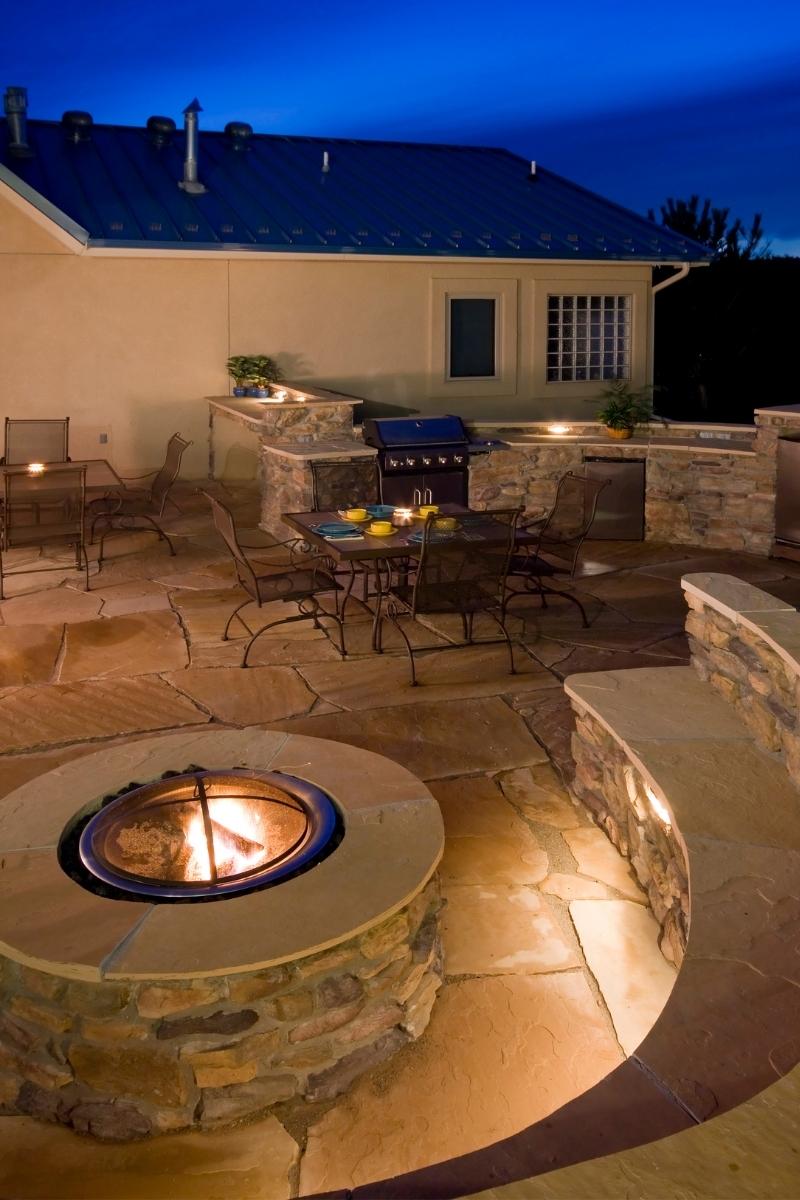 Some of the stone fire pits we've featured here are made of natural stone, like the Sun Joe Fire Stone Wood Burning Fire Pit.
Others, like the Newcastle Firebowl Column, are made of various materials, including concrete and fire pit bricks, that are designed to look like stone.
These are the stone-look firepits, and it's important to decide before you search for fire pits whether you want a natural stone or a stone-look one.
Propane Vs Wood Burning Stone Fire Pit
The other important distinction within stone fire pits is whether you want propane gas or a wood-burning fire pit.
Many fire pits are designed for you to put wood inside, light it up, and then manage it throughout the time you have it burning.
Others are fueled by propane tanks, which you'll need to purchase. Often, these will not have a spot for the tank inside the firepit, so consider that when choosing where you're placing the pit.
Creating a Permanent Fire Pit Area
First, you want to choose a patch of level ground that's well within your property and far from any structures or other fire hazards.
You also may want to use the USDA's Wind Rose tool to determine the prevailing winds at your location and minimize the amount of smoke blowing towards your house.
Also, before you start doing anything, make sure you're within the bounds of all your legal and HOA obligations. Because of the fire hazards that a fire pit introduces, many local governments and HOAs have strong regulations when it comes to these.
Finally, get to digging!
Your instruction manual should cover this part of the process. But there are so many more ways to customize your permanent fire pit area, and there are several opportunities to make it your own.
Once set up, make sure to get the perfect fire pit furniture or fire pit chairs!
Stone Fire Pit FAQs
Can you use any stone for a fire pit?
Absolutely not.
More porous types of stone, like limestone, pumice, and sandstone, are all much more likely to explode when exposed to extreme heat.
That's doubly true if the rocks are wet. It's wise to cover your stone fire pit when not in use to minimize that risk in general.
The fire pit kits here use much safer stone, like granite or marble, and they've often been heat-treated.
If you're building your fire pit without a kit, make sure to use these types of stone rather than more porous ones and consult a specialist to avoid any hazards.
What do you put in the bottom of a stone fire pit?
There are several different options for the bottom of a stone fire pit.
Many people just use dirt, but others use a layered combination of sand, lava glass, and lava rocks.
You can see one of mine in this article on how to light a fire pit – I often don't put anything in the bottom of a fire pit.
Do stone fire pits need air vents?
Yes, stone fire pits require air vents.
Not only will more airflow make it easier for you to get your flame going, but it will also protect your base from scorching.
Will pavers explode in the fire pit?
Pavers can explode in a fire pit, which is why you need to follow the directions and safety guidelines of your fire pit kit exactly.
Is concrete OK for a fire pit?
Concrete will typically not explode in a fire pit (unless you're using smaller concrete pavers that aren't heat-treated), but it can be damaged throughout long-term use.
Will concrete crack with heat?
High heat can cause concrete to crack, so we don't recommend putting your fire pit on a concrete surface if you want to preserve the surface's integrity.
Brick, Concrete, Stone Fire Pits
Stone fire pits can be an excellent, easy way to turn your backyard into a homey paradise to host outdoor gatherings all year long.
No matter what you prefer in masonry fire pits, we hope we've either given you an item that matches your preferences or at least pointed you in the right direction to find one.
Check out these fire pit landscaping ideas for more inspiration on how to set up your stone fire pit.