Sitting by a fire or cooking with an open flame are experiences people have enjoyed for centuries. But dealing with the hassles of smoke can make some avoid burning wood altogether.
Breeo industries spent time designing a unique smokeless fire pit thanks to a double wall interior. It helps to increase airflow, creating hotter, more efficient fires.
While fire pits can't be completely smokeless, they significantly reduce irritating smoke that can be annoying at the least and dangerous at the worst.
If you've wanted a fire with less smoke, consider checking out Breeo fire pits. I spent time reviewing their products honestly so you can know if they'll work for you.
Breeo Fire Pit Reviews
Breeo X Series

Breeo's most popular series in corton or stainless steel
3 sizes: the 19, 24, or 30 (the 19 is very popular)
Double wall tech and secondary combustion

View On AmazonView On Home Depot

Breeo Y Series

A lightweight portable wood burning fire pit
Collapsable legs, easy carry handle
Grilling system also available

View On AmazonView On Home Depot

Breeo Luxeve

Breeo's large stainless steel luxury fire pit
Four color options plus choose fire glass color
Inside fire pit diameter 24" - total diameter 36"

View On Home Depot
These Breeo stoves come in various styles to suit every need, whether you're looking for a smokeless wood-burning fire pit to install at home or one to take traveling.
Let's take a complete look at Breeo's smokeless fire pit collection, with honest reviews for each option.
1. Breeo X Series – 3 Sizes
The first of the Breeo fire pit options is the X series, which comes in three sizes.
I'll outline the dimensions of each afterward, but these no-smoke fire pits have similar features.
Like other Breeo options, the X series has a unique double-wall design. These pits come in choices of Stainless steel or Corten steel, the latter being a type of metal that arrives blue but will age and gain a patina over time.
Both are quality metals that many Breeo reviews find sturdy. The company makes good on its promise of a product that will last a long time.
One of the most exciting features of the X series is that you can purchase Breeo cooking accessories for these fire pits. I love the opportunity to cook with fires, and there are a variety of compatible sear plates, griddles, and the Breeo grill.
All of the sizes of the X series will work with these additions.
Of course, one of the most pressing questions about no-smoke fire pits is if they successfully reduce smoke. Many find that Breeo outdoor fire pits are surprisingly smoke-free, performing better than expected.
It's worth noting that some smoke at the beginning of a fire and when the wood becomes low is always a part of the process.
Pros:
A complete array of cooking add-ons are available
Sturdy, well-built pits
Very low smoke
Cons:
Can be heavy
Can't burn on top of decks or all materials
X Series 19
Many people wonder about the Breeo 19 vs 24 X series because choosing between these sizes can be difficult.
Each function similarly, but ultimately it's up to personal preference and available space.
The Breeo X 19 fire pit has an outside diameter of 22 inches and a 14.75-inch height. It weighs 47 lbs and can accommodate wood pieces between 14 to 16 inches.
X Series 24
Next, the Breeo X 24 smokeless fire pit is a bit more expensive and has a wide diameter of 27.5 inches with a height of 14.75 inches.
Overall, that extra size results in 62 lbs of weight and can handle wood between 16 to 18 inches.
X Series 30
Finally, of these Breeo stoves is the X series 30, a fire pit built for people to gather.
It boasts a 34.5-inch diameter at the standard 14.75-inch height.
This smokeless fire pit might be more of a permanent outdoor feature at 94 lbs. Plus, you can fit wood up to 24 inches long inside.
---
2. Breeo Y Series Portable
Next is the Breeo Y series portable, which is an ideal option for people looking for camping options or if you're low on yard space.
According to some Breeo reviews, another primary benefit of these Y series is that they have heat shields to make it safe to burn these pits on any surface.
It has collapsible legs that extend to multiple heights, standing at either 15 or 20 inches. The Y series will also work with Breeo sear plates and cooking accessories for the X 19.
Ultimately, you can compact it to only 11 inches in height and 21 inches in diameter. Carrying it around will weigh about 31 lbs.
Luckily, you can burn wood, charcoal, or pellets inside. This feature can help lighten the load when traveling with the Breeo fire pit.
One potential issue is that the outside of the fire pit can get hot, so you'll have to wait for it to cool down before you take it home.
Some people find that this smokeless fire pit keeps the heat too internal, so it lets out less heat into the surrounding area. It might not be the best option if you're relying on the fire for some warmth.
Compared to these small portable charcoal grills or portable propane fire pits, the Y Series is quite a bit larger overall.
Pros:
Light and small for travel
Safe for all surfaces, including decks
Compatible with cooking accessories
Cons:
Metal material gets hot
It doesn't provide much warmth
---
3. Breeo Luxeve Fire Pit
Finally, of the Breeo fire pit options is the Luxeve.
This luxury model is suited to be a centerpiece of a backyard, and you won't be moving this option often.
It functions similarly to the Breeo X but grander, with a 33-inch diameter and 15-inch height. The Luxeve weighs between 122 to 135 lbs.
Much of the weight comes from one of the luxury features, a fire glass filling that adorns the outside of the fire pit. You can choose a variety of custom colors for both the finish of the fire pit and the glass.
Of the Breeo smokeless fire pits, it's the most decorative. Many people find the glass attractive, and it can have a fun effect when the fire reflects off it.
Unfortunately, the Luxeve model isn't compatible with any cooking add-ons. You can still roast food on sticks, but this might be unfortunate for people looking for a searing or grilling experience.
You can expect warmth from sitting by this fire, and it's a comfortable option for a group to sit around.
Propane fire pits are a good alternative to this wood-burning option, or, alternatively, these fire pit tables.
Pros:
Beautiful finishes and glass options
Large size for groups
Long-lasting option for a backyard
Cons:
Not compatible with cooking accessories
Can't burn on top of any surface
---
Breeo Vs Solo Stove
If you're looking into smokeless wood fire pits, you may have heard of Solo Stove, the main competitor of Breeo.
Here's a closer look examining the differences between the functionality, product selection, cost, materials, and companies of Solo Stove vs Breeo.
Functionality
First, functionality is one of the most crucial aspects.
Breeo products can be tricky for a smoke-free experience. Usually, you have to be careful to load the wood correctly and keep the fire burning at a proper temperature.
People tend to find the Solo Stove easier to use and has less smoke overall.
It's important to note that while Solo Stoves are more smoke-free than Breeo, no fire is smokeless. No-smoke fire pits considerably reduce smoke, but it's impossible to guarantee no smoke.
While they excel in reducing smoke, Solo Stoves don't have the same flexibility with cooking add-ons as Breeo. If you're interested in regularly cooking with fire, you'll have better luck with Breeo fire pits.
Additionally, most Breeo fires emit more radiant heat than Solo Stoves. The exception is the Breeo Y model. Otherwise, you'll be warmer sitting next to a Breeo than a Solo Stove.
For people who want to travel with a fire pit, you might find a better option with Solo Stove.
Solo Stove no-smoke fire pits are lighter than Breeo. Breeo does have a portable version, but Solo Stove might have a smaller alternative that's as easy to carry.
Ultimately, Breeo fire pits can hold their own, especially for cooking. But if you're looking for a completely smokeless experience, you might want Solo Stove.
Product Selection
Breeo is a slightly smaller company that has a specific focus on fire pits.
Solo Stove has a broader selection of products in fire pits and other fire options.
We've covered all of the Breeo fire pits, and their smokeless options are impressive. Still, besides size and portability, they function the same.
Solo Stove offers multiple smaller fire pit options that make them better for travel. They also have a tabletop option, which Breeo doesn't deliver, and there's the Solo Stove Grill.
However, if you're searching for a sizable option, the Breeo outdoor fire pit is ideal. Their fire pits are significantly larger than Solo Stove's biggest.
Yet it's worth mentioning that Solo Stove has other products than fire pits, such as pizza ovens, patio heaters, and camp stoves.
Some people enjoy having matching gear, or you might find these options suit you better than a pit.
Cost
For the cost, Solo Stove is much more affordable.
If you're looking to try out smokeless fire pits or you're looking for an entry-level option to travel with, you might find something more in budget with Solo vs Breeo.
One of the primary factors mentioned in Breeo fire pit reviews was the surprising cost. Many still felt the expense was well worth the product, but it can depend on budget and intended use.
Investing in a high-end smokeless wood fire pit that can last years in your yard makes sense for some, while others might be searching for a spare option to bring to the beach.
Materials
Next, in our analysis of Solo Stove vs Breeo is the material options.
Breeo excels in this category, as they offer metal options.
Solo Stoves are exclusively Stainless steel, whereas most Breeo products come in either Stainless steel or Corten steel.
Steel fire pits can be very good – they're hardwearing and durbale.
Generally, you'll find that Breeo fire pits have higher-quality metal, and their construction is incredibly durable. Many Breeo reviews remarks on how well-made and sturdy the products are.
If you invest in the high-end Luxeve choice, your fire pit will also have decorative glass and custom finishes.
The dedication to quality also makes Breeo options easy to clean.
Breeo fire pits win in this category, as they're much more manageable than traditional options.
Companies
Finally, we can examine the companies themselves.
To start, Breeo is an American company that manufactures in Pennsylvania. As a Pennsylvania native, I know what kind of cold nights can inspire the need for a quality fire pit.
Plus, it's a land of steel, and you can tell Breeo industries carefully crafts its products. They make all of their fire pits entirely in America.
They don't just boast about how long your fire pit will last but offer a limited lifetime warranty to prove their confidence. They'll happily replace the product if unexpected manufacturing or rust issues occur.
Overall, they seem to have comprehensive customer service. On the website is a helpful self-guided FAQ section to answer basic questions.
If you need to contact the company, you have multiple routes. They offer a phone number open on weekdays, or you can schedule a video call. If you have a less urgent issue, you can also send an email.
On the other hand, Solo Stove is a larger company that operates to create products besides just fire pits. The Solo Stove headquarters is in Texas, but they're bigger and outsource manufacturing.
The company has expansive digital options for customer service. They offer a 24/7 online chat to help answer essential questions and an interactive support center.
If you hope to contact the company, you can try calling them daily. You could also fill out an issue form through their website.
Overall, Breeo and Solo Stove have pretty equal customer service options available. Breeo does offer some more personal choices, like a video call feature.
If you buy a Breeo fire pit, you can help support a smaller company that crafts in America.
Breeo Fire Pit FAQs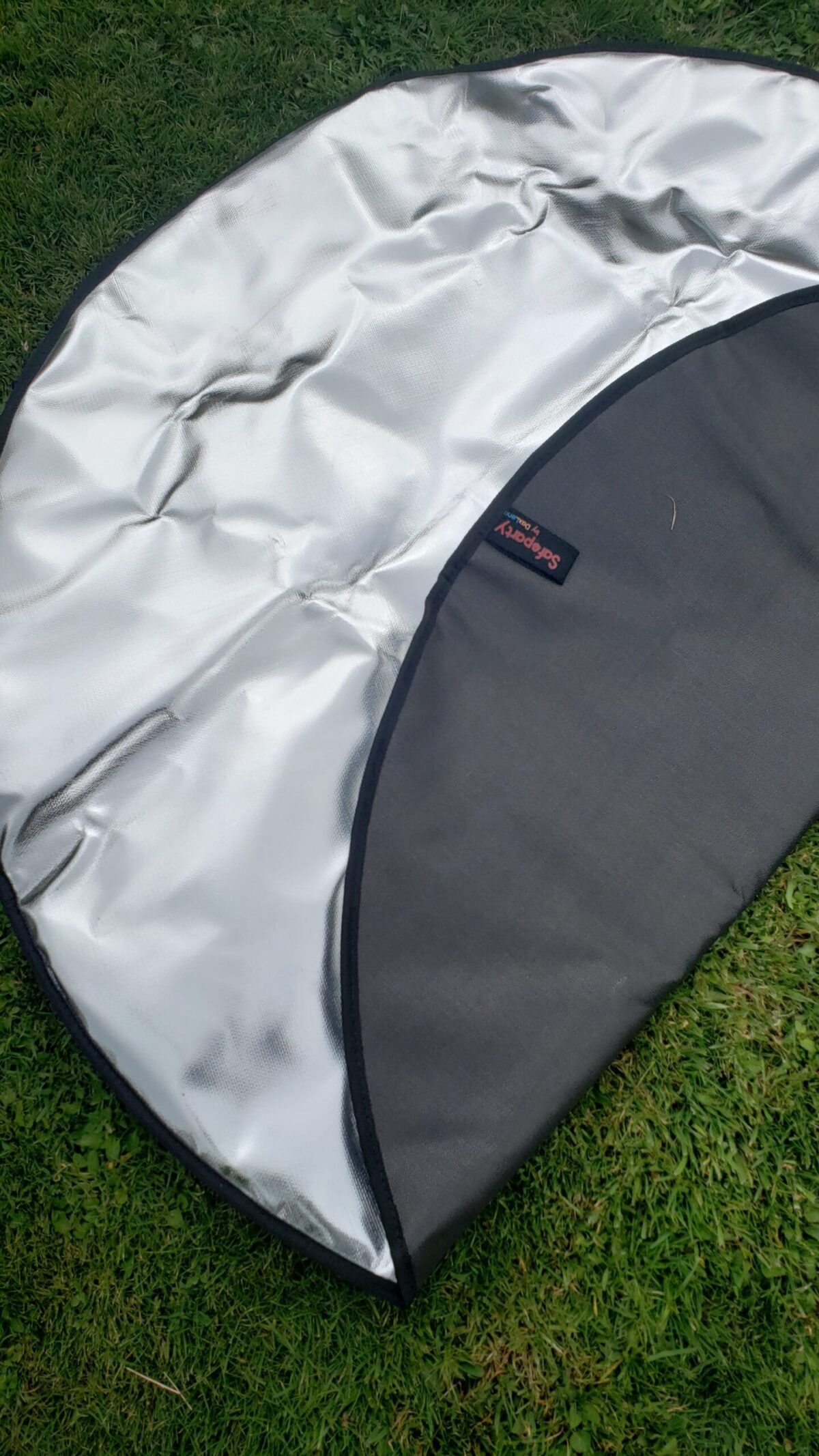 Let's cover some Breeo fire pit FAQs to help answer any final questions you may have.
Do Breeo fire pits rust?
No, Breeo fire pits shouldn't rust. They have two metal options, and both are suited for outdoors.
Corten steel is known as weathering steel because it develops an outer layer of an orange rust-like patina over time. The fire pit will arrive looking blue but will slowly change over the years, but the rust isn't a structural issue.
Or, you can avoid this entirely with Stainless steel.
How long will a Breeo fire pit last?
A Breeo fire pit should last you decades.
Investing in their products may be the last smokeless fire pit you ever buy. Their high price comes from quality materials and craftsmanship.
Can you put a Breeo fire pit on concrete?
You can place all Breeo fire pits over concrete because it won't burn, but you may risk some damage to your concrete.
There's a chance of burn marks or loosening of the bonding agents if they're susceptible to heat.
But you can purchase a base for the fire pits to prevent this, or, additionally, buy a good fire pit mat.
Additionally, the Breeo Y portable fire pit doesn't have this issue. It has a built-in deflector to make it safe to burn anywhere.
Does Breeo radiate heat?
Breeo fire pits focus more heat internally to create less smoke.
Some people find that the fire pits radiate less heat than traditional fires.
According to Breeo reviews for the Y portable edition, this model puts out even less heat than other models.
If you want a fire pit that radiates a lot of heat, get a cast iron one – I have one of these and it's excellent for keeping us warm on cool nights.
What do you put under a Breeo fire pit?
The Breeo Y series portable has a built-in deflector and doesn't need any extra bases.
Breeo X series and Luxeve can benefit from buying a steel base to prevent damage to certain surfaces and make them deck-compatible.
Why does my Breeo smoke?
First, some smoke while the fire is beginning or when fuel is low is a normal process.
Smoke happens when the fire isn't burning at an ideal temperature. One tip to burn wood evenly is constructing your fire in a log cabin structure for airflow.
Also, make sure you're regularly adding wood. When the fire goes out, you can expect some smoke.
Can you burn charcoal in a Breeo fire pit?
You can burn charcoal in Breeo fire pits, especially the Breeo Y portable option. The other fire pits will work with charcoal but have a design for burning wood.
Is a Breeo sear plate worth it?
It depends on how interested you are in Breeo cooking options. However, the Breeo sear plate is a unique feature you can't find with many fire pits.
Searing with an open fire is a memorable experience, offering extreme heat on the griddle to fry your food. If you enjoy new cooking experiences, it may be worth the fun.
Can you cook pizza on a Breeo?
No, pizza is one of the few things you can't cook with a Breeo fire pit.
How do you get the ash out of a Breeo fire pit?
You can scoop the ash out of your Breeo fire pit with a small shovel or use a special ash vacuum.
Keep the ash levels lower than the air intake holes to keep your fire pit performing well.
Are Breeo Fire Pits Good?
If you're searching for a long-lasting smokeless wood fire pit, Breeo fire pits are good – though it all depends on what you're wanting to do with it.
They've got great cooking additions for expanding your culinary experiences.
While they are pricey, a small American company makes them out of impressive materials. They do offer a decent selection of products that can suit most needs.
Lastly, check out these great fire pit grills, or, for something a bit different, these Blue Rooster Chimineas (they're stunning)!