The Sardine Wood Stove is one of three wood-burning stoves created by Marine Stove.
The other two models that they made are called the Little Cod and the Halibut. The Sardine, which we're looking at here, is the smallest of the three.
It's made with boats in mind, but it's perfectly fine for use in other small spaces like RVs, campers, tiny houses, and cabins – providing it's going to put out the required heat.
Here's what you need to know about the Navigator Sardine Stove.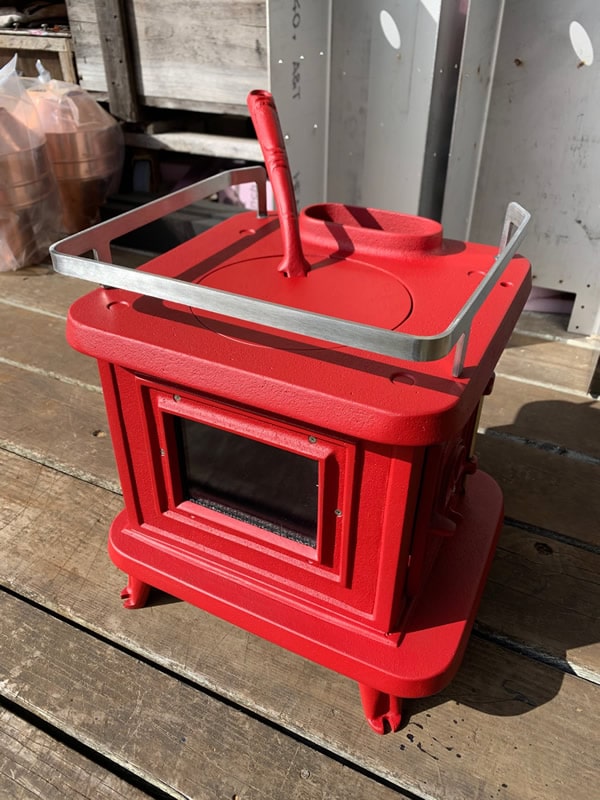 This is the Sardine Wood Stove.
Its design reminds me of the Cubic Mini Grizzly Wood Stove a bit, though that could just be due to the rail around the top.
It doesn't always come in red, as above, but can be bought in a range of colors or coatings.
The red stove above is finished with high-temperature paint, but you can also choose:
Plain iron with traditional stove polish
Other high-temp paint colors
Porcelain enamel upgrade in green, black, blue, etc.
There are different prices for the different finishes.
Sardine Stove Specs And Features
| | | | |
| --- | --- | --- | --- |
| | Sardine | Little Cod | Halibut |
| Measurements | 12 x 12 x 11 inches | 13 x 18 x 14 inches | 21 x 16 x 15.5 inches |
| Fuel | Wood | Wood | Wood and coal |
| Output | 7,500 – 18,000 BTU | 10,000 – 28,000 BTU | 25,000 – 35,000 BTU |
| Weight | 35 lbs | 55 lbs | 175 lbs |
| Material | Cast iron | Cast iron | Heavy cast iron |
| Ideal for | Boats, cabins, yurts | Boats, cabins, tiny homes | Boats, ships, cabins |
| Price | $1470+ | $1855+ | $4650+ |
This specs comparison of the Sardine, Little Cod, and Halibut shows the differences between the three Navigator Stove Works stoves.
They are all made in the USA which does seem to push the price up quite a bit.
You're paying for something that's 'artisan-made,' but there are comparable mini wood stoves that cost a lot less, or at least have more impressive features.
Sardine Stove features include:
Non-catalytic clean burning
11 x 8″ cooktop
Choose right or left opening door
Brass rail (optional)
Glass window (optional)
And alongside this, it's said to be 86% efficient.
The Sardine Stove requires a 4″ stove pipe which can be purchased along with the stove.
Sardine Marine Stove Review
Those who have bought, installed, and used the Sardine Stove have been very happy.
As long as you don't put it in too large a space, it will be most useful for heating and cooking. You are limited, of course, on what you can cook on top of it, as it is a small area.
The main downside of the Sardine is price and fulfillment delays after ordering.
It's expensive, but that's because it's constructed of heavy-duty cast iron and manufactured in the USA. You are getting a quality appliance that should last over a decade of consistent use.
As far as time to fulfillment, it could take anywhere from 6 – 12 months for you to receive your wood stove. It's a small operation and these are hand-made stoves – they take time.
The stove itself is very good and comes highly recommended.
Pros:
Heavy-duty, durable stove
Quality components
Effective for heating and cooking
Cons:
Expensive
Shipping delays
Sardine Stove Alternatives
Dwarf Tiny Wood Stove

4 sizes - 5kw, 4kw, 3kw, 3kw lite
Output: 75,00 - 20,000 BTU (across all sizes) for heating 300 sq. ft. - 500 sq. ft.
The largest 5kw model is 22" H x 11" D x 14" W (5kw)

View 5kw Dwarf StoveView All Dwarf Stoves

Cubic Mini Wood Stove

Two sizes - The Grizzly and CUB
Grizzly Output: 8,000-18,000 BTU; Area: up to 400 sq. ft.
CUB Output: 6,000-14,000 BTU; Area: up to 200 sq. ft.

View Grizzly Mini Wood StoveView CUB Mini Wood Stove

Pipsqueak Wood Stove

A basic tiny wood stove from the UK
Output: 10,000 BTUs; Area: under 300 sq. ft.; Size: 17″ t x 12″ w x 15″ d
Fewer bells and whistles

View On Amazon (UK)View On Ebay (US)

Tiny Home Diesel Heater

A diesel alternative to a wood stove
2kw, 4kw, and 5 kw with working temperature of -40f - 68f
Cheap to buy, set up, and run

View On AmazonView On Ebay

Tiny House Propane Heater

A propane alternative to a wood stove
4000 - 9000 BTU heater
Radiant heating (not suitable for all spaces)

View On AmazonView On Home Depot
Those are our favorite alternatives to the Sardine Stove, besides the Litte Cod and Halibut, of course.
Not all of those options are the best solution for a boat, but they're suitable for heating tiny houses and other small areas like sheds, and could be adapted for use on the high seas.
Our favorite alternatives would be the Dwarf Tiny Stoves – they're also a very heavy-duty stove that has an excellent range of features.
Sardine Stove For Sale
You can find the Sardine Stove for sale on the Marine Stove website.
The big downside, as already mentioned, is that more often than not there is a 6 month plus wait period after ordering. If you were wanting a wood stove this winter, you had better go with one of the alternatives.
You can usually find the Cubic Mini CUB wood stove readily available. It's about the same size but it's significantly cheaper, and there isn't the same wait time.
Alternatively, if you are in the UK, check out our Pipsqueak Wood Stove review – that model is also usually available year-round with little delay.