The Sardine Wood Stove is one of three wood-burning stoves created by Marine Stove. It's a 2 – 5 kW (7,500 – 18,000 BTU) tiny wood stove with dimensions of 12 x 12 x 11 inches (30 x 30 x 28 cm) and weighing only 35 lbs (16 kgs).
The other two models that Marine Stove makes are called the Little Cod and the Halibut. The Sardine, which we're looking at here, is the smallest of the three. All of them are of cast-iron construction.
The Sardine Stove is designed with boats in mind, but it's perfectly fine for use in other small spaces like RVs, campers, tiny houses, and cabins – providing it's going to put out the required heat. Here's what you need to know about it.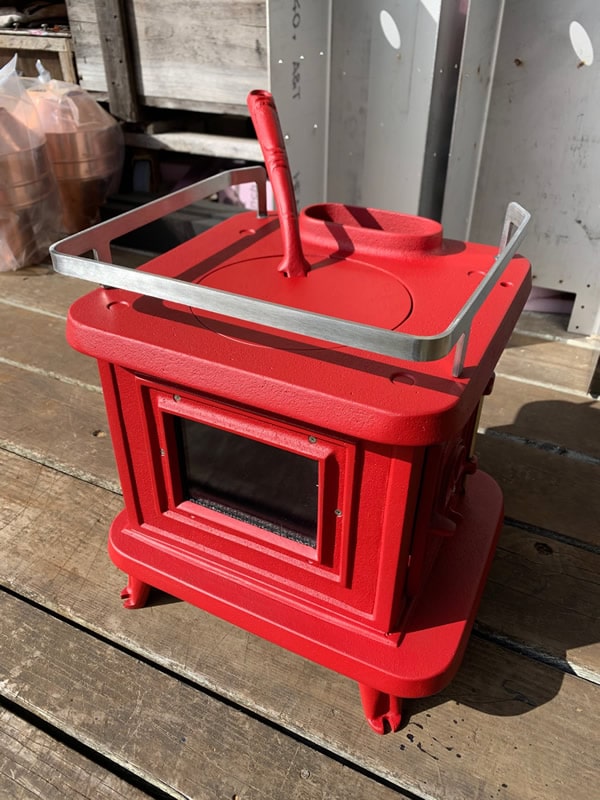 This is the Sardine Wood Stove!
The design reminds me of the Cubic Mini Wood Stoves, though that could be due to the similar rail around the top. The Sardine doesn't always come in red, as above, but can be bought in a range of colors or coatings.
The red stove pictured above is finished with high-temperature paint, but you can also choose:
Plain iron with traditional stove polish
Other high-temp paint colors
Porcelain enamel upgrade in green, black, blue, etc.
There are different prices for the different finishes.
Sardine Stove Specs And Features
| | | | |
| --- | --- | --- | --- |
| | Sardine | Little Cod | Halibut |
| Measurements | 12 x 12 x 11 inches | 13 x 18 x 14 inches | 21 x 16 x 15.5 inches |
| Fuel | Wood | Wood | Wood and coal |
| Output | 7,500 – 18,000 BTU | 10,000 – 28,000 BTU | 25,000 – 35,000 BTU |
| Weight | 35 lbs | 55 lbs | 175 lbs |
| Material | Cast iron | Cast iron | Heavy cast iron |
| Ideal for | Boats, cabins, yurts | Boats, cabins, tiny homes | Boats, ships, cabins |
| Price | $1470+ | $1855+ | $4650+ |
This specs comparison of the Sardine, Little Cod, and Halibut shows the differences between the three Navigator Stove Works stoves. They are all made in the USA which does seem to push the price up quite a bit.
You're paying for something that's 'artisan-made,' but there are comparable mini wood stoves that cost a lot less, or at least have more impressive features. We've already mentioned the Cubic Minis, but the US-made Caboose Wood Stove is another option.
However, the three stoves from Marine Stoves are made by a company that specializes in marine stoves, designed for use on boats, where space is often at a premium and the need for a reliable heat source is crucial.
Their stoves are typically known for their small size, efficiency, and classic design. The Sardine is a compact, efficient wood-burning stove designed for use in small spaces, such as on a boat or in a tiny home, and as with all Navigator Stoves products, it is designed for durability and longevity, even in harsh marine conditions.
Sardine Stove specs and features include:
Size: Compact, at 12 x 12 x 11 inches, and weighs 35 lbs. Great for small spaces like boats or cabins.
Efficiency: 86% efficient with a heat output of 7,500 – 18,000 BTU, making it ideal for heating small to medium spaces.
Fuel: Designed for solid fuel, with the recommendation to cut wood rounds to 6″ long and split to approx. 3″.
Construction: Made of durable cast iron, with options for plain iron with traditional stove polish, high temp paint, or porcelain enamel.
Glass Window: Option for a frontside glass window to watch the fire.
Chimney: Uses a 4″ chimney pipe.
Cooking Surface: Dimensions are 11″ wide x 8″ deep.
Door: Right-hand side door is standard, but a left-hand door may be requested.
Add-ons: Options for brass rail and compatible with bronze "drop-in" burner modules.
Regulation: As of May 2020, this model is EPA-exempt as a "camp stove."
Price: The basic model in plain iron is priced at $1670 as of 2022, with various build options available for additional costs.
And alongside this, it's said to be 86% efficient. The Sardine Stove requires a 4″ stove pipe which can be purchased along with the stove.
Sardine Marine Stove Review
Owners of the Sardine Stove consistently express satisfaction with their purchases. Primarily used in compact spaces, this small but mighty stove effectively provides heat and a cooking surface. However, the compact size does impose some limitations on the variety of meals that can be prepared on it.
The key considerations before purchasing the Sardine stove relate to its price and potential wait time. Its high cost reflects the craftsmanship and high-quality materials used, namely, the durable cast iron. This American-made stove is a long-term investment, designed to provide over a decade of dependable service.
Regarding order fulfillment, patience is essential. As a product of a boutique operation, each Sardine Stove is handmade, adding to the delivery timeline. Prospective owners can expect a waiting period ranging from 6 to 12 months.
Despite these considerations, the Sardine Stove's stellar performance and durability make it a highly recommended choice for those seeking an efficient, compact heating, and cooking solution.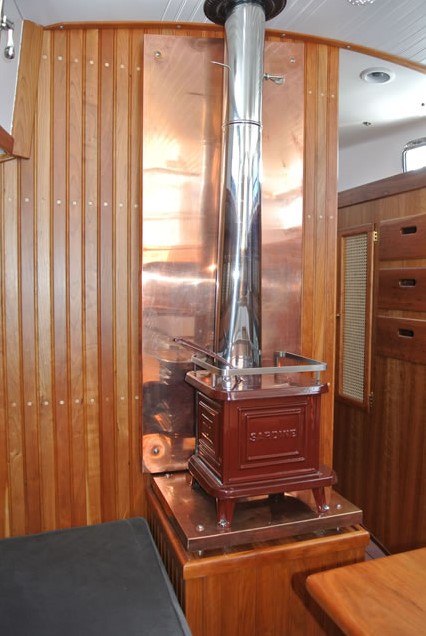 Here are some comments found online from users.
"Compact, efficient, and wonderfully warm."
"Perfect companion for our boat."
"Durable stove, easy to use."
"Quality build, heats wonderfully."
"Stylish design, remarkable heat output."
"Feels like home on the water."
"Transformed our winter boating experience."
"Impressive warmth from a small stove."
"Excellent stove, worth every penny."
"Reliable heating and cooking source."
It's hard to find cons with the stove itself. Obviously, the downsides to choosing this stove over another include the wait times and the price. But as far as the actual performance of the stove goes, users seem to be very happy. Nevertheless, consider these potential downsides.
The Sardine's compact size, while ideal for extremely small spaces, might not provide enough heating capacity for larger areas compared to models like the Dwarf Tiny or Cubic Mini Wood Stoves.
Cooking space on the Sardine is limited due to its size, potentially restricting what can be cooked on it.
The Sardine is relatively expensive, which might make more budget-friendly options like the Dwarf or Cubic Mini more attractive.
As a hand-made, somewhat bespoke product, the Sardine often has a long lead time for fulfillment, which could be a drawback for those needing a stove sooner.
Depending on individual design preferences, some might prefer the aesthetic of the Dwarf or Cubic Mini stoves over the Sardine.
While we think the Sardine Wood Stove is a fantastic little burner, it's hard not to think that there are better options out there today.
Sardine Stove Alternatives
Dwarf Tiny Wood Stove

4 sizes - 5kw, 4kw, 3kw, 3kw lite
Output: 75,00 - 20,000 BTU (across all sizes) for heating 300 sq. ft. - 500 sq. ft.
The largest 5kw model is 22" H x 11" D x 14" W (5kw)

View 5kw Dwarf StoveView All Dwarf Stoves

Cubic Mini Wood Stove

Two sizes - The Grizzly and CUB
Grizzly Output: 8,000-18,000 BTU; Area: up to 400 sq. ft.
CUB Output: 6,000-14,000 BTU; Area: up to 200 sq. ft.

View Grizzly Mini Wood StoveView CUB Mini Wood Stove

Pipsqueak Wood Stove

A basic tiny wood stove from the UK
Output: 10,000 BTUs; Area: under 300 sq. ft.; Size: 17″ t x 12″ w x 15″ d
Fewer bells and whistles

View On Amazon (UK)View On Ebay (US)
These 3 stoves, the Dwarf, Cubic Minis, or Pipsqueak, are our favorite alternatives to the Sardine Stove, besides the Litte Cod and Halibut, of course!
Not all of those options are the best solution for a boat, but they're suitable for heating tiny houses and other small areas like sheds, and could be adapted for use on the high seas. Like the Sardine Stove, the Cubic Mini was also designed for use on boats.
Sardine Stove For Sale
You can find the Sardine Stove for sale on the Marine Stove website (marinestove.com).
The big downside to buying a Navigator Sardine, as we've already mentioned, is that more often than not there is a 6-month plus wait period once you've ordered. If you were wanting a wood stove this winter, you had better go with one of the alternatives.
You can usually find models like the 509 Mini Me readily available. It's about the same size but it's significantly cheaper, and there isn't the same wait time. Alternatively, if you are in the UK, check out our Pipsqueak Wood Stove review – that model is also usually available year-round with little delay.