We were sent a free Safeparty Fire Pit Mat to test out and write a review on.
It's a 38″ round fire pit mat that can be used on wooden decks, grass, concrete, and basically, anywhere else you might want to set up a fire pit.
We've tried it out on our lawn, and overall think it's very good. It's a high-quality mat, but most importantly, it works – it protects the grass.
You can check it out for yourself here on Amazon, but we've got a whole lot more info about it below.
Safeparty Round Fire Pit Mat Unboxing
This is the round fire pit mat that we were sent by the Safeparty team.
While we got it for free in exchange for this review, if it was rubbish I would tell you.
As everyone always says, 'it's my honest opinion' – and that goes for this review too!
I liked this mat so much that I added it to our round-up of the best fire pit mats.
You can see what our lawn looks like after using the fire pit without a mat in this post on how to protect your grass from a fire pit.
The grass dies off completely and needs to be reseeded and grown from scratch.
Unless you're using the fire pit on a barked or stone area, they really can do some damage – especially on a wooden deck or patio. That's why we really needed a heat-resistant mat!
This is what's in the box – a 38-inch round fire pit mat!
It's well packaged and comes in a re-usable bag for storing it – or just keep the box.
It's probably not ideal to leave the mat under the fire pit permanently, as I imagine the weather cause it to deteriorate a lot sooner.
These heat protection mats are great for fire pits that you move around a bit, as we do with ours.
We don't always light it in the same place, it's not in a permanent location, so we put it away between uses.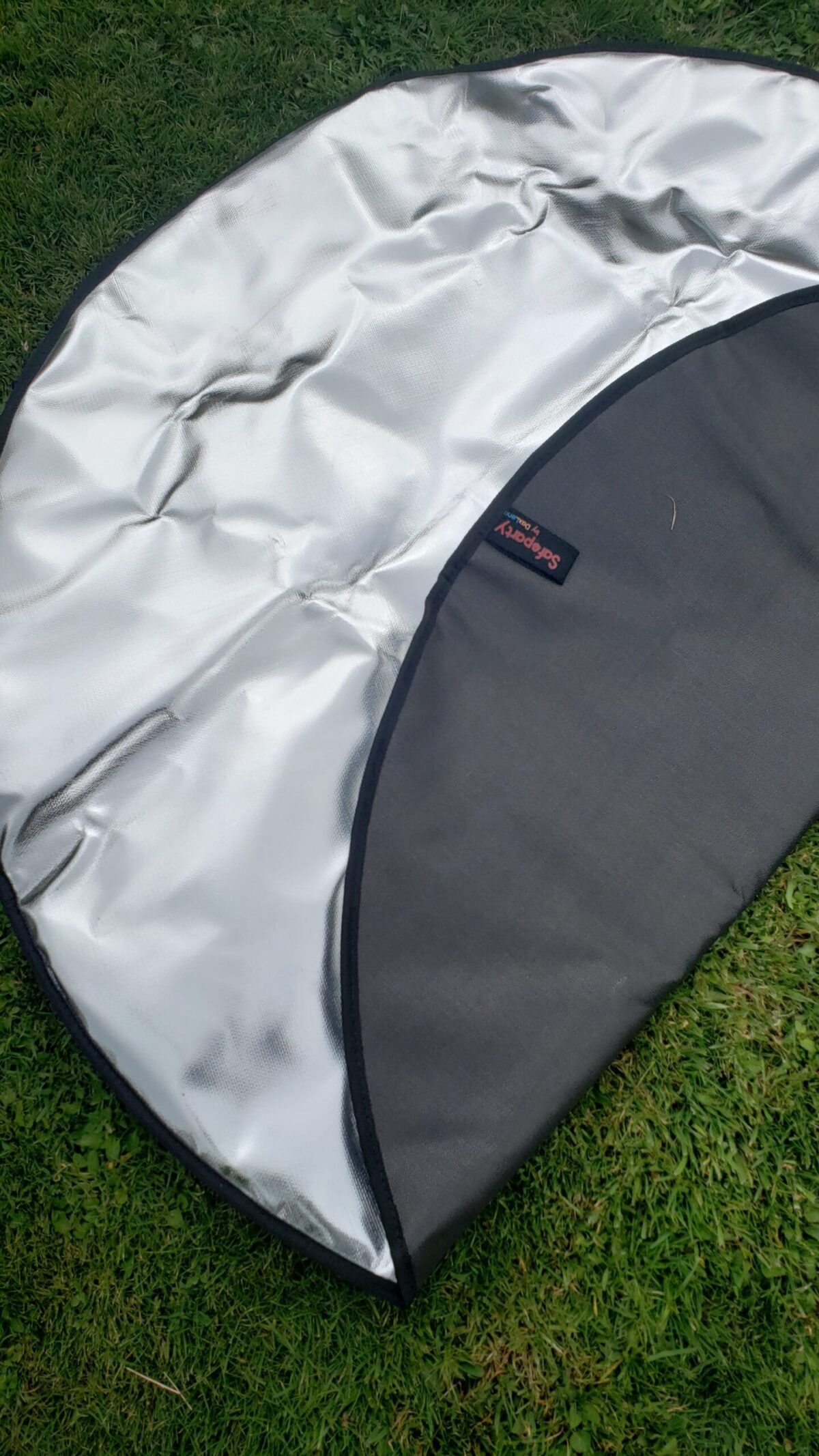 I was surprised by how thick this fire mat is – it seems particularly heavy duty.
The box states there are 3 individual layers:
Top layer – aluminized fiber
Middle layer – thermal insulation
Third layer – waterproof coated silicone
The silver reflective layer goes on top, while the black goes on the ground – it has a non-stick thing going on so that it won't shift when on the deck.
How To Use Fire Pit Mat
It doesn't take a rocket scientist to set up this fire mat.
Here's what you do:
Put fire pit mat on lawn silver side up
Put fire pit on mat
That's about as complicated as it gets, assuming you have put your fire pit a safe distance from the house and other structures and are adhering to local fire restrictions/regulations.
If you like the look of our fire pit, you can see it here in our Sunnydaze and Harbour Housewares fire pit review.
It's a good size for moving around the property depending on where we want to be on a given day. Also, it's small, hence why we only need the small 38″ Safeparty fire pit mat.
Next up, it's time to light the fire pit and test out the heat mat.
I don't put anything in the bottom of my fire pits, such as sand or stones, as some people do. I like to keep them light and tidy.
However, this means the cast iron fire pit heats up all the more and there is less distance between the heat and the grass. Therefore, this fire pit mat needs to be all the more protective.
The instructions state that there should be 6 inches between the bottom of the fire pit and the surface of the mat.
I don't think I had quite this gap in my test, but it seemed to fair well – perhaps it won't last as long if you don't abide by this rule!
I don't know how hot a fire pit gets (I need to test that), but the Safeparty Heat Resistant Mat is rated to protect up to 1300°F.
Ratings that it has achieved include the SGS Vertical Burning Testing. It passed that test and is SGS UL94 VTM-0 Certified.
Safeparty Fire Pit Mat Review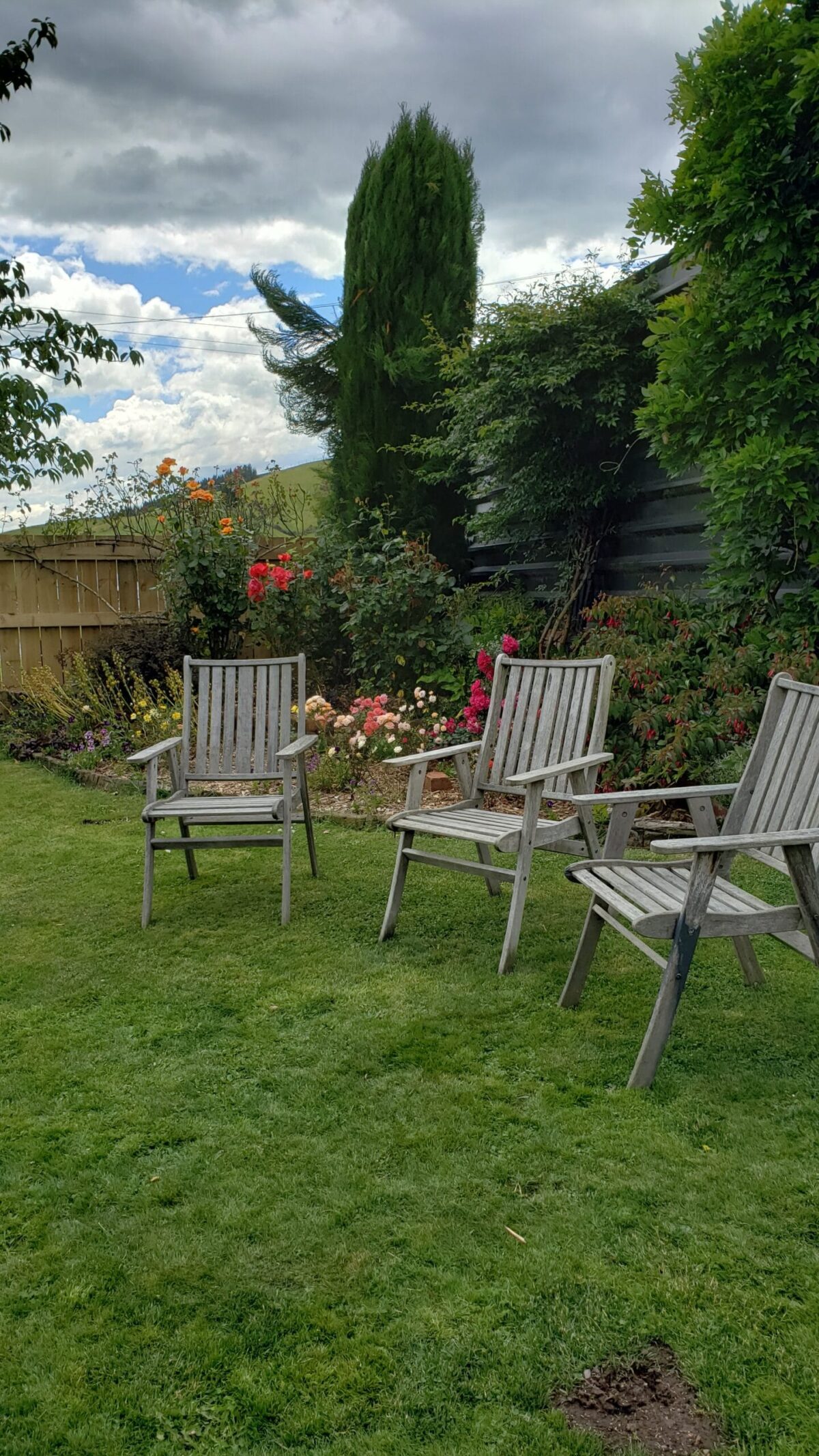 This is the next day after having the fire pit on the mat on the lawn.
Usually, there would be a perfect circle of destruction, but I'm happy to report that the lawn is in perfect condition after using the heat-retardant mat.
Therefore, I approve of this mat – it works!
Pros:
It does what it says it will do
Good design – doesn't look bad
It's easy to fold away and store
Heavy-duty – I imagine it will last
Wipable surface to keep it clean
Cons:
At this time they only have 38″ round mats so it's not good for large or square fire pits
All in all, it's very good, and I'll be using it each time I light the fire pit from now on.
No more dead grass (other than from the dog)!
Safeparty Fire Pit Pad
This heat pad for fire pits can be used with other things as well.
People commonly use them for:
BBQs, grills, and camp stoves
Smokers
Chimineas
And because it's so light (less than 3 lbs) and easy to store, you can take it camping or find room for it in your RV or camper.
So, all of that to say, if you need a small round fire pit mat, this one is worth picking up – I don't think you'll be disappointed.
For permanent fire pits, it's best to find other landscaping solutions rather than relying on a heat-resistant pad – check out these fire pit ideas for a bit of inspiration as to what can be done.