The Stihl 023 is a 40cc light use homeowner chainsaw from the Stihl 1123 Series.
It was manufactured between 1990 – 2002, making it one of the last '0' chainsaws to be produced before the MS range took over.
The 066 was in production until 2003, and the 09 Mini-Boss until 2006, as examples of 0 series saws that went longer, but you can see all the Stihl chainsaw production years here.
I checked out a friend's Stihl 023 chainsaw – whose 12-year-old son regularly uses it – which you can see pictured throughout this post.
Stihl 023 Chainsaw
The 023 was described as 'compact' and 'for demanding occasional users' in the marketing material.
It was in the same class as the 025 (45cc), 021 (35cC), 018 (32cc), and 017 (30cc).
The 023, at 40cc, is near the top of the class, but not quite!
My friend, who inherited it from his aunty's cousin's husband's father's mom on his wife's side (or something like that), said it's alright but doesn't have a lot of guts.
It's good for his son to start learning how to use a chainsaw.
The Stihl 023 is recommended for use with a 12 – 16 inch bar (30 – 40 cm), so it's just a small saw.
However, personally, I probably wouldn't go larger than a 14″ bar, just so you're still getting enough power.
It's best for:
Pruning
Cutting branches
Clearing brush
Limbing
Cutting small logs for firewood
It's a decent little saw if you use it for what it was designed.
Stihl 023 Specs And Features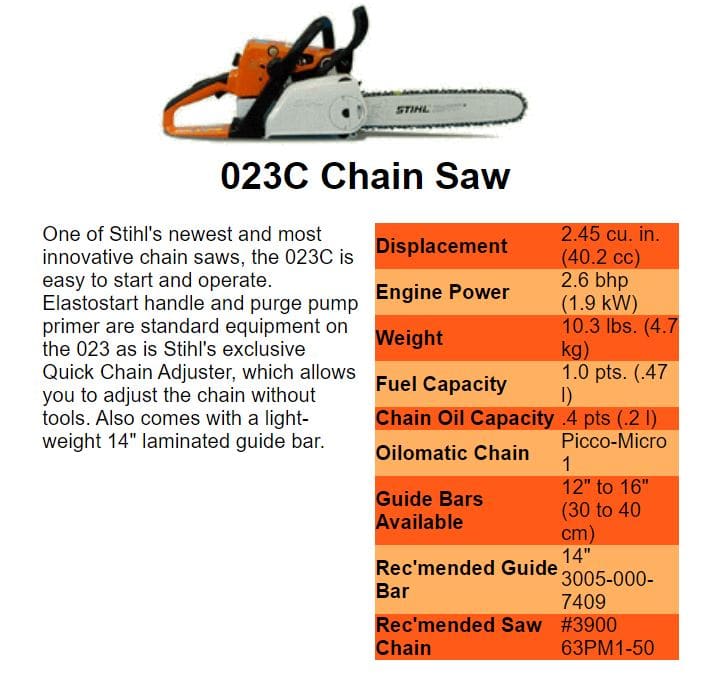 You can see a lot of the Stihl 023 C specifications in this screenshot from Stihl's old website (differences between the base model and C model below).
As already stated, it's a 40.2 cc chainsaw, and it has a 2.6 hp engine.
Other specs include:
2.4 cu in displacement
Weighs 10.3 lbs
Best with 12 – 16″ bar
See how the 023 compares with other Stihl saws in its class.

You can see some of the features that come standard or can be retrofitted.
A lot of people also ask what the C means on Stihl chainsaws, and this table helps to answer that as well.
The base model 023 has:
Electronic ignition
Quickstop chain brake
Auto lubrication
The 023 C has all that, plus:
High-speed chain tensioner – easier to tighten the chain
Elasto-start – easier to start chainsaw
The C stands for 'Comfort'.
Those 2 additional features that come standard on the 023 C are the comfort features on that saw (which change from model to model).
In the case of the Stihl 023 C it does add a little bit of weight to the saw, but only a few ounces.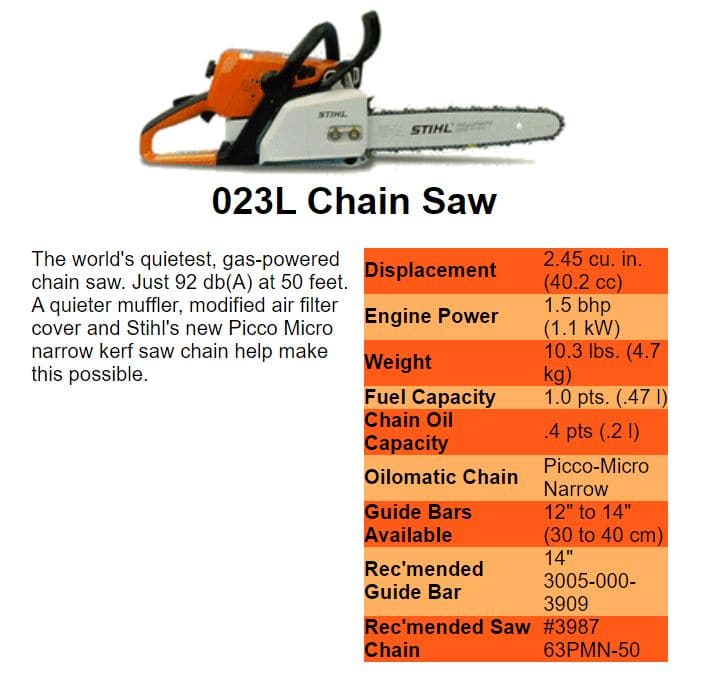 There is also a Stihl 023 L chainsaw.
The L stands for Low Noise.
At the time when this saw was being sold, it was the world's quietest gas-powered chain saw (only 92 dB(A) at 50 feet).
However, you can see that the L saw has a lot less power – only 1.5 hp compared to the 023 Cs 2.6.
Stihl 023 Price And Parts
There's a lot of price variation on old Stihl saws, and that's no different with the 023.
You can pick them up for next to nothing from people just wanting to clear out space in their garage, or you can spend a whole lot on a well-maintained barely used model on eBay.
It's going to come down to a few factors:
Year it was made – whether it was made in 1990 or 2002
Designations – is it a base model or a 023 C or 023 L
Condition – a model that no longer goes will go cheap for parts or repair
Modifications – whether or not OEM parts were used
As far as where to find parts for the Stihl 028, there are a number of good spots, but OEM is expensive.
Compare parts prices:
On eBay here – at the time of writing there's one going for $70
HL Supply – for OEM and aftermarket parts including carbs, fuel lines, casings
On Amazon here – a few aftermarket parts options
Ebay often has entire old chainsaws that can be picked up cheap for parts – many of these saws can even be repaired by the right person.
Stihl 023 Chainsaw Review
In this video of the Stihl 023 running, you can see that it's a bit sluggish while cutting through some birch.
However, this saw is good for this type of thing – just slowly and patiently cutting up thinner width logs. It doesn't chew through them like a pro chainsaw, obviously, but it gets the job done.
Here are a few more pics of the 023.
This model was made in the US, as many Stihl saws are (especially those which are sold in the US).
It's got easy access to the fuel and oil tanks.
Overall, the Stihl 023 is a good little chainsaw for around the home, for limbing and pruning, and all of those lighter tasks you need done.
Or, as my friend uses it for, as a chainsaw for older children (with the proper training and supervision).
If you find an 023 for sale at the right price, it's worth picking up – if only for adding to the collection!
Pros:
Decent saw for light work
Durable and reliable
Goes easy on the fuel
Cons:
Not a lot of power
Sluggish on the hardwoods
Stihl 023
That's the Stihl 023 chainsaw.
Let us know if you have anything to add in the comments below, or if you have any questions we'll try to answer them for you.
At the right price, it's a good chainsaw to have on hand and is worth picking up.
The Stihl 028 is another chainsaw from the same era that has a bit more guts if that's what you're looking for.
It all comes down to what you want to do with it and how much you want to spend!