The Stihl MS230 is a 45cc 2.5 hp chainsaw that is suitable for occasional home and light farm use.
The main question I get asked about this chainsaw (besides 'is it any good?') is what the different additional designations mean. For example, you can buy this chainsaw as an MS230 or 230C-BE.
Here's what they mean:
MS230 – the standard model
MS230C-BE – comfort feature (C), Quick Chain Tensioning (B), Ergo Start (E)
The 230 C-BE is a pound or so heavier than the standard model but performs better on vibration levels, and other comfort features.
Stihl MS230 Chainsaw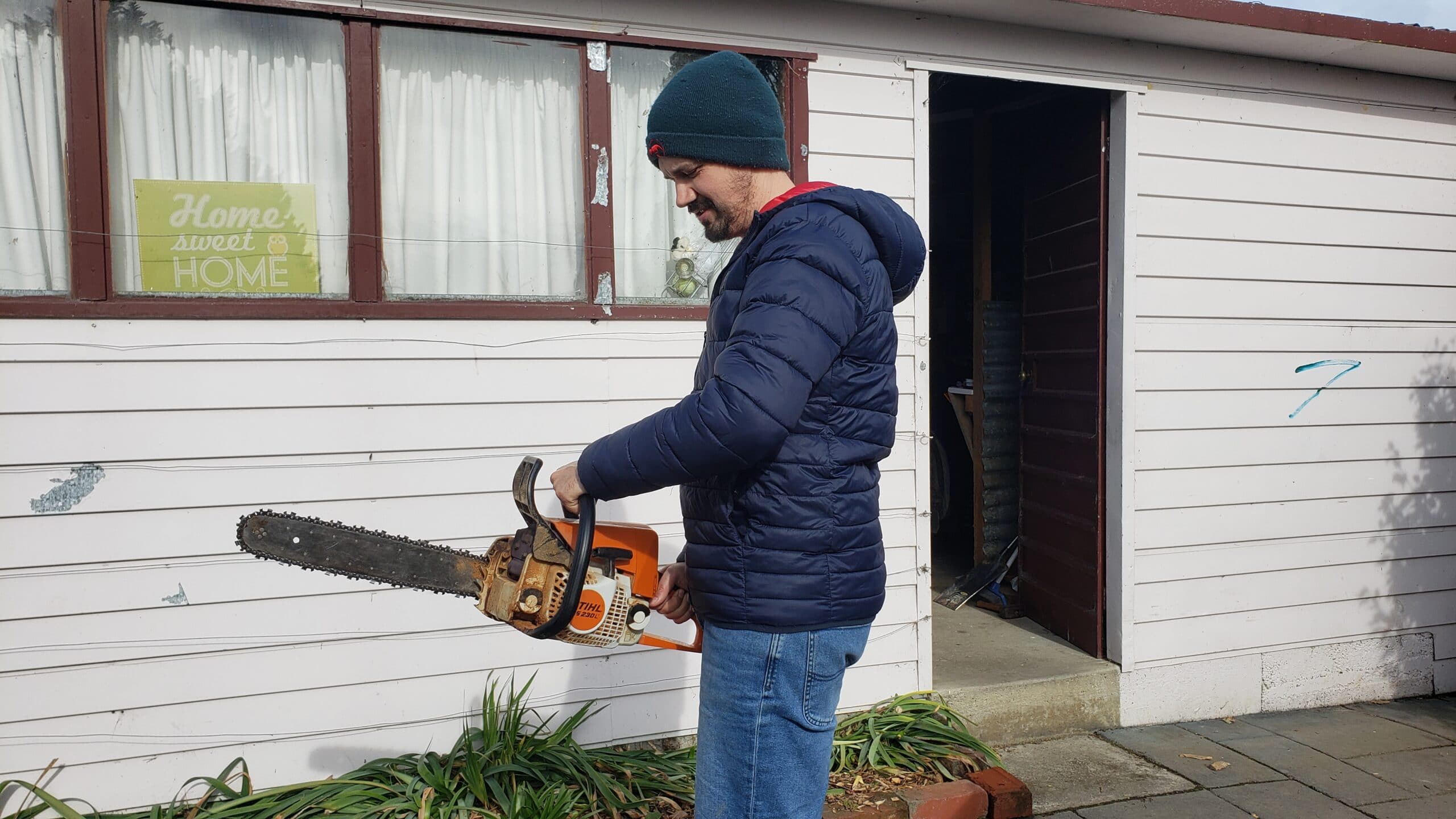 The Stihl 230 has been around for many, many years now, and can still be purchased brand new.
However, there have been improvements made over the years, so a new model today isn't going to be the same as a 15-year-old one.
The chainsaw I've got my hands on (pictured above) is a 230C Wood Boss which is about 13 years old. This particular chainsaw has been used tirelessly year after year and still performs very well – though it's also been well looked after.
Stihl said of the base model 230:
With more power than the MS 210 and the same features as the MS 250, this occasional use chain saw can definitely hold its own.

With a high power-to-weight ratio for maximum performance and an ergonomic design, the MS 230 is built for a variety of purposes like trimming trees or cutting firewood.
And of the C-BE:
Designed like the MS 230 and with more power than the MS 210, this chain saw's Easy2Start™ system allows for a virtually effortless jerk-free start.

With the exclusive Quick Chain Adjuster and a high power-to-weight ratio, the MS 230 C-BE weighs in as a fully featured member of our occasional use series chain saws.
This saw is usually purchased with a 14″ or 16″ bar but does have more power with the shorter option.
What type of work is the MS230 series good for?
Limbing and pruning
Processing thinner logs for firewood
Light clean up and tree clearing
As a camping or hunting chainsaw
Dropping small trees
The MS230 isn't designed for frequent use, nor is it the best option for processing large volumes of hardwoods.
A 50cc and higher chainsaw, such as the Stihl MS261, would be better for this type of application.
If this chainsaw is in the range of what you're looking for, many people opt instead for the MS250 or 251 which are very similar but slightly higher spec.
MS230 Specs
Keep in mind the specs will vary depending on where and when your Stihl 230 chainsaw was made.
Generally speaking, if you buy a Stihl chainsaw in the US, it was more than likely made in the US. However, Stihl does have factories around the world from North America and Europe to Asia and South America.
Here are the MS230 Stihl specs:
40.2 cc/2.45 cu. in.
2.5 hp, 1.9 kW engine
Weighs 10.1 lbs/4.6 kgs
101 dB(A)
3/8″P chain pitch
2-stroke gas engine (of course)
Stihl states that it's suitable for cutting a max wood diameter of 18 inches, though as we all know, it all depends on how you're using it.
For more info, you can read the Stihl MS230 manual here.
Manual includes:
Stihl MS230 problem solving
How to prepare and start it for the first time
Replacing the chain and/or bar
Operating instructions
Best chainsaw safety practices
Cleaning the air filter
Replacing the spark plug
And a lot more along those lines.
MS230 Features & Benefits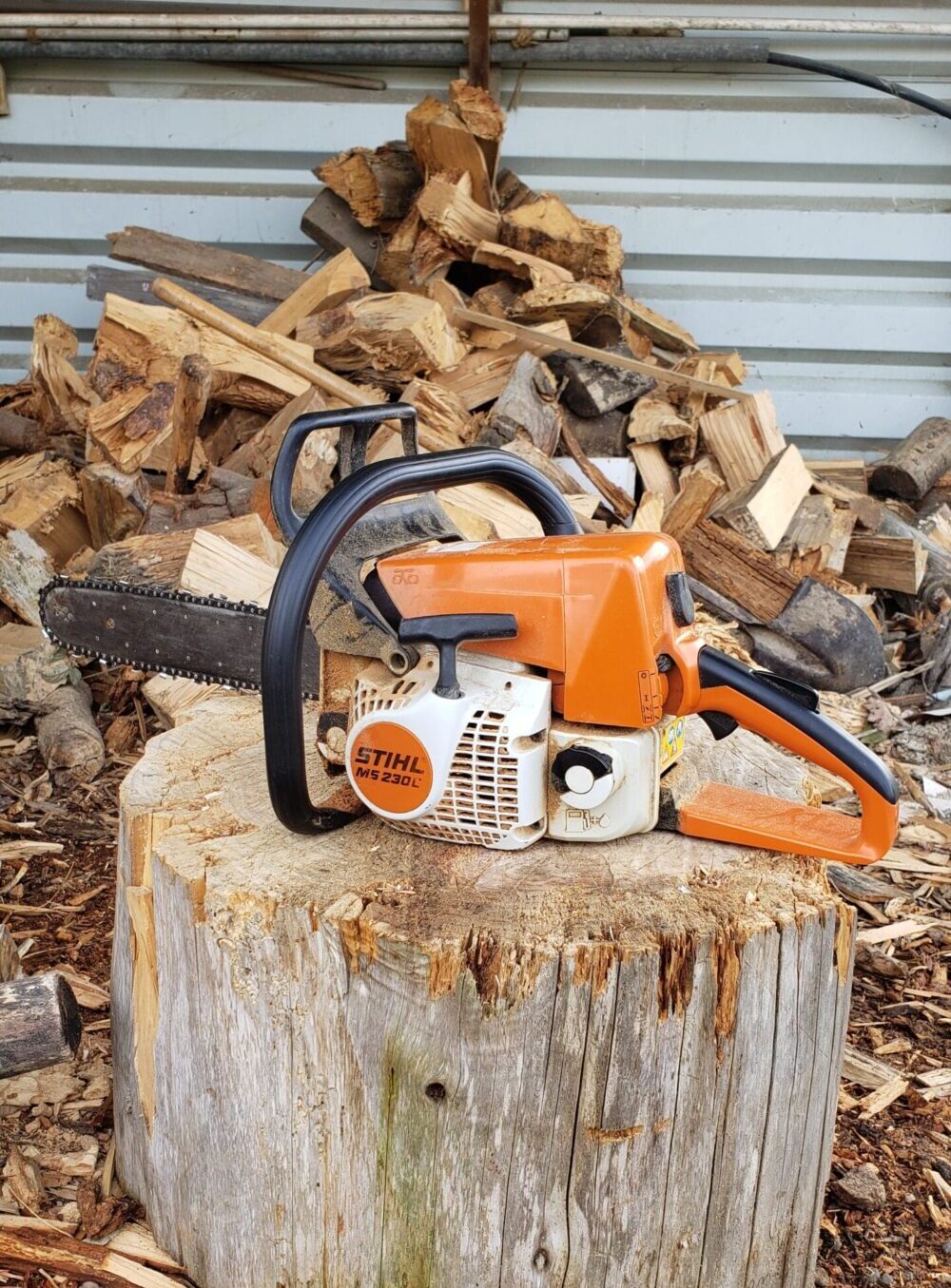 Again, check with your dealer or seller as to the precise features of the particular chainsaw you are buying – they will vary.
Here are the standard features you can expect on a new 230C:
Carb heating – for working in freezing temperatures
Anti-vibration – causes your chainsaw to run smoother
STIHL Ematic system – reduces chain oil waste
Tool-free caps – easy access for fill-ups
Air purge – for easier starts
It's a more basic chainsaw than the likes of the Stihl 500i, but it's also a fraction of the price.
It's a simple chainsaw that's easy to use, doesn't weigh a ton, and is great for light tasks. As I've already mentioned, my friend's model has been an excellent buy.
MS230 Price
How much is the Stihl MS230?
It's one of the cheapest Stihl chainsaws, so it's not a bad idea to buy it new rather than second-hand (where you don't always get an accurate history).
Here are some of the spots to check the price:
On Acme Tools here – a wide range of Stihl chainsaws
On eBay here – both new and used 230s, including parts
Stihl's site – listed for between $300 – $350 new
I wouldn't pay more than $200 for a second-hand model, and even that is pretty pricey unless it is mint condition.
And where can you find Stihl 230 parts?
On Amazon here – replacement air filters, chains, bars, spark plugs, etc
HL Supply here – OEM parts for basically every chainsaw
eBay here – whole chainsaws for parts, plus all the rest
More ideas for the best Stihl chainsaw parts here (for maintenance, fix-ups, and modifications).
MS230 Review
This is not my video but I include it so you can see it action: always wear ear protection, chaps, gloves, etc. when using a chainsaw.
The Stihl MS230 Chainsaw is a good saw for the right person, but it's not for everyone.
It's limited in what it can do, and there are probably better models out there (see alternatives next). If you come across one for the right price, it's well worth getting, but at the standard price, there are better options.
Pros:
All Stihl saws are reliable and durable
Easy to find parts and service
Far better than cheap lessor known chainsaw brands
Plenty of power for designed tasks
Quality components and top features
Cons:
Better saws at a similar price point
Only for light tasks
The MS230 is the same saw as the MS210 but it has a longer stroke.
The MS250 is the same stroke with a bigger bore. They are fairly inexpensive but reliable homeowner saws.
Stihl MS230 Alternatives
Here are 3 alternatives to the Stihl MS230.
1. The Husqvarna 450
The 50cc Husky 450 (here on Amazon) is another home and farm chainsaw, but it has more power and functionality.
I have been using this chainsaw for firewood for a couple of years now and can highly recommend it. The 455 Rancher and the 460 Rancher are in the same series but are again slightly more powerful.
You can read our complete 450 Rancher review here.
2. The Stihl MS250
The MS250 (here on Acme Tools) is another good alternative. It is also a 45cc chainsaw, but is 2.2hp. This chainsaw just has slightly more guts than the 230 and will get through things slightly faster.
Usually, it's not all that more expensive either.
3. The ECHO CS-400
The ECHO CS-400 (here on Amazon) is another good Stihl 230 alternative.
It's a 40cc chainsaw that usually comes with an 18-inch bar, and has a bit more horsepower at 2.7hp. The ECHO chainsaw brand is another very reliable and popular brand that is known for its quality.
You can read our complete CS-400 review here.
Stihl 230 FAQs
How many ccs is a Stihl ms230?
The Stihl MS30 is a 45cc chainsaw.
What Stihl chainsaw is 40cc?
The 230 is an option in this range, or alternatively, the MS 211 C-BE is just below this level.
Can you put a 20-inch bar on a Stihl MS230?
It's best not to put anything larger than a 16-inch bar on this chainsaw, unless you've modified it to be suitable with this length, of course. The MS230 c-be will be sluggish and low-powered with an 18 – 20″ bar.
What is the best chain for the Stihl Ms230?
These chains are suitable for the 230 with a 16″ bar.
Stihl MS 230 Pro Chainsaw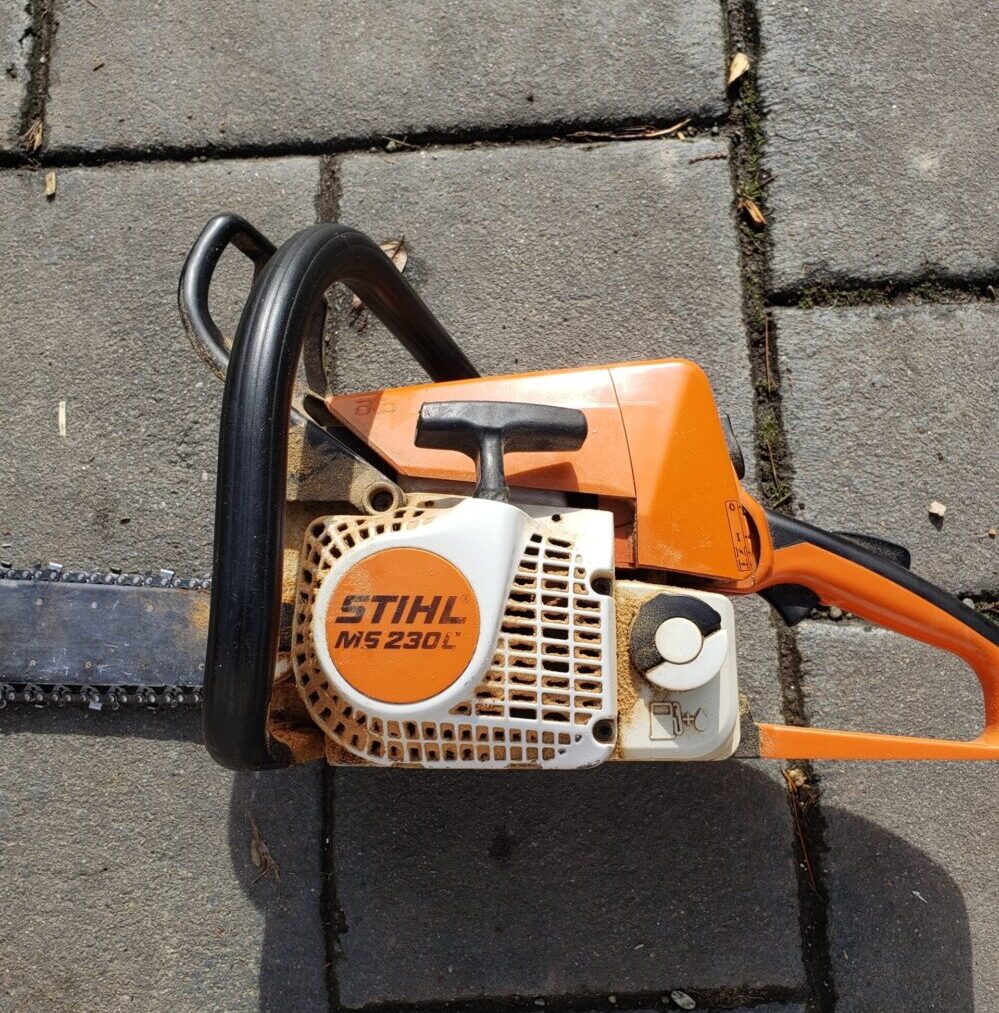 You won't go wrong buying the Stihl 230c or any of its other variations like the C-BE.
As with all Stihl homeowner saws, they will last for years and perform well. It's just important to remember the limitations of each model and not push it beyond what it is designed to do.
The best professional chainsaws can go all day through the toughest wood and thickest trees, but these homeowner models are best for infrequent use around the home.
If you're still not sure as to which is best, you might also be interested in the Stihl MS180c – another chainsaw I bought and tested out recently.
Let us know if you have anything to add or ask in the comments below. Cheers!