The Stihl MS211 is a small 35 cc homeowner chainsaw.
There are 2 versions of the saw – the base model and the C version which has a couple of extra features. It's most commonly sold with an 18″ bar but tends to run better with a 16″. Stihl describes it as a "powerful mid-range chainsaw" and it's sometimes sold with the marketing term "Mini-Boss".
Is the Stihl MS 211 a good chainsaw? And is it the right chainsaw for you? Let's find out.
*Images come from Ace Hardware's MS 211 C-BE listing.
Stihl MS 211 Versions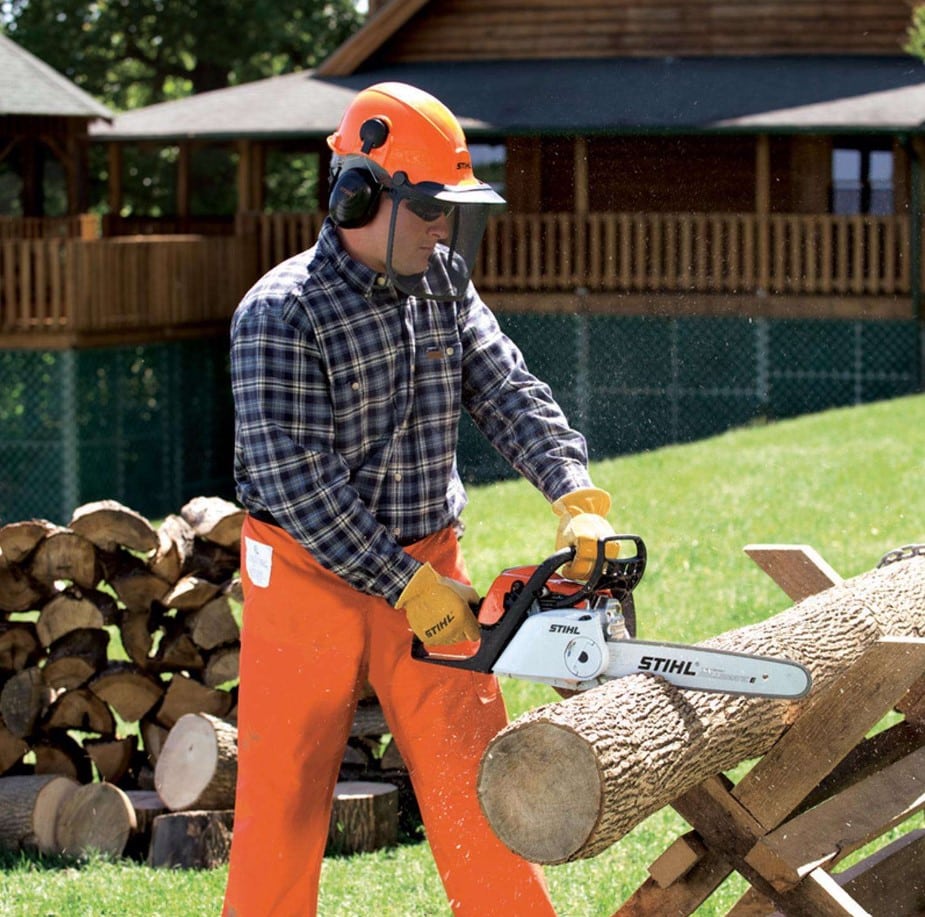 There are 2 versions of the Stihl MS211 Chainsaw:
The MS 211 – base model
The MS 211 C-BE – has Quick Chain Adjuster and Easy2Start system
Sometimes you'll just see MS 221 C, without the BE, but they are the same saw. The C designates additional features. And other than having these 2 extra features, the chainsaws are the same.
Is it worth getting the C version over the base model? It's certainly the better-selling version even though it costs an extra $40 – $50. In my opinion, the extra features don't make that much difference.
Quick Chain Adjust means that it doesn't have bar nuts that need to be undone before tightening or loosening the chain. You can see it on the side of the saw. And while the Easy2Start system makes starting the saw easier (due to an "additional spring between the crankshaft and the rope rotor"), these modern saws are not hard to start anyway and are reliable starters.
There are plenty of older folk who like the Easy2Start system because their arms and shoulders aren't what they used to be, and I've heard from many that they're good chainsaws for women. While there are plenty of old folks and women who don't have any problem pulling the cord, some do, and the easier starting feature can be a help.
The 211 C could be seen as the better model because it has the extra features and costs more, there are a lot of Stihl guys who actually prefer the saws without C-BE! It will all depend on where you are on your chainsaw journey as to whether you want it or not. Some guys just prefer a couple of bar nuts and regular starting mechanisms!
MS211 Vs MS180 Vs MS250
| | | | |
| --- | --- | --- | --- |
| STIHL | MS 181 C | MS 211 C | MS 251 C |
| Displacement | 31.8 cc / 1.94 cu in | 35.2 cc / 2.15 cu in | 45.6 cc / 2.7 cu in |
| Power | 1.5 kW / 2 hp | 1.7 kW / 2.3 hp | 2.2 kW / 3 hp |
| Weight | 10.1 lbs / 4.6 kgs | 10.1 lbs / 4.6 kgs | 11.2 lbs / 5.1 kgs |
| Bar | 12 – 16″ | 12 – 18″ | 14 – 18″ |
| Power to weight | 2.7 kgs to kW | 2.5 kgs to kW | 2.4 kgs to kW |
| Price | $339 (check price) | $379 (check price) | $419 (check price) |
The 211 C is often compared with the MS181 C and MS251 C, so here's how the specs compare. Specs are similar when comparing the 211 with the MS180 or MS250 as well (earlier versions that are still for sale new). Also, specs are the same when comparing base models to the C-versions, the only differences are the additional features which sometimes slightly increase the weight.
All three saws are homeowner-level saws. You can see that the MS 211 falls in the middle between the 181 and 251 in terms of power output. It weighs the same as the 181 though, giving it a much better power-to-weight ratio. The 251 has the best power-to-weight ratio of 2.4 kgs to kW.
The saw that is best for you when comparing these three really depends on what you want to use it for. In my opinion, more power is always better, because you always end up wanting to do more with the saw than you first think.
The 211 is a great camp saw – it can clear trails, do a bit of light storm clean up, and is good for pruning around the garden. Same goes for the 181 to a lessor degree. The 251 is better if you want to do a bit of firewood with the saw as well. It will get the job done much faster and with greater ease than the 211.
Budget will also come into play when choosing the right saw for you, along with what chainsaws you already have. If you're looking for your first chainsaw, you can't go wrong with the 211, but seriously consider the 251 as well for a bit more oomph.
MS211 Specs And Features
MS211 C Specifications:
Displacement: 35.2 cc (2.15 cu in)
Power @ 10,000 rpm: 1.7 kW (2.3 hp)
Weight: 10.1 lbs (4.6 kgs) Powerhead only
Fuel capacity: 9.5 fl oz (280 ml)
Oil tank capacity: 6.1 fl oz (180 ml)
Piston stroke: 1.1 in (28 mm)
Cylinder bore: 1.7 in (40 mm)
Idle speed: 2,800 rpm
Max speed: 13,500 rpm
Ignition: Electronic magneto ignition
Spark plug: Bosch USR4AC or NGK CMR6H
Electrode gap: 0.02 in (0.5 mm)
Bar lengths: 12, 14, 16, 18 in (30, 40, 45 cm)
The MS211 base model is a little bit lighter weighing 9.5 lbs/4.3 kgs, with all other specs being the same. More info is in the MS211 manual (instant download here).
Stihl describes the base model like this:
STIHL MS 211 Mini Boss® Chainsaw

Low-vibration compact chainsaw. Extensive features such as long-life air filter system and STIHL anti-vibration system. High cutting performance and user comfort. Ideal for cutting firewood and for felling small trees.
And describes the C-version:
Low-vibration compact chainsaw. With long-life air filter system and STIHL anti-vibration. Ideal for cutting firewood and felling small trees. Up to 20 % less fuel consumption and up to 70 % lower emissions compared with STIHL 2-stroke engines of the same power output without 2-MIX technology. Featuring Easy2Start for effortless starting with tool free chain-tensioning system.
While the base model does not have Quick Chain Adjuster or the Easy2Start feature, it's not lacking because of it. Unless you especially want or need these features there's no problem going with the cheaper version.
The 211 has all the standard features of Stihl homeowner/landowner saws including a long-life air filter system, single lever master control, tool-free fuel caps, chain brake, and more.
MS211 Review
This is a good MS211 video review from Outdoors In Oregon after 5 years of use. This guy is very happy with his saw, or, to put it in his words, "I have to say I'm quite fond of this saw."
It's a decent lightweight firewood saw for the small stuff, it's good for limbing and pruning, good for light farm or orchard work, and suitable for camping. It's not the saw you want for regular use or for bucking larger logs.
While it's most commonly bought with an 18″ bar, I personally think this is too big for the power of the saw. I've run 18″ bars on similarly powered saws and they tend to bog down easily in the wood. However, when you put something a bit smaller on them, like a 14, 15, or 16″ bar, they can really rip.
Some asked for thoughts on the 211 in the 100,000-member Stihl FB group recently, and here are some of the responses:
My 211 has been great for small stuff, climbing, etc. I run a 16″ bar on it. Nice and light.
Good little saw but for just a tad more get a 250 and get more done.
Light nice running trimming small wood saw. I really enjoyed the way it runs. The only problem is they tend to leak some bar oil. I think it's the hose grommet or something.
I have two of them. I like them a lot. Bought both of them new and gave one to my dad. Neither has given us any trouble. I like the 021 better though. Then you start looking at the 025 because it's the same thing with more power.
I'm not saying the 211 isn't a decent saw but the 210, 230, and 250 are hands down better in a lot of ways.
The MS250 is a better saw if you can find one.
Cody said:
I have one for cleaning up trails at my hunting cabin. Good lightweight little saw. Fits right on my ATV no problem. My only complaint Is the bar oil reservoir… been replaced twice by the dealer and still leaks.
And Marcario replied:
My MS211 has the same leak and will spill almost all the oil after sitting. Now I always drain it out when there is extra in the tank after I use it. Good little saw for smaller brush for sure.
Most people who use the 211 only have good things to say about it (other than the leaky oiler issue, which is common to many saws). Overall it's a good little saw that's worth having around.
Stihl MS 211 C Chainsaw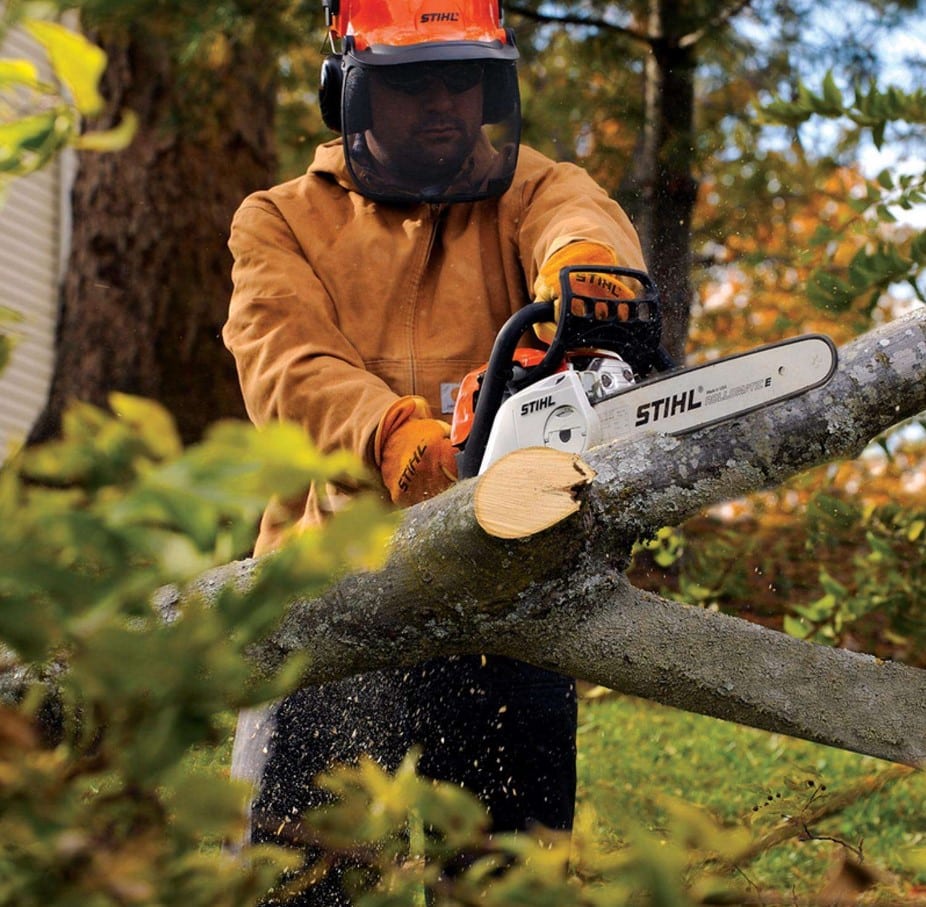 The Stihl MS 211 or MS 211 C are decent chainsaws that, when used as designed, are very good. However, if you try to do more with them than they're designed for, you'll be disappointed.
If you're not sure if it's going to be powerful enough for your tasks, it's definitely worth trying to upgrade to something bigger. The 250/251 are good options, or consider the Stihl MS 271 which is a 50cc saw and much better for firewood duties.
If you have any questions, comments, or anything else you'd like to share about the 211, drop them in the comment section below. We'd love to hear from you.