The Stihl 017 is a small 30.1 cc 1.5 hp chainsaw.
It was part of Stihl's COMPACT series and is one of their entry-level chainsaws for homeowners.
The 017 is light and durable, but it's obviously not a very powerful saw.
It was produced between 1995 – 2002 and was replaced by the MS170 (and the MS171 was released in 2009).
If you see a clean, well-maintained model for under $100, it's usually worth picking up – under $75 is even better.
Stihl 017 Chainsaw
Stihl 017

Produced 1995 - 2002
30.1cc, 1.6 hp, 12 - 16" bar
8.6 lbs

View On EBAYView On HL Supply

Stihl MS170

Produced 2002 - current
30.1cc, 1.7 hp, 12 - 16" bar
8.6 lbs

View On Acme ToolsView On Ace Hardware

Stihl MS171

Produced 2009 - current
31.8cc, 1.7 hp, 12 - 16" bar
9.5 lbs

View On Acme ToolsView On Ace Hardware

Husqvarna 435

Husqvarna alternative
40.9cc, 2.2 hp, 12 - 16" bar
11 lbs

View On AmazonView On Tractor Supply

DEWALT 20V MAX XR

Best-selling battery saw
20v, 5 Ah bat, 12" bar
8.8 lbs

View On AmazonView On Home Depot
It's not uncommon to find the Stihl 017 for sale online but before buying it's important to work out whether or not it will be right for you.
Stihl described the 017 as follows:
Includes many of the same excellent design features as our professional models, including inboard mounted inertia chain brake, Master Control Lever, anti-vibration mounts, easy-off filter cover, piston ported engine and view-through oil and gas tanks.
It's a homeowner chainsaw that is designed for light tasks.
That includes:
Pruning
Limbing thinner branches
Clearing brush or small trees
Processing small width logs for firewood
It's not made for demanding or heavy-duty work, nor can it be run all day every day.
Just keep in mind that the 017 was and is an entry-level chainsaw.
That doesn't mean it's completely useless by any means – it's certainly more powerful and gutsy than the likes of the Oregon chainsaws sold today – just don't expect it to do what it wasn't designed to do.
I recently bought an old Stihl 011 which has about the same power as the 017 – and these saws have their place for the right tasks.
Stihl 017 Specs And Features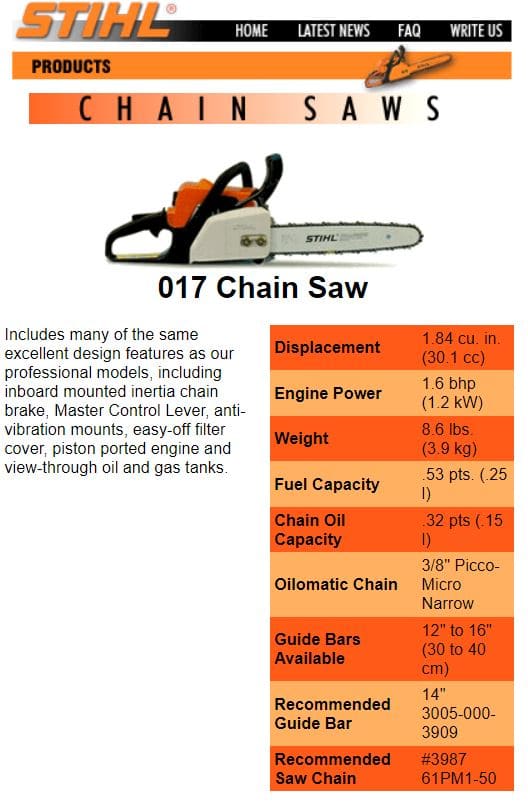 You can see all the 017 specs in this chart from the Stihl site in 2002.
Specs include:
1.84 cu in displacement
30.1 cc
1.6 bhp
1.2 kW
8.6 lbs
And it was recommended for use with a 12 – 16″ guide bar.
Features of the Stihl 017:
Auto chain lubrication
Inertia activated chain brake
Anti vibe system
Easy access to the air filter
See-through window into fuel and oil tanks
It was also Electronic Quickstop as standard.
The 017 could be retrofitted with a lateral and high-speed chain tensioner, as well as Elasto start.
The Stihl 023 C is a model from the same era that had all these features as standard.
Download the Stihl 017 manual here (instant download).
Here are the specs for the Stihl MS270 released in 2002.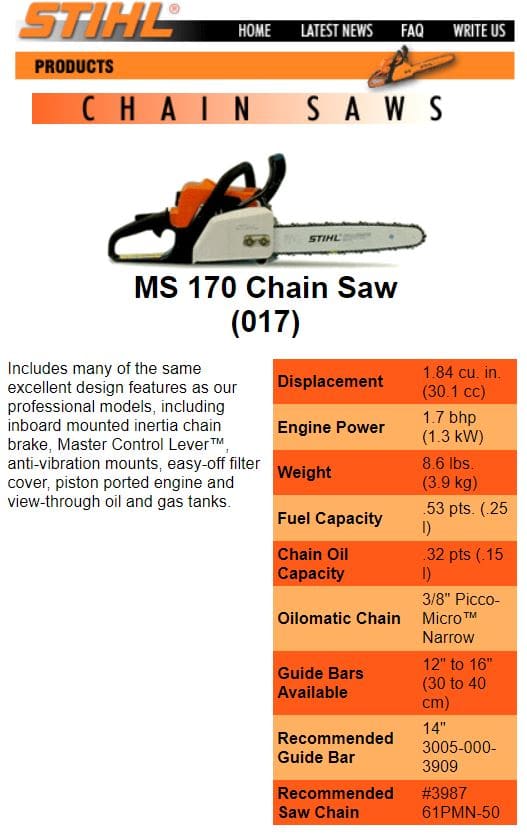 They are basically the same chainsaw.
The MS series chainsaws were simply a new name, but the newer 270s will be different from the original models.
You will need to check the year made for your saw to determine precise specs and features.
Stihl 017 Review
You can see the Stihl 017 in action in this video.
You'll notice that it does lack power when getting through this 10 (or so) inch log.
Personally, if I was using this saw to cut wood for the fire, I'd only do branches up to 5 inches with it – a good size for a mini wood stove.
Trying to use it on logs thicker than that just takes too long, as you can see in the video. You'll be there all day.
Better to get a more powerful saw like the Stihl MS 251 (45cc) or the Husqvarna 460 Rancher (60cc) for larger logs.
However the 017 is good for the right tasks – many people swear by them.
Also, many people prefer the 017 to the MS170 or MS171 believing that the earlier model Stihl saws were made better than the modern homeowner models.
The 017 is great to have on hand as a spare saw if it's listed for the right price.
Pros:
It's Stihl so it's made better than many other brands
A durable saw that lasts decades if cared for
Lightweight and maneuverable
Cons:
Only for light work
Getting harder to find parts
Stihl 017 Price And Parts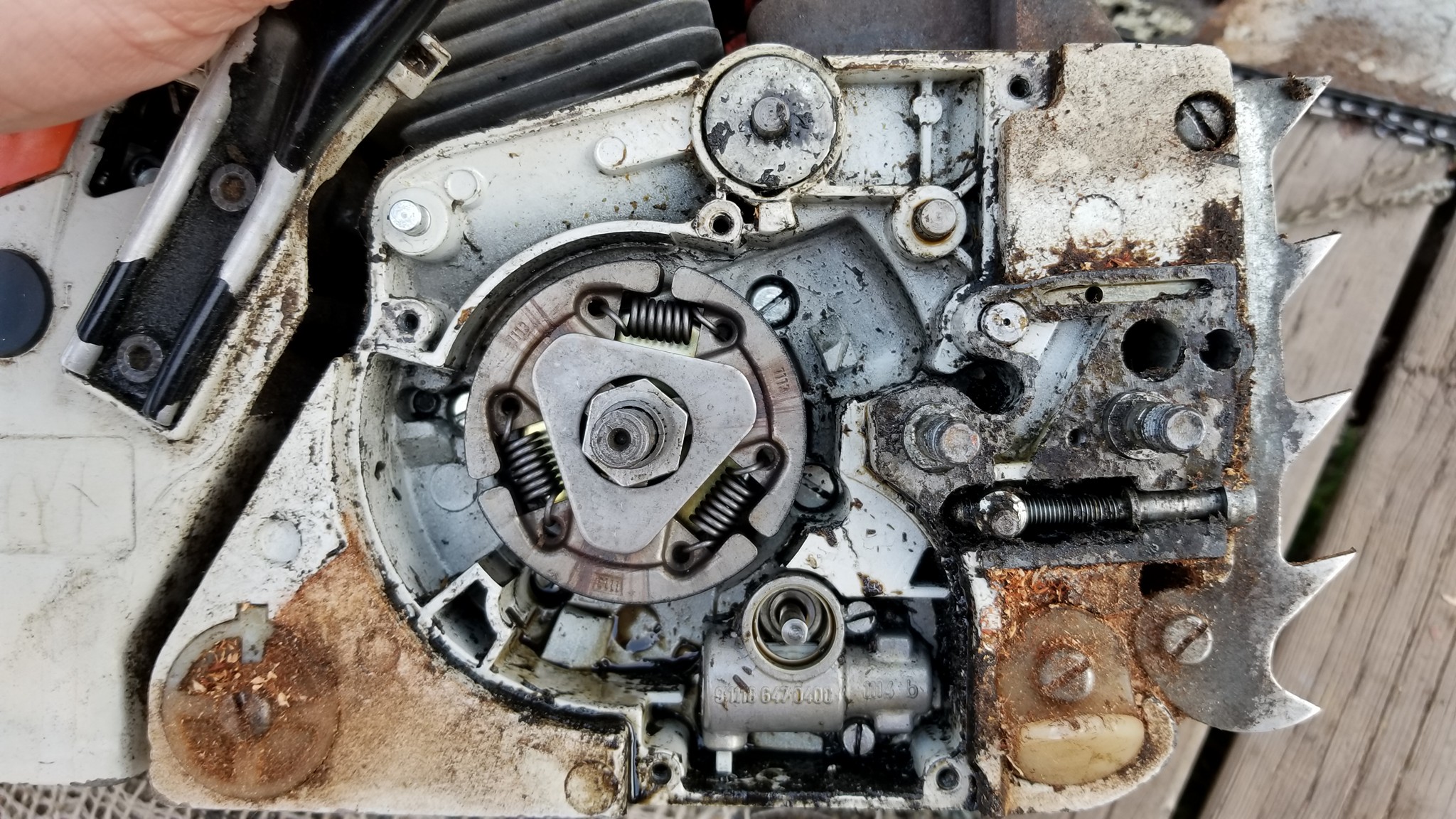 The 017 can usually be found in the US for under $75.
Check current prices today:
You should expect to get a tidy chainsaw in working condition for this.
Prices are increasing with shortages, however, so even the likes of the 017 might start commanding higher prices in certain areas.
You've always got to keep in mind the price of the new models:
Those saws are both really good for the price.
When you consider that you can get the new version with additional modern features (like improved anti-system), you don't want to go paying too much for a used 017.
017 Stihl Chainsaw
If you already have or buy a Stihl 017 chainsaw, I'm sure you'll enjoy using it.
I know many people who really like it and use it for a variety of light tasks.
Everyone needs a small chainsaw, alongside a mid-range and powerful Stihl chainsaw, of course, and the 017 makes a decent saw.
The Stihl MS180 is another slightly more powerful model you might want to look into.
Let us know if you have any questions in the comment section below.