What's the Stihl 018 chainsaw like and is it worth getting?
If you're at all familiar with the Stihl 017, then it's very similar to that with just a bit more power and a toolless bar adjuster.
The 018 is a lower-powered light use home chainsaw. It's a 31.8cc, 1.9 horsepower chainsaw that was manufactured between 1999 – 2002 that is part of the 1130 series. It was replaced in 2002 by the Stihl 180 which is still in production.
Overall, the 018 (or 018C) isn't much to get excited about, but as with most Stihl chainsaws, it's reliable, durable, and will last for decades with the right care and maintenance.
Stihl 018 Chainsaw
Stihl 018

Produced 1999 - 2002
31.8cc, 1.9 hp, 12 - 16" bar
8.6 lbs

View On EBAYView On HL Supply

Stihl MS180

Produced 2002 - current
31.8cc, 2 hp, 12 - 16" bar
8.6 lbs

View On Acme ToolsView On Ace Hardware

Stihl MS181

Produced 2009 - current
31.8cc, 1.7 hp, 12 - 16" bar
9.5 lbs

View On Acme ToolsView On Ace Hardware

Husqvarna 435

Husqvarna alternative
40.9cc, 2.2 hp, 12 - 16" bar
11 lbs

View On AmazonView On Tractor Supply

DEWALT 20V MAX XR

Best-selling battery saw
20v, 5 Ah bat, 12" bar
8.8 lbs

View On AmazonView On Home Depot
The Stihl 018 is best for use as a light pruning or limbing chainsaw.
It's recommended for use with a 12 – 16″ bar, and it's only 31 ccs, so it's not really suitable for firewood or that sort of thing. It would be alright for cutting up branches for firewood, but nothing too serious.
Often, what you use a saw for will depend on how long it needs to be running. You would be able to use the 018 for larger logs (to an extent), but it depends on whether it's a 10-minute job or whether you want to use it all day.
The 018 isn't a saw that will be great for all-day use – you would be better off getting something a lot more powerful and/or built for that purpose.
The 026 is another older saw that's out of production that would be better suited to longer use times. The Stihl 310 would also be much better.
In the Husqvarna range, check out the 460 Rancher – a 60cc saw that can be picked up pretty cheaply new and which is a good firewood chainsaw for homeowners.
Stihl 018 And 018C Specs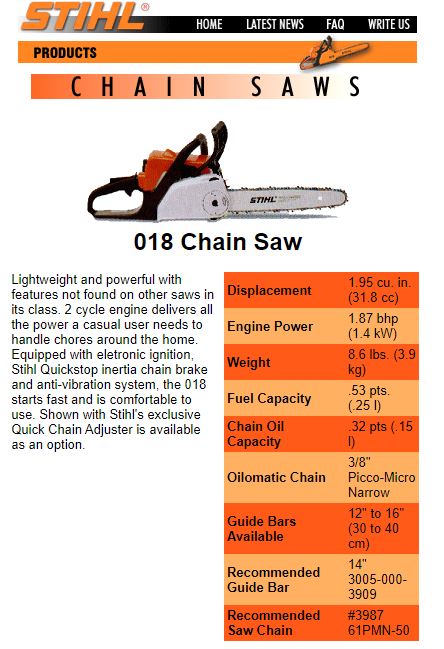 The Stihl 018 was sold in two different ranges: the base model 018 and the 018C.
The C stands for Comfort and means that the saw has additional features not found on the base model. I'll cover what the additional features on the 018C are below.
Specs for the 018:
31.8cc
1.95 cu in displacement
Weighs 8.6 lbs or 3.9 kgs
38mm cylinder bore
28 mm piston stroke
Nylon mesh air filter
As you can read in the description above, it is equipped with Electronic Quickstop (electronic ignition and Quickstop chain brake), and has an anti-vibration system.
Also, while it can be used with a 12 – 16 inch bar, it's recommended for use with a 14-inch bar.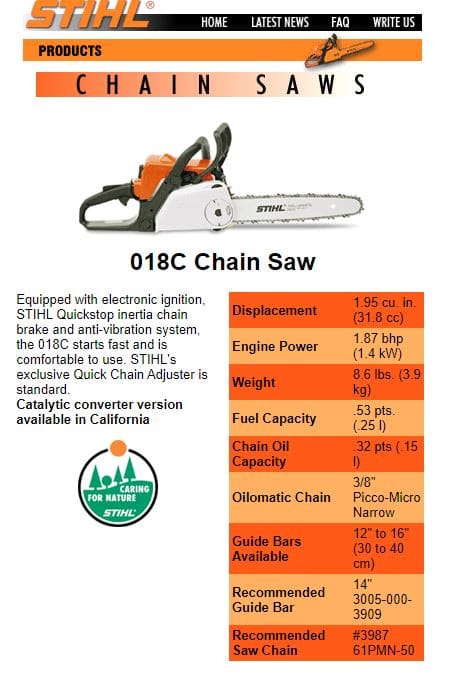 What is the difference between the Stihl 018 and the Stihl 018C?
The 018C has the comfort feature 'Quick Chain Adjuster' – this feature allows you to tighten or loosen your chainsaw chain without any tools.
You can see how it is done in the following video.
It's a nice little feature to have on a small homeowner chainsaw, however, not something worth paying a ton of extra money for if you were debating between the 018 and o18C.
Stihl 018 Review
Here is a good video review of the Stihl 018.
The presenter shares his thoughts on how the saw runs and gives a demonstration of it running on a range of different types of wood (branches). It's also the first time I've seen someone wear a gas mask while using a chainsaw!
This is the 018 with the regular chain tightening system rather than the 018C.
The saw is perfect for this type of work sectioning up 3 – 4 inch branches for firewood. You can hear that it's not the gruntiest and most powerful Stihl Chainsaw, but it gets the job done.
If you want a good saw, the Stihl 018 is a good saw.
It's great for light clean-up, pruning, limbing, and small firewood jobs, but if you're going to be doing anything more substantial you will find it a bit slow and sluggish.
Pros:
Quality chainsaw
Durable and reliable
Reasonably easy to find parts for
Cons:
Stihl 018 Price And Parts
How much should you expect to pay for or sell an 018 for?
As with everything, it depends on the condition, location, and time.
You can expect to pay $100 for a model in excellent condition, or as little as $20 for one that hasn't been looked after so well.
Keep in mind that the Stihl MS180 that replaced the 018 can be bought new for under $250.
Sometimes saws like the 018 can command a decent price just because it was only in production for a few years and collectors might want to get their hands on it.
But otherwise, it's not worth a whole lot.
See current prices and parts:
And the Stihl Facebook Groups are also a great spot to go to ask for specific parts or advice on modifying and repairing Stihl 018 chainsaws.
The Stihl 018
The 018 is worth picking up if you see it listed for the right price and in good condition.
Also, if you see it cheap and want to restore a model or use it for parts, grab it!
A lot of people do their first carb replacements and other chainsaw repairs on these small saws as a way of learning how it all works. It's a great way to get started.
The 018 doesn't have the top-of-the-line features of the pro-Stihl saws, but it certainly is an improvement on the first Stihl chainsaws!