The Stihl 025 Chainsaw was manufactured from 1991 until late 2002, at which time it was replaced by the MS250.
The 025 was a popular chainsaw in Stihl's compact homeowner series and was designed for 'demanding occasional use.' It had all of the advanced features and technology available at that time, such as a side-access chain tensioner (now a standard feature on all Stihl saws).
The Stihl 025 is a 45cc, 3hp chainsaw that weighs in at 10.4 lbs. It had a very good power-to-weight ratio for its time and it has proven to be a very reliable and durable chainsaw.
The chainsaw pictured throughout this article belongs to 025 user Wesley Green. We've also featured his Stihl 010 here.
Stihl 025 Chainsaw
The longevity of these old Stihl chainsaws is evidenced by the fact that there are still so many out there.
Production ended 20 years ago, but the 025 is still many people's go-to chainsaw for firewood and other light tasks.
While people say the more powerful 026 is or was better, the 025 has received a lot of praise among those who own and use it regularly. If you were tossing up between the two, the 026 is better, but the 025 isn't bad.
The 026 is a pro saw while the 025 is a homeowner saw, so they're both in different categories and can't really be compared.
The 026 is pretty much rebuildable till the end of time and notoriously stronger.

The 025 is clamshell design. The engine is self contained and nestled inside of the saw. 026 is full crankcase design. The body or housing of the saw is the actual engine.
The Stihl 025 was usually sold with a 16-inch bar, but it's rated for use with anything from 12″ – 18″. Most users agree that it's better to be run with smaller-sized bars rather than an 18″, as it does lose some of its guts pulling the longer chain.
This saw has a bad reputation among some for not being a Stihl pro saw, but it will cut firewood for many years without issues. It'll cut most hard and softwoods well, just don't expect it to do more than it can.
The Stihl 025 is also often used for:
Dropping small trees
Cleaning up after hurricanes and storms
Pruning and limbing trees
As a light-use farm chainsaw
Other light yard work
The 025 also makes for a great backup chainsaw, or one to keep in the boot or on the tractor for dealing with downed trees.
Stihl 025 Specs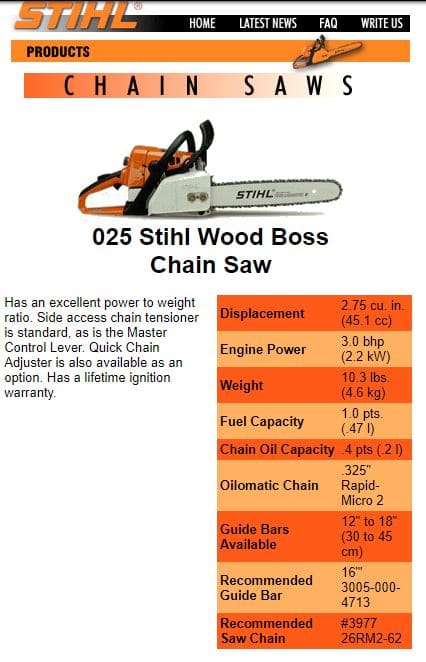 This screenshot is from the original Stihl 025 chainsaw product listing back in 2001 – gotta love that old web design!
Here are the 025 specs:
45cc, 3 horsepower, 2.77 cu. in.
Powerhead weight of 10.3 lbs or 4.6 kgs
For use with 12 – 18″ guide bars – best bar length 16″
Best used with the #3977 26RM2-62 chain (here on Amazon for 16″ bar)
42 mm (1.7″) bore and 32 mm (1.26″) stroke
All 025 models are electronic ignition, unlike many other 0 series saws like the base model 015 or all versions of the 031 AV which have points ignition.
One of the ways to identify the older Stihl chainsaws is by the fuel and oil tank caps. Prior to the flip caps of the MS series chainsaws, the '0 series' had screw-on caps that were a bit tougher to open at times.
Also, the older models have a red lever rather than a black lever. Many people prefer the red lever versions, such as one FB commenter, who said:
Red is older. I usually look for red levers to rebuild. For some reason they seem to be screamers.
The red lever doesn't mean nitrous oxide boost as someone else joked.
If your saw has flip caps and a chain adjuster at the front, you might have a Stihl 250/025 Transformer – this was just before the 025 was phased out and the MS 250 brought in.
Download the Stihl 025 manual here (Stihl 025 parts diagram).
Features And Benefits
I've already mentioned most of the features of the 025 in passing, but here they are to summarize.
Stihl 025 features:
Great power to weight ratio – compared to other saws of the time
Side access chain tensioner – better than the older style front mount tensioner
Master control lever – on/off, choke, and throttle control with one hand
Easy off air filter cover – a great improvement on older chainsaws
Inboard-mounted chain brake – keeps it away from dirt and debris
Outboard mounted sprocket – easier to install bar and chain
Easy sprocket replacement – you only need your chainsaw wrench
Two piston rings – hold compression over a longer time and cool more efficiently
Electronic ignition – more reliable and easier to work on than older ignition systems
On the original sales page, the 025 was described like this:
Has an excellent power to weight ratio. Side access chain tensioner is standard, as is the Master Control Lever. Quick Chain Adjuster is also available as an option. Has a lifetime ignition warranty.
It has a ton of great features that were not common to most chainsaws of the era.
Stihl 025 C Version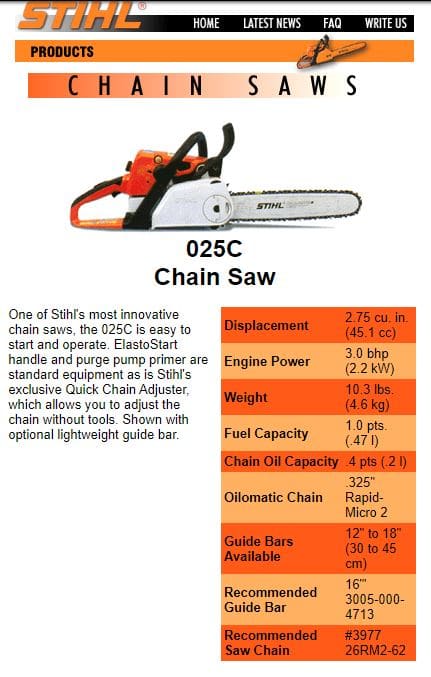 There was also a Stihl 025C model chainsaw – the 'C' meaning that it comes with additional comfort features.
In the case of the 025 C, this meant that it was easier to start and easier to operate compared to the standard 025.
Additional features of the 025C include:
Elasto start for an easier start
Air purge to make starting easier
Quick chain adjuster which made tightening the chain easier
Other than these 3 additional features, they were the same machine – same weight, ccs, horsepower, etc.
Most of the 025s out in the wild are non-c versions.
Review: Pros And Cons
Video: the Stihl 025 vs the Stihl 250.
Pros:
Long-lasting chainsaw
Powerful and gutsy
Great for around the home
Easy to work with and on
All the features you really need
Cons:
Parts will become harder to find
No longer the best in class
By today's standards, the 025 could be considered a bit heavy, but it's still very easy to work with.
Remember, it's a small homeowner chainsaw and if you use it as such you shouldn't have any problems. Even though it's been out of production for 20 years, there are still plenty of parts out there including OEM parts.
It is a good firewood saw and an easy limber.
It is a bit of an underrated saw so if you can pick one up for the right price it's well worth doing. The 025 is a great little saw, and many people will tell you that it runs better than the newer Stihl saws.
Here are some comments from those who have used the 025 extensively.
Positive comments:
025 is a great saw for small stuff
They were a good saw for mid-size wood
Noticeably stronger than the MS 180
The 025 is a good saw for the money but it is a cheaply built saw. If you want something to last a lifetime find an 026, 260, or 261
Been running an 025 for many years with an 18" .325 – great little 3hp saw
I am thoroughly impressed by this little 025
Love my 025 I got mine for 60 dollars its still my favorite
Bought mine brand new and it's never let me down
They are the biggest little saw ever built
This guy loves his 025s:
I own three Stihl 025s. I bought my first one 2 years ago and run it with an 18 bar and chain. The 025 runs .325 pitch .063 gauge 66 drive links or 68.

I absolutely love my 025 I bought the second because only thing wrong was a broken brake handle and only paid $110 and I can easily resell it for $200 to $250 USD. The 3rd I bought for a parts saw for $80 and the only thing wrong was a gas line.

I couldn't get rid of a good saw apart because of 1 gas line so I fixed it and I now have 3 running 025s. I haven't changed anything on them and have run them commercially for 2 years now.

As I said I run a 18″ bar and yellow chisel chain and it's a straight ripper. Keep the filter clean and use good fuel in it and it will outlast you, my friend.
And the other side of the coin…
Negative comments:
Homeowner junk
Nice little saws when you get them for free or cheap – not worth paying much for
I'd only have one if it was given to me, and it'd sit until I found somebody else to give it to
Wouldn't touch a non-pro saw
I hate clamshell saws
But it's much harder to find any negative comments and downsides of the 025 than it is to find good feedback.
Price And Parts
How much should you buy or sell a Stihl 025 for?
It's all going to depend on the condition of the saw and the market, but a good example will sell for $200 – $250.
An 025 in good condition for under $150 is a steal.
On eBay at the time of writing, they are priced between $31 and $300, so you can see there is a lot of variation.
Check out the Stihl 025 on eBay here for yourself and see if you can score a deal today.
Where can you get parts for the 025?
Here are some of our favorite spots:
On eBay here – carbs, spark plugs, ignition coils, crankcase, and everything else
HL Supply here – a huge range of Stihl OEM parts
On Amazon here – carbs, oil lines, chains, bars, hardware, air filters, etc.
You can also ask in your local area chainsaw group on FB – you'd be surprised at how many people have old Stihl chainsaws sitting around looking for a new home.
Stihl 025 Alternatives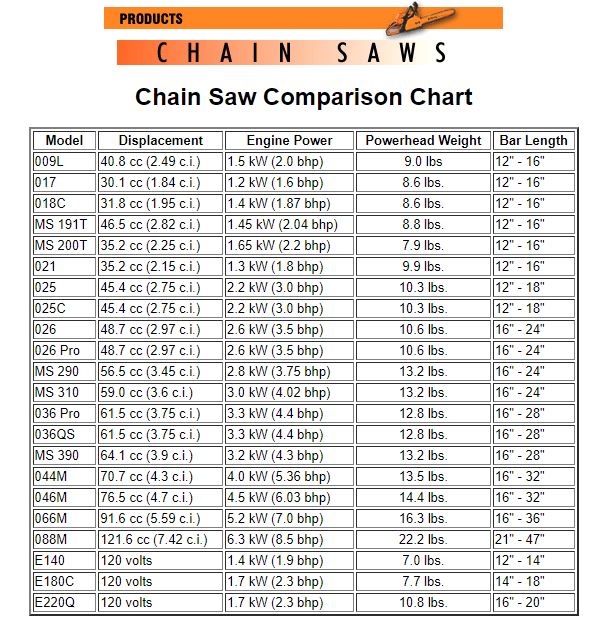 Here are a few other 40 – 50cc chainsaws you can pick up new today.
The Stihl MS 250 – the chainsaw that replaced the 025.
It's also a 45cc 3hp chainsaw, but it will perform better with a longer 18-inch bar than the 025. It has a variety of improved features on the 025, including toolless fuel and oil caps, better kickback protection, and easier to access air filter.
The Husqvarna 450 – another good home-use chainsaw.
This is a 50cc chainsaw that I use often, and it runs comfortably with a 20-inch bar. It's obviously a Husky, so it'll be out of the question for diehard Stihl users, but I think it's a great saw.
The ECHO CS-310 – for those who want to try out an ECHO.
This is a lower-powered 30cc chainsaw that's best for limbing and pruning, but you can also do thinner-width logs for firewood as well. ECHO saws are known for having a great power-to-weight ratio and are another trusted brand.
Stihl 025 FAQs
What year did Stihl make the 025 chainsaw?
The Stihl 025 years made were 1991 – 2002, at which time it was replaced by the Stihl MS250 chainsaw.
Find out more about Stihl chainsaw production years here.
Is Stihl 025 a pro saw?
The 025 is not a pro saw like the Stihl 056 or Stihl 075. It's an occasional use home and farm chainsaw.
As long as you use it appropriately you won't be disappointed.
How many CCs is an old 25 Stihl chainsaw?
The Stihl 025 specification is a 45 cc chainsaw.
45 ccs is a mid-range homeowner chainsaw, all things considered.
The highest powered homeowners saws go up to around 60 ccs, such as the MS 310 (the second most powerful Stihl homeowner saw after the MS 390).
The lowest powered homeowner saws are 25 – 30 ccs. The Stihl 023 has slightly less power at 40 ccs and it's the same series as the 025 (Series 1123).
Where was the Stihl 025 chainsaw made?
Stihl chainsaws are made in the US – at least, the majority of those sold in the US are.
The 015 was the first saw to be made in the USA, starting in 1974. Not all 025s were made in the US. You can share the serial number with your Stihl dealer for more information on your model.
025 Chainsaw
Overall, the 025 is a great little chainsaw for those wanting something for light tasks.
It's a good saw to have in the collection, as it becomes harder to find well-looked after and maintained examples. If you spot one at a reasonable price, make sure to grab it!
For more Stihl homeowner chainsaw info, here's the Stihl MS180 guide and the MS230 chainsaw guide.
Let us know if you have any more questions or comments down below.