The Husqvarna 141 chainsaw is a small 41cc homeowner saw that was made between 1998 and 2004.
There were thousands, if not tens of thousands, of these saws made so they regularly pop up for sale on online marketplaces, yard sales, and pawn shops. Whether or not they're worth buying depends on the price and condition, but it is a good little firewood or pruning chainsaw.
The 141, like its younger brother the Husky 136, makes a good starter chainsaw for beginners as it's not very powerful and it is easy to start, use, and maintain. Here is a general overview of the Husqvarna 141 Chainsaw.
Husqvarna 141 Versions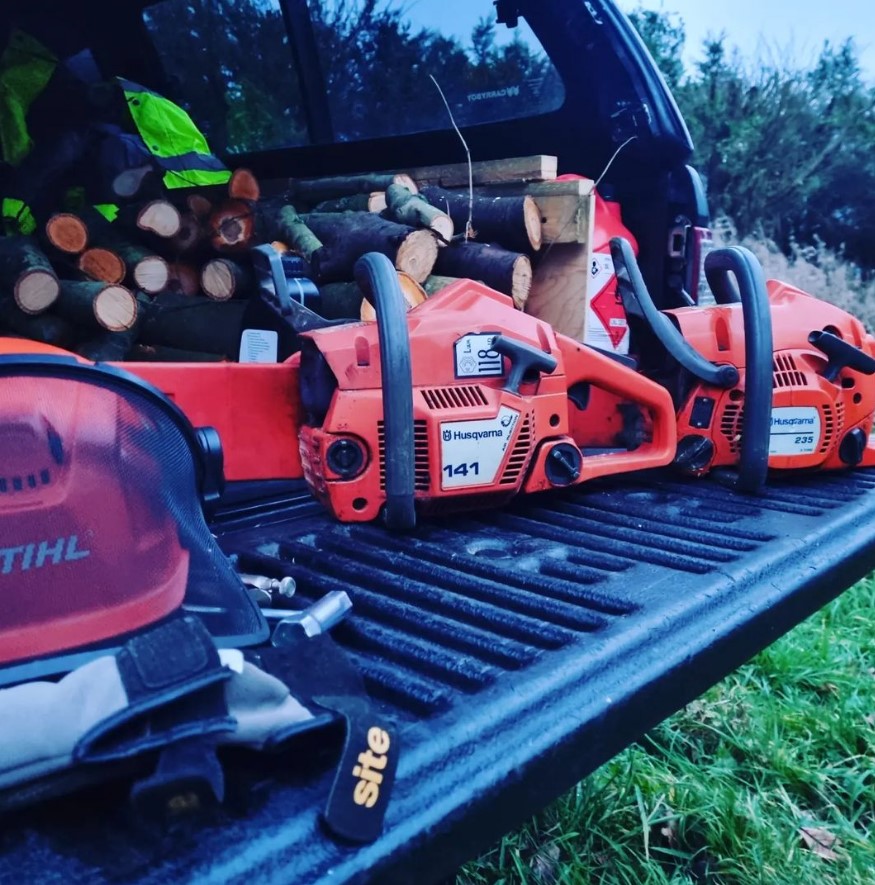 The 141 was originally described by Husqvarna as:
A lightweight, easy to operate, versatile saw for more demanding leisure and part-time use.

Just like all our saws, this saw satisfies the toughest demands on safety, easy operation, and ergonomics as our professional saws. Useful in gardens and yards as well as for felling applications.
It is a small entry-level homeowner chainsaw. It doesn't have a lot of power as a 41cc, 2.6 hp saw, so it's only designed for light tasks. It's good for pruning, light clean-up, and breaking down small logs.
The 141 is not a good full-time firewood chainsaw. Really you would want something 50cc and above for that sort of task. A Husqvarna 450, 455 Rancher, or 460 Rancher would be better if you want to stay with Husky saws, or the ECHO Timber Wolf is an excellent 60cc for the price as well.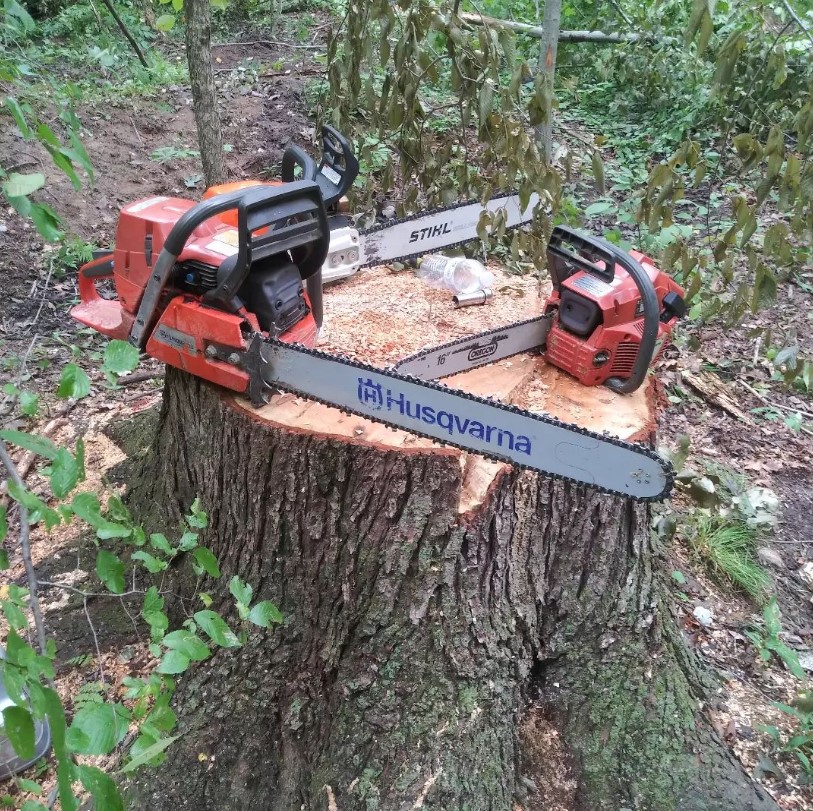 The 141 is not designed to be used all day – as Husky said in the description above, it's for "part-time use". Though there are plenty of guys who use the 141 as part of their saw lineup. It's good to have a main bigger firewood saw along with smaller chainsaws like the 141.
Not everyone likes the 141 as it does have problems, as we'll see in some of the reviews, but a lot of guys appreciate the saw for what it is – just don't try to push it beyond its limits.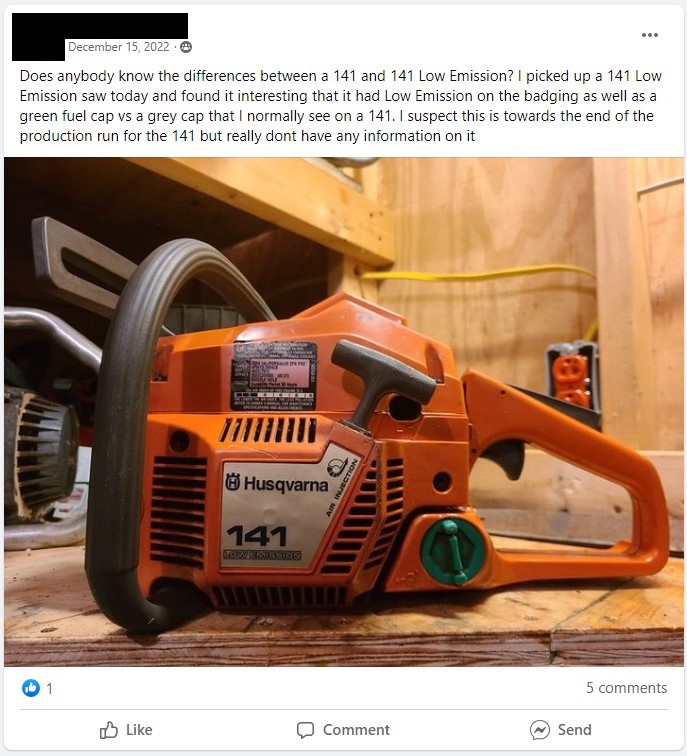 As for versions, there is also a Husqvarna 141 Low Emissions with green fuel caps. This means it has a catalytic muffler. The main bit of advice people have for these saws is, "Gut the muffler and remove the limiters on the carb. Let it eat."
Husqvarna 141 Reviews
As with most Husky chainsaws, the 141 is reviewed well by users but looked down upon by others who hate any kind of homeowner chainsaw. Some people can't be bothered with small "underpowered" saws, but they're perfect for some people.
If you don't want to spend much and only need a light saw for the odd task here and there, the Husqvarna 141 is a decent choice. It's preferable, at least, to some of the extremely cheap chainsaw brands whose saws tend to fail after a few uses.
Here are some user reviews from the Husqvarna Facebook group.
Stephen said:
Poulan based design. Fuel lines, impulse bushing, and intake boot are common air leak points. Intake system similar to a 51/55 style saw. They run very well for a small inexpensive saw. I have one I that use for small jobs and it's easy to work on.
Stephen said:
I have a 141. They are orange Poulan saws. The fuel line can be problematic, but other than that it is a decent small saw. More torque than I expected for its size.

Much better built than its newer replacement (235/240), I have one of these also, not even close to the same quality of the 141. I use it for small jobs.
The fuel line issue comes up more than once when looking into this model, and often needs replacing. If you know what you're doing (or can find someone else who does), this is not a difficult or expensive task.
Richard said about his 141s:
It's great little saw! I have 2 of those and a 455 Rancher and a 460. I use the 141s for light quick work around the property.
Clifford said:
I just bought one last weekend. Rebuilt carburetor, new fuel line, modified muffler, and sharpened the chain. Great little saw for what it is.
Richard said:
The 136/141 are way better than the modern equivalents in my opinion. They are awesome little saws, strong runners and well-made.
And Jim said:
I had one of those as my first small saw when I started tree business. It did phenomenal; very smooth and starts easy. After a few years I purchased a Stihl MS250 and gave 141 to one of my guys, stupid. Stihl was good but never did love it.
Those are the mostly positive comments which share the pros and benefits, and here are a few negative reviews sharing the cons or downsides.
Adam said:
My brother has one. It's not horrible, but not far from it. The anti-vibe is very similar to a Poulan, and the carb is not very good. After replacing the carb it runs ok at best. I personally would recommend an electric saw over this model, but that's just me.
And Paul said:
The 141 is junk, throw it away. Made by Poulan with Husqvarna colors. Kinda like the 240s nowadays. Almost every 36, 136, 41, or 141 I come across is blown up.
And some shorter comments:
I have that saw… it costs me a ton to fix it every 2 weeks.
Not a bad chainsaw for women.
They can be cantankerous!
There are better choices. A 350 is a great saw and it has many performance upgrades.
Specs And Features
| Specs | Details |
| --- | --- |
| Cylinder displacement | 40.2 cm³ / 2.4 cu. inch |
| Power | 1.9 kW / 2.6 hp |
| Cylinder Bore | 40 mm / 1.57 inch |
| Piston Stroke | 32 mm / 1.26 inch |
| Max RPMs | 13,000 |
| Idle RPMs | 3,000 |
| Sound level | 98.5 dB(A) |
| Noise emissions, LWA | 118 dB(A) |
| Vibrations, front/rear handle | 4.8 m/s² / 6.5 m/s² |
| Weight without cutting equipment | 4.6 kg / 10.1 lbs |
| Fuel tank volume | 0.41 l / 0.85 US pint |
| Oil tank volume | 0.20 l / 0.42 US pint |
| Oil pump type | Automatic, fixed flow |
| Chain pitch | .325 inch |
| Recommended bar length | 33-38 cm / 13-15 inch |
Exact specifications may vary slightly depending on when and where the saw was manufactured. Further specs, features, and maintenance requirements can be found in the Husqvarna 141 Manual.
Walbro WT-289 series carburetor
Electronic Magneto
Champion RCJ7Y or Bosch WSR6F sprak plug
40:1 fuel oil mix
Die cast magnesium construction
The 141 is very similar to the Husqvarna 136 (and shares the same manual). The main difference is that the 136 has a 36cc engine. The Husqvarna 240, 435, and 440 are all 40cc chainsaws as well. The latter two can be purchased new today at a reasonable price, though the 440 is considered the worst Husky chainsaw ever!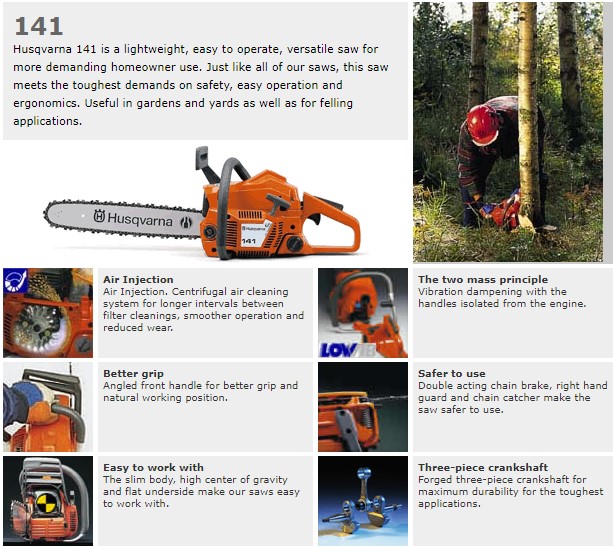 Features include:
Air Injection – Centrifugal air cleaning system for a longer time between filter cleans.
Easy-grip – Angled front handle for better grip and natural working position.
Easy to use – Has a slim body, high center of gravity, and flat underside.
The two-mass principle – Vibration damping with the handles isolated from the engine.
Safer to use – Double-acting chain brake, right-hand guard, and chain catcher make the saw safer to use.
Three-piece crankshaft – Forged for maximum durability for the toughest applications.
Low noise level – Quieter than previous models at 98.5 dB(A).
Low weight – Lightweight moving engine parts mean faster acceleration.
Price And Parts
Generally speaking, it's worth rebuilding and replacing parts on this chainsaw.
If you can find a cheap second-hand machine for under $50, it's likely it will be worth more fixed up than what you will need to spend on it. However, it will depend on how you value your time.
While the Husky 141 is no longer for sale there are still plenty of genuine OEM and aftermarket parts out there.
Whether you are looking for fuel tanks, air filters, dogs, carburetors, oil pumps, fuel lines, clutch covers, starter cords, and sparks plugs, or you just need a new bar and chain, they're fairly easy to come by.
Husqvarna 141 parts are reasonably plentiful, though getting somewhat harder to find over the years. The best place to look or ask for parts, if you can't find them in the usual places, is in one of the many large Husky Facebook groups.
Check out these retailers:
Ebay – a wide range of parts and complete saws
HL Supply – OEM and aftermarket parts
Amazon – mostly aftermarket parts
Parts shouldn't cost a lot.
As for the Husqvarna 141 price, you can expect to pay between $100 and $150 for a good working model. The often sell for as little as $30 for a well-used version.
Husqvarna 141 Chainsaw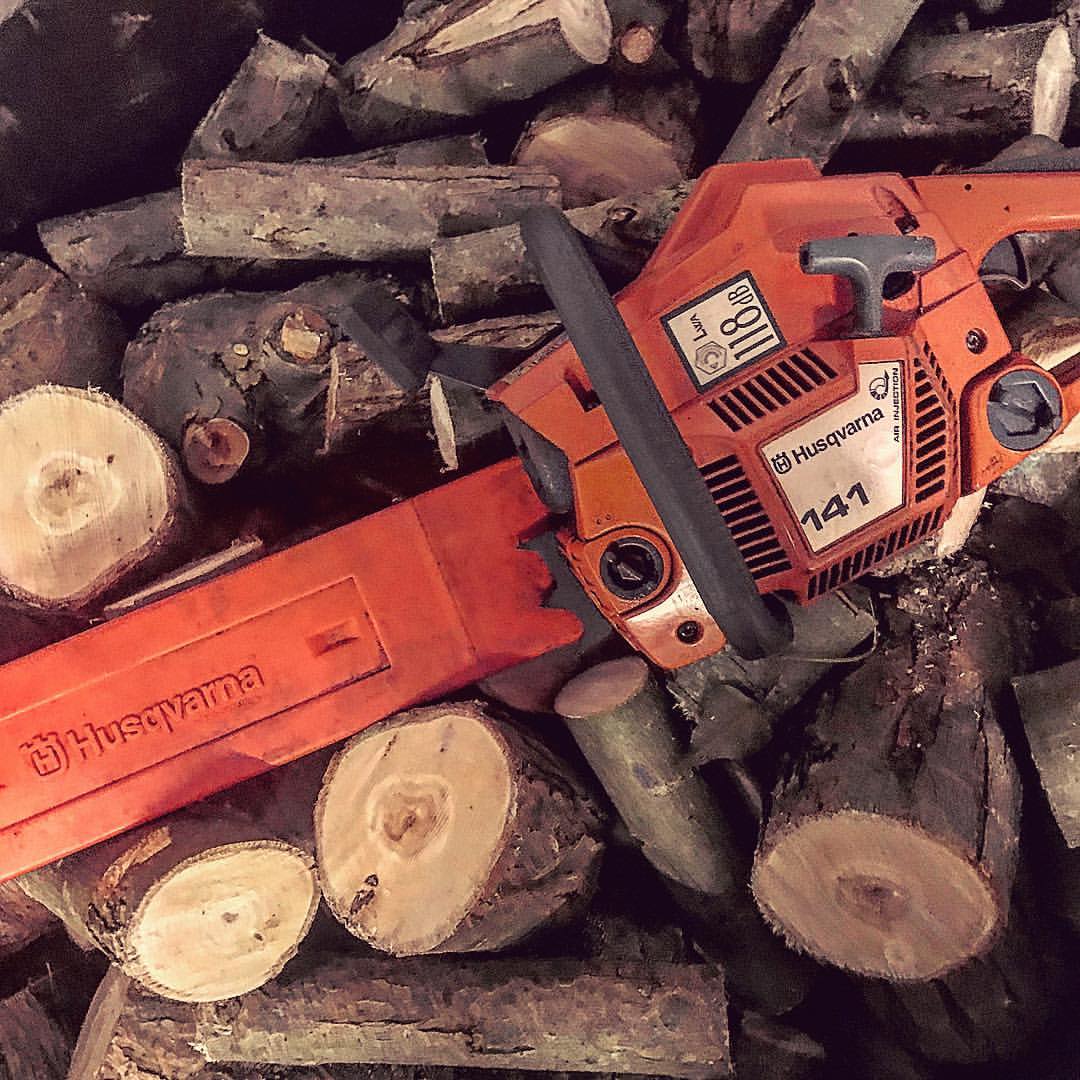 Alongside other great discontinued Husqvarna chainsaws like the 285CD or the Husky 345, the 141 will more than likely serve you well when put to the right jobs. It's a good little pruning saw for the garden and yard, a decent camp saw for clearing trails, or fine for bucking small logs.
It's recommended for use with UP TO a 15″ bar, and it would be fine with a 16″ as well. However, it's best not to run an 18″ on it. The saw will bog down and perform poorly. It's not worth it. Get a better chainsaw instead!
Let us know if you have any questions or comments down below.