The ECHO CS-590 is an extremely popular chainsaw. It is seen as being a cheaper, and many would say "better", alternative to Stihl and Husqvarna homeowner saws.
It's described by users as a "beast of a saw" that "never dies and rips all day". It's the price that gets people talking. For under $500, you're getting a powerful and well-built "professional-grade" chainsaw that lasts. A big benefit is that it has a much better warranty for homeowners compared to other brands – 5 years for home use and 1 year for commercial use.
Reviews of the ECHO CS-590 are overwhelmingly positive with many saying it's the best saw they've ever owned. Here are all the pros and cons, specs, features, and benefits of the ECHO Timber Wolf!
ECHO Timber Wolf CS-590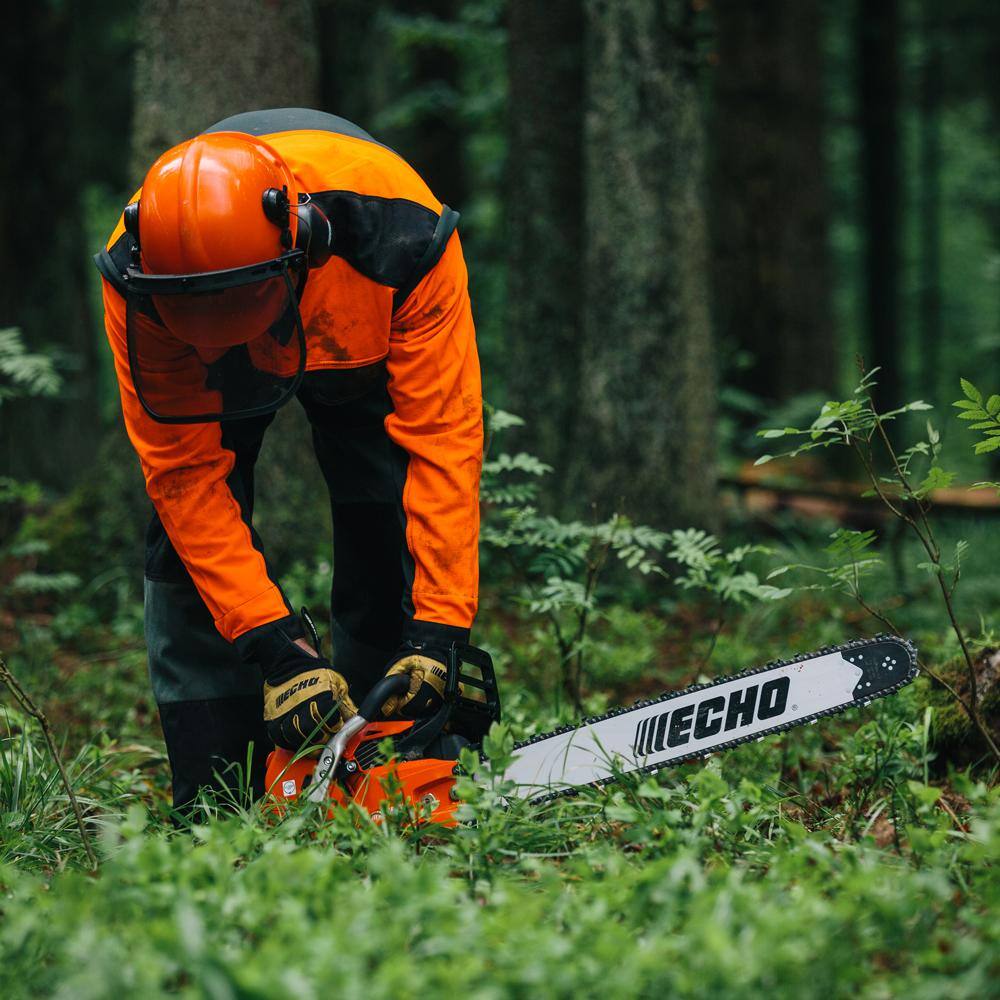 Timber Wolf is a marketing term given especially to the CS-590, and you'll hear people referring to it with either name. It's listed as professional grade but is most commonly purchased for use as a good homeowner firewood saw.
The CS-590 first came out in 2013 and continues to be produced today. ECHO chainsaws are made in Japan, the US, and China.
It's considered one of the best 60cc chainsaws for the money because of features like its magnesium construction. Comparable Stihl saws like the 64cc MS391 or Husky saws like the 60cc 460 Rancher cost significantly more but have plastic construction.
View and compare the current CS-590 prices here:
The Timber Wolf is most commonly sold with a 20″ bar and this size runs really well on it. It's also sold with 18 or 24-inch bars as well, but 20″ seems to be the sweet spot for this saw. Unless you particularly need a larger bar, go with the 20″!
ECHO CS-590 Review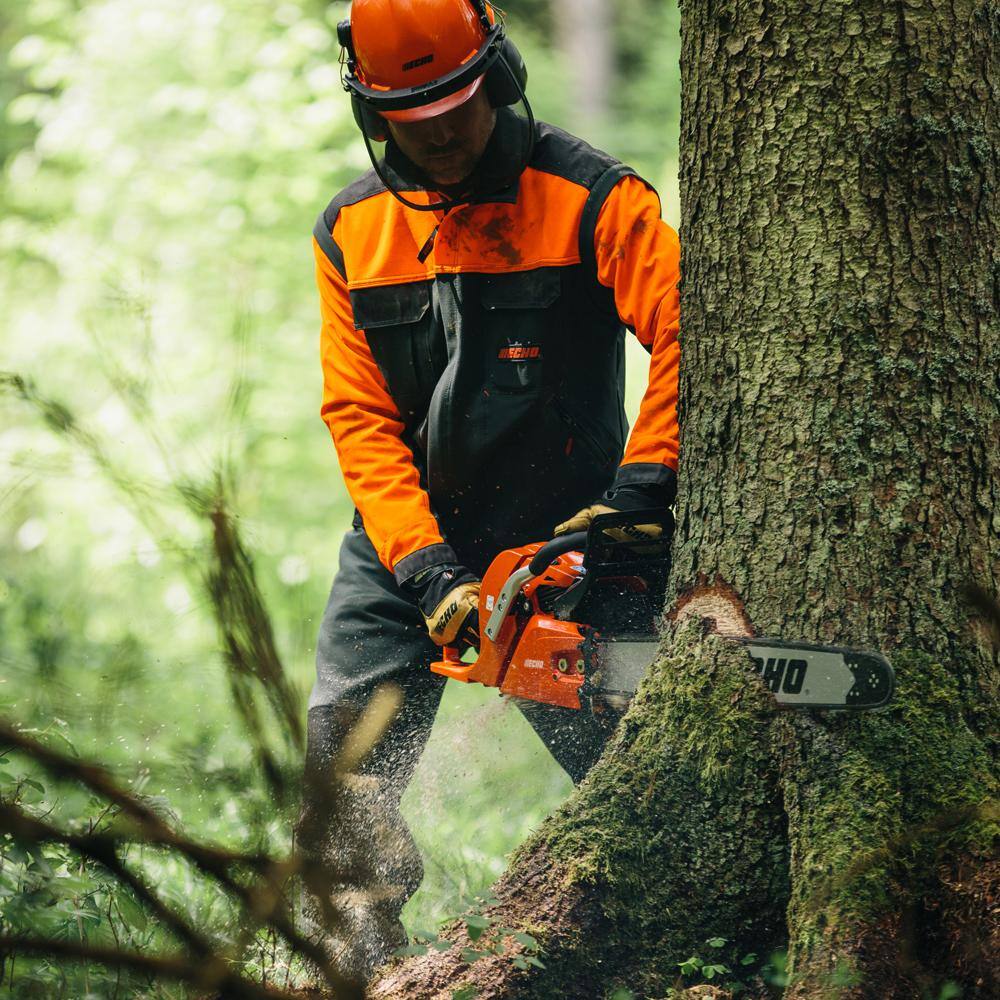 For the money, the ECHO CS 590 is one of the best chainsaws in its class. It's affordable, has plenty of power, and has the respect of the chainsaw community too. It has passed the user test with many, many chainsaw enthusiasts giving it two thumbs up and naming it as one of their favorite chainsaws under $500.
As I put together reviews for other similarly powered chainsaws like the Husqvarna 450 or 455 Rancher, I was surprised by how often the CS-590 comes up as a recommended alternative. And it's not just those two chainsaws, it's any non-pro 50 or 60cc chainsaw. There will always be multiple people listing the Timber Wolf as a better alternative.
Here are lots of reviews and comments from the large Stihl and Husqvarna Facebook groups. We'll start with the postive and then share the negative…
Positive reviews:
I have a CS-590 and like it a lot. It runs great and cuts better than my MS390.
Much better than the Stihl Farm Boss series.
The 590 is a really solid saw, but open up the muffler and tune it, and it's a beast.
I can confirm as a Stihl fan, the Echo 590 is a beast. I've been running mine hard for years with zero problems; the thing rips.
My 590 Timberwolf runs like a cheetah and outdoes my 261 but I love them both they have their place.
I've had probably 10 CS590s. I highly recommend them to homeowners. Great saws.
I have nothing but good things about the Echo. A friend has a tree service and switched to Echo from Stihl.
I'm a Husqvarna guy but that 590 is one of my favorite saws. It's a powerful good reliable saw.
Love mine! I removed the limiter caps, opened up the exhaust deflector, and tuned the carb, and it absolutely rips!! So much power for a great price.
Morgan said:
The thing is, the 590 is the best value on the market today hands down. Also, it's a pro magnesium case just like the MS400 and every other pro saw.
Tommy said:
CS590 has a longer stroke than other saws in that displacement class, it thus makes more torque at the cost of peak horsepower, at 59cc. I regularly see these pulling 25 and 28″ bars with 3/8 full comp and used daily by professionals… they love them and the carburetor means no special dealer repairs.
Robert said:
The 590 has an aluminum crank case my local Small engine dealer who is sells Husgavarna, Style and Echo recommended it to me. We run Husqvarnas on the job though. I'm satisfied with the 590 for use at home. He said he had other loggers running the 590 for trimming.
Ryan said:
The Timber Wolf is a pro-quality farm and ranch saw with a 5-year warranty. If you're on the fence, you can't beat it. On the other hand you could spend the same money on a used 036/360/361 and have one of Stihls best power-to-weight saws.
Michael said:
There are great deals on used saws out there. That being said, a new Echo CS590 is a great saw for firewood and cutting around the house. I'm a diehard Stihl fan but for the money that 590 is hard to beat.
Joshua said:
A 590 is a detuned 620 like a 365 is a detuned Husky 372.

The 620 ported will walk a ported MS400 or 562 Husky. Reason being the 38mm stroke makes ungodly torque for that saw size.
Dan said:
I have the 445 Husky and a 590 Echo for firewood. I am 74 and the weight is a factor. I use the 590 for bigger logs and dropping trees mostly. Once on the ground, I go for the 445 with 18" bar. A 450 Husky would be nice, or the 490 Echo. You will end up with more than one saw eventually. Get the 590 first and adjust from there for your needs.
And Jim said:
I found the 590 a little slow, but it's a torque monster. I've never bogged it in a cut. To me, it runs just about identically to my 372 xp.

I run a 28" bar on XP and I think 590 will pull 28" with no problem, especially if you run skip or just knock off every fifth tooth and leave raker, smoother than skip.

The filter system is not the greatest but for $399 it's a beast. I know the 620P has unlimited coil but a few have said their 590 cuts better than the 620. I don't have a 620 to compare.
There are endless positive comments in the forums, Facebook groups, and in the Amazon listings. It is an almost universally loved saw, but there are those who don't like it. Here's what they say…
Negative reviews:
Throw the ECHO over the bank beside the Poulan where it belongs. A damn 251c would run with that junky saw.
The air filter does not seal well, but there are a couple of solutions to choose from.
Those were the only two bad comments I could find on this saw from the FB groups. You'll find a few more in the Amazon listing, but the saw gets overwhelmingly positive reviews.
Specs And Features
| Engine | |
| --- | --- |
| Cylinder displacement | 59.8 cc / 3.64 cu in |
| Power Output | 3 kW / 3.89 hp |
| Fuel consumption at max | 1.75 L per hour |
| Smart assist system | Decomp |
| Idle speed | 2600 rpm |
| Weight | 6 kg / 13.2 lbs |
| Spark plug | NGK BPM8Y |
| Carburetor | Diaphragm type |
| Fuel and lubrication system | |
| Fuel tank capacity | .645 liter / 21.8 US fl oz |
| Oil tank capacity | .3 liter / 10.1 US fl oz |
| Type of oil pump | Adjustable/Automatic |
| Chain/bar | |
| Standard bar length | 20″ |
| Recommended bar lengths | 16, 18, 20, 24″ |
| Pitch / Gauge | 3/8″ / 0.58″ |
| Sprocket type | Spur |
| Chain brake | Inertia activated |
| Chain tensioner | Side |
The ECHO Timber Wolf is a 59.8 cc chainsaw with a 3.9 horsepower engine. It has a dry weight of 13.2 pounds, and will weigh another pound or so with fuel, oil, bar, and chain.
You can see some of the other features above:
Front and rear hand guard
Anti-vibration device
Spiked bumper
Throttle control lockout
Chain brake and chain catcher
Spark arrestor muffler
Kick guard
Easy access to the air filter for cleaning or replacement (toolless)
View into the fuel tank to check levels
Decompression valve for easier starting
Auto oiler that's adjustable depending on climate
Low kickback bar and chain
And ECHO described the saw as:
Decades of cumulative expertise mean ECHO chain saws are dependable, ergonomic and powerful. The CS-590 features a powerful, professional grade 59.8cm engine and weighs in at just 6.0kg. This combination of power and light weight mobility make it an incredibly versatile saw. A great choice for farmers and other professionals who deal with a range of professional jobs.
Timber Wolf Alternatives
Here are three good alternatives that are similarly priced and powered.
Poulan Pro
The Poulan Pro PR5020 (here on Amazon) is a 50cc saw that's almost half the price.
It's not as powerful or as good, but it's an option for those who want to spend a little less. You can check out our complete Poulan Pro PR5020 review for more info.
ECHO CS400
The ECHO CS 400 (here on Amazon) is a lower-powered ECHO model.
This is a popular 40cc chainsaw that is a bit cheaper and lighter. It comes with an 18″ bar and while it won't work as hard as the CS590, it's still a great saw. Check out our complete ECHO CS 400 review for more info.
ECHO CS-620
The ECHO CS-620 (here on Home Depot) is often cited as being the next level up from the Timber Wolf.
People ask what modifications they should make to their 590 and the response is often "Just get a 620." It's also a 60cc saw but it has more power. It is ECHO's "Highest horsepower per displacement." Read our full CS-620P review here.
ECHO CS-590 Chainsaw
The CS 590 ECHO chainsaw is a great chainsaw for the price and feature set that it brings.
It's not the best logging chainsaw, but it's a very good one for the price. And for homeowner use, it's excellent. ECHO brand saws have a good name and it's always easy enough to find support if you have trouble.
The Timber Wolf is great for firewood, pruning, limbing, and clearing land. It's not a light chainsaw like ECHO's top handle chainsaws, so you won't want to be climbing any trees with it, but it's great for the home or hobby farm. Let us know your thoughts in the comment section below.