The Husqvarna 136 is a 36cc saw that was produced between 1998 and 2004, so it can no longer be bought new but used saws often come up for sale online.
It's one of Husqvarna's lowest-powered saws, described as a "casual chainsaw," and good for pruning, yard clean-up, or light firewood duties. It is not the saw you should use for big jobs or regular all-day use as it really isn't designed for that sort of thing.
The 136 was and is a popular chainsaw – the little brother of the 141 – and it has plenty of happy owners and users. It's not the perfect chainsaw for everyone, but it's a good one for some.
*The Husqvarna 135 is today's smallest Husqvarna chainsaw. Used 136s can be found on Ebay here.
Husqvarna 136 Versions
Both the 136 and 141 are made by Poulan in the USA. They are not made in Sweden, as many people hope.
Husqvarna described the 136 like this:
Husqvarna 136 is our smallest chain saw and is intended for leisure and part-time use. Our main focus, as always, is on the user and the work environment and our demands on safety, function, ergonomics and reliability are as important as our demands on our tools for forestry professionals. Easy to start and flexible, and standard-equipped with our LowVib chain.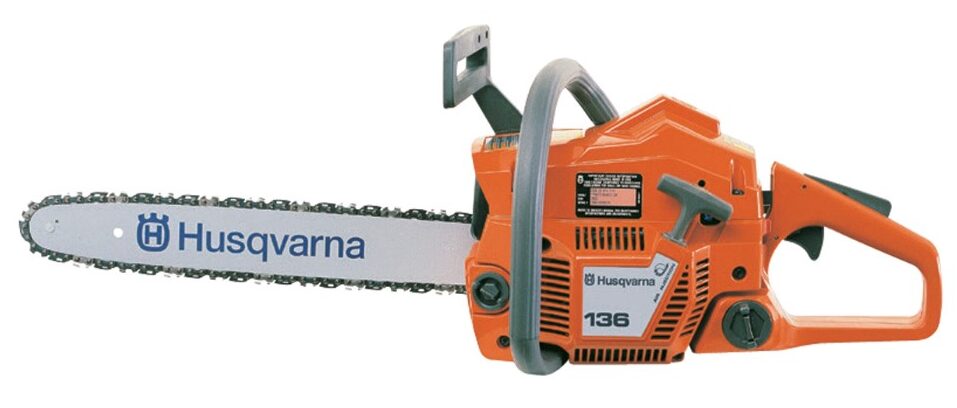 The Husqvarna 136s production years were not long, so there are not as many versions of it compared to other saws. There is a green fuel cap version with a catalytic converter which is sometimes labeled Husqvarna 136 LE (Low Emissions).
The main version was "Not approved for sale in California." I think the saws with US EPA/CAL "conformed to emissions regulations for ULGE engines" and were sold in California.
You can read your Husqvarna serial number (which was only a sticker on the 136) to discover when it was made.
Husqvarna 136 Reviews
A lot of people write-off the Husqvarna 136 because it's "an orange Poulan" but those who actually own the saw and use it think it's great.
Stephen said:
They cut better than you would expect. I have had several saws on that chassis. Make great brush and fence-line saws.

Usually get them free with rotten fuel lines and gummed up carburetors. $15-$20 and they are running!
Tim said:
Waaaay better than an MS 170. The Stihl feels like a toy compared to the 136. The 136 is a proper saw with a couple mods.
Keither said:
What is your favorite Husqvarna saw? Mine would be my first one, a 136. Fun little saw to run and has had to cut his bigger brother out a time or too!
And Jake said:
It's true, it's a slightly nicer poulan. Doesn't mean it's a bad saw, that's just what it is. And any free saw that runs is better than no saw at all. I will promise you that!
Plus I found these shorter comments on the 136:
Great little saw and it doesn't weigh a ton.
I've got one, not a bad little saw, not massively powerful but great for logging, etc, had a couple of small trees down with it.
The little 136 is great for the little hard-to-reach places!
Cuts really well. Keeps up with my 2040 if not as good.
I have a little 36 I have beaten the crap out of. It's my go-to limber
I've had a 36 for years, it's gone above and beyond and still runs perfectly.
One of my favorite small saws!
Love the 136 and everything is interchangeable with the 36.
If you need a small saw for cutting firewood, it's a fine saw. Quite powerful but nice and light.
I really enjoy the bigger saws, but the little Husky/Poulan crossbreeds are easy to fix and flip.
Cons of the 136?
The only negative comments I could find were "Cheap and poor saws both of them." and "Those saws are leaky. You can install a new upgraded one-piece oil line set and a new bar plate."
If you're trying to use the 136 to fell trees or buck large logs, you'll be disappointed, but if you use it as it was designed to be use – for pruning, limbing, and light yard work – you'll find it up to the task.
Specs And Features
| Specs | Details |
| --- | --- |
| Cylinder displacement | 36.3 cm³ / 2.2 cu. inch |
| Power | 1.6 kW / 2.2 hp |
| Cylinder Bore | 38 mm / 1.50 inch |
| Piston Stroke | 32 mm / 1.26 inch |
| Max RPMs | 13,000 |
| Idle RPMs | 3,000 |
| Sound level | 98 dB(A) |
| Noise emissions, LWA | 118 dB(A) |
| Vibrations, front/rear handle | 4.9 m/s² / 7.7 m/s² |
| Weight without cutting equipment | 4.6 kg / 10.1 lbs |
| Fuel tank volume | 0.41 l / 0.85 US pint |
| Oil tank volume | 0.20 l / 0.42 US pint |
| Oil pump type | Automatic, fixed flow |
| Chain pitch | .325 inch |
| Recommended bar length | 33-38 cm / 13-15 inch |
The 136 weighs the same as the 141, both are 10.1 lbs, so the 136 has a worse power-to-weight ratio.
Champion RCJ7Y or Bosch WSR6F spark plug
Nylon mesh cartridge air filter system
Inertia Activated chain brake
Magnesium construction
50:1 fuel oil mix
This comes from Husqvarna's old 136 listing on the Husky site.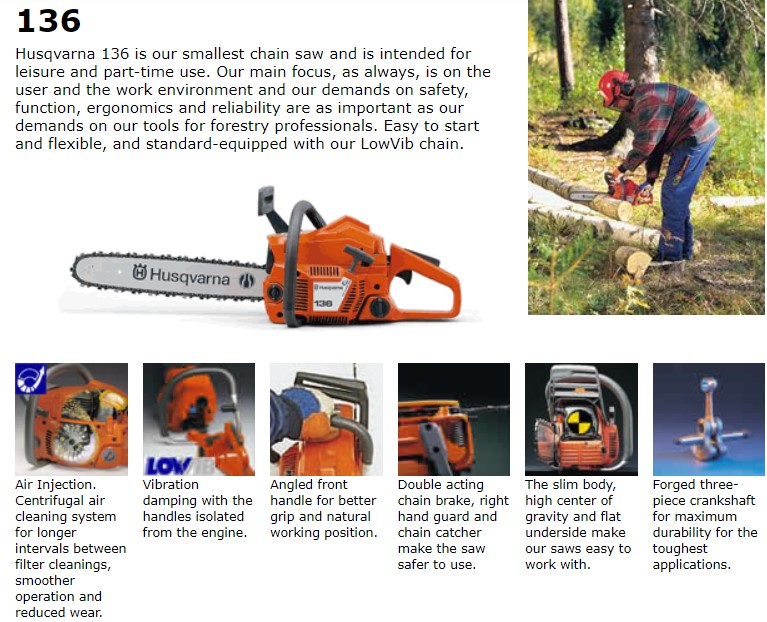 Further specs and features in the Husqvarna 136 manual (instant download).
Price And Parts
Husqvarna 136 saws are not all that valuable. They often change hands for free or for as little as $20.
A model that is in excellent condition can sell for up to $150, but the standard price for one that's been used for years is $50 – $70. There are not many "barely used" models out there anymore, but those are worth more.
You can check the current 136 listings on eBay here, but at the time of writing, there is a non-working model listed for $50 and another that looks in good condition listed for $120.
HLSupply is a good site to check for parts – they have categories for the 136 and 136 LE (Low Emissions). Amazon also has aftermarket parts for the 136. Lastly, check your local Husqvarna Facebook groups – there is almost always someone nearby who has what you need.
Husqvarna 136 Chainsaw
The Husqvarna 136 Chainsaw isn't going to win any awards for power and excitement, but it can still be a faithful small chainsaw for light tasks. While some might call it a "lady's chainsaw" there are plenty of happy dudes rocking their 136 each weekend.
If, after reading this, you think it might be too small for you as well, try and find one of the Rancher chainsaws for sale instead. The 450 Rancher, 455 Rancher, or the 460 Rancher are all good firewood chainsaws for homeowners and have a lot more power than the 136.