What is the best chainsaw sharpener, and what type do you need for your saw?
Chainsaws are vital tools for tree removal, pruning, and cutting firewood, but many of us don't realize how quickly the chainsaw blades dull.
To make using a chainsaw as safe and efficient as possible, you should always keep the blades sharp.
Whether you prefer to get this done as fast as possible with an electric sharper or take your time perfecting each edge by hand is up to you, but in either case, you'll need the best tool for the job.
Types Of Chainsaw Sharpeners
Chainsaw sharpeners can be broken down into four classes: handheld manual, bar mount, handheld electric, and electric.
The best chainsaw sharpener for you may depend on the type of chain you have – though some sharpeners are universal, in which case they should be able to sharpen all chainsaw chains.
Handheld Manual
This category includes any handheld files where you have to sharpen each tooth manually.
Manual handheld sharpening kits often come with multiple round files, a flat file, and sometimes a filing guide.
The round files are for sharpening the teeth, the flat file is used to lower the raker, and the filing guide helps the user maintain the proper angle on the tooth while filing.
Bar Mount
Bar mount files are similar to handheld files, but they use a rig that clamps onto the chainsaw to keep the filing angle consistent. The rigs are adjustable for different types of chains and help to speed up the manual filing process.
Bar mounts can be quite bulky, but they help maintain a better angle.
Handheld Electric
Handheld electric chainsaw grinders are essentially small dremels. They spin rapidly to emulate the movement of a handheld file.
Some handheld electric grinders have different Dremel attachments and built-in filing guides, but not all of them. As long as you have a power source, these tools can help save your arms the strain of filing.
Electric
Electric chainsaw sharpeners resemble miter saws. They are usually bench or wall-mounted and can greatly increase the speed at which you can sharpen a chainsaw blade.
Electric grinders have a wide range of adjustments and options and can sharpen blades like a pro. Of all the sharpeners, they tend to cost the most.
*Even a universal sharpener may not be suitable for a mini chainsaw.
1. STIHL Chainsaw Chain Sharpener
VIEW LATEST PRICE →
Type: Handheld Manual
Weight: 0.77lb
Chain Pitch: 3/8in gauge
STIHL is known for making some of the best chainsaw sharpeners, and this file chain sharpener is no different.
Though bizarre to look at, this chain sharpener can get the job done fast. You can use this tool to sharpen chainsaw teeth and check the depth gauge in a single step.
The two-in-one STIHL chainsaw teeth sharpener includes two round files, a flat file, a filing guide, and a case. It is a great option for beginner and occasional chainsaw users.
Pros
Two-in-one design
Holding case
Filing guide
Cons
Doesn't work on all chains
---
2. Husqvarna Chain Filing Kit
Type: Handheld Manual
Weight: 0.28lb
Chain Pitch: 3/8in gauge
This tiny chainsaw blade sharpener kit by Husqvarna is ideal as an emergency sharpening kit. If ever you are out, and your chainsaw chain blades start to dull, you'll want this kit on hand.
The pack comes with two 3/8in round gauge files, a flat file, a file handle, and a combination filing gauge to ensure the angle and depth of filing are correct.
This sharpener for chainsaw blades is affordable and lightweight; perfect for when you don't have access to a power source and don't want to carry any heavy tools.
Pros
Lightweight
Portable
Simple
Cons
---
3. Oregon Chainsaw Field Sharpening Kit
Type: Handheld Manual
Weight: 0.82lb
Chain Pitch: Universal
This chainsaw sharpening kit by Oregon has all the tools you'll need to sharpen your chainsaw blades no matter where you find yourself.
The kit includes a 5/32in, 3/16in, and 7/32in round saw chain file, as well as, a flat-file, universal file handle, and a file guide, all rolled up in a travel pouch.
This kit is ideal when you are far away from any machine shops and just need to give your saw a tune-up.
Pros
Lightweight
Portable
Doesn't require power
Multihead
Sharpens any blade
Cons
---
4. Oregon Professional Compact Bench Grinder
Type: Electric
Mount Type: Wall or Bench
Chain Pitch: Universal
The Oregon automatic chainsaw sharpener is an easy-to-use electric grinder complete with one-way motor operation, adjustment grinding template, dressing brick, and 2-3 grinding wheels.
This heavy-duty machine can sharpen any size blade and makes quick work of even the dullest chainsaw teeth. This grinder has all the gadgets you could need to sharpen chainsaw teeth, including its own light source.
Find out more about the Oregon electric chainsaw sharpeners in our review.
Pros
Sharpens any chain
Wall or bench mounted
Easy-to-use
Cons
---
5. Oregon Sure Sharp Electric Chainsaw Chain Grinder
Type: Handheld Electric
Weight: 1lb
Chain Pitch: Up to 0.404in
This tiny handheld sharpener is ideal for taking on the road. You can hook it up to your car's auxiliary power outlet or directly to the car battery. The chainsaw grinder comes with three different-sized grinding heads and has a built-in adjustable chainsaw sharpening guide.
It also comes with a multitool for changing out the grinders.
Pros
Works on most chains
Long cord
25000rpm
Multiple grindstone sizes
Multiple power supply options
Cons
Runs on car auxiliary outlet or car battery only
---
6. Granberg Bar-Mount Chainsaw Sharpener
Type: Bar Mount
Weight: 2lbs
Chain Pitch: Universal
The Granberg sharpener is one of the best bar mount chainsaw sharpeners on the market. This manual sharpener ensures a perfectly consistent cut on every tooth with its built-in chainsaw sharpening guide. You'll have no problem matching the manufacturer's angle or keeping a steady hand.
Simply clamp the bar mount on the saw, set the angle, and sharpen. It couldn't be easier. Check out our Granberg Chainsaw Sharpener review for more info (they also have a bar-mounted electric sharpener).
Pros
Consistent sharpening
Works on all chains
Easy attachment
Portable
Cons
---
7. ECSS Electric Chainsaw Sharpener
VIEW LATEST PRICE →
Type: Electric
Mount Type: Wall, Bench, or vise
Chain Pitch: 0.05-0.08in gauge
The ECSS is an inexpensive easy-to-use electric chainsaw sharpener. It can be mounted on the wall, to a bench, or held by a vise and plugs into any standard 12-volt outlet.
This chainsaw sharpening tool works on most standard gauge saw teeth and can sharpen even the dullest blades in seconds.
Running at 4200rpm, this device can fix worn and decrepit saw blades in a jiffy.
Pros
Rust resistant
Mount anywhere
Uses standard 12-volt outlet
4200rpm
Cons
Doesn't work on 9.943in gauge
---
How Chainsaw Sharpeners Work
Sharpening chainsaw saw blades work the same way sharpening any other knife edge does. Whether you are sharpening by hand or with an electric sharpener, the device works the same.
When the blade edge starts to dull, it means that the point has worn down enough to round out; there is no longer a cutting edge.
By abrading the surface at an angle with a harder material, you can grind down the blade until the edge is sharp again. It's the same process as filing your nails.
By filing your nails you are sanding off the sharp edges by moving the nail file in a round motion. To sharpen a blade, you move the file in a linear motion along the blade. Your nail would end up just as sharp if you followed a linear motion on them too.
How to Choose the Correct File/Sharpener for Your Chain
Figuring out the right file size to sharpen your chainsaw chain can be headache-inducing.
You can watch several lengthy videos on how to calculate the pitch of the chain, or you can just look at some simple sizing charts.
For everything, you need to know about chainsaw chains, including how to determine file size, check out STIHL's sizing chart.
Manual Vs Electric Chainsaw Sharpeners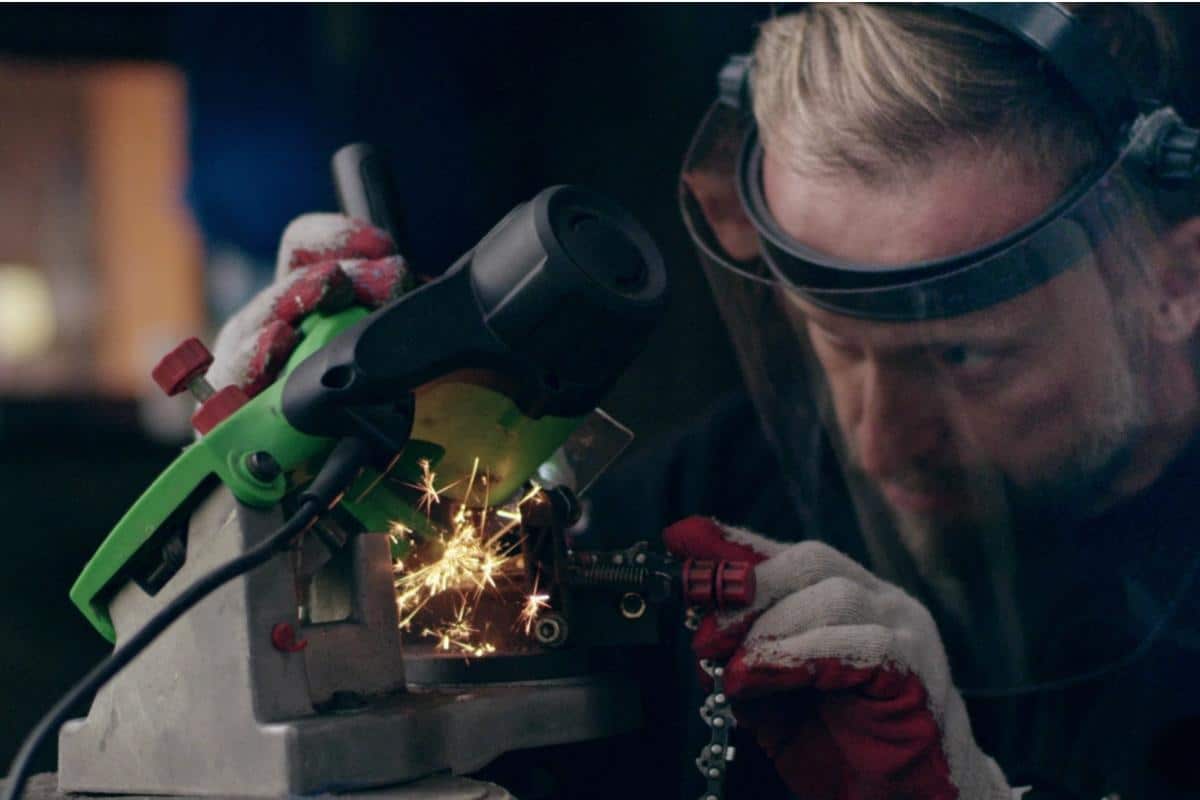 Manual sharpeners offer more control over the angle, sharpness, and level of grind than electric sharpeners do, but they take a lot more effort.
To use a manual chainsaw sharpener, you have to have a steady hand, good technique, properly sized tools, and patience.
Electric sharpeners save time but don't work with all chain sizes and can sometimes grind off more material than they need to. They are more reliable, however, and provide your arms with much-needed rest.
Manual sharpeners tend to be easier to transport than electric, but some electric sharpeners work on the go.
Best Electric Sharpener Features
All the best electric chainsaw sharpeners have a few things in common that make them better than other sharpeners.
That includes:
Quiet operation
Easy/comfortable to use
A powerful motor
The best features an electric sharpener can have are things that improve how the device works and ensure consistent and efficient grinding.
The very best chainsaw grinders have:
High-quality grinding disks
Accurate angle guides
A wide range of settings and positions
Sturdy build
Consistent and quality results
As with anything, you get what you pay for, and the more expensive models are better than the cheap electric chainsaw grinders.
Free Hand Filing Vs Bar Mounted Sharpeners
Many professionals prefer to use handheld manual filing instead of bar-mounted sharpeners because it saves time and effort.
While bar mounts help with consistency and accuracy, they take time to set up and use. If you have a precise enough skill level, filing by hand may be faster.
For novices and those bad at judging angles, however, bar mounts can save your chainsaw blades.
When you're just starting out, it can be best to use a bar mount but have a goal to eventually sharpen your saw freehand. You won't be amazing at it overnight, but after a bit of practice, anyone can become good at it.
Chainsaw Sharpener FAQs
What is the best brand of chainsaw sharpeners?
Oregon and STIHL sharpening tools are regarded as some of the best chainsaw chain sharpeners on the market.
They make consistently good tools that work as advertised and last ages. STIHL chainsaw sharpeners tend to have a better reputation overall, but can be pricier compared to Oregon chain sharpeners.
How do professionals sharpen chainsaws?
A lot of professionals prefer to sharpen their chainsaws with a hand file.
A well-maintained and frequently sharpened chainsaw only takes a brush or two per tooth with a file to stay sharp. Some pros do like to use electric chainsaw sharpeners and bench-top ones, but portable options are easier to find in professional settings.
What is the best way to sharpen a chainsaw chain?
If you are filing by hand, you need to keep steady pressure on the file and only push it in line with the edge.
Don't pull the file back across or twist it. File every other tooth in the direction of the blade towards the point, and then flip the saw to do the teeth that face the other way.
For full details, watch the video tutorial above.
Do electric chainsaw sharpeners work well?
Electric chainsaw sharpeners, sometimes referred to as chainsaw chain grinders, are a quick and easy way to sharpen a chainsaw. Gone are the days of sharpening each cutting edge by hand; electric sharpeners make the job much faster.
How often do you need to sharpen a chainsaw?
The frequency with which you need to sharpen your chainsaw varies greatly depending on what you are using it for.
On average, you should sharpen it after 10 uses. It is always safer to work with a sharper blade so if you can't remember if you have used the saw 8 or 9 times, sharpen it anyways.
What size file do I need to sharpen my chainsaw?
Files usually range from 4-5.5mm but you may need a larger or smaller one for your chainsaw.
If you look on your chainsaw bar you should be able to gather the details on what type of chain you have, which will then tell you what type of file you need.
Why does my chainsaw blade get dull so fast?
Aside from regular use, many factors could be dulling your chainsaw blade faster than normal. Too steep an angle on the cutters tends to dull blades quickly. 25-35 degrees is ideal for most uses.
Having too deep a cutting angle or having the rakers too far down will also wear down the blades faster.
The type of wood, the dirtiness of the wood, and outside obstacles can also have an effect. If the wood is too hard, too dirty, or you are catching ground when you cut, then the blade will wear down faster.
Is a dull chainsaw blade ever good?
Yes, if you are juggling chainsaws, you don't want the blades to be too sharp!
Best Chainsaw Sharpener
No matter which method you choose to sharpen your chainsaw, having the best tool for the job is a necessity.
All of the chainsaw sharpeners in our table are good for the right person. After you've determined the type of sharpener or grinder that you need, grab the top pick in that category.
Sharpening a chainsaw's blades is just as labor-intensive as using a chainsaw, but it doesn't have to be difficult or painful. Grab one of these nifty tools and you may find you even enjoy your next sharpening session.
When you're all finished sharpening, if you removed your chain, make sure you put it back on in the right direction!