The Husqvarna 55 and 55 Rancher are two different, but almost identical, 53 cc chainsaws.
The 55 entered production in 1990 and was made until 2000. The 55 Rancher was made from 1998 – 2007. For a time, as you can work out, both saws could be purchased. While the Rancher label is mostly a marketing term, there were a few differences between the two saws which we'll share below.
Both the 55 and 55 Rancher were popular among homeowners for firewood duties, yard/storm clean-up, limbing, and other medium-duty tasks. Its long production run of 14 years attests to the quality and performance of the saw.
While you can't buy it new anymore, used or pre-loved 55s are still bought and sold today. This is what you need to know before picking one up.
Husqvarna 55 Versions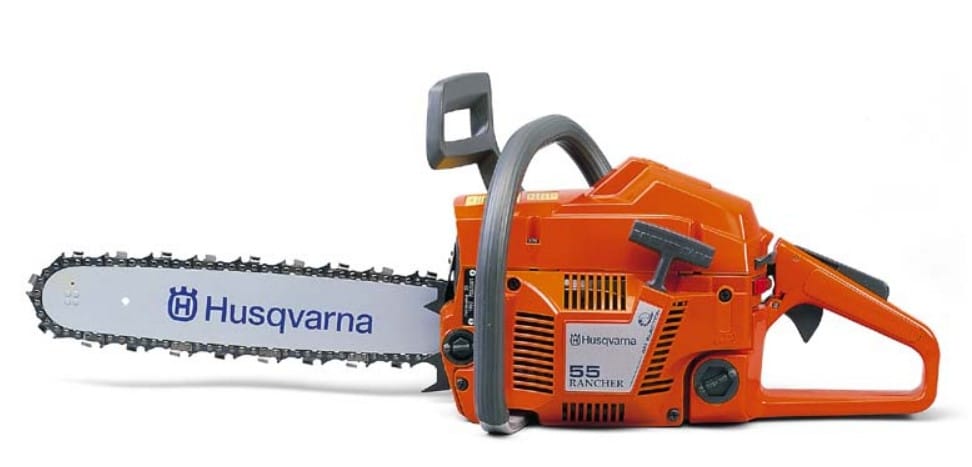 There are many versions of the Husqvarna 55, with the most obvious being the 55 and 55 Rancher which were almost the same but with a few key differences.
What are the differences between the Husqvarna 55 and 55 Rancher?
The original 55 had a decompression button and the Rancher did not
The power output for the 55 is 3.4 hp/2.5 kW, while the 55 Rancher is 3.3/2.4 kW
The mufflers and carbs may be different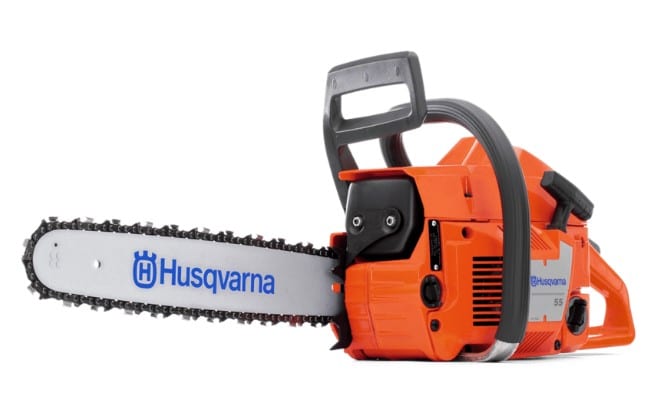 This thread on Arborist Site is good for reading about other speculated differences. For example, some say the Husqvarna 55 used a .325 pitch chain, while the Rancher used only a 3/8 pitch. Manuals for each saw have both chains listed as suitable, though this would necessitate a sprocket change.
User 'brent denny' said in the thread:
I think there are more differences in the cylinder than just the decomp. valve. I think what trimmed is calling the 55 "classic" was the original 55. It had a closed port cylinder (I think) and was 51 ccs (no, i'm not confusing it with the husky 51, which was 49 cc's). It was rated at 3.4 hp and came with .325 chain and a rim sprocket.

The 55 "rancher" is an open port version, with 53 cc's and no decompressor. Rated at 3.3 hp, it came with 3/8 chain and a spur sprocket. I believe the original 55's came with a walbro carb. and the rancher has a zama.
The user 'Trimmmed' replied:
There is no difference in the cylinders between the 55s and the 55R, other than the decomp. There is of course a difference when compared to the 51. The 55s did come with a rim sprocket, forgot that difference 😉 I have seen 2 new 55Rs that also came with rim sprockets recently, even though the older ones came with a sprocket. I think too, that the 55R came with 2 dawgs and the 55 with only one.

…

I think the .1 hp gain was on the smaller pitch chain or just Husky bs'ing a little 😉
Besides these two versions of the 55, there were others. For example, this black top 55.

As we shared in our Husqvarna 50 Rancher review the different colored top covers or brake handles often designate slightly different versions of the saw.
Another example is the 55 and 55 Rancher EPA versions.
As we discussed in our Husqvarna 350 review, there are EPA versions of the 55 as well.
Modifications were made to the chainsaws to make them more environmentally friendly – lower emissions and better fuel efficiency. When it comes to using the saws though, the differences are negligible to completely unnoticeable.
Just like any saw that has been around for over a decade, the Husqvarna 55 has gone through plenty of changes, but all versions are a very similar 53cc chainsaw.
For the rest of this article we'll focus on the Rancher as it's the most commonly found today.
55 Rancher Specs And Features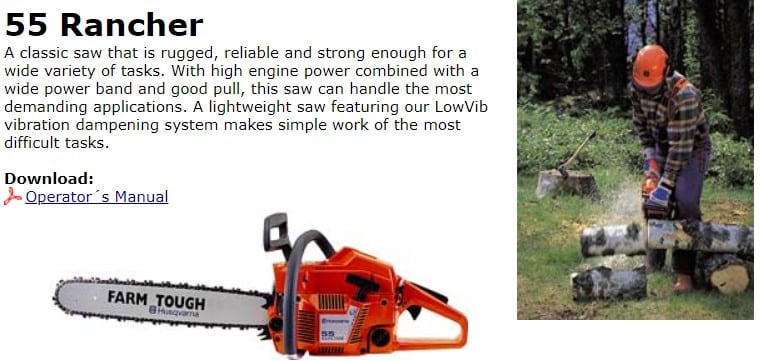 When it was being sold, Husqvarna marketed the 55 Rancher like this:
A classic saw that is rugged, reliable, and strong enough for a wide variety of tasks. With high engine power combined with a wide power band and good pull, this saw can handle the most demanding applications. A lightweight saw featuring our LowVib vibration dampening system makes simple work of the most difficult tasks.
The Rancher saws are those which are at the top of the homeowner series before you get into the pro-level XP chainsaws. It's good for semi-demanding work, but it's not the saw you'd want to use every day for work purposes.
I use the Husqvarna 450 regularly for our firewood needs, and it's great for that. The same goes for the 55. They are good chainsaws for occasional duties, but you'd be better off with a professional chainsaw for regular use.

Husqvarna 55 Rancher Specs:
| Engine | |
| --- | --- |
| Cylinder displacement | 53.2 cc / 3.25 cu in |
| Power Output | 2.4 kW / 3.3 hp |
| Cylinder bore | 46 mm / 1.81 inch |
| Stroke | 32 mm / 1.26 inch |
| Idle speed | 2500 rpm |
| Power | 2.5 kW @ 9000 rpm |
| Weight | 5.2 kg / 11.4 lbs |
| Spark plug | Champion RCJ 7Y/ NGK BPMR 7A |
| Electrode gap | 0.5 mm / 0.02 inch |
| Fuel and lubrication system | |
| Fuel tank capacity | 0.6 liter |
| Oil pump capacity at 9,000 rpm | 9 ml per minute |
| Oil tank capacity | 0.3 liter |
| Type of oil pump | Automatic |
| Noise emissions | |
| Sound power level, measured | 110 dB(A) |
| Sound power level, guaranteed | 111 dB(A) |
| Equivalent vibration levels | |
| Front handle | 4.9 m/s |
| Rear handle | 7.2 m/s |
| Chain/bar | |
| Standard bar length | 15″ / 38cm |
| Recommended bar lengths | 13-20″/ 33-50 cm |
| Usable cutting length | 12-19″ / 31-48 mm |
| Pitch | 0.325″ / 8.25 mm |
| Thickness of drive links | 0.050″ / 1.3 mm |
| Type of drive sprocket/number of teeth | Rim/7 |
| Chain speed at max. power | 17.4 m/sec |
And these are the engine specs for the 55 Rancher, alongside the 50, 50 Special, and 51.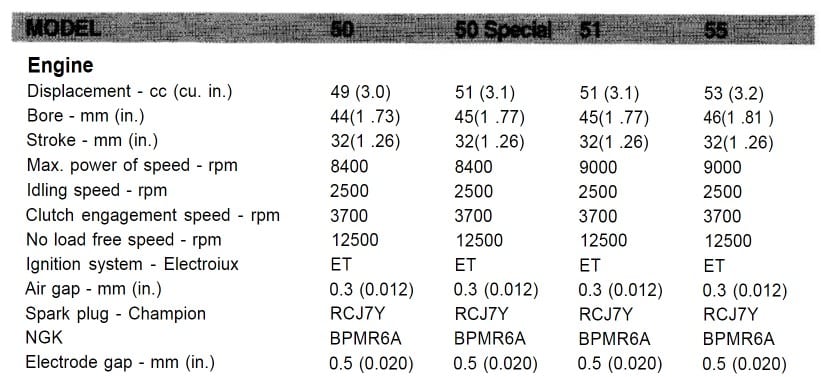 The old listing on Northern Tool says:
Features Air Injection, the advanced air filtration system that removes up to 97% of the dirt and dust before it reaches the air filter. Plus, the Swept Charged™ crankcase provides more efficient combustion and maximum power. 2-year limited warranty.
It was a decent saw that was followed up by the 455 Rancher in 2007.
55 Rancher Reviews
In this video from Fabbed Fun you can listen to some chat about the 55 Rancher and see how it runs with a new bar and chain.
Overall, the Husqvarna 55 is well-reviewed by all those who own and use them. It's a great firewood saw for the home and farm. You don't really see many bad comments or negative reviews about it.
It's obviously not a professional saw so shouldn't be used like one, but for the lighter jobs, it's very capable. Here are some comments from users taken from YouTube and FB.
User @w6qd on YouTube said:
My 55 was my second saw and I bought it in 1991. That poor thing got me through thick and thin, and it is on the bench for a Hiway rebuild. Unfortunately, I like my CS-590 better, the extra CCs come in handy and it is not that much heavier than the 55. So I don't know what I will do with it after the rebuild, but I'm keeping it out of loyalty.
Adam said:
Other than being underpowered I was happy with 55 Rancher. I replaced mine with a 460R which will cut circles around that 55R but it was a reliable saw.
John said:
Husqvarna made some saws that were the best of the bunch, a 55 is right up there with one of the best. 372xp might be the one on the top of the list.
Shorter comments:
Great little saw. Enjoy. It can be pepped up with a muffler mod and aggressive chain.
The first saws I ever learned to run trimming lumber packs at the sawmill were the old 55s. Had 2 of them. Good saws.
I have a '98 and love it. Bought it new and it's been a great saw.
Great little saw. Enjoy. It can be pepped up with a muffler mod and aggressive chain.
Love my 55 Rancher. Just an all-around perfect firewood saw for me!
I used mine for 18 years. Love that saw. It did a lot of work and in the end, was totally worn out. Great saw.
I just got one in great shape. Parts availability is very good for these. Make sure that the decomp is not pushed in, I thought mine had no compression until I realized the decomp was pushed in.
Love my 99 55. Ported muffler opened pop-up piston base gasket delete and timing advance. She's a runner for sure.
And it's hard to find bad comments on the Husky 55. The main thing people struggle with is finding OEM parts. That, and that it's not powerful enough for what they want to do anymore. But if you use it as it was designed, you can't really go wrong.
Husqvarna 55 Price
There are plenty of both 55s and 55 Ranchers for sale on eBay, including some very tidy examples like this one listed for $349.99.
Of the 10 or so listed for sale, they're all between $200 and $350, so the saw pictured above is at the very top-end. Saws in worse condition can go for as little as $50 – $100, so it all depends on condition and location.
Given that a brand new and improved Husqvarna 455 Rancher (current price on Amazon here) can be picked up for not a whole lot less, it's worth weighing up the pros and cons of buying a used model.
The 455 is, in my opinion, a much better saw than the 55 Rancher as it has all the latest standard features that improve the ease of use and performance.
Husqvarna 55 Chainsaw
Both the Husky 55 and the Husky 55 Rancher – all versions – are good firewood chainsaws for the home and farm. However, if you're wanting to do a lot of work with the saw, or you're working with particularly hard and thick wood, you'll want something bigger.
The Husqvarna 560 XP is more powerful and better built. The same goes for the Husqvarna 562 XP. Or, if you want to switch brands, the Stihl 261 C is a 50 cc pro-level saw that's also good for the hard stuff.
Have you got a Husqvarna 55 Rancher? Let us know how it runs in the comment section below!