The Husqvarna 240 is a handy little saw that is great for little jobs but can't be expected to take on anything too serious.
It's no longer in production and cannot be bought new, but you will find it for sale on online marketplaces like FB marketplace and eBay, or at garage sales and that sort of thing. However, you can still read the Husqvarna 240 reviews on the Amazon listing here – you just can't buy it!
There were a lot of 240s produced, so it's not overly difficult to find parts for them, nor is it tricky to find someone who can work on them for you. That's one of the big benefits of buying a Husqvarna chainsaw – it's never a problem getting them serviced and maintained!
If you've spotted a Husqvarna 240 for sale, here's what you need to know before making the purchase. Or, the Husqvarna 440 (here on Amazon) is a really good alternative saw with similar specs but modern features.
Husqvarna 240 Chainsaw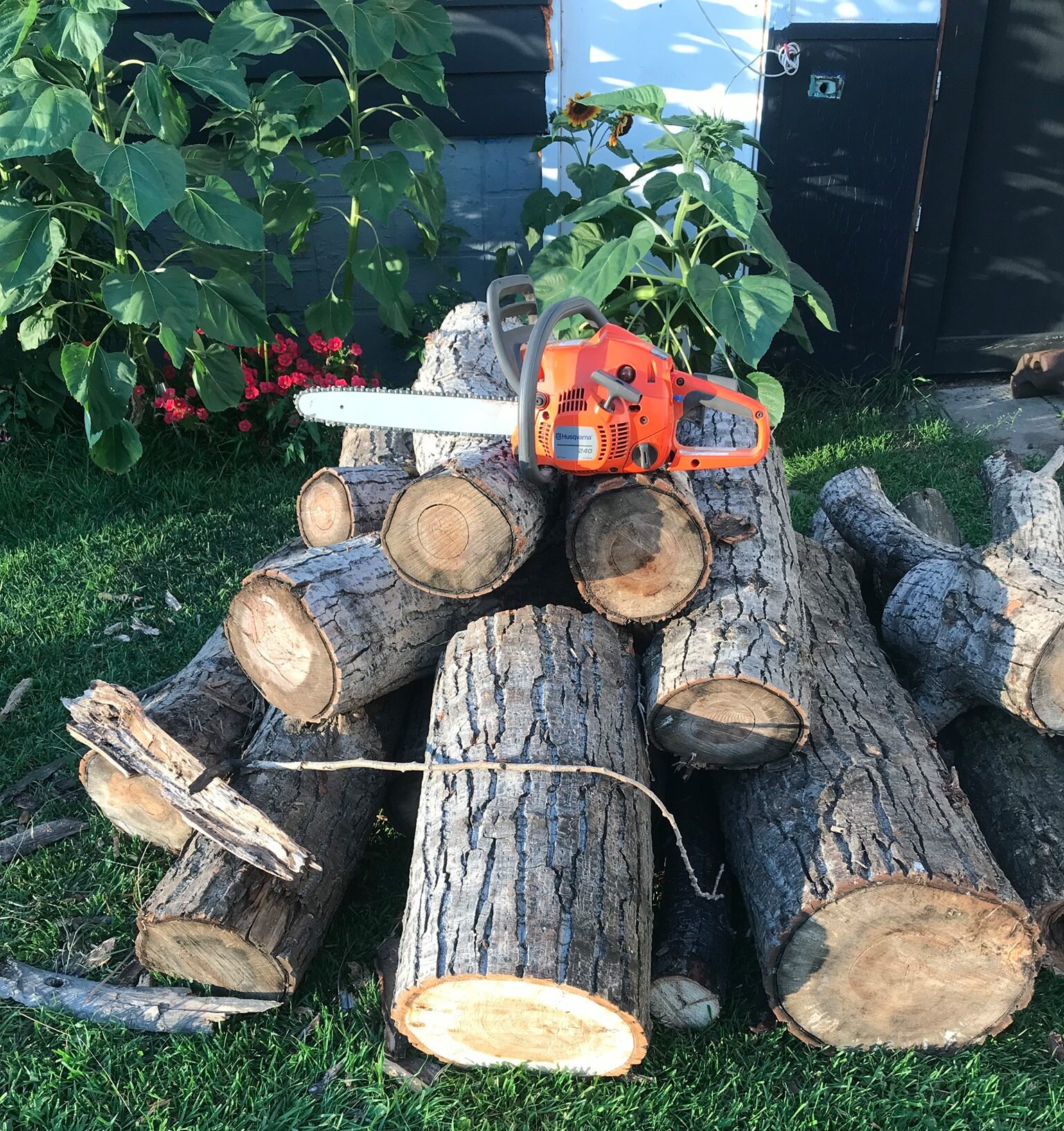 What type of work is the Husky 240 good for?
Because it only has a 2 horsepower engine, it's best used for light yard work, not for sectioning up thicker logs as in the pic above.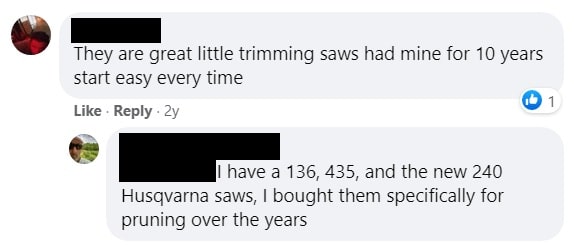 While you can cut thicker logs with the 240, it will just be very slow compared to a higher-powered chainsaw like the 455 Rancher. Also, if you are using it for more serious work you shouldn't expect it to have a very long overall life.
Ideally, you can use the Husqvarna 240 for:
pruning branches
limbing thin branches
sectioning thin logs for firewood
felling very small trees
You aren't going to be cutting up 10 cords of wood with it per year or anything like that. It's a handy small chainsaw for light yard work. Think 'fruit tree pruning chainsaw.'
This is where it falls in Husqvarnas chainsaw model chart.

You can see that it's more powerful and has greater capabilities than the 414EL and the 120i, but it has less power than the Husky 435, 440, or the 445. The Husqvarna 345 is another model that is no longer available but is better than the 240 if you can find it second-hand.
Anyway, as described by Husqvarna, the 240 is designed for 'light clean up.' It's not a chainsaw you want to rely on for clean-up after a large storm or hurricane, but rather something to have on hand to prune unruly tree branches if you have a larger property.
I believe it was one of the best chainsaws 2015, but there are better options out there today!
Husqvarna 240 Specs And Features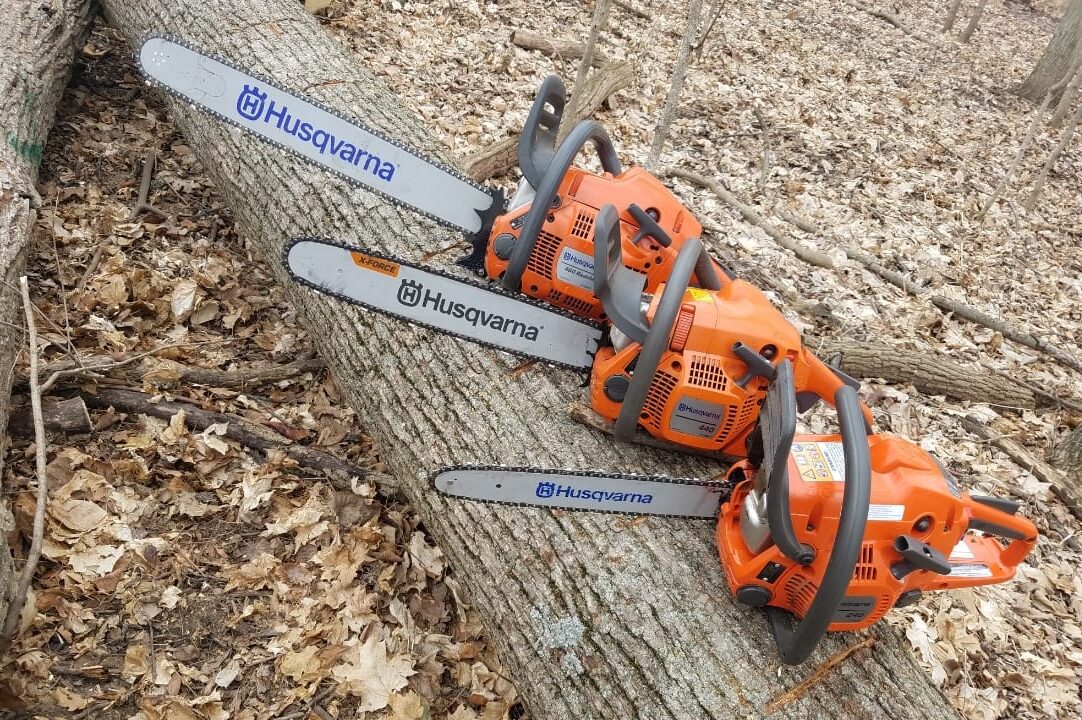 The Husqvarna 240 X Torq is a 40cc chainsaw with 2hp engine. For comparison, the 44o is also a 40cc chainsaw but has a 2.4hp engine.
Here are the other 240 specs:
13 – 16 inch recommended bar length (usually sold with a 14 or 16)
3/8″ chain pitch
Weighs 10.3 lbs (without fuel and oil)
9,000 rpm max running speed
113 dB(A) sound power
Fixed flow oil pump (non-adjustable)
Champion RCJ7Y spark plug
It also has a Husky X Torq engine which:
Delivers lower fuel consumption and reduced exhaust emission levels in accordance with the world´s most stringent environmental regulations.
It's the standard engine on most Husqvarna chainsaws, though there are some changes with the likes of the NEW Husqvarna 592 XP.
Other features of the 240 not already mentioned, include:
The great Husky centrifugal air cleaning system
A combined choke/stop lever (I like this on my 450 Rancher)
A very good antivibration system which helps you work longer
Air purge for easier starting
An effective chain brake system for safety
It's a basic chainsaw that was sold for around the $180 mark new, so it has all of the standard Husqvarna chainsaw features without having the best of the best componentry.
Husqvarna 240 Review
The 240 is a good little saw when it's used on what it was designed for – light work!
If you try to use it for cutting up hardwood day in and day out, it won't last, and you'll be disappointed.
It's a good pruning chainsaw and one to have on hand for keeping the yard tidy.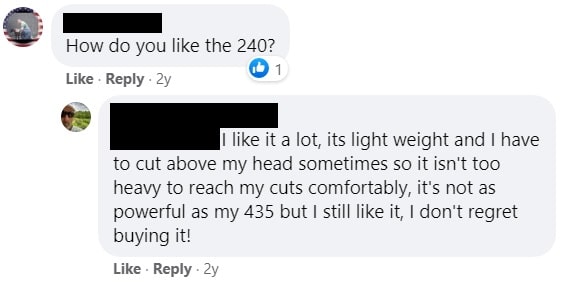 As this gentleman says, it's a good saw if you need to be working a bit higher up, though it's not always a good idea to raise a chainsaw above your head. It's better that you get higher into a position where you don't have to raise it in this manner.
Always remember chainsaw safety!
Husqvarna 240 Pros:
Husqvarna brand saw always better than others
Great for light clean up tasks
Easy to find parts
Reasonably cheap
Husqvarna 240 Cons:
Low powered
Not Husky's most reliable chainsaw
What is an alternative model in the Stihl range?
It is also similar to the Stihl MS170, though the 240 weighs a couple of pounds more.
Husqvarna 240 Price
How much should you expect to pay for the Husqvarna 240 today?
If you can get a good working chainsaw that's been looked after for under $100 then you're doing well. They are often listed around this price, and if they haven't been overworked then this is a fair price.
Here is where you can find out more about the 240:
If you're lucky, you might even be able to find a 240 in the $30 – $50 range.
You won't find them on eBay for this price, but they often pop up on Facebook Marketplace or at local yard sales. If you see one for this price then you should definitely grab it, even if the Mrs doesn't approve. Sometimes a deal is too good to pass over, right?
Let us know if you have any questions down below and we'll get back to you asap! More info on current Husky models for sale here.