The ECHO CS-620P is a similar chainsaw to the better-known CS-590 Timber Wolf, but it's different in some important ways.
They are both 59.8 cc chainsaws but the 620 costs around $150 – $200 more than the 590 (view on Amazon), so it's natural to ask, 'What's the difference, and should I just get the 590?'
We'll get into all the differences below, but to summarize them, the reason you should consider the 620P is that it has more power – 5.3 hp to the 590's 3.9 hp – and it has less plastic, among other things.
The ECHO CS-620 is a good middle-of-the-road saw for everyday use and has a wide range of applications from tree felling to milling. Here's everything you need to know before picking one up yourself.
ECHO CS-620
*360° video from ECHO's 620P listing.
There are two different versions of the 620P:
CS-620P – the base model
CS-620PW – same but with a full-wrap handle
Compare prices here:
The CS-620P is part of ECHO's X-series which "represents our best-in-class products designed for the landscaper looking to tackle many jobs. They're designed to be Powerful, Lightweight, and offer Greater Productivity." That's what the "P" is denoting, and I suspect it stands for Performance, Power, or Professional, though it's hard to find a clear answer.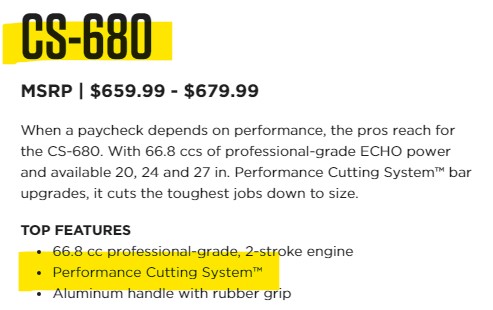 Other blogs or forums state that the "P" on ECHO chainsaw model names means Performance Cutting System, but there are other chainsaws like the ECHO CS-680 which do not have a P but do have the Performance Cutting System, so I don't think that's the answer. However, all X-series saws are also P-designated saws, so I'm seeing a nice connection there!
CS-620 Vs CS-590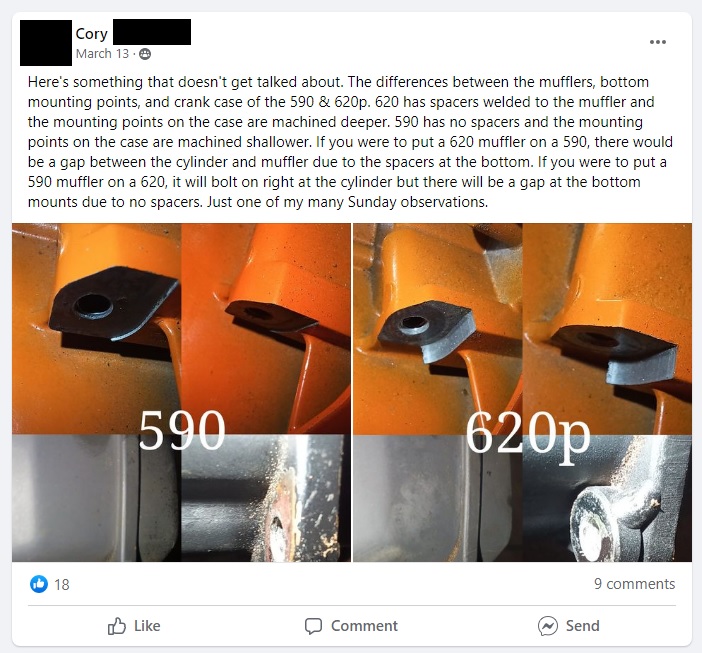 There are slight build differences between the 590 and 620P as you can see in the screenshot above, but many parts are interchangeable, and others require modification. Specs are similar, but the CS-620 definitely has the advantage.
| Specs | ECHO CS-590 | ECHO CS-620 |
| --- | --- | --- |
| Engine Displacement (cc/cu in) | 59.8/3.64 | 59.8/3.64 |
| Power Output (hp/kW) | 3.9/3 | 5.3/3.95 |
| Starting System | Standard | Standard |
| Ignition System | Digital | Digital |
| Oiling System | Automatic/Adjustable | Automatic/Adjustable |
| Vibration Reduction System | Standard | Standard |
| Available Bar Lengths (in) | 18, 20, 24 | 16, 18, 20, 24, 27 |
| Oil Capacity (fl. oz.) | 10.2 | 10.2 |
| Dry Weight (lb) | 13.2 | 13.7 |
| Sprocket Cover | Plastic | Magnesium |
| Bar Type | Pro-Lite w/ ProAm material | PowerMatch |
| Sprocket Type | Spur | Rim |
| Handle | Plastic | Aluminum w/ Rubber |
| Fuel Capacity (fl. oz.) | 21.8 | 21.8 |
| Carburetor | Butterfly-Valve Diaphragm | Butterfly-Valve Diaphragm |
| Warranty | 5 year consumer/1 year commercial | 5 year consumer/1 year commercial |
| MSRP 1 | $419.99 – $439.99 | $599.99 – $609.99 |
You will see that while the CS-590 has some metal construction, it has a plastic sprocket cover and handle. The CS-620 has a magnesium cover and aluminum handle, both tougher materials.
The 620 is also 5.3 hp or 3.95 kW to the 590s 3.9 hp or 3 kW power output. This makes it significantly more powerful, and it is in fact "ECHO's highest horsepower per displacement," as stated in Home Depot's listing.
Other differences include the 620's Rim sprocket and its capacity to run a 27-inch bar, whereas the 590 has a spur sprocket and is only recommended for use with up to a 24″ bar (though guys run it with larger anyway, of course). The 620 also has a larger carb, unlimited coil, and as you will have gathered, a lot more torque.
The CS-620 is a much better saw than the Timber Wolf, but that's not to say the 590 isn't any good, because it's fantastic as well. The 620 is just a tougher and more powerful version that's better for professionals or heavy users. But for the price, it's really a good professional chainsaw for everybody and anybody.
ECHO CS-620P Review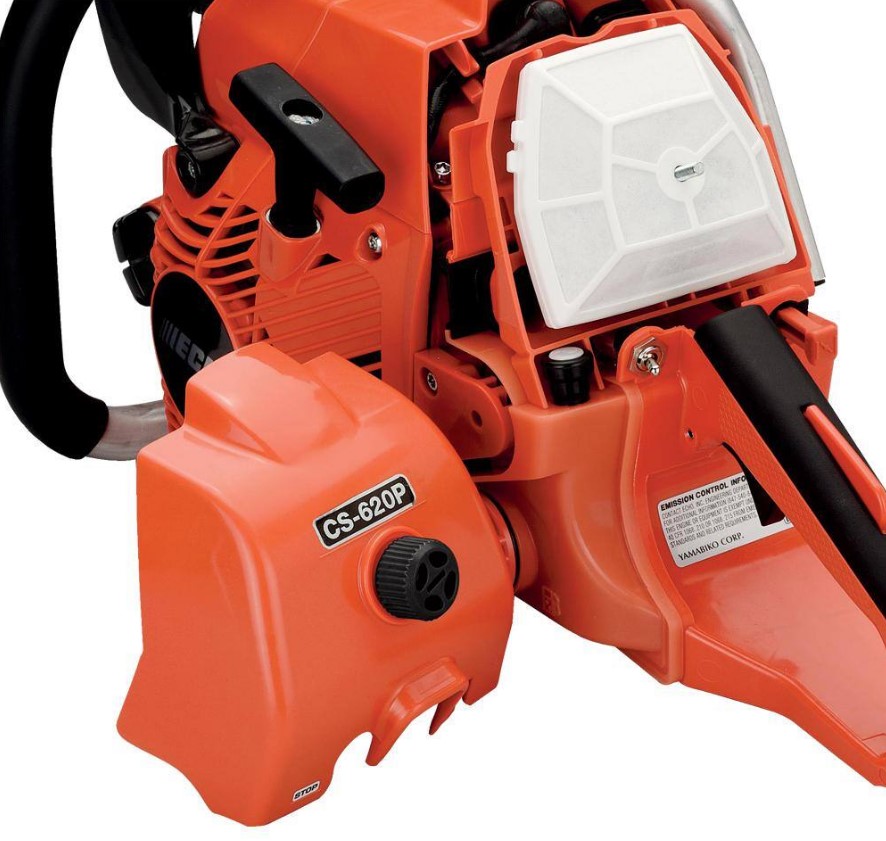 For the price, the 620P is a very good professional chainsaw. It's well built making it tough and durable, and it performs well. As many have said, it will "chew through anything". Even the hardest of woods, described as "concrete wood", it gets through it fast.
Here are some reviews from users of the 620P:
Best saw I have.
I have 2 logging full time. Very happy with them.
Best saw out in the 60 cc range, easy.
I got the PW. 4 tanks through it… pulls a 28″ bar fine. Rips a 20″ like you can't imagine.
I run an Oregon 28″ on my 620. Saw cuts great with it. Definitely has the power and oiling capability to run it.
I'm running the factory 27″ bar on mine. Hasn't left me wanting something different yet! Love it!
Try one up against a Husqvarna 562XP and there's no match for ECHO's power
Brett said:
I've had my 620 for about a year. It makes me enjoy cutting wood again. It will kick a MS290 or MS391 in the butt! No comparison, the power to weight ratio is so much better.
Corey said:
Love my 620p. Bump the timing and let her breathe a litle bit and she will eat with the 70cc saws all day. Hands down the best 60 cc saw on the Mmarket for the money.
Zach said:
620 is hands down a fantastic saw. And it's only 59cc. Stihl and Husky guys hate it because it's a great saw and cheap. Echo's good.
It is difficult to find bad reviews or negatives with the 620. There are a couple of 1-star ratings from people whose saws have broken down after a short period of use. These could be the odd rare faulty saw, which all chainsaw brands have, or it could be user error.
One legitimate complaint or con I saw was that the on/off switch is easily hit while the saw is in use. It's easy to accidentally turn the saw off while in operation. This is an issue with many different saws, including my 450 Rancher. But other than this, everyone who has one seems to love it.
Check out the Amazon or Home Depot reviews for more examples of what users have to say about the CS-620P.
Specs And Features
| Engine | |
| --- | --- |
| Cylinder displacement | 59.8 cc / 3.64 cu in |
| Power output | 3.95 kW / 5.3 hp |
| Air filter | Rear-mounted two-piece |
| Smart assist system | Decomp |
| Idle speed | 2400 – 3200 rpm |
| Weight | 6.2 kg / 13.7 lbs |
| Spark plug | NGK BPM8Y |
| Carburetor | Diaphragm type |
| Fuel and lubrication system | |
| Fuel tank capacity | 21.8 US fl oz |
| Oil tank capacity | 10.2 US fl oz |
| Type of oil pump | Adjustable/Automatic |
| Chain/bar | |
| Standard bar length | 20″ |
| Recommended bar lengths | 16, 18, 20, 24, 27″ |
| Pitch / Gauge | 3/8″ / 0.58″ |
| Sprocket type | Rim |
| Chain brake | Inertia activated |
| Chain tensioner | Side |
Specs (again) for the ECHO CS-620P Chainsaw – it's a powerful saw for its displacement.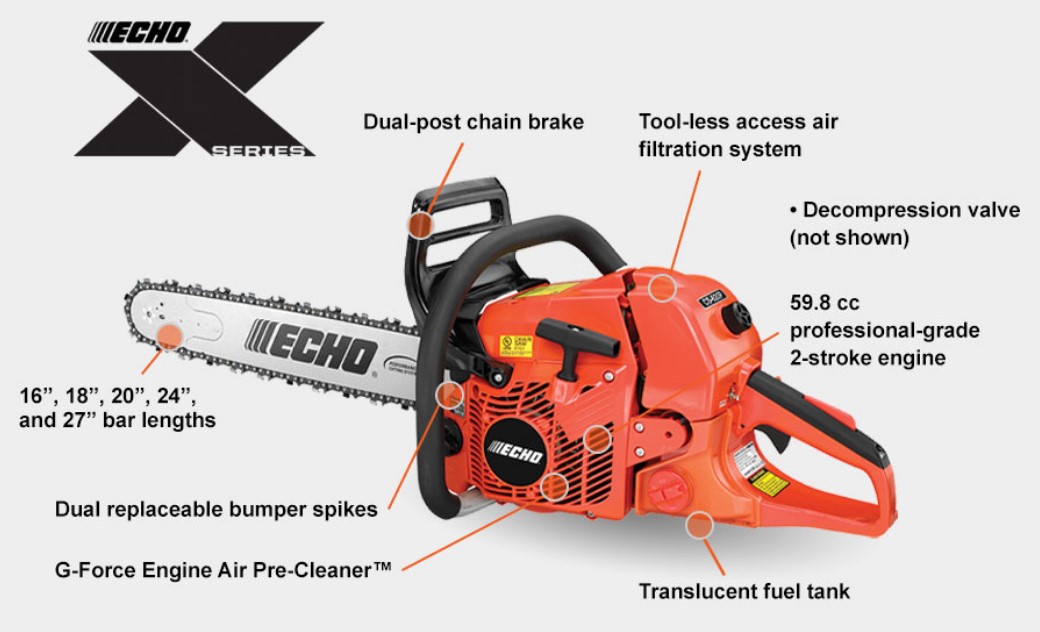 Other great features of the saw, besides its metal construction and torque, include a translucent fuel tank that lets you see how much fuel you have left and a heavy-duty air filter.
And it has these other standard ECHO features:
Front and rear hand guard
Anti-vibration device
Spiked bumper,
Throttle control lockout,
Chain brake and chain catcher
Spark arrestor muffler
The saw is suitable for heavy clearing, storm clean-up, logging, bucking firewood, pruning, limbing, and other tree-case applications. The good power-to-weight ratio makes it great for all-day use.
ECHO CS-620P Chainsaw
It's a popular saw that is hard to find bad things said about it for a reason: it's a very good chainsaw. Many think it's the best 60cc chainsaw out there, so that's saying something.
ECHO chainsaw fans are a bit quieter than their Stihl counterparts, but the 620P is a saw worth getting excited about. For the money, you're getting an excellent saw that out-cuts equally priced saws like the Husqvarna 460 Rancher or Stihl Farm Boss chainsaws. It's well worth it, if you don't mind it "not being a Stihl"!
If you have a 620P ECHO, let us know how it runs in the comment section below.