The Husqvarna 51 was originally released in 1990 and manufactured throughout the early 90s.
It was discontinued long ago, however, you can still find them for sale second-hand. They pop up frequently on online marketplaces, sometimes advertised as just for parts, but often as working chainsaws.
Whether you are looking to buy a Husqvarna 51 or just want to know a little more about it, here's what we've been able to uncover.
Husqvarna Chainsaw 51
You can see and hear a modified Husqvarna 51 in action in this video.
It has a 2-Stroke 51cc engine, making it an efficient firewood processor, happily chewing through these logs of wood.
The Husqvarna 51 is ideal for this type of work:
firewood processing
limbing
felling small trees
pruning branches
The 51 is a good saw that shares many parts with the Husqvarna 50 and 55. Often you can use parts from these 3 machines interchangeably.
It has all of the features that were common to Husky chainsaws back when it was manufactured.
These include:
Chain brake for stopping blade rotation when triggered
Throttle lock to reduce chainsaw injuries and accidents
Automatic chain oiler
Anti-vibration handle
Good power to weight ratio
Air injection filtration system
Smart Start decompression valve for easier starting
Of course, these features are much improved in today's Husqvarna models, but it's good to know it has them to some extent.
Husqvarna 51 Price
You will see this saw listed for anywhere from $20 to $220.
On eBay at the time of writing, for example, there is one listed as just for parts for $31, one working model that looks a bit rough for $100, and a really tidy-looking unit for $210.
I was just reading one account of a guy who recently picked up 2 running models for $40!
Anywhere around that high end is very steep unless it's pristine and like new, which most of them by now are not.
If it was in near mint condition with a new bar and good chain, you would be tempted to pay a good price.
Before buying, if you are able, check the compression and have a look at the piston through the muffler.
Start it up and slowly tilt the powerhead 90° left and right while idling. If it stalls or picks up in RPM, there is likely an air leak somewhere.
Husqvarna 51 Chainsaw Parts
In this video, you can see the lengths some people go to in order to salvage a good Husqvarna saw.
Whatever Husqvarna 51 parts you need, we recommend visiting HL Supply first.
They have one of the best ranges of Husky parts, including:
Piston kits
Muffler bolt and brackets
Carburetors
Cylinder kits
Crankcases
Plus a whole lot more.
HL Supply is known as being one of the best parts suppliers, as well as being fairly priced.
Alternatively, you will always find parts on eBay!
Another good place to find Husqvarna 51 chainsaw parts is Facebook groups. Just search for Husqvarna groups and join a few. There will be guys in there that have parts looking for a new home.
Husqvarna 51 Year Of Manufacture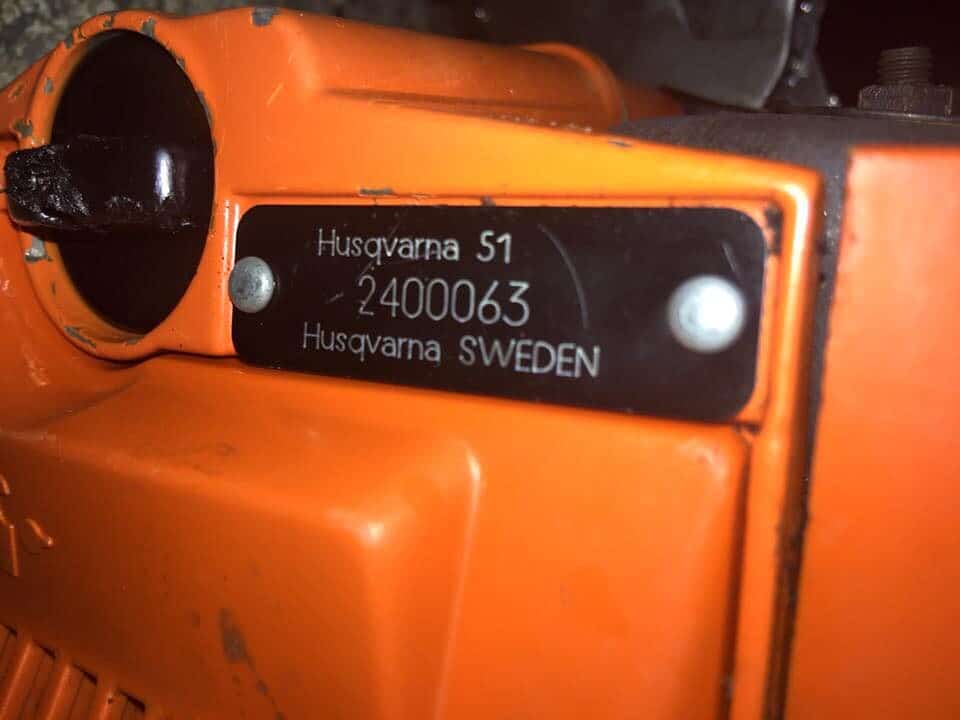 As mentioned at the start of this post, the 51 was first released in 1990.
There were some changes made to the saw during the years it was manufactured, and so sometimes you need to know the exact year in order to order the correct parts.
If you wanted to know what year your specific saw was made, you can find out by looking at the serial number.
The first number in the year in the 90s that it was assembled and the second number is the week.
The Husky 51 in the image above has the serial number starting 240. Therefore, this saw was manufactured in the 40th week of 1992.
Husqvarna 51 Specifications
The Husqvarna 51 specs are as follows:
3.1 horsepower
11.4 lbs (powerhead only)
Anti-vibration handle
12,500 max free RPM
600ml (20.2 fl. oz.) fuel tank capacity
50:1 fuel oil ratio
.325 in. chain pitch
Most suited with a 13-inch – 20-inch bar.
For more information, including maintenance, safety, and service details, download the Husqvarna 51 Manual.
Husky 51 Review
The Husqvarna 51 is much loved by all who have owned one.
This is not true of all Husky saws, but the 51 does seem to have been one of the special models.
As in the comment above, it's a fantastic saw for firewood and use around the home and farm.
If you've found one that can be fixed up easily and cheaply enough, it's worth giving it a go.
Each year there are fewer and fewer of these machines around, so saving one is doing the Husky community a world of good!