The Husqvarna 51 is a 51cc chainsaw that was originally released in 1990 and was still being sold until 2002 (at least). It is recommended for use with a 13 – 20-inch bar.
While it's long been discontinued, 51s still pop up frequently for sale on online marketplaces. Sometimes they are advertised as being just for parts, but saws in good working condition also come up every so often as well. The Husqvarna 51 is a good chainsaw – it's well built, durable, and reliable – as long as it has been cared for, and is worth picking up for the right price.
Whether you are looking to buy a Husqvarna 51 or just want to know a little more about it, this is what we've been able to uncover.
Husqvarna Chainsaw 51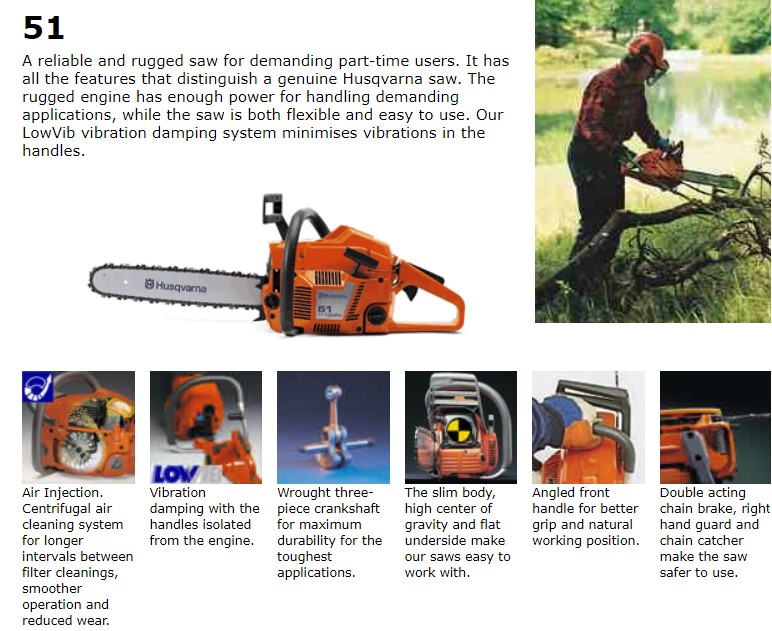 When the 51 was being sold, Husqvarna described it like this:
A reliable and rugged saw for demanding part-time users. It has all the features that distinguish a genuine Husqvarna saw. The rugged engine has enough power for handling demanding applications, while the saw is both flexible and easy to use. Our LowVib vibration damping system minimises vibrations in the handles.
The 51 is an efficient firewood processor but it's also suitable for felling small trees, pruning, limbing, and other yard or light-farm work. It's not a powerhouse of a saw, but it's a good bit more powerful than the Husqvarna 136, 141, or 45, which were of the same era. It even has a slight leg up on the 50cc 350 which came out in 1998.
The 51 shares parts with the Husqvarna 50 and 55 Rancher and you can often you can use parts from these 3 machines interchangeably. This is helpful because there are fewer parts available for these old saws as the years go by.
Husqvarna 51 Review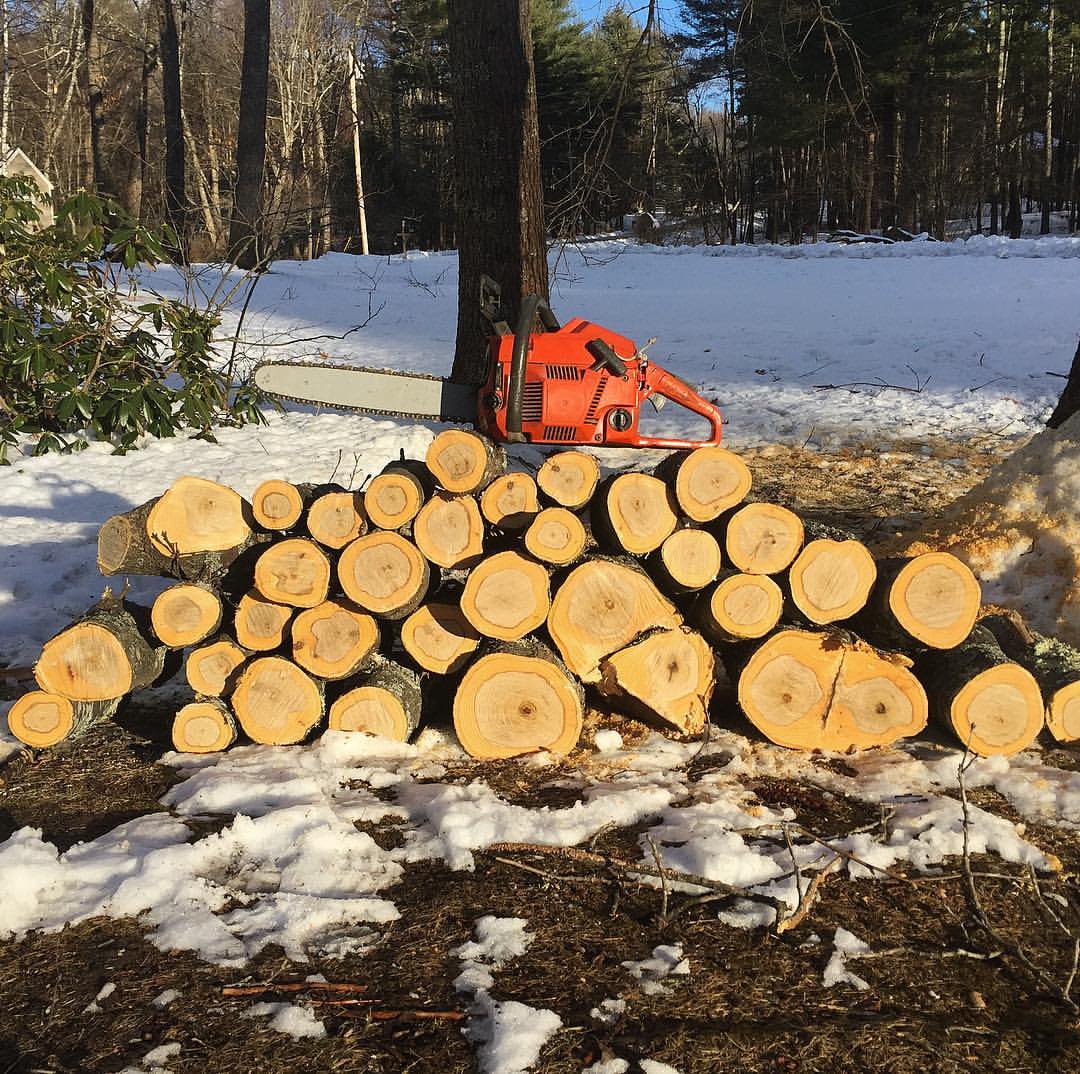 On his Instagram account, jb_fontaine shared:
Nice little home owner stack after some fallen trees prompted my first chainsaw purchase. It was between this used husqvarna 51 and an older 81. I tried them both. I think the big boy was owned by leatherface himself. Wanted the 81 but for what I need this will do.
Most guys who own and use the 51 really like the saw. There are some hated Husqvarna saws out there, but this one doesn't tend to be one of them. It runs well and gets the job done. As long as you're not expecting it to do more than it was designed to do, "it's a little beauty".
Here are some comments from users:
Love my 51 so reliable!!
I have the 51. Insanely durable, powerful, compact, and useable. My go-to saw.
51 will accept a 55 cylinder head and piston with no modification and it's worth doing
My 51 says 49cc on the sticker but I think it's more than that. I run a .325 16″ bar on mine for firewood and it rips.
51 are great saws , especially with a 45 mm closed port p&c!
51/55 are excellent firewood saws.
You can rebuild and upgrade the 51 with a 55 rebuild kit. I have a old 51 I was going to do it to but haven't yet.
Darwin said:
In my opinion great little limbing saws. My buddy used one every day for years on white pine. The 51 was awesome but the 50s I had were junk.
Quentin said:
I'm not a logger, don't do this for a living, but I cut a chit load of firewood. I own a 262XP, a 357XP, a 550XP, and a 51. That 51 is my favorite saw. At least for firewood, those are awesome saws.
Rick said:
I have had a 51 since 1994.

It has cleared a few house lots for me. It will do a lot of work, take down some decent-sized trees for firewood, etc. Mine is in great condition. Don't plan on changing anytime soon.
And Brad said:
My main firewood saw. Easy to lug around. They don't usually have a decompression valve so can be a bear to start. Mine starts every time though. 3 pulls to prime under choke, 1 pull to start.
Overall, it's a very popular chainsaw and it's hard to find any cons or negative comments about it.
Specs And Features
| Specs | Details |
| --- | --- |
| Cylinder displacement | 51 cm³ / 3.1 cu. inch |
| Power | 2.3 kW / 3.1 hp |
| Cylinder Bore | 45 mm / 1.77 inch |
| Piston Stroke | 32 mm / 1.26 inch |
| Max RPMs | 12,500 |
| Idle RPMs | 2,500 |
| Sound level | 98 dB(A) |
| Noise emissions, LWA | 108 dB(A) |
| Vibrations, front/rear handle | 4.7 m/s² / 5.6 m/s² |
| Weight without cutting equipment | 5.2 kg / 11.4 lbs |
| Fuel tank volume | 0.60 l / 1.27 US pint |
| Oil tank volume | 0.30 l / 0.63 US pint |
| Oil pump type | Automatic, fixed flow |
| Chain pitch | .325 inch |
| Recommended bar length | 33-50 cm / 13-20 inch |
It has all of the features that were common to Husky chainsaws back when it was manufactured.
These include:
Chain brake for stopping blade rotation when triggered
Throttle lock to reduce chainsaw injuries and accidents
Automatic chain oiler (non-adjustable)
Anti-vibration handle
Good power-to-weight ratio
Air injection filtration system
Of course, these features are much improved in today's Husqvarna models.
For more information about the Husqvarna 51, including maintenance, safety, and service details, download the manual here.
Price And Parts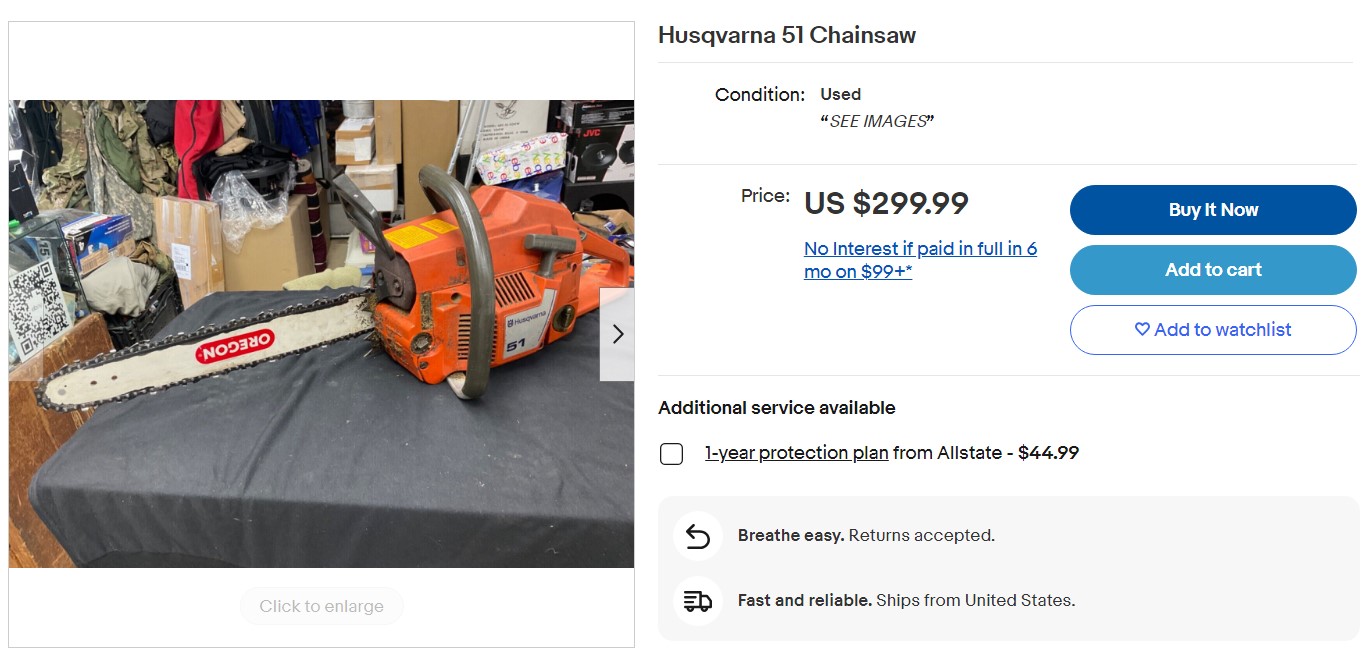 What is the Husqvarna 51 worth?
As always, it depends on location and condition. You will see this saw listed for anywhere from $20 to $300+ – though I personally don't recommend paying $300 or over. You can buy new Husqvarna chainsaws for around that price.
On eBay at the time of writing, for example, there is the saw pictured above for $299.99, another one listed as "just for parts" for $31, and another working model (that looks a bit rough) for $100. These saws used to sell a bit cheaper on eBay but used chainsaw prices seem to be going up just like everything else.
However, you can often find better deals on FB Marketplace or in local chainsaw groups or forums. For example, I was just reading one account of a guy who recently picked up 2 running models for $40.
Before buying a used chainsaw, if you are able, check the compression and have a look at the piston through the muffler. Start it up and slowly tilt the powerhead 90° left and right while idling. If it stalls or picks up in RPM, there is likely an air leak somewhere.
Whatever Husqvarna 51 parts you need, we recommend visiting HL Supply first. HL Supply is known as being one of the best parts suppliers, as well as being fairly priced. They have one of the best ranges of Husky parts.
This includes:
Piston kits
Muffler bolts and brackets
Carburetors
Cylinder kits
Crankcases
Alternatively, you will always find parts on eBay!
Husqvarna 51
The Husqvarna 51 Chainsaw is worth picking up for the right price. Anything around $100 is good for a working model. It's best not to overspend, especially if you're not 100% on its condition and history.
Almost 100% of the hundreds of Husky 51 reviews I read from owners and users of the saw were positive. The only complaints relate to picking up a damaged saw, having difficulty finding parts, or getting a saw with non-OEM parts that don't perform very well. Other than that, it's seen as one of the best Husky saws.
It's not a logging chainsaw, but it's a great homeowner saw for yard work, firewood, and storm clean-up. Let us know your thoughts about the 51 in the comment section below.