The Husqvarna 350 Chainsaw was made between 1998 – 2007.
It's a 52-cc saw that came before the newer 351 and 353 chainsaws. Plenty of units were made and so it's not uncommon to find them listed for sale online or a local yard sales. If the price is right, they're definitely a saw worth picking up.
Many guys love their 350s and use them regularly as firewood saws. They have a decent power-to-weight ratio that makes using them for a day not all that difficult. They also make good pruning, limbing, or camp saws.
Here's everything you need to know about the 350, including prices, reviews, alternatives, comparisons, specs, features, and all the rest.
*View the old Husqvarna 350 listing on Northern Tool.
Husqvarna 350 Chainsaw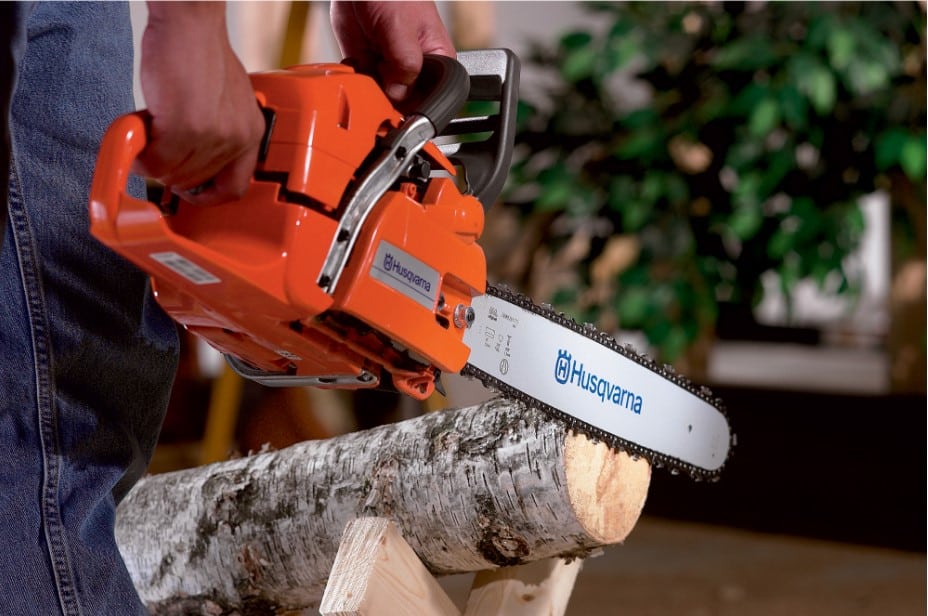 The screenshot below comes from the Husqvarna website in 2003, via the Wayback Machine.
Husqvarna described the saw like this:
Husqvarna 350 is a powerful and versatile saw with many of the features of a professional saw. For example, it has high-power and low weight, a high center of gravity and smooth body plus exceptionally low vibrations. The saw also features Smart Start for easy starting and is equipped with a chain oiler with adjustable flow and a side-mounted chain tension adjustment.
There were different versions of the Husky 350. It went through various changes to keep up with EPA regulations in the US.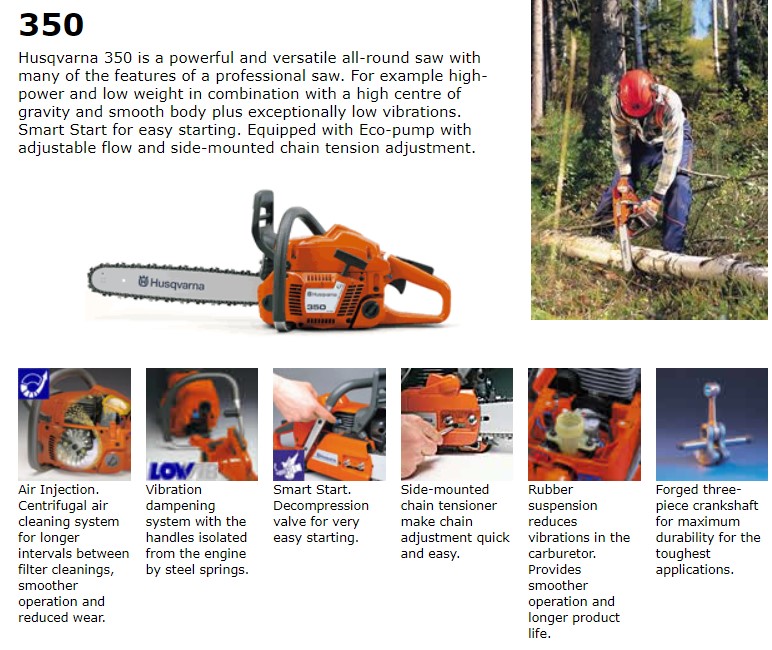 There are at least 3 different versions:
Husqvarna 350 – original
Husqvarna 350 EPA I – changes made so it's more fuel efficient/fewer emissions
Husqvarna 350 EPA II – further changes made so it's more fuel efficient/fewer emissions
Possible differences between EPA saws and non-EPA saws include an altered muffler, carburetor, and a two-ring piston instead of a single. Some have said the EPA label is written onto the serial tag and that's the dead giveaway as to whether your saw is an EPA version or not.
Specs And Features
The 350 is listed with different specs depending on which Husqvarna material you look at.
For example, in the product release form pictured above, the 350 is listed as 52 cc/3.1 cu in, while in the screenshot below from another listing page on the old Husky website, it says 49.4cc/3.0 cu in.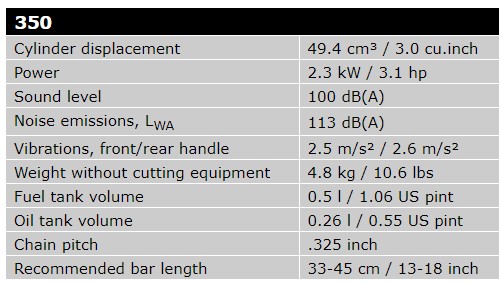 It may be that different versions of the saw were slightly different in this regard, but it seems to be listed more often as 49.4 ccs. However, it could be either so it's not something worth fighting over.
Husqvarna 350 specs:
Cylinder displacement: 3.1 cu. inch / 52 cm³
Power: 3.2 hp / 2.3 kW
Fuel tank volume:1.06 US pint / 0.50l
Oil tank volume: 0.55 US pint / 0.25l
Oil pump type: adjustable flow
Chain pitch: .325″
Recommended bar length: 13-20″ / 33-50 cm
Sound level: 100 dB(A)
Noise emissions: LWA 113 dB(A)
Vibrations, front/rear handle: 2.5 m/s² / 2.6 m/s²
Weight excl. cutting equipment: 10.6 lbs / 4.8 kg
This saw has a good power-to-weight ratio, a bit like the earlier Husqvarna 50, which makes it a popular homeowner firewood saw.
Husqvarna 350 Features, from Husqvarna:
Air Injection: Centrifugal air cleaning system for longer intervals between filter cleanings, smoother operation, and reduced wear.
Smoother operation: Rubber suspension reduces vibrations in the carburetor. Provides smooth operation and longer product life.
The two-mass principle: Vibration dampening system with the handles isolated from the engine with rubber mounts or steel springs.
Quick chain adjustments: Side-mounted chain tensioner makes chain adjustment quick and easy.
Three-piece crankshaft: Forged three-piece crankshaft for maximum durability for the toughest applications.
Smart Start: Decompression valve for very easy starting.
It was a well-built saw for its price and size, and many prefer these older Husqvarna models over the new ones like the 445.
Advantages, as given by Husqvarna:
The slim body, high center of gravity, and flat underside make our saws easy to work with.
Angled front handle for better grip and natural working position.
Low weight on all moving engine parts means fast acceleration.
An adjustable oil pump makes it easy to set the chain lubrication according to your needs.
Eco-pump that stops the lubrication when idling.
Combined choke/stop control makes the saw easier to start.
Air filter with bayonet fitting makes the filter easy to remove for cleaning.
Double-acting chain brake, right-hand guard, and chain catcher make the saw safer to use.
Many of these features were quite new for the time and make this saw easy and comfortable to use for many hours at a time.
340 Vs 345 Vs 350
| TECHNICAL DATA | 340 | 345 | 350 |
| --- | --- | --- | --- |
| Engine | | | |
| Cylinder volume, cu. in/cm | 2.5/40.8 | 2.7/45.0 | 3.0/49.4 |
| Cylinder bore, inch/mm | 1.57/40.0 | 65/42.0 | 1.73/44 |
| Stroke, inch/mm | 1.28/32.5 | 28/32.5 | 28/32.5 |
| Idle speed, rpm | 2,700 | 2,700 | 2,700 |
| Power, kW/ rpm | 2.0/9,000 | 2.0/9,000 | 2.3/9,000 |
| Ignition system | | | |
| Manufacture | FHP | FHP | FHP |
| Type of ignition system | CD | CD | CD |
| Spark plug | NGK BPMR7A / Champion RCJ 7Y | NGK BPMR 7A / Champion RCJ 7Y | NGK BPMR 7A / Champion RCJ 7Y |
| Electrode gap, inch/mm | 0.020/0.5 | 0.020/0.5 | 0.020/0.5 |
| Fuel and lubrication system | | | |
| Manufacturer | Walbro | Walbro | Walbro |
| Carburetor type | HDA 159 | HDA 159 | HDA 159 |
| Fuel capacity, US pint/liter | 1.06/0.5 | 1.06/0.5 | 1.06/0.5 |
| Oil capacity, US pint/liter | 0.53/0.25 | 0.53/0.25 | 0.53/0.25 |
| Type of oil pump | Automatic | Automatic | Automatic |
| Weight | | | |
| Without bar and chain, Lbs/kg | 10.4/4.7 | 10.4/4.7 | 10.6/4.8 |
| Chain/bar | | | |
| Standard bar length, inches/cm | 13″7/33 | 13″/33 | 13″/33 |
| Recommended bar lengths inches/mm | 13-20″/33-50 | 13-20″/33-50 | 13-20″/33-50 |
| Usable cutting length, inches/om | 12-19″/31-49 | 12-19″/31-49 | 12-19″/31-49 |
| Chain speed at max. power, m/sec | 17.3 | 17.3 | 17.3 |
| Pitch, inch/mm | 0.325″/8,25 | 0.3257/8.25 | 0.325″ /8.25 |
| Thickness of drive link, inch/mm | 0.050″/1,3 | 0.0587/1.5 | 0.050″/1.3 |
The 350 is in the family as the Husqvarna 340 and 345.
Compare specs and you'll see they are all very similar, with the 350 being the most powerful. The 350 also has the best power-to-weight ratio, being a good bit more powerful than the 340 and 345 while only being slightly heavier. The 340 has the worst power-to-weight ratio, weighing the same as the 345 and being less powerful.
Many parts are interchangeable between these three chainsaws.
Husqvarna 350 Reviews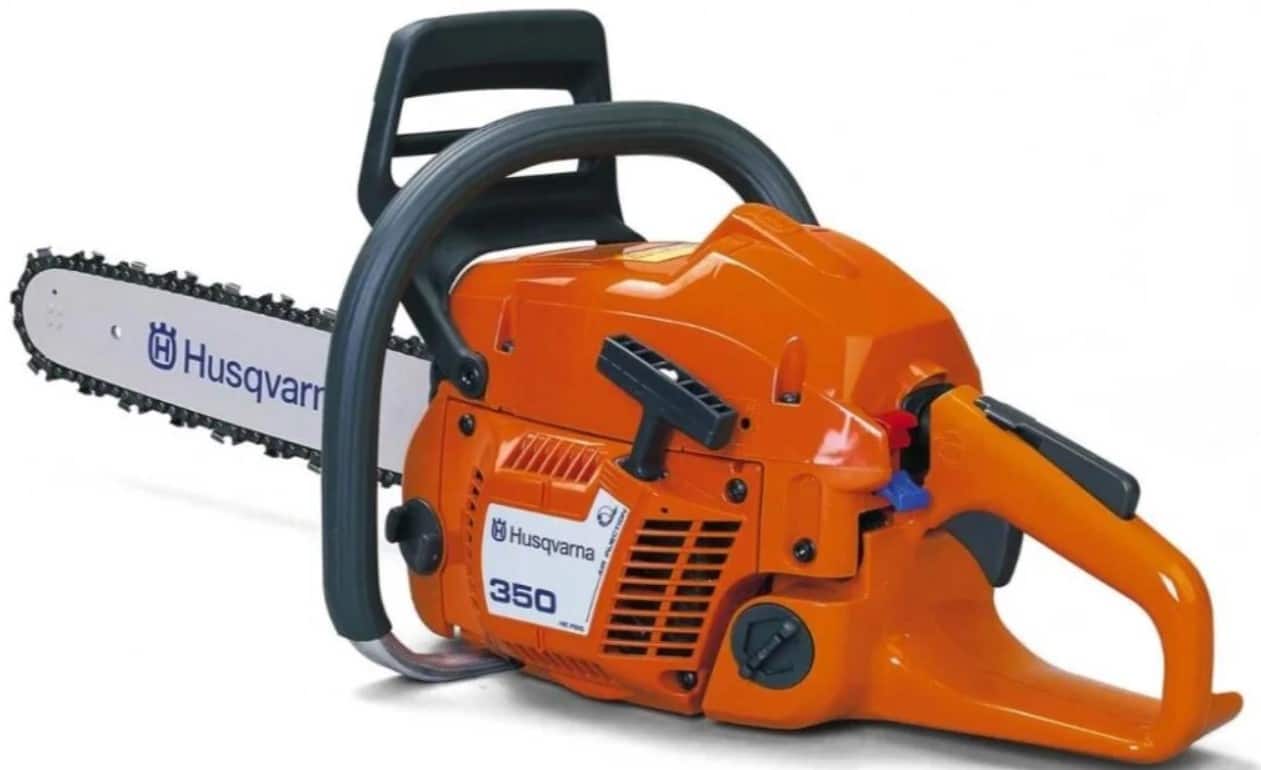 A lot of guys love the 350 and a lot of guys hate the 350. It's not one of those saws that get only love or only hate.
The 350 did make our list of bad Husqvarna chainsaws, but it's the "9th worst", which is a lot better than the first worst, right?!
We shared in that round-up:
It's said by some to "develop an air leak just sitting on the shelf in the shop." The 350s are plagued by air leaks that burn them up.

Other problems:

The muffler falls off as the bolts won't stay tight
Cylinder comes loose
Bad diaphragms
Clamp fails on intake boot

Some of these things are easy fixes, but usually, the kinds of people buying these saws don't know where to start and don't have the confidence to do it themselves.
And this makes the 350 sound like a bad saw, but there are more good reviews of it than there are bad. Plenty of people have used their 350s for decades now and it's still going strong.
Some examples of this include Pierre, who said:
One of the best little saws I've owned for fall and spring clean ups and used it a lot. Mine was $299 in the year 2000 and still runs good with no problems. I would buy another one for $150 but maybe not much more.
Tad said:
I think that the 350 is an extremely underrated saw for its weight to power ratio. I ran my 350s vs my 550 and honestly think the 350s are overall a better saw. Maybe it's just me.
And some shorter reviews of the 350:
I've had mine for around 15 years. I've had a few minor issues but run a 20″ bar with no problem.
My 350 has been a workhorse.
I have two of them and use them regularly for firewood and whatnot.
I opened up the muffler on my 350. She's a ripper.
I would take a 350 as a light to medium yard saw any day. Easy to work on last forever with regular maintenance.
In my opinion, it's the best homeowner saw Husky made.
I've got one and I put a new carb on it… it's a great saw for its class and if you adjust the oiler you'll be a happy person.
Power-to-weight ratio, the 45mm 350 is one of my favorites. They will scream with a 16″ bar.
Comparing the 350 to the 550, Sven said:
The 350 is a plastic case saw… 353/346 XP are pro grade saws.
I have owned a 345 as my first saw. Impressed what it did get done but my 346 XP ate that thing raw…
I will agree however that those 34x/35x saws were pretty damn good. They are still my go-to saws in many situations, before I pull out the 555.
Is a 350 a better saw then a 550, or 550 mark 2? No, I don't think so. Power isn't close. Will it last longer? Similarly, I think. Though I honestly like the ergonomics of the 34x/35x chassi better, especially for precision work.
Price Expectations
What is a Husqvarna 350 worth?
It all depends on the condition and location. As you can see in the screenshot from Facebook above, a really tidy version can go for as little as $150, but as most guys said in the comments, it's probably worth a fair bit more than that (unless there are problems).
In fact, one guy said: "I'd buy that all day long for $150 and twice on Sunday! The 350 is my all-time favorite saw so I might be a bit biased," and someone else said, "It's worth double that".
On eBay at the time of writing, there are 350s being sold as parts saws for as little as $32, working saws going for $200, and one that needs some minor repairs for $65. There's also a very tidy 350 with an 18″ bar listed for $299.99.
Personally, at this price, I'd rather buy a new Husqvarna 450 (on Amazon here) for another $100 or so. Or a new 445 is another good alternative. At least this way you know what you're getting.
However, if you see a good deal, it can be worth taking a risk on. Make these checks before buying a used chainsaw and you'll be less likely to get a lemon or caught up in a scam.
The Husky 350 Chainsaw
By most accounts, the Husqvarna 350 is a good little saw.
Always remember that it's a cheaper homeowner-level saw so it's not designed to be the most amazing logging chainsaw out there. If you use it for the types of work it was made for, it can go all right!
As for the problems some 350 models seem prone to having, that's kind of just part and parcel with cheaper made chainsaws. If you want something that's better, you've got to spend more. But for the average person doing a bit of firewood, pruning, and yard clean-up, the 350 is worth it at the right price.
Some Stihl alternatives to the Husqvarna are the 50.02 cc pro-level 261 and the Stihl MS271 Farm Boss, another 50 ccs saw but non-pro.