The Stihl Jet Saw is the world's first chainsaw powered by a jet engine turbine.
It's a one-off concept build – a bit like the Carbon Concept Saw – built by Stihl engineers Andre Prager and Matt Santjer and shown at the Reno Air Races back in 2015.
Matt shared in a Facebook comment:
It's a one off jet turbine prototype saw we built a few years back as a side project (wasn't really a Stihl project, we just happened to work there at the time).

There's a right angle gear box that is driven by the turbine and interfaces with the crankshaft with a poly v-belt. Ended up getting alot of attention and a few articles written about it. It's in the Stihl museum now which is pretty cool.
Here's a video of the build process and of the saw in action at the Air Races (pics below).
Stihl Jet Saw
The YouTube description states:
(Most likely) the world's first and only turbine powered chainsaw.

A "one-off" designed and built by André Prager and Matt Santjer.

Why? Because it hasn't been done before!

Fully functional, automatic start, zero vibration, superb power to weight ratio… if it only wouldn't have 4 times the fuel consumption and the shooting flames! 😉
The Jetsaw has a Wren 44 Heli turbine (with custom exhaust by Matt Santjer) and is fueled with a kerosine/oil mix. It has a bevel gear and custom belt drive transmission and, as seen in the video, it is a fully functional chainsaw.
Other specs:
1st stage rpm: up to 195,000 (idle: 55,000)
2nd stage rpm: up to 80,000
Clutch rpm range: 4000 – 18,000
Shaft output: 5.1 kW @ 12,500 rpm
These are the images that Matt Santjer shared in a post on Facebook saying:
TBT to world's first Jet Turbine powered chainsaw! Its no secret anymore after being debut at the Reno Air Races with the Stihl sponsored race plane! Couldn't have asked for a cooler one off prototype to build…
This first picture helps to illustrate the 'shooting flames' reference.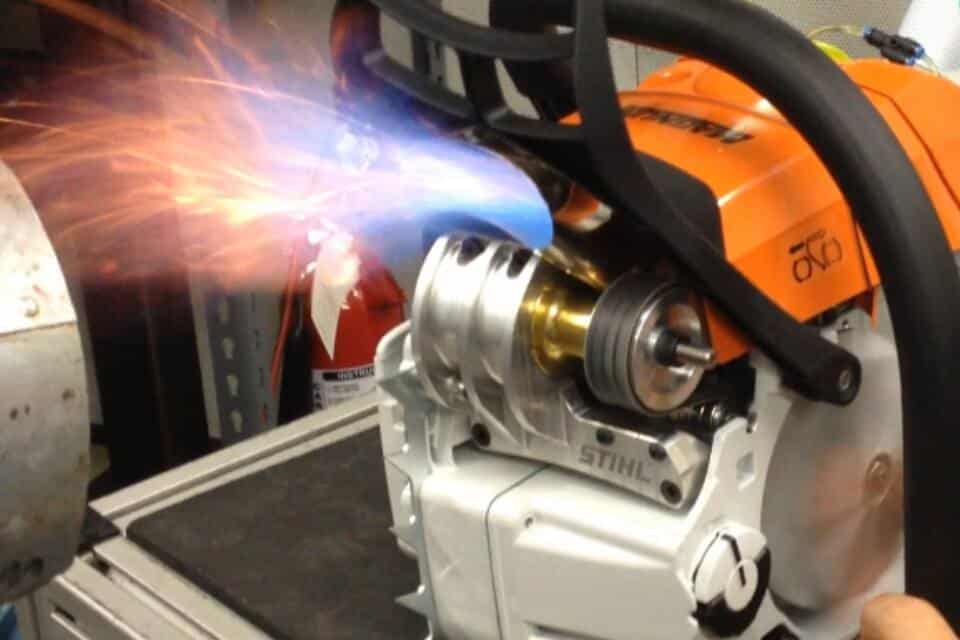 A unique top cover.
Matt shared, "Gotta let the monster breathe…".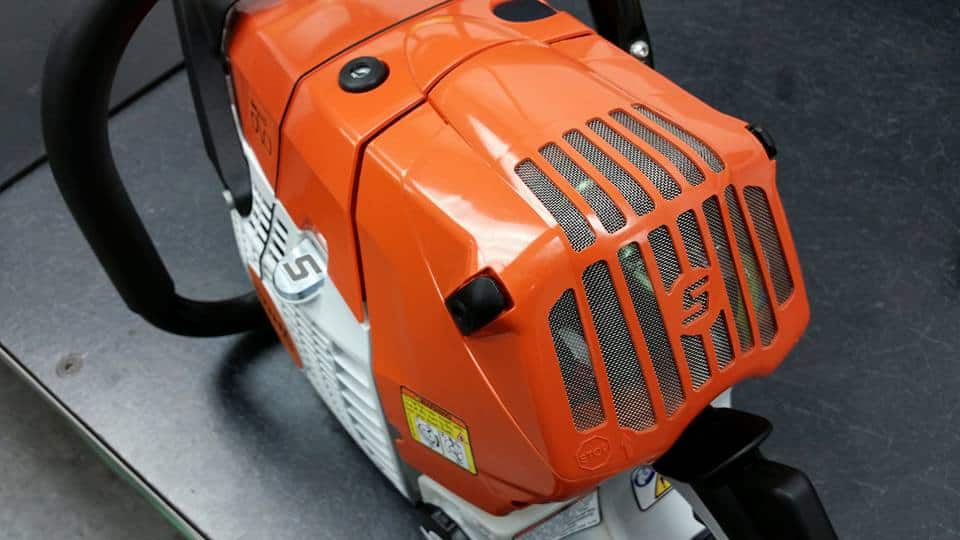 Decent spikes.
Matt said: "Like a work of art… fully functional, lighter, and makes more HP than a factory MS441."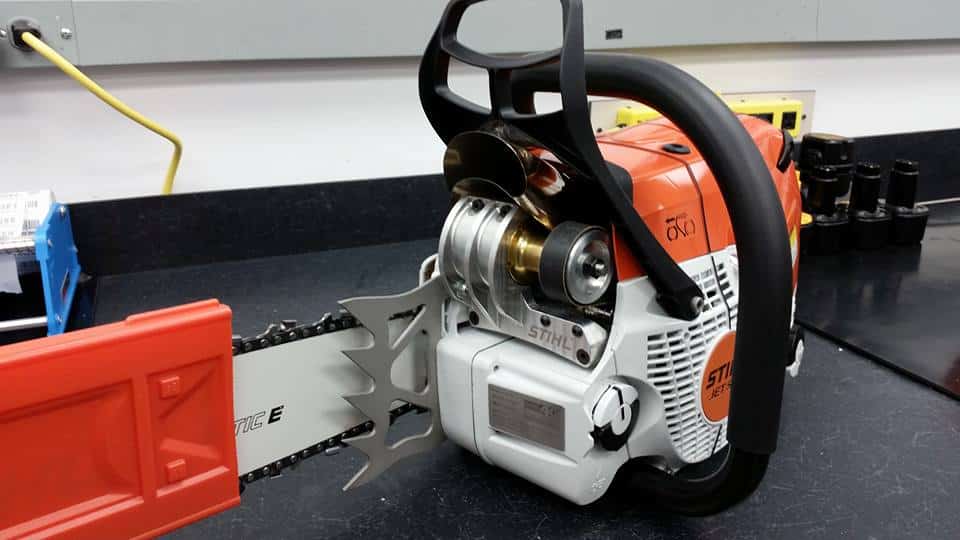 About the following picture, Matt shared:
Now it will be put to rest in the Stihl museum with all the other cool toys… but at least our names will stay with it.
The inscription on the saw reads:
Designed and built by
Andre Prager
Matt Santjer

Special thanks to
Josh Moon, "Skip" Johnson, Brian Scott, Mike Pell, Brian Gray,
Joe Franese, Richard Holland, Alex Higgins, Tony Pierce,
Joel Amick, Sebastian Strauss
And it has a Stihl 40th tag on it.
And about this final picture, Matt shared:
Mr. Stihl himself paid us a visit to give it some trial runs…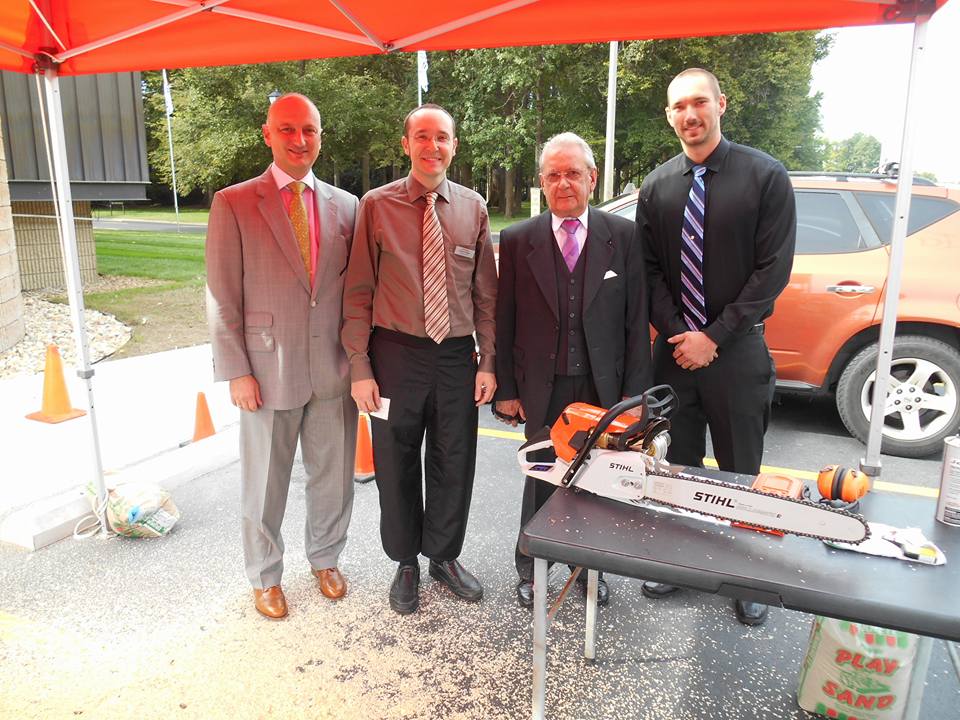 Matt Santjer is on the far right and next to him is Hans Peter Stihl, the former CEO of STIHL and son of Stihl founder Andreas Stihl.
Matt can be found at Santjer Performance where he now "specializes in high-performance automotive engineering and manufacturing." Which sounds like a good fit for him after producing the Jet Saw.
Where Is The Jetsaw Now?
The Stihl Jetsaw is now in the hands of Wayne Sutton who has a chainsaw museum.
Wayne's Saw Shop is in Amboy, southern Washington, and it's open by appointment only.
At the 4:25 mark in the video, after showing off his Stihl Model B, the host asks Wayne what his rarest saw is, to which he replies "One of the one-off saws." And then he points down at the Jetsaw and says, "That one right there is pretty much a one-off. The Jetsaw. It's got a jet engine in it."
And there it is in all its glory.
Watch the video, but here are some of the other things Wayne says about it:
It was an unauthorized project but it was so cool everyone had to say "Yeah, that's neat"
The chain is geared down so it doesn't go that fast
The saw is a torque monster
And before moving onto other things in the collection, Wayne shared he's never used the saw as he has an agreement with Matt not to mess around with it unless he (Matt) is there.
Stihl Jetsaw Response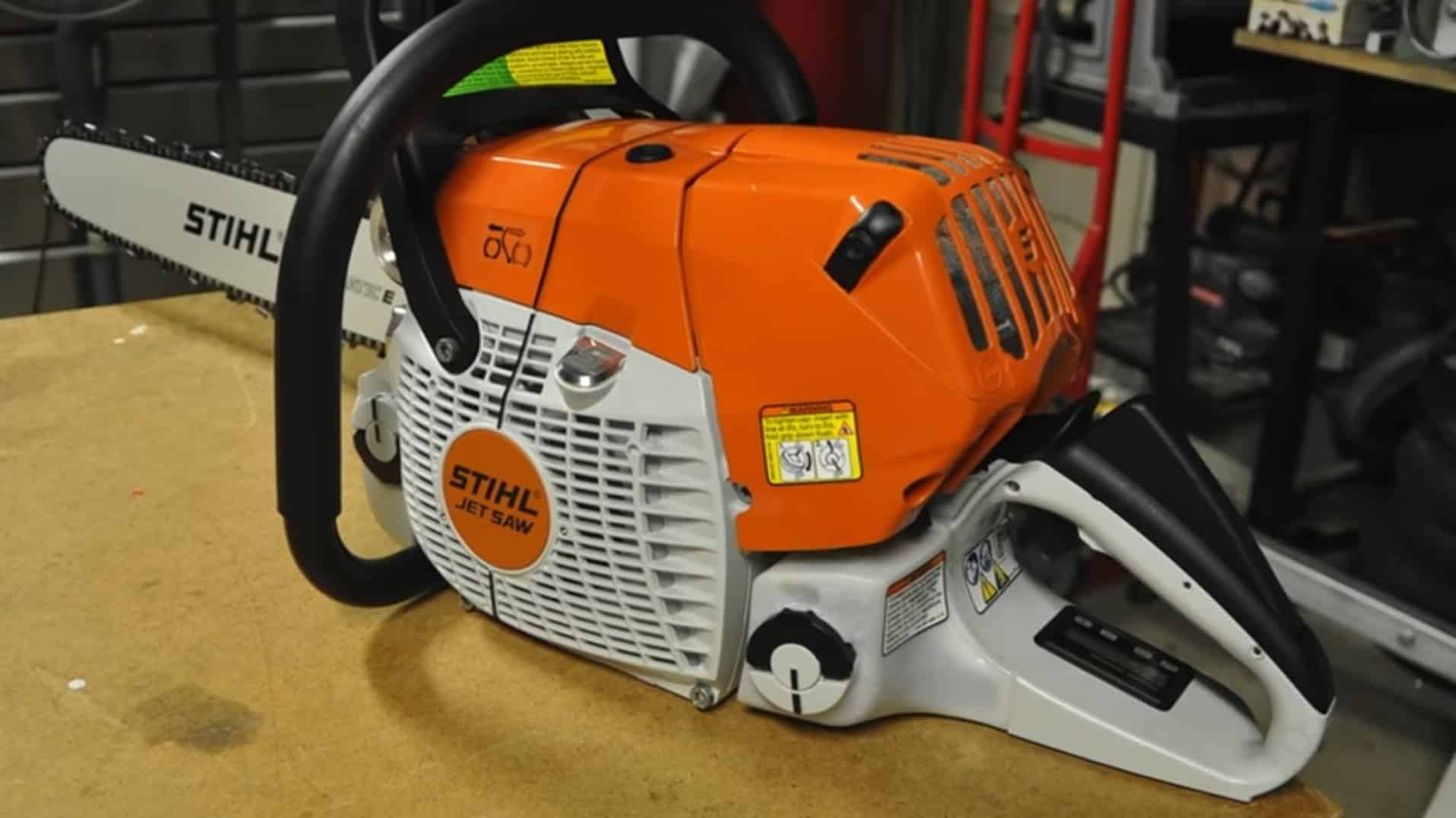 The Stihl Jet Saw video got a lot of attention on social media after being shared by One Moment Air Racing.
This group was or is connected with Matt and the Reno Air Races. Stihl sponsored the air races (and continues to do so) which is why the Jetsaw first debuted there.
Here are some comments from the post:
Why? Cause they can I guess. Cool.
Awesome. I love building things just to build them. A lot of engineering went into that.
Not as fast through the wood as I would have thought… But pretty cool
Well done men. An engineering masterpiece!
Would buy one for the sound alone ????
As always, there were a few negative Nancys out there.
One guy said, "No faster than a normal saw."
To which One Moment Air Racing responded:
It wasn't designed to be. It has about the same power as a regular saw. It's about doing something that is challenging from an engineering standpoint! ???? One cool thing for example is that it does not vibrate at all… it cuts through the wood like a hot butter knife. Really weird experience! ????
Someone else, missing the point, said: "It did not impress me and there is a lot faster saws than this."
You can't please everyone.
As it said in the YouTube description, it was made for fun, not to be an actual production saw.
If you liked this saw, you'll like these other unique Stihl chainsaws: