Those restoring and repairing Stihl Chainsaws often need to repaint or touch-up cases and covers.
But what are the Stihl colors called? Where can you find the Stihl orange and off-white/gray paint?
The best place to buy OEM paint is on Ebay or through your dealer, though not all of them will be able to get it, and it will cost you.
Here are some alternative spray paints that match up well with the true colors.
Stihl Paint Colors
Stihl OEM Paint

Official Stihl OEM spray paint can be purchased
Orange is parts number 0000 000 2101
Gray is parts number 0000 000 2102

EBAY - Stihl OEM OrangeEBAY - Stihl OEM Gray

Alternative Stihl Orange

Majic Tractor Paint in Kubota Orange is considered a nearly perfect match
Can also be purchased as a brush on paint
Valspar and Rustoleum brand Kubota also good

View On Tractor SupplyView On Amazon

Alternative Stihl Gray

Majic Tractor Paint in Light Ford Grey is considered a nearly perfect match
Can also be purchased as a brush on paint
Valspar and Rustoleum brand Light Ford Gray also good

View On Tractor SupplyView On Amazon
Stihl also sells its orange and grey paint in a can.
It is said to lay nicely if you use thin layers, though there are mixed reviews on how it holds up to use. But it looks good.
In one of the FB groups, a guy called Jeff said:
Old Stihl white is German paint code RAL 7035. Old Stihl Red/Orange is RAL 3000. Stihl orange is RAL 2004. New Stihl white is RAL 9010. Time to start reassembly.
You can also search those paint codes on eBay and elsewhere and you'll get a lot of other good options.
As for the Majic brand paint colors, here's what people are saying:
Tried some Ford Light Gray implement paint on a recoil today and it was almost a perfect match.
Ford Light Gray is spot on with Stihl Gray.
Kubota Orange and Ford tractor Grey works well.
The Majic brand can be found here on Tractor Supply Co (along with Rust-Oleum brand paint which is also said to be suitable in those same paint codes).
About Majic, someone else said:
I repainted my Stihl saw the colors you can get at any Tractor Supply. It's made by Majik spray paint for tractors implements. I used Kubota orange, and light Ford grey. It's ceramic paint and much cheaper than getting Stihl paint from the dealer.
Though, to be honest, I don't think the price difference is all that great.
Stihl OEM Paint Codes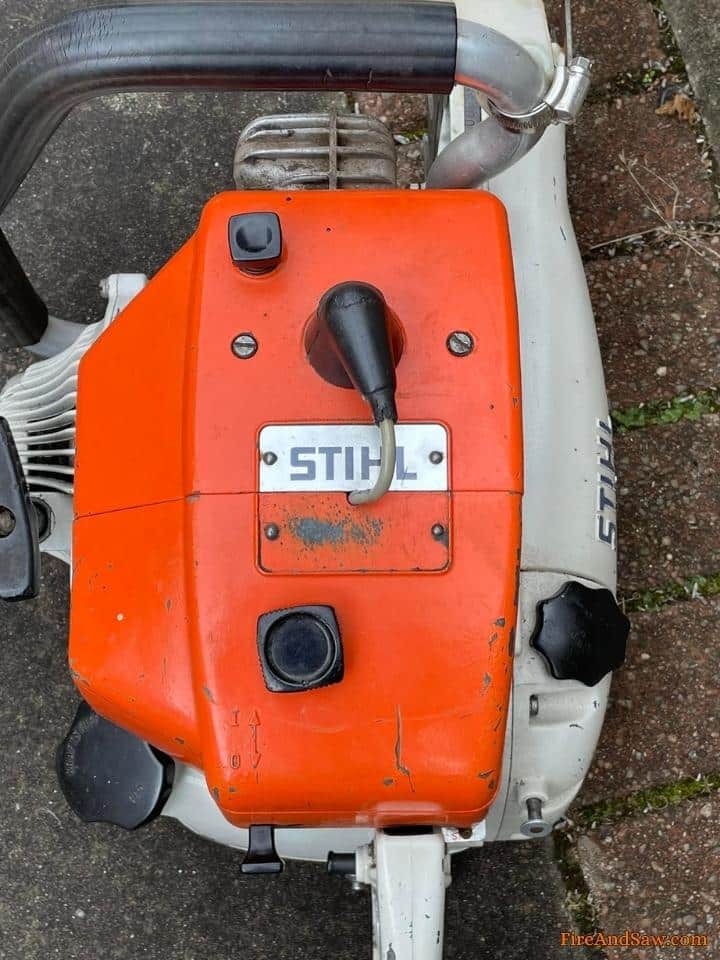 If you want the perfect finish, it might be best to buy the real deal rather than trying to match it.
OEM touch-up paint parts numbers:
STIHL Orange touch-up paint – 0000 000 2101
STIHL Gray touch-up paint – 0000 000 2102
And here's what people say about it:
Stihl canned paint is great paint if you allow it to dry for 1-2 days. I use it all the time
Stihl sells the paint which is good, but Ford tractor light grey is pretty darn close too.
I've just always used Stihl gray. I mean, it's a Stihl paint for a Stihl saw. You can get it at or order it from any Stihl dealer or eBay.
I haven't heard any complaints about the official Stihl paints.
Cleaning The Saw Before Painting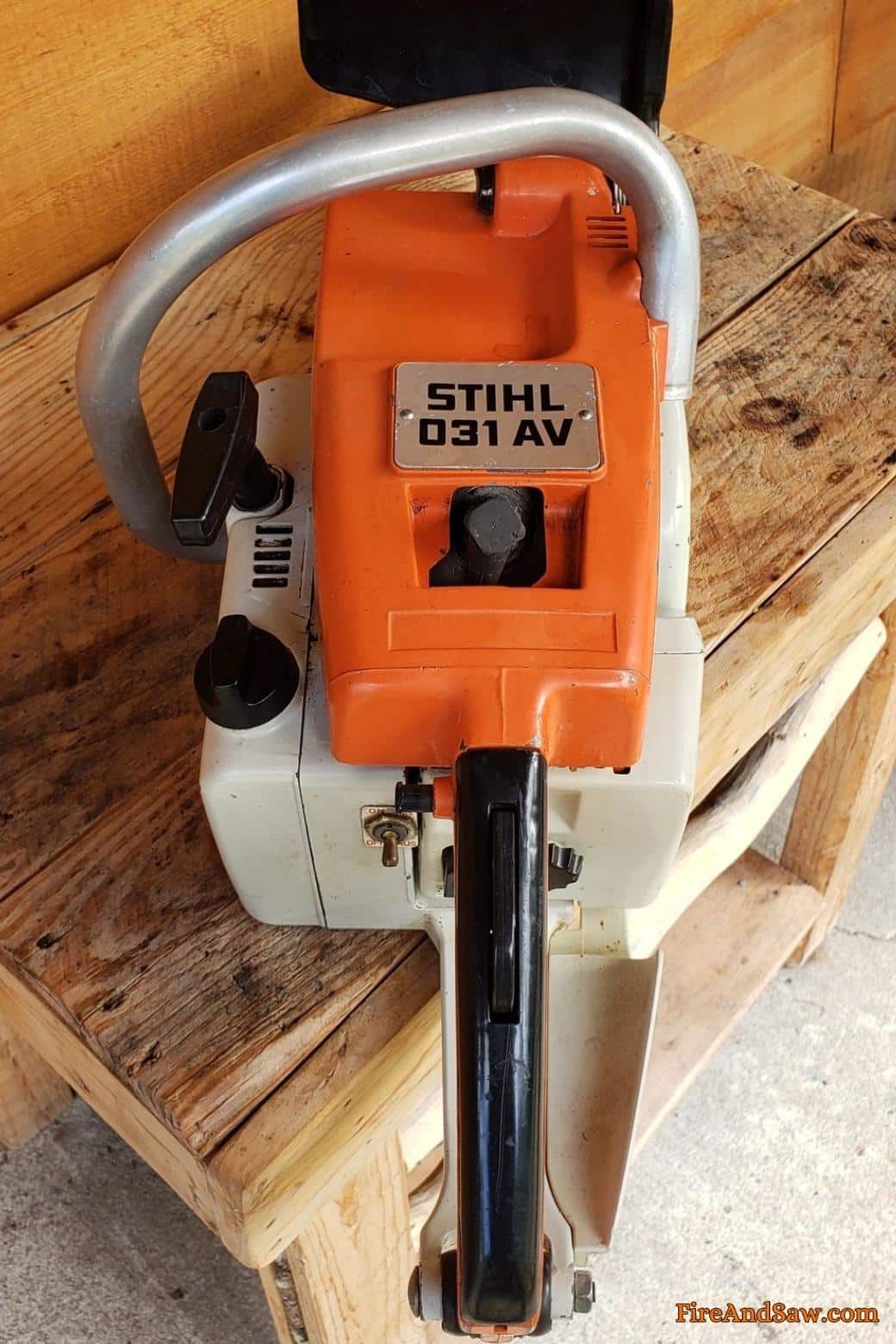 What's the best way to clean a saw before painting it?
One good method is CRC Brakleen Brake Cleaner, an old toothbrush, and compressed air.
And, once everything's clean and put back together, you can give it a light spray of silicone and wipe it down. That'll keep the gunk from sticking as bad next time.
It's important not to use a cleaner with MEK (Methyl Ethyl Ketone) in it as this will damage the paint, plastic, and/or magnesium.
Stihl sells their own heavy-duty cleaner and degreaser that is good at cleaning parts before a paint job.
They say, "The STIHL Cleaner/Degreaser is an industrial strength product that is ideal to clean grease, dirt, oil and wax from engine components."
It won't remove paint though if that's needed, but many recommend an aircraft paint stripper for that task.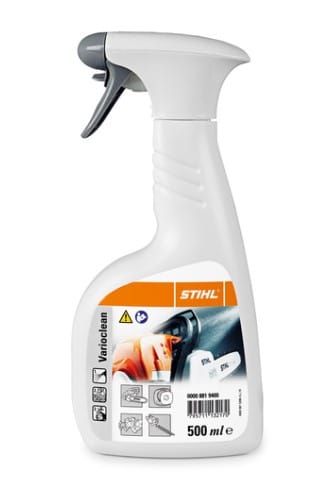 Stihl also has another product called Varioclean special cleaner that people swear by.
Stihl states, "Cleaner developed specially to remove organic substances like resin, oil and grass stains from saw chains, guide bars, cutters, circular saw blades and machine housings. For steel and diecast magnesium. Contains no phosphates or organic solvents. Surfactants are biodegradable."
You should be able to buy or order these products through your local Stihl dealer.
Repainting Stihl Saws
If you have any more questions about repainting Stihl saws or parts, leave them in the comment section below.
Another alternative is to paint your saw black, as these custom chainsaws are also pretty cool.
Whether you have a Stihl 031, an 015, or even an MS 500i, hopefully, some of these color options will be the perfect match for your saw.