The Stihl MS251 is a reasonably popular chainsaw in the Stihl community – not the most popular, mind you.
Due to the sheer number of options available, purchasing a new chainsaw can be a bit stressful if you don't do your homework. Even among Stihl chainsaws, there are a ton of options from entry-level saws to professional logging and arborist chainsaw.
The MS251 is on the lower end of Stihl chainsaws when it comes to power, specs, and features, but it's definitely a good saw for the right user.
Before Buying A Stihl MS251
Overall, the Stihl MS251 is well received by users.
The Stihl MS251 chainsaw is a lean, powerful tool perfect for homeowners, landlords, and landscapers conducting outdoor projects and basic property maintenance.
It is a gas-powered, fuel-efficient 45.6cc chainsaw that boasts comfort and quality for an affordable price. Although not the most high-powered option on the market, the MS251 can handle various property maintenance tasks with ease.
It is usually sold with an 18-bar but works well with any bar from 16 – 20 inches. My preference to maximize power is a 16-inch bar.
They note that this is a chainsaw that packs a powerful punch despite its lower price point and smaller size. It is also user-friendly, which makes it appealing to a broader audience.
Not all chainsaws are created equal. Before buying a Stihl MS251, it's vital to weigh the pros and cons, price points, and fuel efficiency.
You should also think about what capacity you plan to use the chainsaw in, considering the types of projects you want to undertake and the length of time it will take to complete them.
251 Wood Boss Specs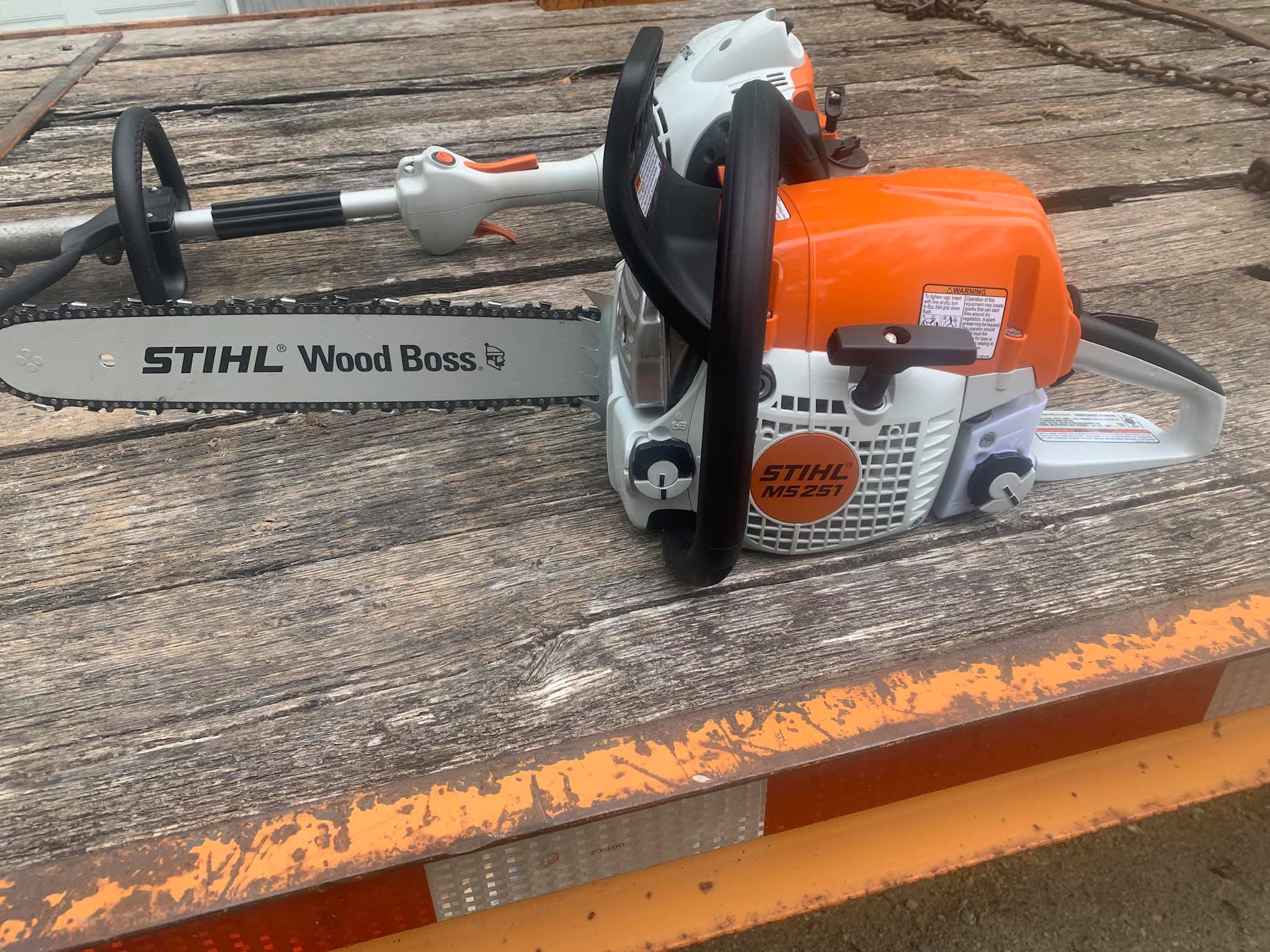 Let's break down the Stihl MS251's specifications:
2.95 horsepower, 45.6cc engine
390cc fuel capacity
18in bar with .063in chain gauge
.325" saw chain pitch
2.2kg/kW power-to-weight ratio
114 dB(A) sound power level
IntelliCarb Compensating Carburetor
Weighs 10.8 pounds
It's a much higher spec chainsaw than the likes of the Stihl MS180c, for example.
Stihl 251 Features And Benefits
The ideal buyer for the Stihl MS251 is the average homeowner with extensive outdoor projects such as cutting firewood or cleaning up after heavy storms.
A great feature of the Stihl MS251 is its Master Control Lever.
This single lever acts as an on-off switch and operates the choke and throttle lock. It is easy to use; you simply have to pull the throttle trigger and adjust the lever towards the choke position.
You won't find yourself struggling to refill the oil and fuel caps on this model, thanks to its tool-less caps.
The MS251 features caps that allow you to lift the lever then twist to tighten or remove them. It is an easy-access feature that benefits users of all skill levels.
Another significant aspect of this chainsaw is its Stihl Easy2Start system.
All that is needed to get it going is a single quick pull. It also comes with an anti-vibration system which helps reduce operator fatigue and makes using the chainsaw for longer periods more comfortable.
Finally, the MS251 is easy to take apart and put back together, meaning easy and long-term maintenance.
Stihl MS 251 Wood Boss Price
Most retailers sell the Stihl MS251 between $349.99 and $389.99, which is on the lower price end.
A great deal for a powerful saw. It also comes with a 12-month manufacturer's warranty.
To purchase the MS251, you will likely have to visit your local hardware store. Used options are available online, but you will probably need to buy a new saw in person.
You can sometimes find new and used Stihl MS251 chainsaws on eBay here – as well as parts.
Stihl MS251 Review
If you have a lengthy list of outdoor landscaping projects to attend to but are only mildly comfortable with power tools, the Stihl MS251 is the perfect chainsaw for you.
Pros:
Lightweight, ergonomic design
Comfortable to carry
Good for pruning, felling small trees, and cutting firewood
Durable
Cons:
Can be challenging to get started in colder weather
Not designed for continuous, heavy-duty use
It is a gas-powered tool, which tends to raise eyebrows from the environmentally friendly consumer.
However, the MS251 model features an innovative Reduced-Emission Engine Technology. This results in 50 percent reduced emissions compared with other similarly built Stihl models.
With this, users can get more from their saw without negatively impacting the environment.
Like many Stihl products, the MS251 chainsaw is built in the United States from domestic and foreign parts.
With your purchase, you will be supporting American jobs and businesses and can ensure you'll be receiving a quality-built product that will last a long time.
Stihl MS251 Alternatives
That isn't to say that the Stihl MS251 is the only chainsaw on the market you should consider. Another good model is the Stihl 026 chainsaw if you can find it.
We've broken down some differences with other quality saws for you to compare.
1. Husqvarna 450R Rancher (50cc)
For landowners looking for a little more power from their chainsaws, the Husqvarna 450 Rancher would be a good fit.
Like the Stihl MS251, it has lower exhaust emissions and excellent fuel economy. It is also easy to handle. Let's compare the two:
The Husqvarna 450 Rancher:
3.2 Horsepower X-Torq engine
Side-mounted chain tensioner
Smart Start fuel pump
2-year limited warranty
Visible fuel tank
Felling marks on the body
Good for extended use
Medium-to-large size tree cutting
The Stihl MS251:
3.0 Horsepower
A 1-year limited warranty
Lighter, more comfortable to handle
Good for occasional use
Small-to-medium size tree cutting
---
2. Husqvarna 455 Rancher 2-Cycle (55cc)
On the higher price end, we have the Husqvarna Rancher 55 cc 2-cycle.
Husqvarna 455 Rancher 2-Cycle:
Heavier (12.8 pounds)
3.5 horsepower X-Torq engine
18 in or 20 in bar
Stihl MS251:
Lighter
Less powerful (3.0 HP)
Only fits an 18 in bar
---
3. Husqvarna 460 Rancher 24in (60cc)
For heavy-duty use in any kind of cutting condition, the Husqvarna 460 Rancher chainsaw is ideal for homeowners who are used to working with chainsaws.
Of the three alternatives, this model is the most powerful and suitable for large trees and heavier-duty work.
Husqvarna 460 Rancher:
Semi-professional saw
LowVib technology
3.62 horsepower X-Torq engine
Heavy, slightly clunky
Stihl MS251:
Personal use saw
Anti-vibration technology
3.0 horsepower
Light, lean design
---
Stihl 251 FAQs
Below are some commonly asked questions about the Stihl 251 that may help you in your buying decision.
What CC Is a Stihl MS251?
The Stihl MS251 is 45.6cc.
Is the Stihl MS251 a Good Saw?
It's an excellent lightweight saw for the average homeowner. Its engine moves at speeds up to 13,500 rpm, with an idle speed of 2,500 rpm, perfect for basic landscaping needs and cutting firewood between 10"-16".
What Is the Difference Between Stihl 250 and 251?
Overall, the differences between these two models are relatively small.
However, the 250 model is .7 pounds lighter and can hold 15.9 ounces of fuel, compared with the 13.2 ounce capacity of the 251. It also holds more bar oil than the 251.
The 251 is better for the environment with its Reduced-Emission Engine Technology, something that the 250 lacks entirely.
Finally, as it is an older model, the 250 usually sells for a lower price than the 251.
Can You Put a 20 Bar on a Stihl MS 251?
Unfortunately, the Stihl MS251 cannot accommodate a 20-inch bar. It maxes out at 18 inches.
Is It Easy to Find Parts for the Stihl MS251?
Stihl is a well-known brand with well-made products.
If you need replacements, you can purchase parts directly from authorized full-line servicing dealers or various online Stihl parts sellers.
Stihl MS251c
Overall, the Stihl MS251 is an excellent choice for the homeowner with the occasional need to trim or prune small trees and cut firewood.
It features a lightweight, easy-to-use design that packs enough power to get the job done.
While it is unsuitable for heavy-duty cutting projects and lacks some of the more cutting-edge features of alternative options, it is a quality-made product that will likely last a long time. Best of all, it comes at an affordable price which will suit every budget.
If you're interested in purchasing the Stihl MS251, click here to check it out.
Lastly, another higher-powered alternative that is exceptionally popular in Stihl circles is the Stihl 261 – find out more through that link!