Is the ECHO CS 400 a good chainsaw?
If you are looking for a saw that is reasonably dependable, easy to use, and powerful enough for home tasks, the 40 cc / 2.7 hp CS-400 chainsaw may be your machine.
It's not a powerful chainsaw that's suitable for the most demanding tasks, but it's an excellent yard clean-up or light firewood saw. It's a cheap chainsaw designed for homeowner use that's perfectly up to that task.
While the CS-400 is still sold new through online retailers like Amazon, there is a new version of the saw out now. It's the ECHO CS-4010 (41.6cc, 2.5 hp) which has a better power-to-weight ratio, new flip caps, a better switch, and better air filters.
*Images come from eBay seller Sherman_Saws and are used with permission. This CS-400 was for sale in October 2023.
ECHO CS-400 Gas Chainsaw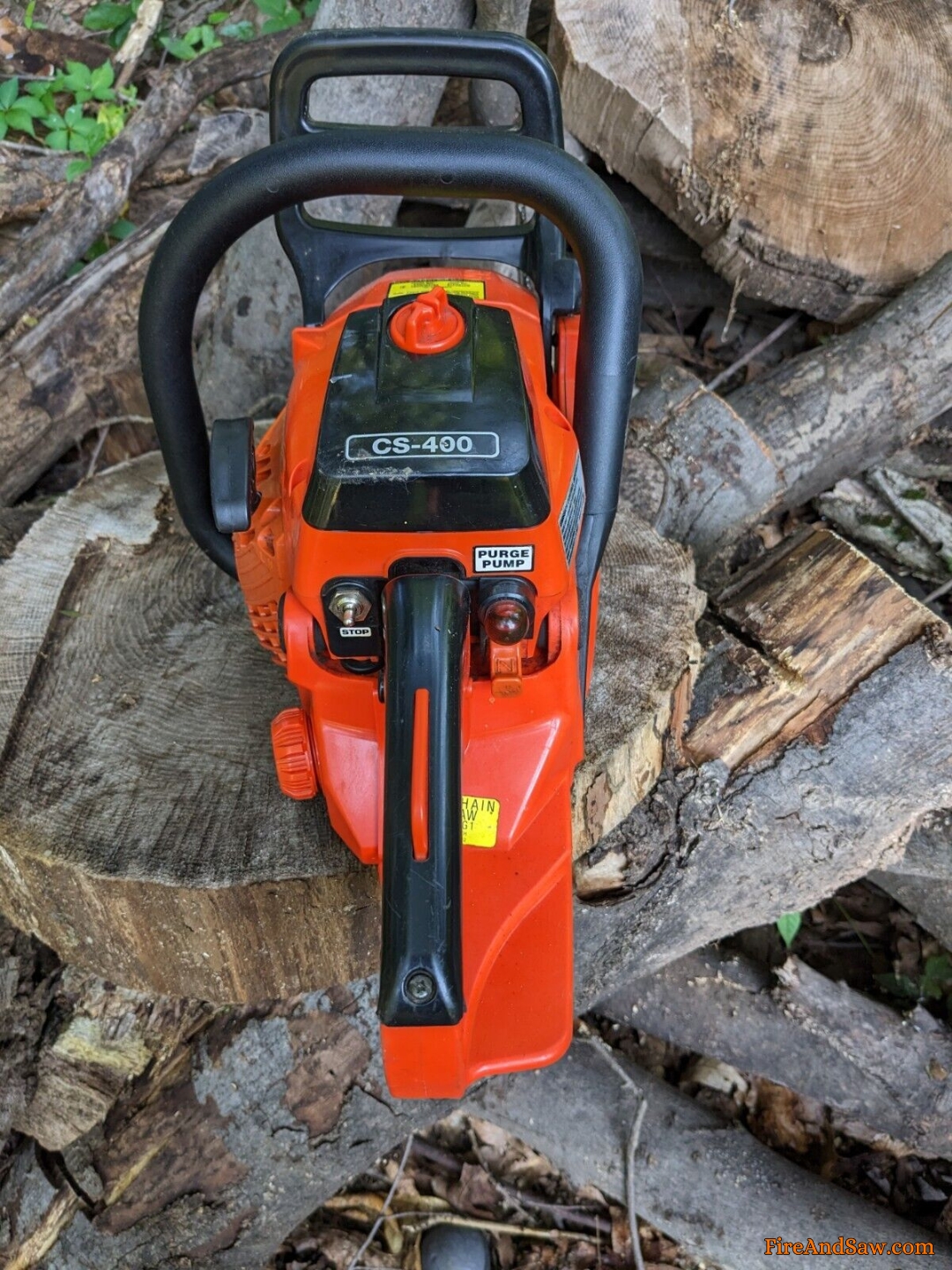 At 10.1 dry weight when fully assembled, the CS-400 is easy to use for an extended period.
Its 36-inch cutting capacity lets the operator make quick work of thinner branches and logs. The engine, with 2.7 horsepower, is more than powerful enough to use on small to medium sized logs.
The CS-400 minimizes stress on the operator with a vibration-absorbing rubber grip and plastic handle.
It features the latest in safety equipment via a dual-post chain brake and a replaceable metal bumper brake. Each ensures the machine will stop immediately when the brakes are engaged, preventing injuries and improving overall control.
Echo's battery chainsaw is a good option for those who want the benefits of not using gas.
ECHO CS-400 Reviews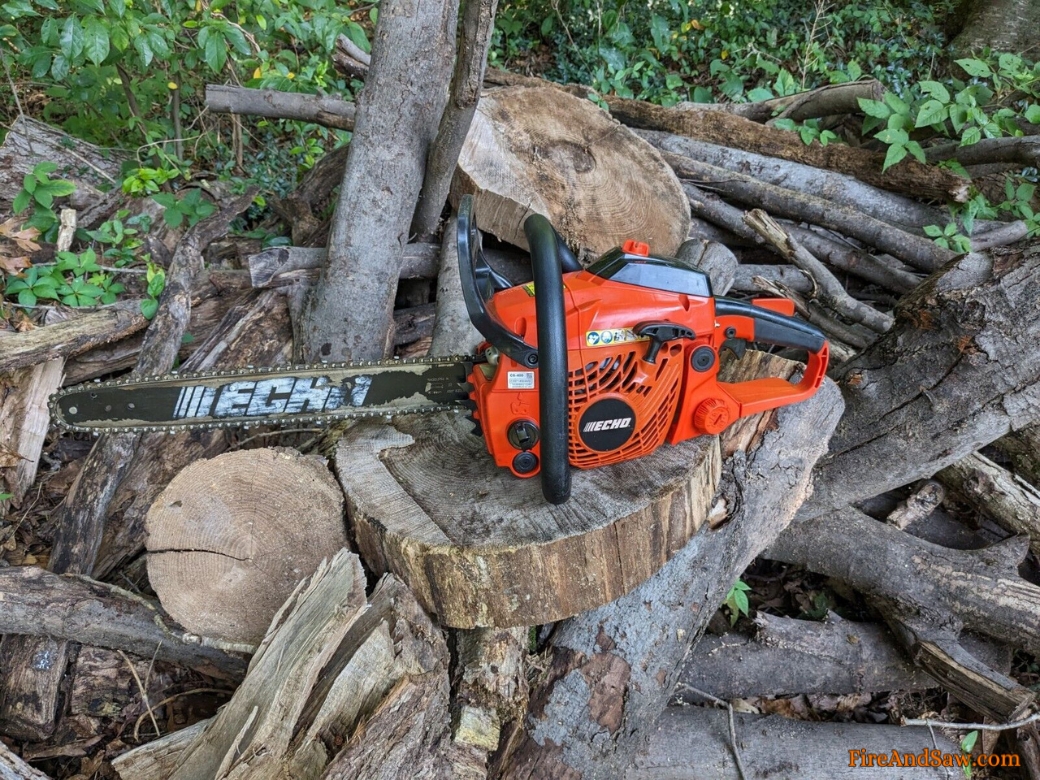 The following good reviews come from the ECHO Chainsaw Fans Facebook group.
Positive user comments, reviews, and advice:
"I've cut a lot of hedge with the CS400."
"I have one, It runs and cuts fantastic, love it."
"Loved mine with an 18" inch."
"Love mine! Super reliable and great all around saw."
"The CS-400 is still a good saw."
"Had mine for almost 12 years now and still going strong."
"It's a great saw but now outdated, the 3510 or 4510 are better options."
"Excellent saw. Best $300 saw money can buy."
"I really like mine. Lightweight and reliable."
"Like mine. 7 years old and still going strong. Probably cut 20 cords of wood."
"Great little saw. Gut the muffler. Pull the caps and it's a very strong runner."
"Best 40cc saw on the market, especially for $300. It oils like a big saw."
Tony said:
Been running the CS400s for years, these things are bullet proof if you take care of them.
Joey said:
I really like mine and it has the best air filter set up it don't get dirty very quick.
Bob said:
I switched from expensive Stihl saws to Echo, got 4 – 400 Echos and 4 – 590 Echos, and love them, especially the 2511 climbing saws.
Mark said:
It's my only saw. Have had it 12 years and LOVE it. Plenty of power and perfect for cutting firewood.
David said:
Love mine. Perfect little saw for limbing or yard work. Taught my son to saw with it.
Kyle said:
The CS-400 is my go to small everyday saw, absolutely love it. Little bit of modification on any of them will increase power and reliability.
And Kevin said:
I owned a CS-400. I should have kept it but I got so many lol.

The 400 was very smooth running, with plenty of power for most uses. It is not heavy. Not too big or too small for about any job.

If I was to buy ONE saw, it would be the CS-400. I love my 590 – beast of a saw, but it is heavier!

CS-400 is a great all-around saw that you won't be disappointed with.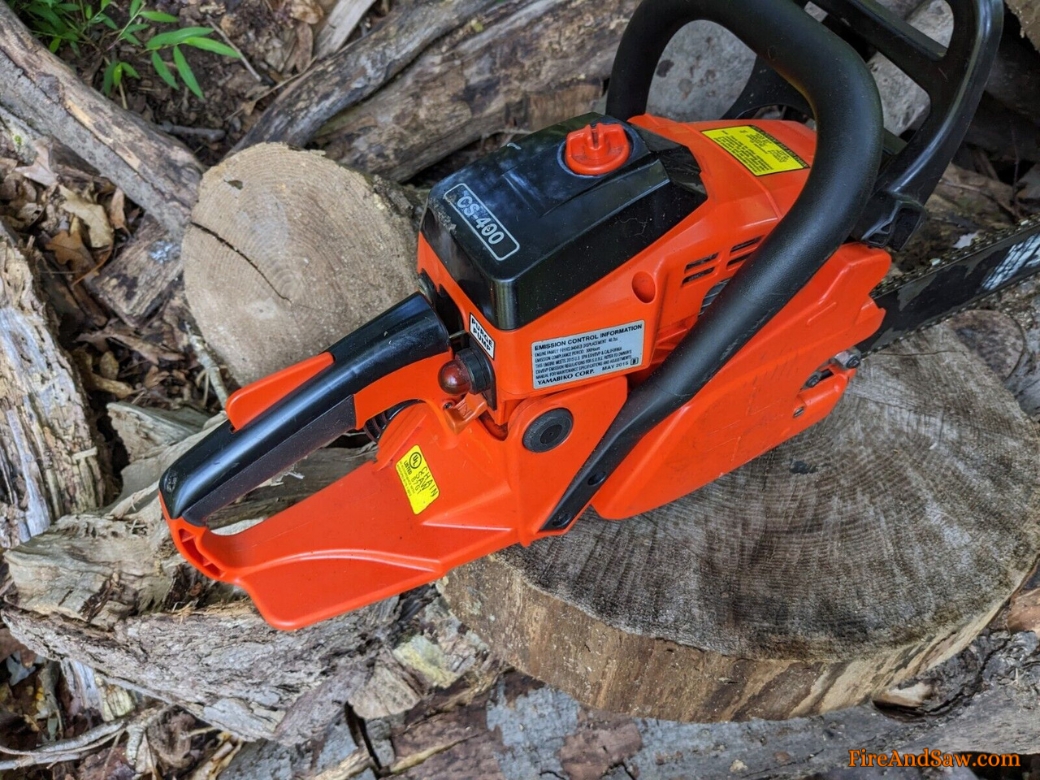 The best place to look for negative reviews is the Amazon listing, which has many.
Customers have voiced a series of complaints regarding the ECHO CS-400 chainsaw. While many initially found the saw to be satisfactory in terms of price and performance, their experiences turned sour over time.
A recurring problem was the chainsaw seizing or experiencing issues after only a few uses. Many customers mentioned serious starting issues, especially after a few years of ownership, where the chainsaw would intermittently fail to start despite various troubleshooting efforts.
The warranty provided by ECHO was a particular point of contention, with several users labeling it a "joke" or a "scam." They reported instances where the warranty was denied for seemingly trivial reasons or where the repair process was too cumbersome and inefficient.
The chainsaw's build quality was frequently criticized, with many considering it to be of inferior quality when compared to other chainsaw brands.
Some long-time users who have experience with other ECHO products expressed disappointment, saying that this chainsaw didn't meet their expectations based on prior interactions with the brand.
Cons:
Chainsaw seized after a few uses
Chronic starting problems, especially after a couple of years
Perceived poor warranty support and long wait times for repairs
Questions over the chainsaw's build quality and durability
Reports of the chainsaw being underpowered and bogging down during deep cuts
Issues with various parts, like the choke lever and primer bulb
Inconsistency in performance over time
Negative past experiences with other ECHO products influencing customers' perceptions.
Specs And Features
| Specification | ECHO CS-400 |
| --- | --- |
| Dry weight | 4.6 kg (10.1 lb.) |
| Engine | Air-cooled two-stroke single cylinder |
| Displacement | 40.2 cc (2.45 cu. in.) |
| Power | 2.7 hp (1.98 kW) |
| Bore | 40.0 mm (1.58 in.) |
| Stroke | 32.0 mm (1.259 in.) |
| Compressions ratio | 6.5:1 |
| Carburetor | Diaphragm type |
| Spark plug | NGK BPM8Y (Gap 0.65 mm [0.026 in.]) |
| Fuel tank capacity | 410 mL (13.9 US. fl. oz.) |
| Fuel | 50:1 ratio* |
| Gasoline | Use 89 octane unleaded.** |
| Oiling system | Adjustable automatic oiler |
| Chain oil capacity | 280 mL (9.5 US. fl. oz.) |
| Starter system | Automatic rewind starter |
| Clutch | Centrifugal type |
| Sprocket type | Spur type, 6-tooth, 3/8 in. pitch |
| Chain brake | Automatic band brake type |
| Idle speed | 2,700 RPM |
| Clutch engagement speed | 4,100 RPM |
| Wide open throttle speed (W.O.T.) | 12,000 RPM |
| Chain tensioner | Side access system |
| Guide bar | 16, 18 in |
| Saw chain | 91PX/91VG |
| Length | 393 mm (15.5 in.) |
| Width with aluminum handle | 245 mm (9.6 in.) |
| Width with plastic handle | 243mm (9.56 in) |
| Height | 277 mm (10.1 in.) |
* With ECHO Power Blend X™ or ECHO Red Armor® ISO-L-EGD (ISO/CD 13738) and JASO M345- FD two-stroke, air-cooled engine oil.

** Do not use fuel containing methyl alcohol, more than 10% ethyl alcohol or 15% MTBE. Do not use alternative fuels such as E-15 or E85.
Standard features:
Front hand guard
Rear hand guard
Anti-vibration device
Spiked bumper
Throttle control lockout
Chain catcher
Spark arrestor muffler
Tip guard
The CS-400 has several helpful features:
Helping the startup process is an integrated fast idle/choke feature, purge bulb
Trigger release to allow for easier and faster starting
The 2-stroke, professional-grade engine has an automatic adjustable oiler
G-force automotive-style air filter with pre-cleaner and easy-access cover
The chainsaw can be bought with a 16 or 18 inch bar, and the saw comes with a robust chain that features unique chamfer chisel cutters.
These deliver exceptionally low vibration and kickback that increase performance and durability, improve safety, and ensure comfort.
It is powered by a 40.2 cc 2-stroke engine that boasts 2.3 ft-lbs in torque and 2.7 maximum horsepower. The machine has a fuel capacity of 13.9 fluid ounces.
In addition, a spring assist makes startup easy, and the Quick-Adjust tool-less chain tensioning system allows on-the-fly adjustments. The anti-vibration handle ensures comfort, and replaceable metal bumper brakes provide optimum safety.
The CS-400 has a limited 5-year consumer warranty (double-check with each retailer) and can be bought with a good chainsaw case.
Bar And Chain
The CS 400 is sold with either a 16 or 18-inch bar and chain set.
The chain is .050 gauge, 3/8 pitch. You would then select either the 18 or 16-inch version.
Most, if not all, retailers who sell the CS 400 will also sell replacement chains.
Replacement bar and chain:
16 inch

bar part number: 16A0cD3757
chain part number: 91PX57CQ

18 inch

bar part number: 18A0CD3762
chain part number: 91PX62CQ
Price And Parts
New ECHO CS400 chainsaws are very reasonably priced for such a quality chainsaw.
Used models can be found on eBay here, where you can also find parts, bars, and chains.
CS-400 FAQs
How many ccs is an Echo CS-400 chainsaw?
The Echo CS-400 chainsaw is 40.2cc.
This is a low to mid-powered chainsaw that isn't good for processing a ton of firewood, but is great for lighter work.
What size bar is on an Echo CS-400 chainsaw?
The bar on the Echo CS-400 chainsaw is 18-inches or 16-inches.
It can cut up to 36 inches in diameter with an 18″ bar, making it good for a wide range of tasks from pruning to dropping mid-sized trees.
Can you put a 14-inch bar on an Echo CS-400 chainsaw?
The Echo CS-400 works with a 16-inch or an 18-inch bar.
It is not meant to operate with a 14-inch bar, though this wouldn't be a problem if the bar and chain are appropriate.
Where can I get CS-400 parts?
You can order genuine Echo parts from an authorized Echo dealer.
Instructions on ordering parts are in the Use and Care Manual that comes with the chainsaw.
Other spots to look for CS400 parts:
Are there any CS-400 problems?
While this is a subjective problem, the Echo CS-400 chainsaw has some concerns listed in the cons section of the reviews.
The major complaint is that the saw isn't powerful enough for what they wanted it to do – that's not a problem inherent with the CS-400, but rather a case of users choosing the wrong chainsaw.
Alternative Chainsaws
Here are 3 of our favorite alternatives to the CS400, but ECHO is also well known for their top handle chainsaws.
1. Echo 30cc Gas Chainsaw (here on Amazon)
Echo has a 30.5cc gas chainsaw with a 14-inch bar.
Its engine is 2 stroke and the chainsaw has a gas tank capacity of 8.5 ounces. The overall weight is 6.42 lbs. This chainsaw is ideal for smaller cutting jobs, including cutting wood for a fireplace or wood stove. It has less power than the Echo CS-400.
The ECHO CS-2511 T is another great lightweight chainsaw.
2. Husqvarna 435e II Gas Chainsaw (here on Amazon)
This machine weighs 9.2 lbs and provides 2.2 horsepower.
It is a nice 'split the difference between the Echo CS400 and the chainsaw above.
3. Husqvarna 460 Rancher Chainsaw (here on Amazon)
For those looking for a larger model, Husqvarna has the 24-inch 460 Rancher Gas Chainsaw.
This chainsaw is more powerful than the CS-400. If you have an extremely large job that includes logs greater than 20", the 460 Rancher is the best way to go.
Husqvarna 460 Rancher review here.
Is The ECHO CS-400 Good?
Whether you intend to use the 40.2cc Echo CS-400 chainsaw to address a fallen tree or for more regular cutting work, it is hard to find a more dependable chainsaw with as many features for a lower price.
Most users have been exceptionally satisfied with the CS-400, repeatedly noting its easy start-up, irrespective of their past experiences with other brands.
Many users have found the chainsaw lightweight and well-suited for both small home tasks and larger yard jobs. Users appreciate the durable quality, associating it with the brand's reputation.
The chainsaw also seems to offer value for its price, with some even using it under challenging conditions and still receiving optimal results. Additionally, longevity seems to be a standout trait, with some chainsaws running smoothly even after several years.
Pros:
Easy to Start: Many users mentioned it starts up effortlessly, often on the first or second pull.
Lightweight: Multiple reviewers commented on its lightweight, making it easy to handle.
Durable & Long-lasting: A few reviews highlight the chainsaw's lasting power, working efficiently even years after purchase.
Value for Money: Some users felt the chainsaw offers great quality for its price.
Powerful: Despite its lightweight nature, it's powerful enough for larger tasks.
Easy Maintenance: Features like the easily accessible air filter were commended.
Good Brand Reputation: ECHO is frequently associated with quality and reliability.
Versatile: Suitable for a range of tasks, from household to more intensive yard jobs.
For more, find out who makes ECHO chainsaws!