The Stihl 036 is a powerful 61.5 cc 4.4 hp chainsaw that was produced between 1991 and 2002.
It can be run with a 16″ – 28″ bar, weighs only 12.5 lbs, and is excellent for use as an all-day firewood chainsaw, or for dropping mid-sized trees.
The 036 is a professional-grade Stihl chainsaw, so it's built with better materials (such as magnesium cases) and materials and can be expected to last for decades if treated right.
036 parts are not overly difficult to find, and the saw is well respected in the Stihl chainsaw community.
Stihl 036 Chainsaw
Stihl 036

Produced 1991 - 2002
61.5 cc, 4.4 hp, 16 - 28" bar
12.5 lbs

View On EBAYView On HL Supply

Stihl MS360

Produced 2002 - 2005
61.5 cc, 4.4 hp, 16 - 21" bar
12.5 lbs

View On EBAYView On Amazon

Stihl MS361

Produced 2004 - 2010
59 cc, 4.4 hp, 16 - 25" bar
12.3 lbs

View On EBAYView On Amazon

Stihl MS362

Produced 2010 - current
59 cc, 4.4 hp, 16 - 25" bar
12.3 lbs

View On Northern ToolView On Acme Tools

Husqvarna 460 Rancher

Husqvarna alternative
60 cc, 3.62 hp, 14 - 24" bar
13 lbs

View On AmazonView On Tractor Supply
The first question many have about this saw is what's the difference between the Stihl 036 and the Stihl 036 Pro – along with the other variations.
The saw was produced over a period of 11 or so years, so it did go through some changes over this period.
The base model and the PRO are basically the same saw but the PRO has a decompression button and a slightly different air filter.
Some say the Pro has an adjustable oiler, whereas the base model does not, but this doesn't appear to be true unless the very earliest 036s were sold without an adjustable oiler.
Most (if not all) of the base model 036s have adjustable oilers as well.
There is also a Stihl 036 QS.
The QS designates the additional Quick Stop Brake feature which is an additional chain brake system stopping the chain within one second of taking your hand off the rear trigger.
Parts associated with the Quick Stop version are difficult to find.
Stihl 036 Specs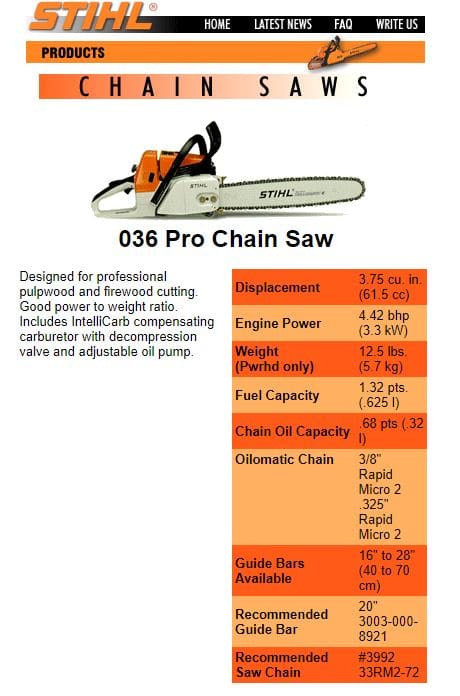 While most of the 036 specs have been shared already, here they are summarized.
The image above comes from the Stihl website in 2001 when the 036 was still for sale new.
Stihl 036 specs:
61.5 cc
3.75 cu in displacement
4.42 bhp
3.3 kW of power
12.5 lbs or 5.7 kgs
16 – 28″ bar
20″ recommended bar size
48 mm/1.89″ cylinder bore
34 mm/1.34″ piston stroke
Bosch WSR6F, NGK BPMR7A, Champion RCJ7Y spark plugs
ZAMA C3A-S39-B series carb
Nylon mesh air filter
And as already stated, the 036 has a magnesium casing.
Stihl 036 Review
Check out the video review of the Stihl 036 Pro above.
You'll see and hear the saw in action plus hear the review of someone (Outdoors With The Morgans) who has been using it for over 25 years to cut thousands of trees.
It's a great saw for firewood – much more powerful than other old Stihls like the 018 or the 026. Especially if you're cutting thinner width trees and logs, the 036 really rips through them quickly.
Pros:
Pro-grade saw extra durable and reliable
Powerful and can be used extensively
Most parts can be found easily
Cons:
Some parts difficult to find
A bit heavier than the modern replacements
Stihl 036 Price And Parts
You can pick up the 036 for anywhere between $20 and around $300.
Once it starts getting towards that top end of the price people would rather spend the money on an MS360 or MS361.
The MS362 which is the current 036 equivalent retails for between $800 – $900.
The price depends on the condition, but there are a lot of tidy and barely used 036s out there that are in excellent condition.
See current prices and parts:
Stihl 036
The 036 is a very popular saw that should be snapped up quickly if you see it listed in good condition for the right price.
The PRO model was originally described as:
Designed for professional pulpwood and firewood cutting. Good power to weight ratio. Includes IntelliCarb compensating carburetor with decompression valve and adjustable oil pump.
And that really says it all.
Reviewers all love the saw for use with firewood and dropping mid-sized trees, so you're unlikely to go wrong with it.
Find out more about other old Stihl chainsaws and start collecting today!