What is the best chainsaw case?
To be honest, not everyone needs a chainsaw box or carry case, but for those who like everything to be well organized and stored, there are some benefits.
Personally, none of my chainsaws are in cases, but that could just be because I've been too lazy and cheap to get one. They are, of course, covered with a scabbard, at least!
Chainsaw cases can help keep your saw safer from damage, prevent them from leaking oil on your workshop floor and make them easier to carry around with all your other bits and pieces.
Here are the most popular and well-reviewed chainsaw cases on the market, and where you can compare prices to get the best deal.
Chainsaw Box And Case Reviews
Chainsaw bags act as reliable storage for your equipment, protecting it from unnecessary damage, though there are plenty of other chainsaw storage options.
They are also helpful in protecting you, your car, and your furniture from the sharp chains. They also make it easier for you to carry your chainsaw and any other tools you might need.
Here are some general pros and cons of chainsaw-carrying cases.
Pros:
Help protects against injury from chains
Protects against water damage
Allows for safer storage of the chainsaw
Easier to transport
Allows you to carry multiple items in the one case
Prevents oil damage to surfaces if your saw leaks
Can look tidier in the workshop
Cons:
They can add unwanted bulk to your chainsaw
Considered an unnecessary expense by many
Takes longer to get the saw out and going (by about 20 seconds!)
Best Chainsaw Cases
When shopping for a good chainsaw box or case, it's always good to explore the different options available (or when you're shopping for anything, right?!).
These 7 chainsaw carrying cases are the top-rated options available.
Generally speaking, they could all be considered universal chainsaw cases, as they'll fit most brands of chainsaw.
The main limitation and thing to check is the length of the scabbard – most go up to 20 inches, but some are shorter.
Another thing to note is that they are mostly made for gas chainsaws rather than electric or cordless chainsaws.
1. STIHL Woodsman Chainsaw Carrying Case – Best For Stihl
VIEW ON AMAZON →
This STIHL chainsaw case is multipurpose as it has a unique removable bar scabbard with an in-built tools holder as well.
One of its best features is the hard durable plastic with a secure latch. It also has some innovative features such as a wrench and file holders, along with leverless latches.
It's the best Stihl chainsaw carry case and is suitable for holding the MS170 to MS460m with a max bar length of 20-inch.
You can see find out more about models in our post on the Stihl chainsaw production years.
If you have something like the MS440 saw or a wrap-handle saw, you'll have to choose another case as this one is not compatible.
The case weighs 6.5 pounds and has package dimensions of 21.5 x 14 x 13.5 inches. However, it has little room and doesn't have a separate chain holder.
That said, it's one of the highest-priced options on the list, and one might expect it to have more features. However, it is Stihl brand so we can expect it to be well made.
The case holds well to tough work and should last many years making it a good investment.
Pros:
The plastic material is very durable
It's lightweight
Has a solid latch
Cons:
Has limited space for accessories
A little overpriced
---
2. Husqvarna Chainsaw Case – Best For Husky Saws
This Husqvarna chainsaw case is a heavy-duty option that can protect your saw when not in use and during transport.
It's double-walled and has a padlock tab for extra security, making it the best Husqvarna chainsaw box.
The case fits almost all Husqvarna models, including the 372XP and 576XP.
In addition, it has a spacious compartment, making it good for also carrying a bunch of other accessories.
The Husqvarna case comes with a removable 18-20-inch scabbard – so it's one of the large chainsaw cases out there.
The case weighs 9 pounds and has package dimensions 20.5 x 13.25 inches. It has an attractive design, but it looks slightly flimsy, and there are reports that the hinges break over time.
The case has a double wall and comes with a padlock tab to lock your saw and accessories. It's also made of durable material
Pros:
It has an attractive design
Room for a few chainsaw accessories
Lightweight
Gives easy access to the saw
Cons:
The hinges are weak
Can be difficult to assemble
---
3. Chainsaw Carry Bag – Universal Chainsaw Case
VIEW ON AMAZON →
This universal chainsaw carrying bag is made of thickened oxford fabric that's durable and waterproof.
With this feature, it is the best universal chainsaw case suitable for Stihl and Husqvarna 12"/14"/16" chainsaws.
In addition, it can accommodate most chainsaws with 16-inch bars, from a Makita chainsaw to a Dewalt Chainsaw.
The bag features a 600D lined waterproof polyester with a zipper, small straps, and an adjustable carry strap.
The carry strap makes this soft chainsaw bag one of the easiest to carry as it eases the pressure on your hand. It is very light, measures 3.15 x 12.60 x 3.94 inches, and is one of the cheapest options.
Pros:
The material is durable and waterproof
It's easy to clean and dry
Very affordable
Lightweight
Cons:
The zipper is low quality
Oil may leak through bag
---
4. TriLink Chainsaw Case – Great Functionality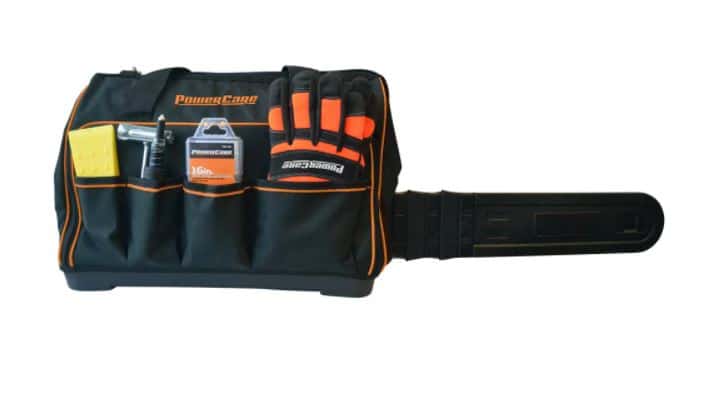 VIEW ON HOME DEPOT →
The TriLink CSB001TL2 chainsaw case from Home Depot perfectly fits most 20-inch chainsaws.
The case is spacious and, for example, if you have an electric chainsaw, it has enough room for two spare batteries.
It is durable and meets all OEM specifications.
The bottom part of the bag is made of hard plastic to collect any oil leaks from your equipment. With these features, it qualifies as the most functional chainsaw carry bag.
It features multiple storage pockets for items like chainsaw gloves and comes with a 14'' to 20'' bar scabbard. It also has two handles and a shoulder strap to make it easy for you to carry your chainsaw.
The case weighs 3.08 pounds and measures 2.36 x 20.08 x 12.60 inches.
Pros:
Very durable
Lightweight
Affordable
Carries extra tools and accessories
Cons:
Not suitable for all chainsaws
---
5. Jonsered Chain Saw Box – Best Value
VIEW ON AMAZON →
The Jonsered black chainsaw carrying case is made of high-density polyethylene double-wall material, making it one of the hardest cases.
It has plenty of room for holding your other accessories such as spark plug, filing equipment, scrench, 2-stroke oil bar, and chain oil. It also features a leash system to fit the chainsaw securely inside.
It is designed to fit most Jonsered chainsaws of up to 20 inches, however, you can see in the picture they've chosen to feature a Stihl saw!
You'll be fine using this as a universal chainsaw box with the likes of the Poulan Pro PP5020AV or the Ryobi chainsaw range.
The case comes with a removable 18" to 20" scabbard. It weighs 9.68 pounds and measures 24 x 20.8 x 4.5 inches. The case is sturdy and is said to be very easy to assemble.
Pros:
Durable
Lightweight
Affordable
Easy to assemble
Cons:
Some have been defective
Won't fill all Josered chainsaws
---
6. ECHO Chainsaw Case – Best Small Case
VIEW ON AMAZON →
This ECHO chainsaw case is made of durable double-walled plastic.
The case is spacious enough to hold your saw and some other items like extra chains, bar oil, etc.
In addition, it has secure latches and a convenient carrying handle, making it the best ECHO chainsaw case and the easiest to carry.
It will fit saws such as the Echo CS-2511T or Echo CS-310.
It's suitable for homeowners and arborists alike and comes with a removable 18-inch scabbard. It weighs 4.84 pounds and measures 20.88 x 13.88 x 12.5 inches.
In addition to being lightweight, this carrying case comes with a handle that makes it easy to carry your chainsaw from the vehicle to the cutting site.
Pros:
Cost-friendly
Durable
Spacious enough to fit your chainsaw and necessary accessories
Cons:
Not a large chainsaw case
---
7. Husqvarna Chainsaw Box – Best Husqvarna Alternative
If you're looking for an alternative Husky case, this option is another model from Husqvarna that is worth eyeballing.
It's constructed of a durable double-plastic wall to provide extra protection to your chainsaw, similar to many other cases. However, it's got the Husqvarna brand logo on it, of course!
While these features also make it a sturdy chainsaw case, it's also a little more expensive than the previous Husqvarna case. It is suitable for carrying most Husqvarna chainsaws, including some XP and Rancher chainsaws.
It weighs 6.7 pounds and measures 23 x 14.25 x 12 inches.
Pros:
Robust housing case
Lightweight
Comes with a secure lock
Cons:
A little expensive
The model is not universal
---
DIY Chainsaw Case
You can make a cheap DIY Chainsaw Box out of a toolbox if you can't find one that perfectly fits your saw or if you want to save some money.
The video above is helpful, but all you need is:
Simply using a chainsaw scabbard is a good alternative to a case, box, or bag. Most chainsaws are sold with them, but you can pick them up cheaply online if yours didn't or has been lost or damaged.
You've just got to make sure it's a good fit for both the length and width of your chainsaw bar. Measure your chainsaw bar before buying.
A well-fitting scabbard also protects your chainsaw from dust and rust. Alternatively, you can opt to hang it with a chainsaw wall hanger. Just like the sheath, the wall hanger is affordable and is a safe way to store your chainsaw.
The Best Chainsaw Storage Box
If you believe a chainsaw box is best for storing your chainsaw, try to get the brand that matches your saw, unless one of these options stands out to you.
The Stihl Woodsman Case has a lot of great features and is available at an affordable price.
The Husqvarna Powerbox Case takes the second position as it can accommodate several chainsaw models, is durable, and has an attractive design.
When making a choice, make sure you consider essential features such as durability, weight, material, and accessory storage requirements. Some people will prefer a soft chainsaw case, while others will go for a hard box.
Choosing a suitable case can not only protect you from chainsaw injuries but can also extend the life of your equipment.