A while back, Stihl made a pretty stunning announcement that didn't get the attention it deserved: they'd released the CM 014 C-E, the world's first petrol or gas-powered coffee machine!
They shared:
STIHL has always been at the forefront of innovation for arborists – we pride ourselves on producing machines that enable you to get the job done safely and efficiently. And our latest product launch goes one step further, delivering the ultimate fuel for your day, with our new petrol-powered, portable coffee machine, the CM 014 C-E.

Early mornings are part of the job for many tree workers, but you don't have to miss out on your caffeine fix with the CM 014 C-E, which is ready to use wherever you are, whatever time you start. Combined with our new MotoMocha coffee beans, you really will have a powerful start to the day.
The innovation here is that you no longer need an electrical outlet to plug in your coffee machine. No, bring your gas-powered Stihl coffee machine and forget all about electrical power.
Take a good hard look at this beauty.
Stihl CM014 Gas Coffee Machine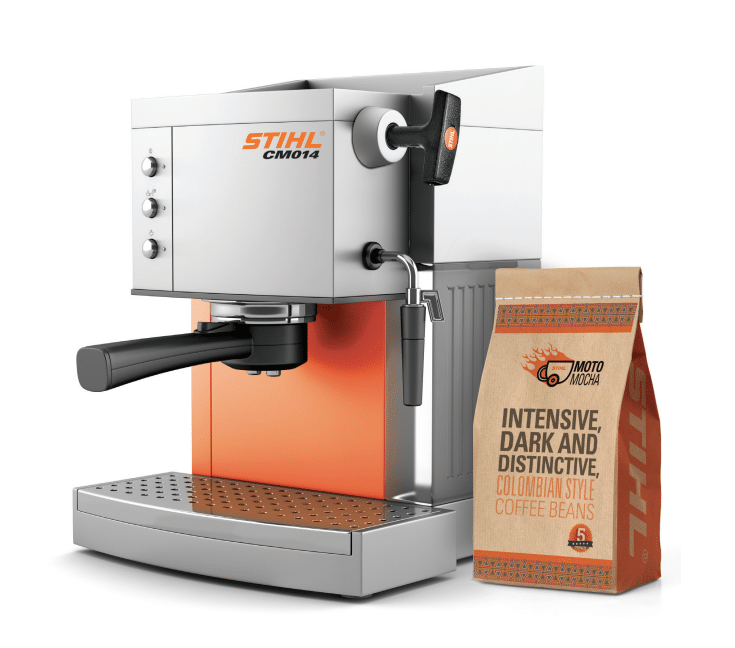 Stihl released the CM 014 petrol coffee machine with coffee bean supplier, Moto Mocha, so you can buy both the machine and the perfect beans together.
Features and advantages of the Stihl CM014 include:
Uses Boilomatic technology, which ensures that the water is heated to the perfect temperature to deliver a superior brew.
No need for an electrical source, you and your team can enjoy freshly-brewed coffee at any time, in under two minutes.
Controls are intuitive, and the tool-free filler caps are easy to use.
Heats the water to between 91 and 95°C (195.8 – 203°F), the ideal temperature to dissolve the coffee.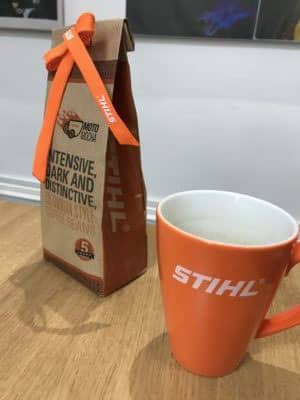 Water hotter than 95°C/203°F can extract compounds from the coffee that produce a bitter and unpleasant taste, but the in-built Boilomatic gauge automatically prevents the water from reaching temperatures of more than 95°C.
And perhaps one of the most stand-out features of this machine, besides running on gas, of course, is that it has the comfort feature Ergo Start. Those who were paying attention would have seen the C-E at the end of the model number, and yes, this does indeed designate Ergo Start technology.
Paul Hicks, STIHL's Product and Marketing Manager, shared:
The CM 014 C-E is the perfect machine to utilise STIHL Ergo Start technology – it means it is easy to start, even on cold mornings in the forest.
This is really one of Stihl's most innovative machines yet and I'd personally say it rivals the Stihl Manscaper Shave Kit and the more recent MSA 22 AF dual-bar Chainsaw.
We've got an exciting new product to announce today – the brand new CM 014 C-E petrol-powered coffee machine for the ultimate portable caffeine hit! Find out more on our blog. https://t.co/Bi2eG2EjpV pic.twitter.com/Uyp7zHu8LC

— STIHL GB (@STIHL_GB) April 1, 2018

Where can you buy the gas-powered Stihl Coffee Machine released on April 1st, 2018…?
Well, unfortunately (or fortunately?), it doesn't exist. As you'll have guessed, it was yet another one of Stihl's April Fool's pranks. Along with the Manscaper Set, Dual-Bar Chainsaw, and the Stihl MS991 XXL Chainsaw.
Comments about the CM 014 on the socials and forums said:
See that's not even funny, just makes me annoyed that it doesn't actually exist, much like the man groomer kit!!
You can always buy the Makita one, and that does exist! (He's not kidding, see it on Amazon here!)
I want one.
You can read more about this fictional Stihl product over at the Stihl UK blog here. And for another unbelievable product that is real, you've got to learn about the Stihl Jetsaw – a jet engine-powered chainsaw.