Is the Stihl 070 Chainsaw still being manufactured?
While many would immediately say 'NO!', there is plenty of evidence that it is… and no, not just clone saws – genuine, authentic, real-life 070s.
My answer is that yes, the Stihl 070 is still being manufactured and can be bought in many countries around the world.
Here is the evidence – let us know your thoughts in the comment section at the end!
UPDATE: The 070 is definitely still being sold new… there are current listings on many sites. Links under "evidence" point 4 and 5 (see table of contents or scroll down).
Is The Stihl 070 Still Being Made?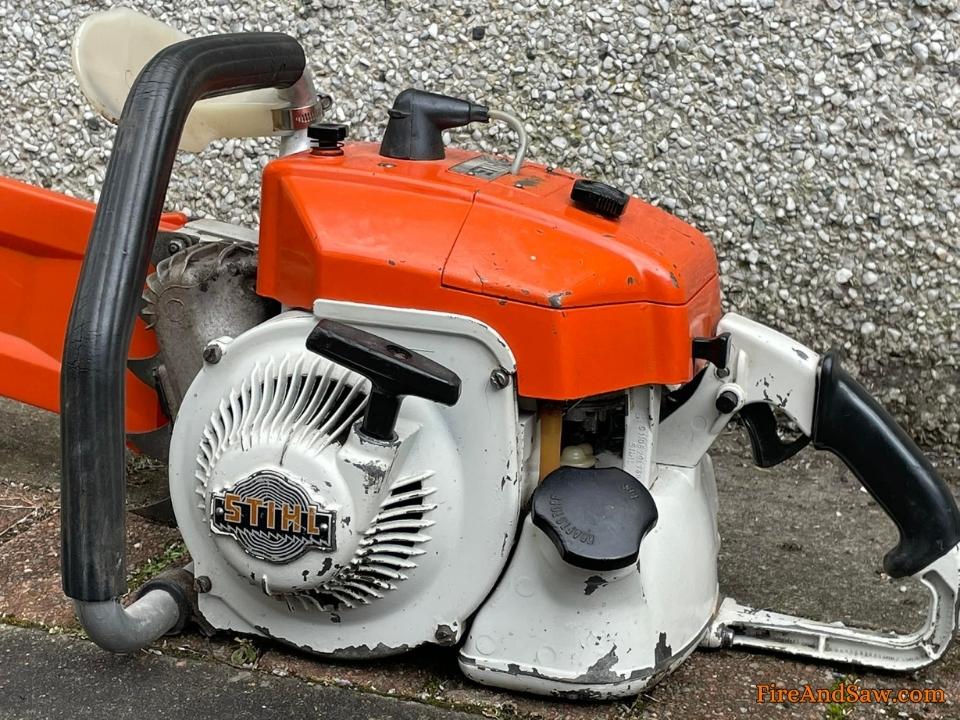 This is an early Stihl 070 that I recently wrote a post on.
The new 070s which are either still being made, or were being made not so long ago, are built the same. The new ones have the modern Stihl logo, and look a bit tidier cosmetically, but they're basically an identical build.
Here are three examples of why I think this saw has still been in production until recently.
1. Brand New 070 Example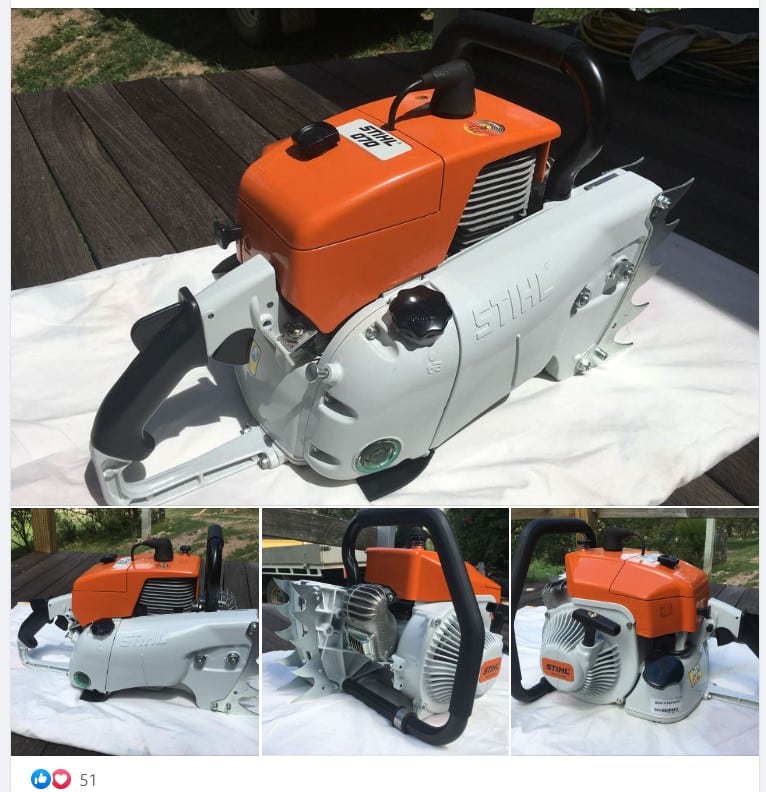 First up, there is this post from Adam in the Stihl Contra, Lightning, 070, 090, 1106, and 1109 Chainsaw Group.
In 2019, he shared the pictures above of a new 070 and shared the following:
Hello Gentlemen!

Adam here, from Australia.

I'm a long time user/fan of Stihl saws.

One of my favourites is an 090G, which are hard to come by in Australia.

I'm very excited about my brand new, authentic, German made, 070.

See photos!

I've finally put my cash where my mouth is, and proved to myself that these saws are still being made in Germany, and being exported to a few less developed nations around the world.

I remember less than a decade ago, the 090 and 070 still being listed on the Australian Stihl website.

I beleive that at that time, one couldn't buy these saws in this country, due to these models not satisfying our myriad regulations.

I know of one fellow who saw, with his own eyes, these saws being produced on an assembly line at the Stihl factory in Waiblingen, Germany in 2007.

Considering the abundance of new components available, it all made sense…..

Of course they're still making this saw; it's the worlds most reliable and rugged saw.

It has no peer!

Tracking one down was hard; there's only 3 countries, to my knowledge, that import them….. and I phoned all of them!

Of course due to Stihl's selling policies, one cannot mail order a saw….. it must be bought and registered in store, in that country!

Luckily, my wife has a friend in this particular country, who was happy to buy the saw, register it in his own name, and arrange sea-freight to Australia.

She started on the second pull, and runs with a nice steady idle.

Every part of this saw has the Stihl hallmarks, product numbers, etc.

Lots of magnesium alloy!

I've already a couple of mates who have their name down for one.

I hope you enjoy the photos!

– Adam
It's likely that the country of purchase was Thailand, the Philippines, or Indonesia given their close proximity to Australia and further anecdotal evidence that the saw was and is still for sale there.
Surprisingly, there weren't any comments on the post, but it did get plenty of likes.
The saw appears to be genuine Stihl. It looks very well made and has the 'made in Germany' tag and barcode, though he doesn't share the serial number.
Here's another example…
2. New 070 Example
This post was shared by Jobert in the Stihl Chainsaw Fans FB Group.
He is based in the Philippines and said:
Who wants a brand spanking new Stihl 070 powerhead?

Genuine from a registered Stihl dealer.
This is a much larger group of over 100,000 members, so it received a lot more attention. The other difference is that this guy was looking to sell some new 070s.
If you look at the pictures, it appears identical to the previous chainsaw, right down to what appears to be a Stihl dealer sticker on top. He shares in the comments that the saw costs 65k Php (Philippine Peso) to the dealer – approx. US$1130.
There are a few comments from those who think this saw is fake.
Sam, a 'factory trained Stihl Master Wrench Platinum technician' said:
They never produced that saw in Germany while barcodes were in existence. The current 070 production line is in Brazil.

This definitely should be removed by admins as a scam and the author should be kicked.
Jobert replied:
You maybe right about productions in Brazil of certain parts but if the OEM label says its made in Germany then that's that.

There's your Stihl original and anti-counterfeit sticker at the top of the right screw of the top cover. You seem to know too many clones and can't tell the real ones.

The only saw we have here that's made in Brazil are the MS382 models. At least that's what's written on the tag, who knows which part comes from where.
In another comment, Kevin said:
I would have thought it was made in "WEST GERMANY".

The 070 came out in 1968 and the Berlin Wall came down on 9 November 1989. Check the molding marks for the date of manufacture… to be made in "GERMANY" it would be very late 1989 onwards.
The reason for this confusion is that the production years for the 070 are usually listed as 1959 – 1968. However, I think these are the dates for the English-speaking markets and Europe.
The OP wasn't claiming the saw he posted was an original saw from that period, but rather a brand new 070.
Kevin possibly didn't realize it was still being made for other markets that don't have as stringent environmental and safety standards.
Jobert responded:
This is not an old stock unit. It's totally new production units.

Who knows if all parts are from Germany, all I know is that it's tagged to be made in Germany and certified genuine.
Another doubtful comment came from Neil, who said:
This is a Chinese knock off.

I've heard mixed revues on these saws. I would question how long one will live attached to a mill set up.
And the ensuing conversation makes it sound like he thought it was a Farmertec clone chainsaw – which it's not.
On the other hand, many of the commenters believe the saw to be authentic.
Justin said:
There is no doubt that this saw is a Stihl and definitely not a clone or scam.

I like how many people don't read comments first, and yes they still build all of these saws from factory for different areas due to emissions restrictions they ain't sold in the states.

And Neil I also worked in a saw shop 30 minutes north of you and every Stihl part in the 1122 series will bolt on a Chinese clone. Especially blue ones.
And Ian said:
Plenty of new seven twenties in Africa Liberia.
Our post on the Stihl 720 is worth checking out.
The 720 has all the same specs as the 070 but with a few minor adjustments. It's still listed for sale on many Stihl sites around the world today.
3. 070s On Youtube
You will often find new videos like this one, posted in October 2022, going up on YouTube.
It's a brand new 'Made in Germany' Stihl 070 making its first cuts bringing down a "Huge Trembesi Tree" in Indonesia.
Interestingly it has the same sticker on top.
In the description, the creator states "This chainsaw Stihl 070 is new old stock."
However, I suspect it's really just 'new stock' as it doesn't have 'Made in West Germany' and it has all the hallmarks of a brand new 070.
We don't learn much more in the comment section, but Christopher, who is based in England, asks:
No 'Safety brake' – unusual – for what looks like a 'brand new' chain-saw. Why is he holding the 'plug spanner'? – Or is this an 'old' one that has been reconditioned?
I think he assumes safety standards are the same around the world or something, and that the saw would need to have a chain brake to be new, however, that's not the case.
The OP, Is_Woko, replied:
This is old stock but new machine, the plug spanner for settings carburator.
But, again, I think it's new, new, new.
What do you think?
4. Fake Vs Original 070
As we outlined in our post on how to tell a fake 070 from a real one, this Stihl importer into the Philippines made this post about imitation saws.
In the 2014 post, they shared pictures of a new 070 and contrasted it with a fake 070. It's easy to see the difference between the two, but also exciting to see a recently manufactured 070.
The post had hundreds of comments, not from people discussing the clone saw, but asking 'Can I get an 070?'. To which they replied, yes!
5. Stihl Phillippines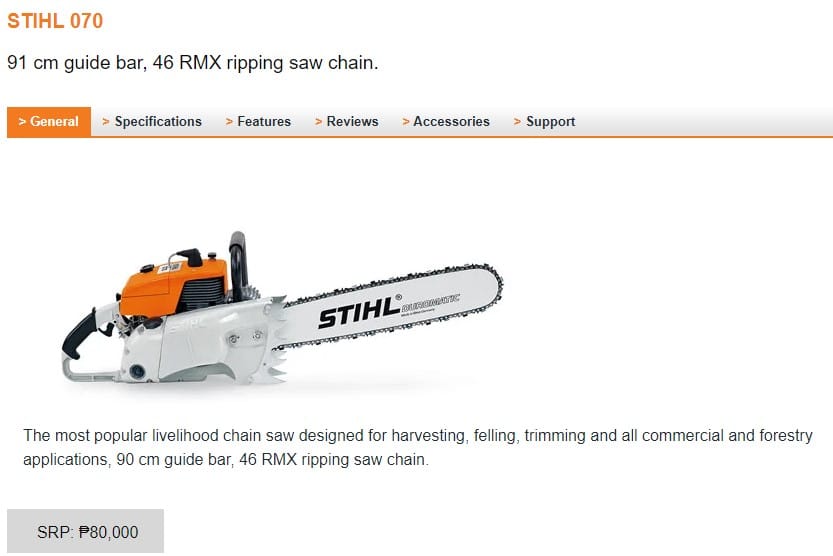 And lastly, the 070 – sometimes listed as the MS070 – is plainly listed for sale on many Stihl or Stihl distributor sites.
The screenshot above of the 070 for sale today comes from the DMI.com listing. Check it out yourself. It looks and feels legit.
This particular company states on its About page:
Deutsche Motorgeräte Inc. traces its beginnings back to 1997 when it was designated as the exclusive distributor of STIHL products for the Philippines. As the 3rd generation STIHL distributor in the country, our motivation runs parallel to what STIHL has been doing for decades: Always finding a solution… Making work easier for people.
But there are numerous other sites in markets like the Philippines where the 070 can be purchased today.
NEW Stihl 070
So those examples are some of the most convincing evidence I've found that you can still buy a new Stihl 070, and there are plenty more examples out there.
While Stihl is very quiet about these saws, it appears as though they are still being made in Germany, though parts are possibly coming from other locations like Brazil.
Personally, I'm convinced they're still making them. Or, at least, they were until very recently.
I'd love to hear your thoughts down below, and let me know what other vintage saws you would love Stihl to be secretly manufacturing. I wouldn't mind a new 015 or 056!