The Husqvarna 50 Rancher was Husqvarna's first "all-around saw" (we're not talking about the Husqvarna 50 dirt bike here!).
It's a 49cc saw that was released in 1982 and designed for light tasks like pruning or limbing, as well as more demanding jobs like bucking larger logs for firewood.
Because it's an old saw, it's lacking some of the comfort features of the more modern saws, but if you see one listed for sale within your budget, it's worth picking up.
The saw pictured throughout this post belongs to my dad's friend, Wayne. He was using it to break down a gum tree that recently fell in the wind on my dad's property.
Wayne loves the saw – he's had it from new and "has never let him down." He said he uses it for everything and that it's an extremely versatile saw.
The Husqvarna 50 Rancher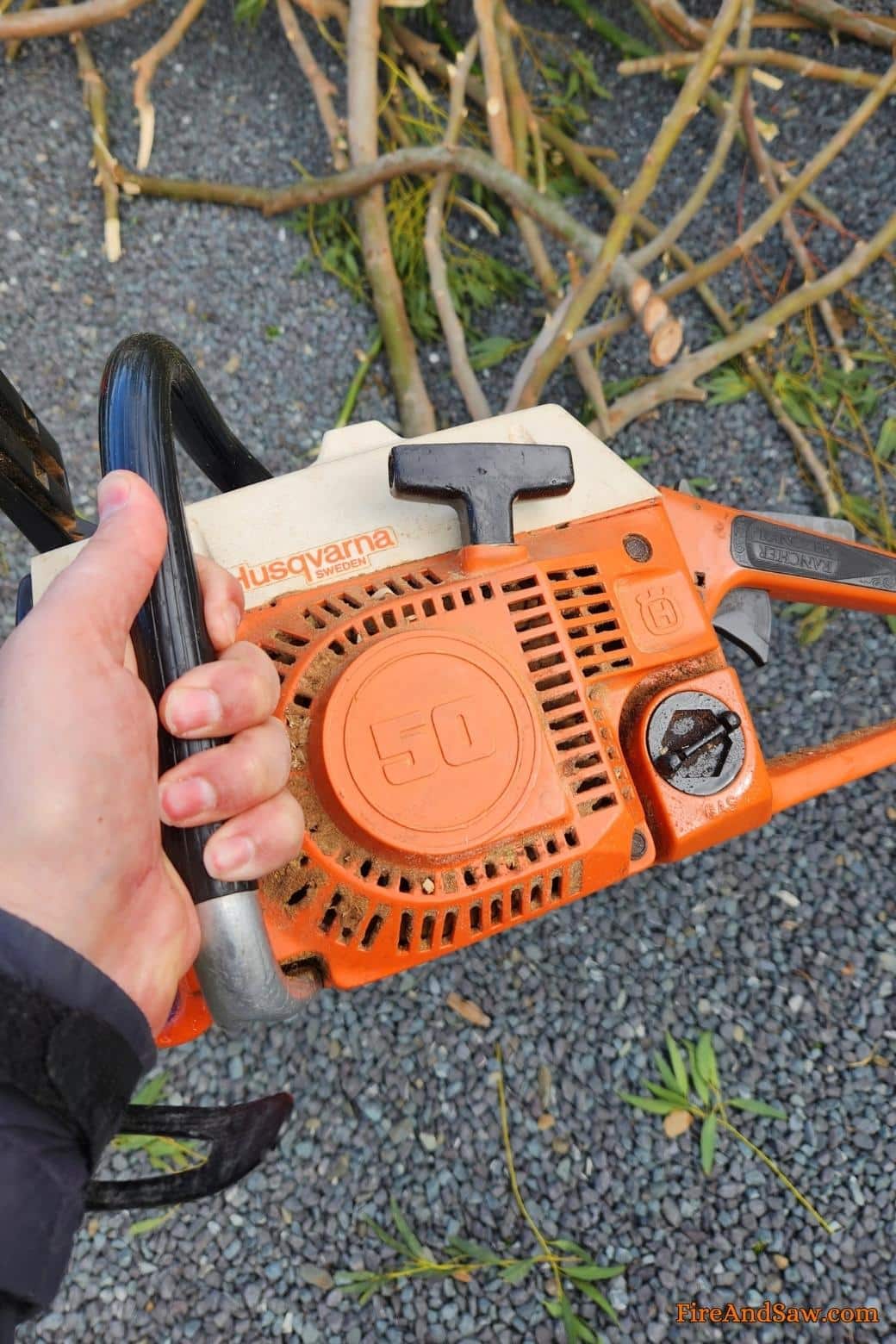 The Husqvarna 50 Rancher is an important part of Husqvarna's history.
Here's what they say about the saw:
Landowners needed a simple, robust saw that was extremely reliable.

Husqvarna answered the call with the 50 Rancher. The first Husqvarna saw built for all-round use, it became immensely popular with farmers and forest owners in the United States.

The name "Rancher" became so well-known that many customers walked into the store and asked to buy "a Rancher saw," without knowing it was a Husqvarna they were talking about.

Though it's undergone numerous improvements, the saw remains in production to the present day, now called the 55 Rancher. The Husqvarna 55 Rancher, that is.
There are a number of Rancher chainsaws available now, including the 50cc 450, the 55cc 455, and the 60cc 460 Rancher
I have the 450 and use it all the time – for a 50cc saw it runs really well. I can put it through anything and it doesn't complain.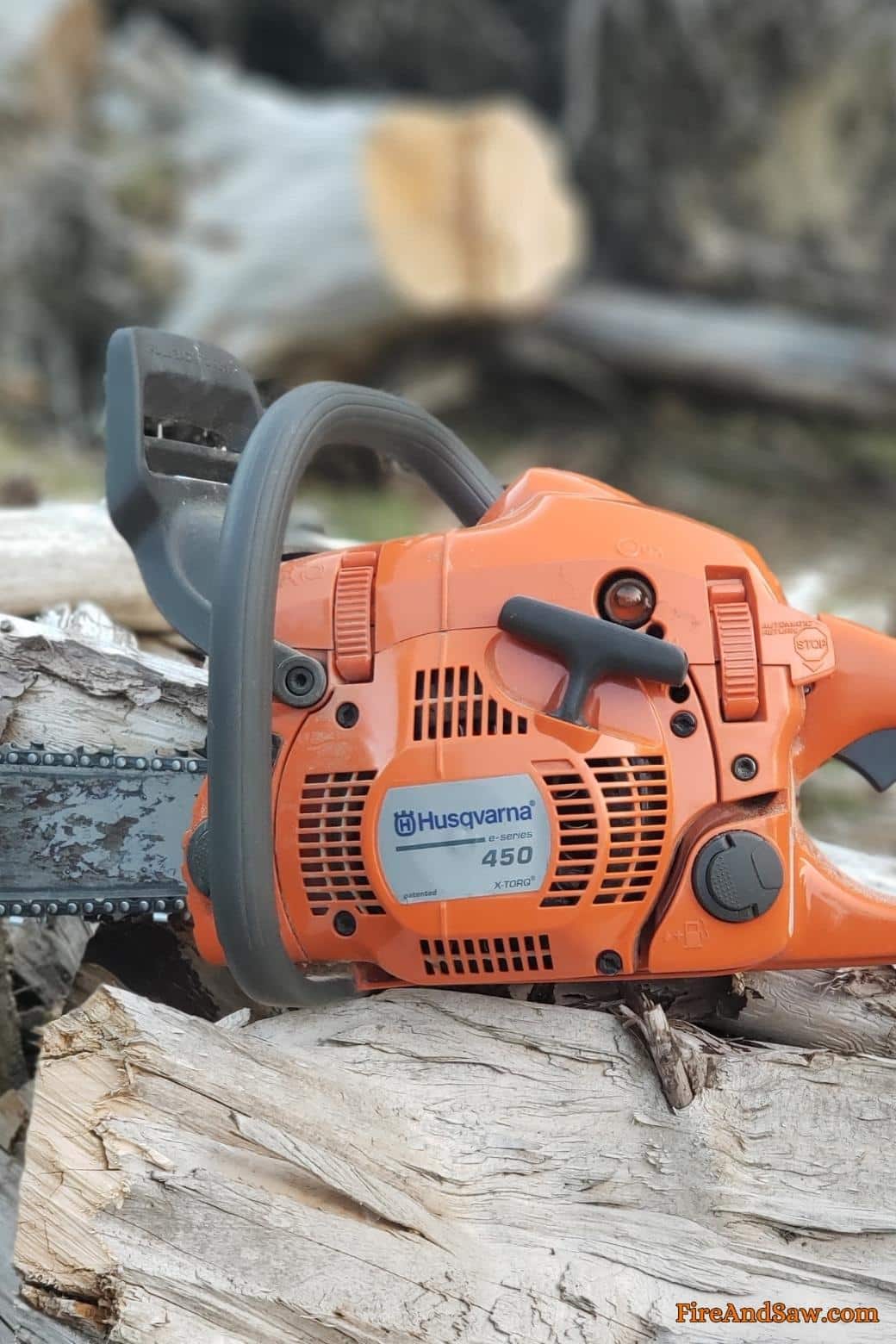 None of these saws are pro saws – the Rancher chainsaws are at the top of the homeowner models before your go pro.
This means they're made a bit cheaper and they are not designed to be used all the time.
They're great for meeting a single home's firewood needs each year, but beyond that, I'd get something more powerful. The Husqvarna 372 or even the old 262XP is a good step up, for example.
The Ranchers are reasonably lightweight, so they're good for older people who are starting to struggle to start chainsaws and use them for any length of time. Also good for those who simply aren't used to using heavy saws and haven't built up the strength!
Husqvarna 50 Versions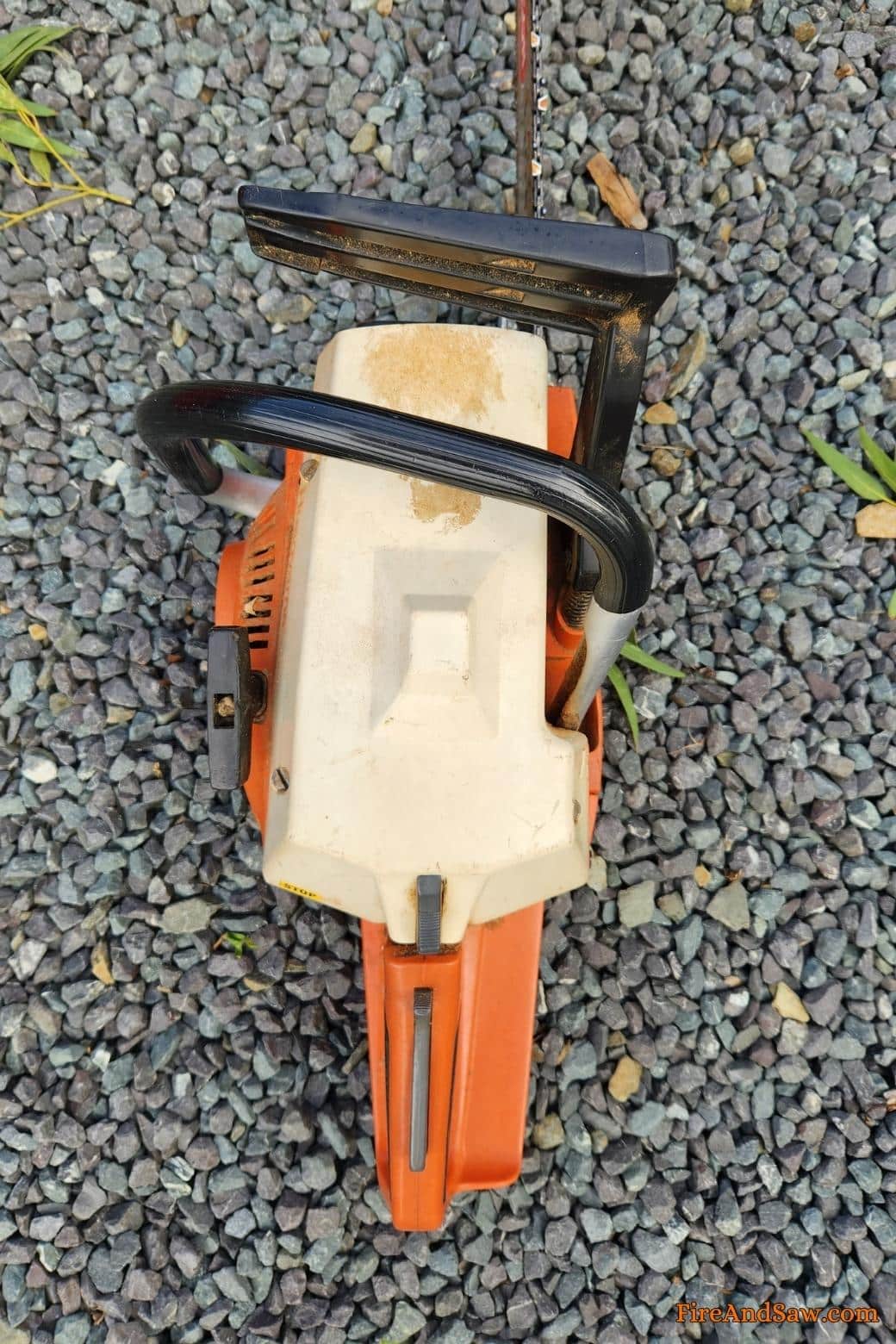 There are actually three different versions of the 50.
They are the:
Husqvarna 50 – released 1985
Husqvarna 50 Rancher – released 1983
Husqvarna 50 Special – released 1989
The 50 and the Rancher are very similar.
Some differences include:
50: 48.7 cc (2.92 cu. in.); 50 Rancher: 49 cc (3.0 cu. in.)
Flywheel coil gap (50:0.3 mm; Rancher: 0.4 mm)
Orange cover on the 50, white top on the Rancher
While the 50 Special has a wider bore (45 mm vs 44 mm) making it a 51 cc with more power. The special also weighs a bit more (13.5 lbs vs 13 lbs), has an inertia-activated chain brake (rather than mechanical), higher RPMs, and a few other differences.
The versions are often easily identified by their different colored top covers.
Here's what one fellow said about the versions and their top cover colors:
The first model 50 came around in the early 80s branded as a 'Rancher' and had a white top cover.

Somewhere around 85-86 they dropped the Rancher and just labeled it as a 50, changed the top cover to grey, and redesigned the chain brake assembly a little.

Then in 87-88, the top cover was changed to black and the series ended in 89 with the 50 Special.
Let us all know more about the cop cover color differences and their meaning in the comment section at the bottom of this article.
Another fan of the Husky 50 said:
More firewood has been murdered by the 50cc size class than probably the other size classes combined. The black top 50s are a very sharp-looking saw.
The Husqvarna 50 shares a lot of parts with the Husqvarna 51 and Husqvarna 55.
Husqvarna 50 Rancher Specs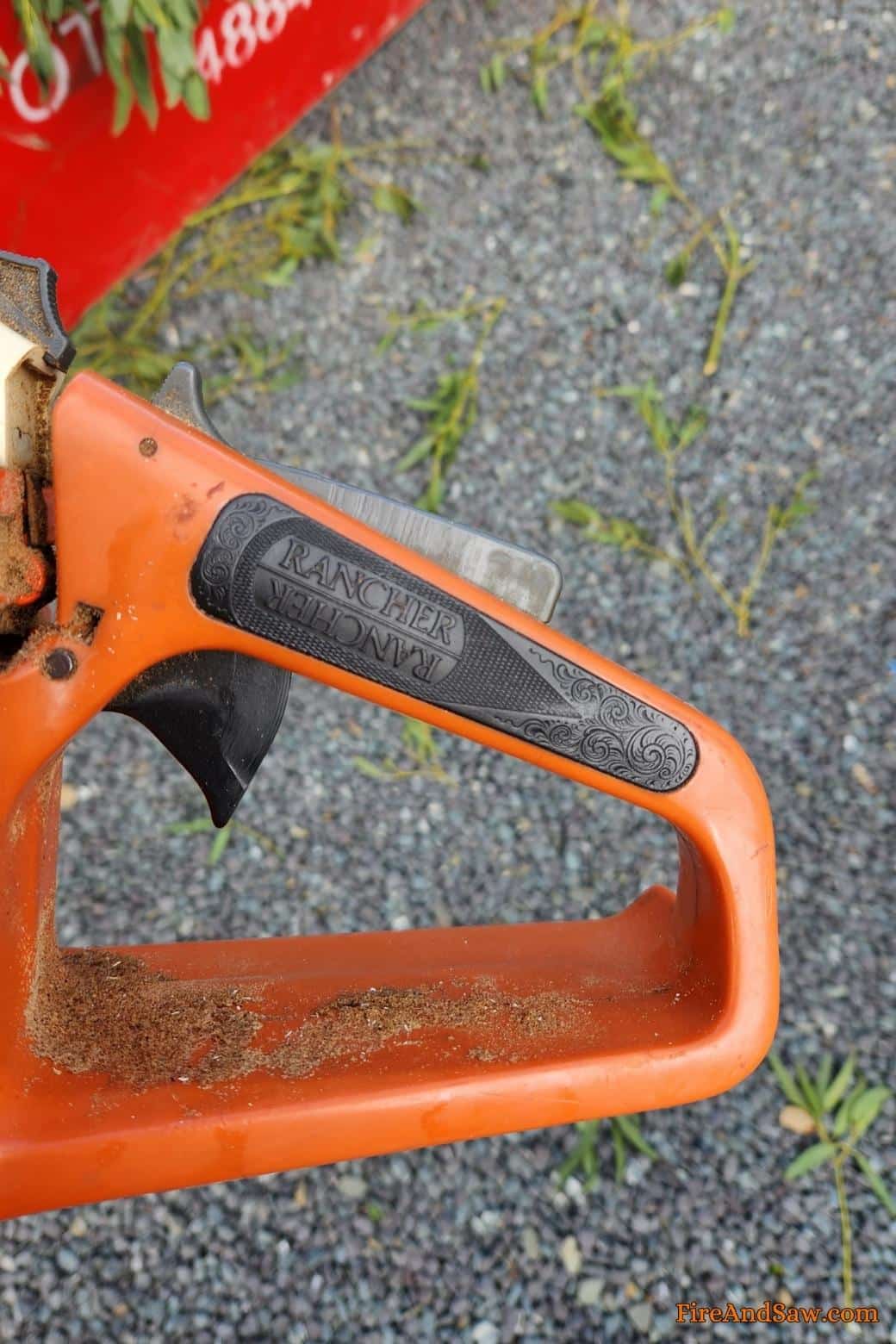 A 15″ bar is perfect for these saws, but anything from 13 – 20 is recommended.
It's a reasonably lightweight saw at 13 lbs, so it's not difficult to wield for a few hours while doing firewood. However, I was also recently having a play with the 80cc Stihl 500i which is only 14 lbs!
Husqvarna 50 Rancher specs:
49 ccs, 3.0 cu. in.
3 hp, 3.3 kW
44 mm bore, 32 mm stroke
12,500 max RPMs, 2,500 idle RPMs
Nylon mesh air filter
Magnesium construction
Anti-vibe handlebar system
Walbro carb
Bosch WS7F or Champion CJ7Y spark plug
And it has an automatic oiler that can be adjusted.
Husqvarna 50 Review
Overall, the Husqvarna 50 is very well reviewed.
Wayne, who owns the saw pictured in this article, is very fond of his model. He's obviously used it a lot, looked after it well, and it's served him for decades.
Another review I saw in a Facebook group said:
It's a good saw. Not high RPMs but great torque – it will pull through anything.

As a mod, I would lightly smooth the exhaust port and probably gasket delete. Open the transfer intake a little bit and leave the intake a little rough to keep that fuel suspended longer.

Do that and this saw will run harder than saws that are a lot bigger.
And some shorter reviews from those who own or have used the saw.
Pros:
I love those classic "white top" Huskys
The 50 is honestly a little beast. They never stop.
Awesome saws. My favorite saws of the 20+ that I own.
Whenever I see a white top Husky at a reasonable price, I scoop it up!
Very good saws… before the EPA and cheap parts started ruining them.
Well worth fixing up, great little saws.
50, 51, and 55 are all great saws you can still get parts from a dealer or HL Supply.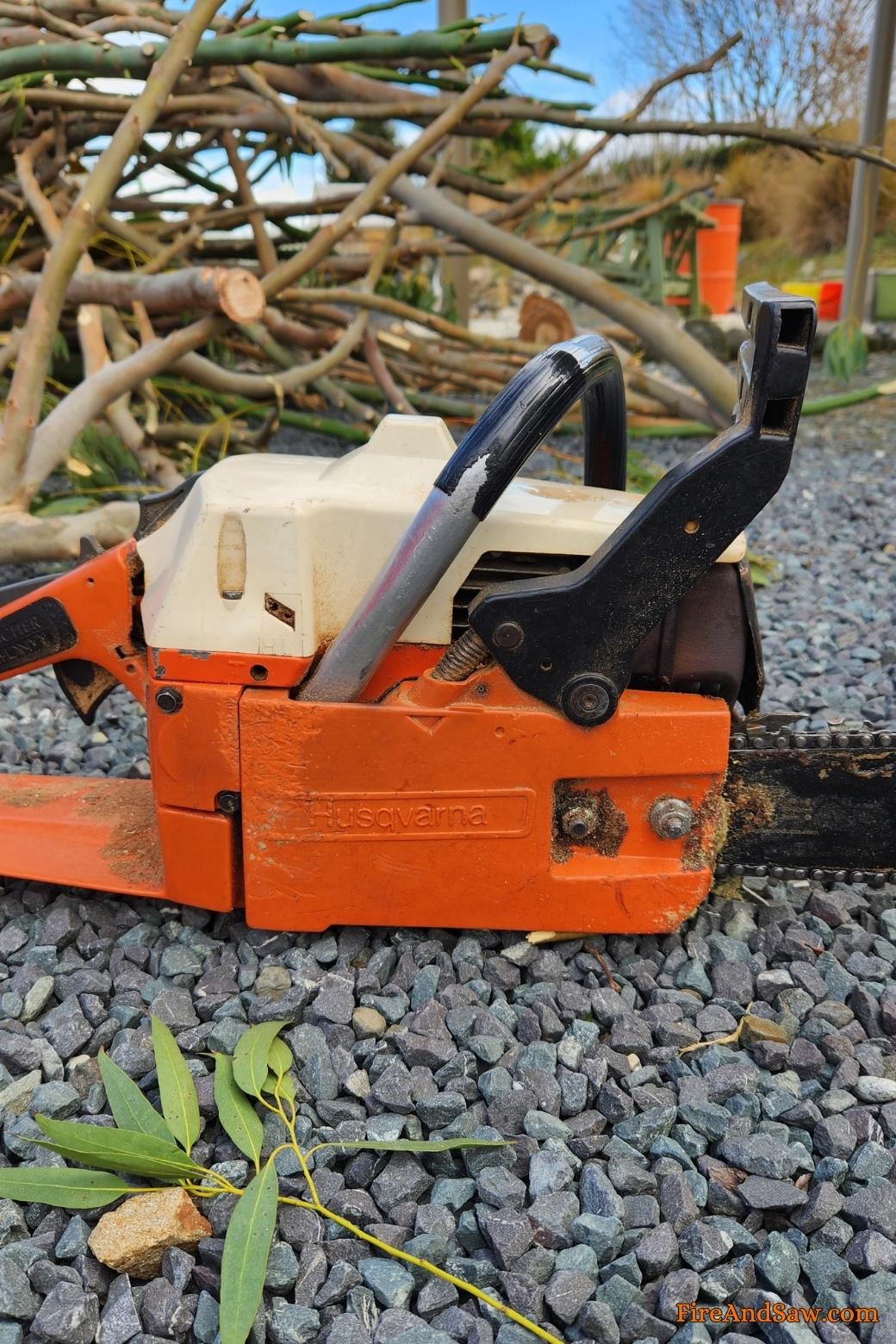 It was difficult to find any negative comments about the 50, but here are a few.
Cons:
Couldn't find parts for mine where I am – had to abandon the saw.
It's alright but I prefer the newer saws as they're more comfortable to use.
It's a bit noisy and the anti-vibe system isn't all there.
But you will find 10+ postive reviews about the 50 Rancher for every negative comment, which I think is a pretty good sign.
As long as you treat these saws well and don't expect too much from them (at least, don't expect more than they can offer), they're excellent little saws for a range of tasks around the home or farm.
Husqvarna 50 Price And Parts
How much should you pay for a 50 Rancher?
Or how much should you sell one for?
It all depends on condition. They can sell for anything from $20 – $200, but most often around the $100 – $150 range.
Check out eBay and your local online marketplaces to see what similar saws are selling for.
Here's what one guy said on pricing:
I buy, fix, and flip a lot of them. In fact, I did two over the last two weeks, and bought another one since then.

They're great firewood saws, and in my market, a clean one that runs well is worth $200-250 depending on its overall condition.
And this fellow found a good deal:
My 50 Rancher was made in 1984. I paid $10 for it at a yard sale.

The piston and cylinder are still perfect. It was in need of some serious maintenance, but the only thing it needed aside from tune up stuff was a new bar.

Great saw!
Let us know your thoughts in the comments below.
Check out these other Husky reviews on the Husqvarna 285 CD and/or the Husqvarna 45.