The Pfanner Protos Integral Arborist Helmet is one of the best – if not THE best – chainsaw safety helmet.
It provides different types of protection, including the helmet, ear protection, and face visor, and it does it to a very high standard and comfort.
Yes, the Protos Helmet costs a lot more than cheap chainsaw helmets, but you are getting a far superior product that is rated for use both on the ground and while climbing and working in the trees.
Pfanner Protos Integral Arborist Helmet
The Protos Integral Helmet is suitable for forestry workers and arborists and comes in a large number of different colors.
You can see the 3 most popular colors of the Integral Helmet on Amazon in the table above, which are black, red/grey, and orange/gray.
Other colors include:
Green/gray
Blue/yellow
White/grey
Olive/yellow
Yellow/black
But there are 16 or more color combinations on offer.
The olive range is perhaps the most interesting, but it seems to work well!
However, color is not the most important thing about this helmet by any means – let's take a look at the features.
There is also a Protos Climbing Helmet that looks similar – it doesn't have the face visor or earmuffs for obvious reasons. But we're not going to get into that option here.
Pfanner Protos Helmet Features
The main feature of the Pfanner Protos Helmet is that it will protect you while working with a chainsaw.
Of course, there is no helmet out there that can protect you from everything that you might face out in the forest or up a tree, but this offers more protection than most.
For example, it offers much greater protection against side and back of the neck impacts.
Many chainsaw helmets only really protect the top of the head and are merely a glorified hard hat.
The Protos Helmet fits better around your head and can be fitted tightly but comfortably to provide a far great range of protection.
Once you've put the helmet on your head, there is a 'switch' at the back for locking it in place. The chin strap is a magnetic clasp, making it easy to get on and to undo again.
Other features include:
Hearing and face protection
Designed to not snag on branches
Allows cool air to circulate inside the helmet
Machine washable inside padding
Chinstrap doesn't get in the way of earmuffs
Far-reaching neck shell
Features adjustable with two fingers
The cool thing about the ventilation is that it can be opened and closed depending on what you need – too hot, just open it up; too cold, close it up.
The earmuffs can be shifted up back into the helmet when not in use and they aren't in the way or annoying at all. A really great feature.
There are Protos Glasses that can also be inserted/attached into the helmet which are sold separately. You don't need to remove the visor when using these either.
Pfanner Protos Integral Helmet Review
Here are a couple of good Protos Helmet reviews.
The one above is from Casey Snyder and he really likes this helmet, as most people do.
You can get a good look at how the helmet adjusts and how it looks on the head.
And this review of the Protos Integral Helmet is from Female Lumberjack.
She helpfully shows and gives a description of all the cool features of this helmet, including the ventilation, how it clicks into place on your head, and how the earmuffs shift back when not in use.
She also loves this helmet and rates it above other helmets from Stihl, Husqvarna, and Petzl.
Overall, the Protos Helmet (here on Amazon) is an excellent option for all types of tree workers wanting a comfortable and durable solution.
Pros:
Looks good
Very comfortable
Excellent features
Cons:
Adjusting can take a bit of time
One of the most expensive helmets
Protos Helmet FAQs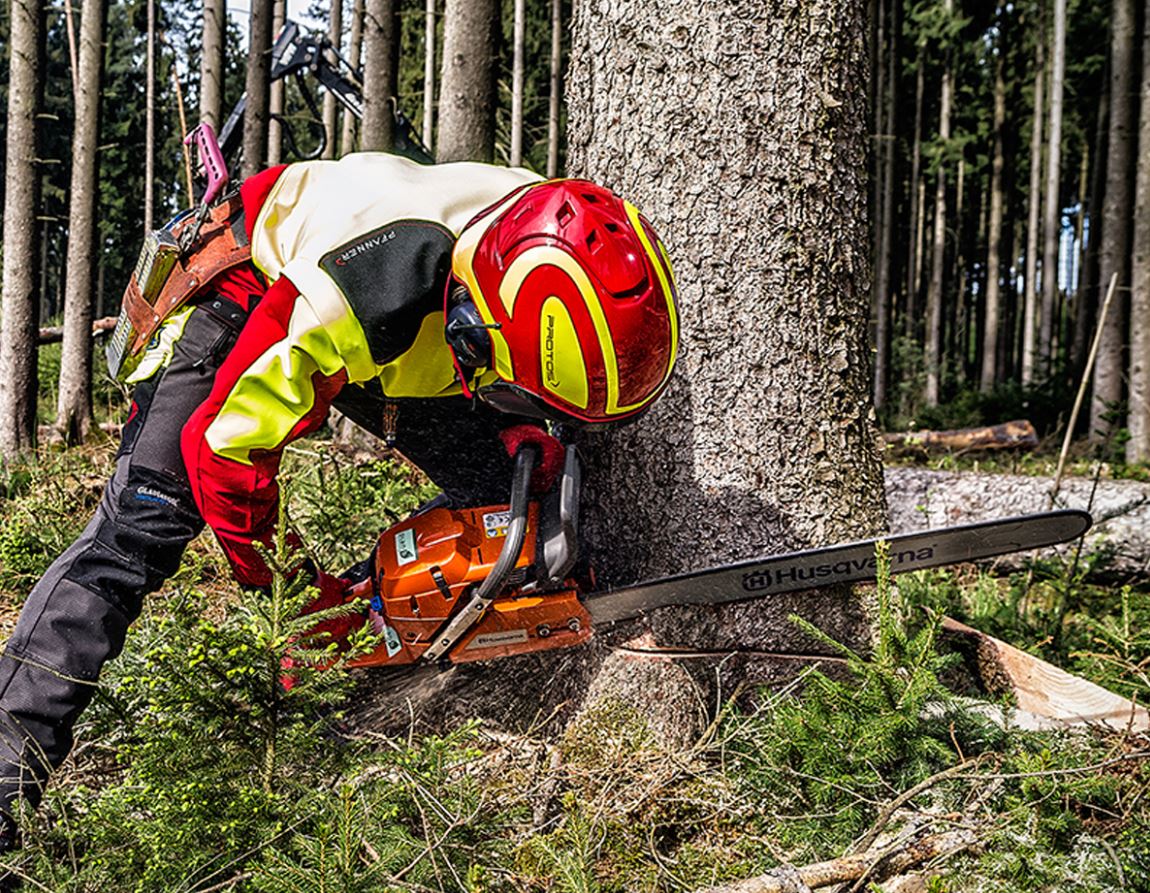 Where are the Protos Helmets made?
Pfanner Protos is an Austrian company and the helmets are also manufactured and produced in Austria.
How long do Protos helmets last?
It is recommended to replace these helmets every 5 years if they are getting regular use.
If the helmet is being used daily, it is recommended to replace the padding every 2 – 3 years for hygiene reasons.
And if the helmet is involved in an impact, it should also be replaced.
What else can the Protos Helmet be used for?
The Protos Helmet is primarily used by arborists, loggers, and forestry workers.
It can also be used as a cycling helmet, on construction sites, trekking, and those sorts of things. It goes without saying that the face visor and earmuffs ought to be removed for some applications.
Check out other highly recommended arborist helmets here (KASK, Petzl, etc.).
Can you install a Sena on a Protos Helmet?
Yes, you can install a communications system into these helmets and it can be a very good idea.
The ear protection does block out most sounds and it can be difficult or impossible to hear other workers in the field.
What is EN 397?
EN 397 is a safety helmet certification that the Protos Helmet meets.
It means that this helmet meets a certain level of protection on shock absorption, penetration, and heat resistance tests.
What standards does the Protos Helmet meet?
EN 397, EN 12492, EN 1077, and EN 1078.
Protos states that they also have a version that meets ANSI Z89.1, though this does not come standard.
What is the best helmet for cutting down trees?
The Protos Helmet is certainly one of the best chainsaw helmets for all types of tree, logging, and forestry work – including cutting down trees.
The most important thing is to always mitigate any risks and work safely so that you never get struck by a branch or tree.
Protos Helmet
For those wanting the best arborist helmet, you can't go past the Protos Helmet.
It's super comfortable, provides excellent protection, and is well made to a high standard.
Check out the real reviews from users here on Amazon and see the pics they've shared of the helmet in action.
Alongside a good pair of chainsaw chaps and chainsaw gloves, you'll be as safe as can be up in the trees.