The Husqvarna 288XP is an 87 cc, 6.1 hp chainsaw that was made between 1988 – 2001.
At least, those are the production years for the saw for sale in the USA, Canada, and the UK. Because the 288 XP is still being produced for sale in Brazil, Malaysia, and other countries that don't have strict emissions and safety standards. The original saws were made in Sweden while the new ones are made in Brazil.
The 288 XP is part of the 181/281/288 family of saws. The 288 XP, which can be found on eBay, is considered to be an awesome chainsaw by those who own them or have used them. The main downside is that they're heavy for the power compared to newer saws, but if you don't mind that, they're "one of the best".
Husqvarna 288XP Versions
The two versions of the Husqvarna 288XP are the regular base model and the 288 XP Lite.
There are also differences between the earlier and later models. For example, the early 288s had all rubber AV mounts and then later ones went to springs. The early 288s had the KS cylinder with no decomp. Other small changes were made to the oiler, worm gear, and carb needles.
You can tell the 288 Lite from the non-Lite by the big spring on the front of the regular. The following screenshot comes from a recent discussion of the differences between the 288 XP and 288 XP Lite in the Husqvarna Chainsaw FB Group.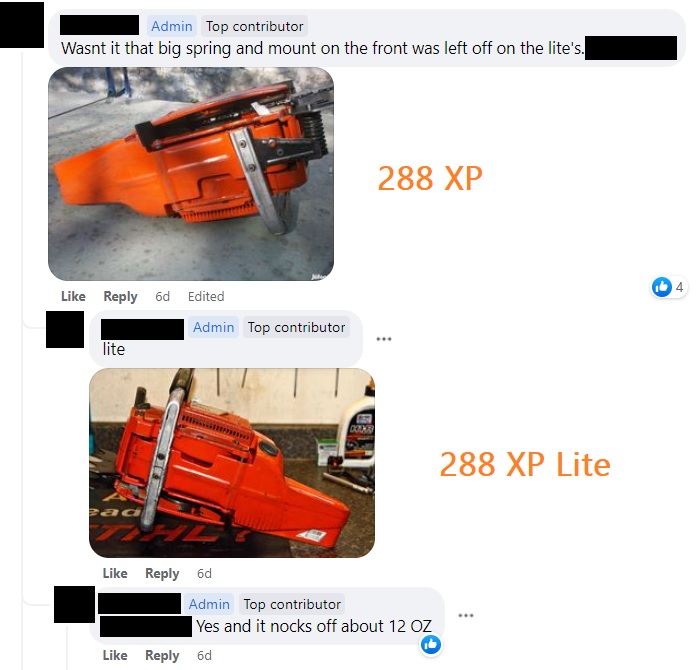 You can see the difference between the two 288 XP versions and the comment that the Lite was lighter.
The 288 XP weighs 16.5 lbs or 7.5 kgs while the 288 XP Lite weighs 16.1 lbs or 7.3 kgs. Those are the only differences listed between the two versions in the 288XP/XP Lite manual.
Another couple of comments from that same thread (you can find it by searching 288 once you're in the group):
The 288 lite is set up like the 181 and doesn't have the spring vibe damper.
288 Lite didn't have the 7th mount and was always a low top with a different decal on the starter cover.
The 288 light is a vibratory monster. Mine will literally walk around on the ground by itself.
The lite is the only one that had a decompression.
Or as one guy summed up the differences, "One's light, one's heavy".
Husqvarna 288 XP Review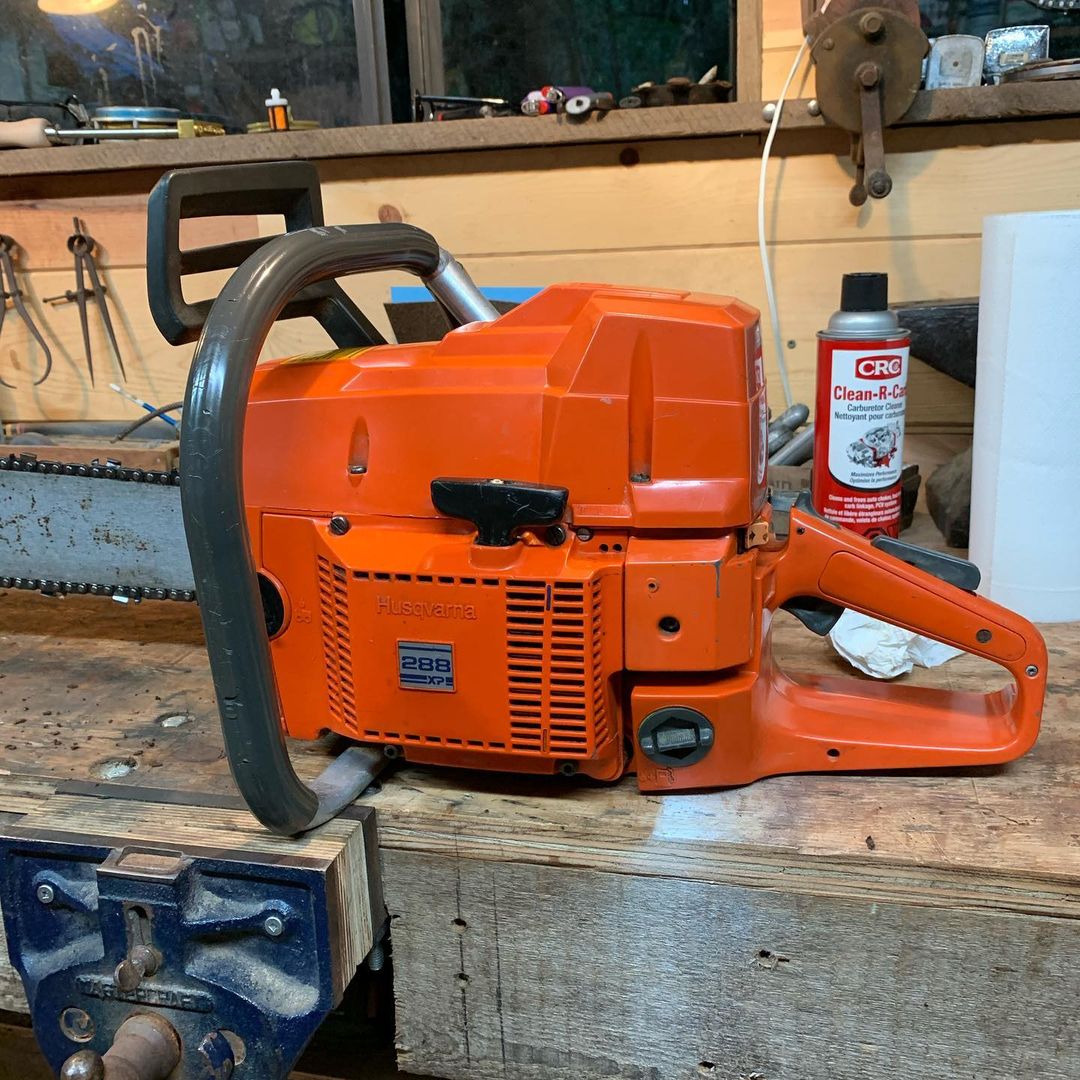 These are comments from users of the 288 XP:
I love my 288 Lite, but it's not so lite!
Best saw ever made my opinion.
Beautiful saw! I love the 288XPs!!
Great saws take care of it it will take care of you for years.
The longevity of the 288 is hard to beat.
288s are my favorite saw.
I have an all-original 281xp love it.
A true Husqvarna classic!
One of the best saws ever made ????
Husqvarna has many good models but yes I agree, the 288 is definitely one of the better in my opinion.
I miss my 288 Lite someone stole it I so want another one.
One of the best saws ever built.
As you can appreciate, it's a much loved saw with grown loggers frequently dropping love heart emojis when referring to the saw.
The only real downsides are what you can expect from a saw that ended production over 20 years ago. As we've mentioned, it's heavy compared to modern Husqvarna models with a poorer power-to-weight ratio. Also, parts may be difficult to find.
The type of work the 288 is good for includes:
Logging: The 288 XP is powerful enough to handle large trees, making it a popular choice among professional loggers. It's designed for heavy-duty felling and bucking of large-diameter trees.
Tree Care: Tree surgeons and arborists often need to cut through large, tough branches. The 288 XP has the power and durability needed for this kind of work.
Firewood Cutting: For individuals who heat their homes with wood, the 288 XP can handle the task of chopping large quantities of firewood efficiently.
Milling: When equipped with the appropriate bar and chain, the 288 XP can be used for chainsaw milling, where it can cut slabs, planks, and boards from larger logs.
Overall, the 288 XP is an excellent chainsaw for both pros and enthusiasts with heavy work to be done.
Specs And Features
| Specifications | 281 XP | 288 XP |
| --- | --- | --- |
| Cylinder displacement, cm³ | 80.7 | 87 |
| Cylinder bore, mm | 52 | 54 |
| Stroke, mm | 38 | 38 |
| Idle speed, rpm | 2500 | 2500 |
| Power, kW/rpm | 4.2/9000 | 4.5/9300 |
| Ignition system Manufacturer | SEM | SEM |
| Type of ignition system | AM 7 | AM 7 |
| Spark plug | Champion RCJ 7Y | Champion RCJ 7Y |
| Electrode gap, mm | 0.5 | 0.5 |
| Manufacturer of carburetor | Tillotson | Tillotson |
| Carburetor type | HS 228 | HS 228 |
| Fuel tank capacity, liter | 0.9 | 0.9 |
| Oil pump capacity at 8,500 rpm, ml/min | 9-12-15-18 | 9-12-15-18 |
| Oil tank capacity, liter | 0.5 | 0.5 |
| Type of oil pump | Automatic | Automatic |
| Dry weight | 7.6 | 7.6 |
| Sound power level, measured dB(A) | 116 | 117 |
| Sound power level, guaranteed L | 117 | 117 |
| Equivalent sound pressure level dB(A) | 106 | 106 |
| Vibration levels Front handle, m/s² | 6.2 | 6.2 |
| Vibration levels Rear handle, m/s² | 6.9 | 6.9 |
| Standard bar length, inch/cm | 18/46 | 18/46 |
| Recommended bar lengths, inch/cm | 15-28/38-71 | 15-28/38-71 |
| Usable cutting length, inch/cm | 13-27/34-68 | 13-27/34-68 |
| Chain speed at max. power, m/sec | 20.0 | 20.7 |
| Pitch, inch/mm | 3/8 /9.5 | 3/8 /9.5 |
| Thickness of drive links, inch/mm | 0.058/1.5 | 0.058/1.5 |
| Number of teeth on drive sprocket | 7 | 7 |
Price And Parts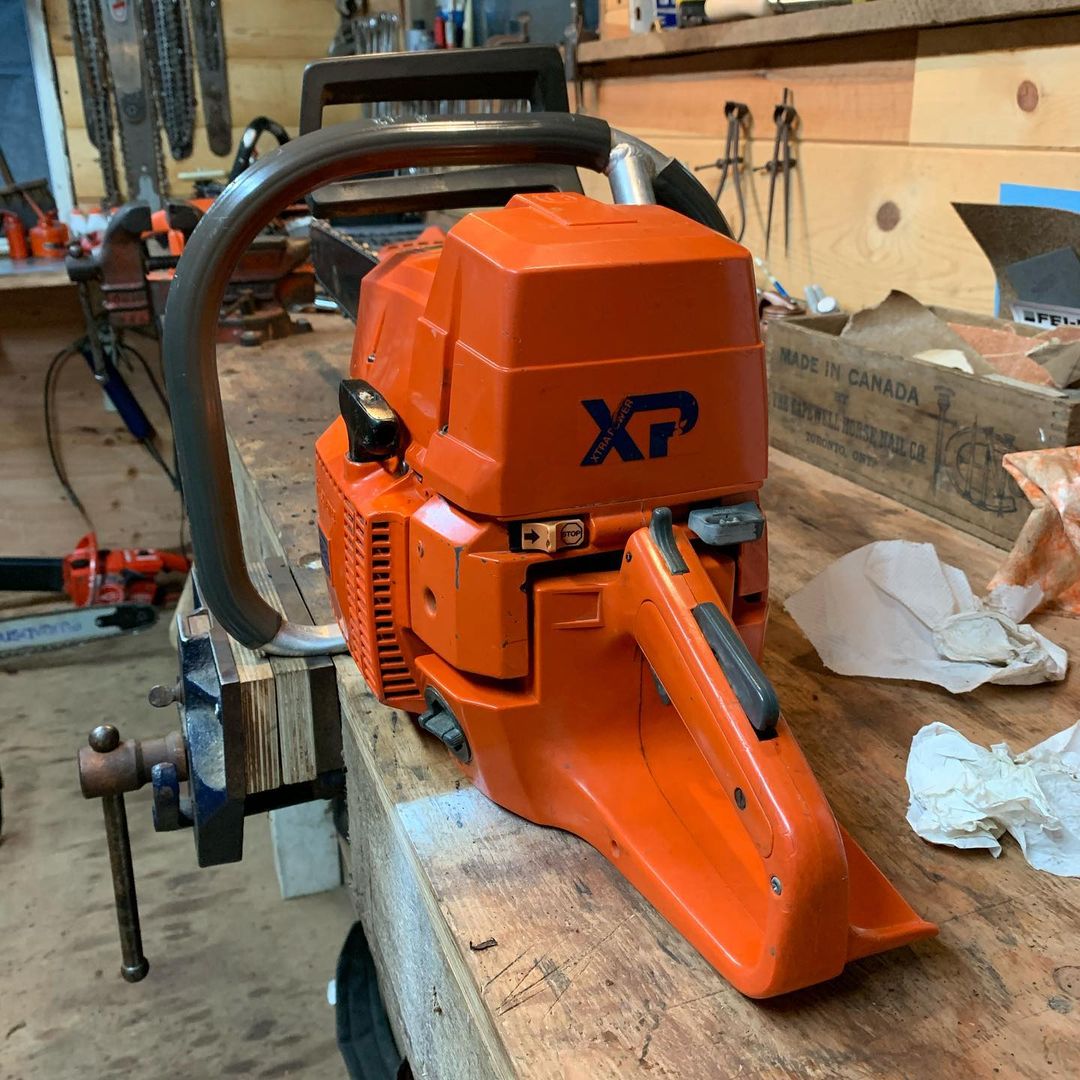 The 288 XP is a reasonably valuable chainsaw. They are desirable and sought after and it can be hard to find one in good shape for sale.
On eBay, new versions out of eBay are listed for well over US$1000, while used Swedish-made versions are selling for up to $900. The 288 XP price is always going to depend on location and condition, but either way, they are generally not cheap.
A well-used 288 XP that's in decent condition can still fetch upwards of $400. Parts chainsaws can go for $100+.
The 585 and 592 are comparable chainsaws that are available for sale new today (unless you grab a 288 XP new from Brazil). Holzfforma also has a model called the G288XP which is a clone of the Husky saw (and a sure sign the 288 XP is a classic).
Husqvarna 288 XP Chainsaw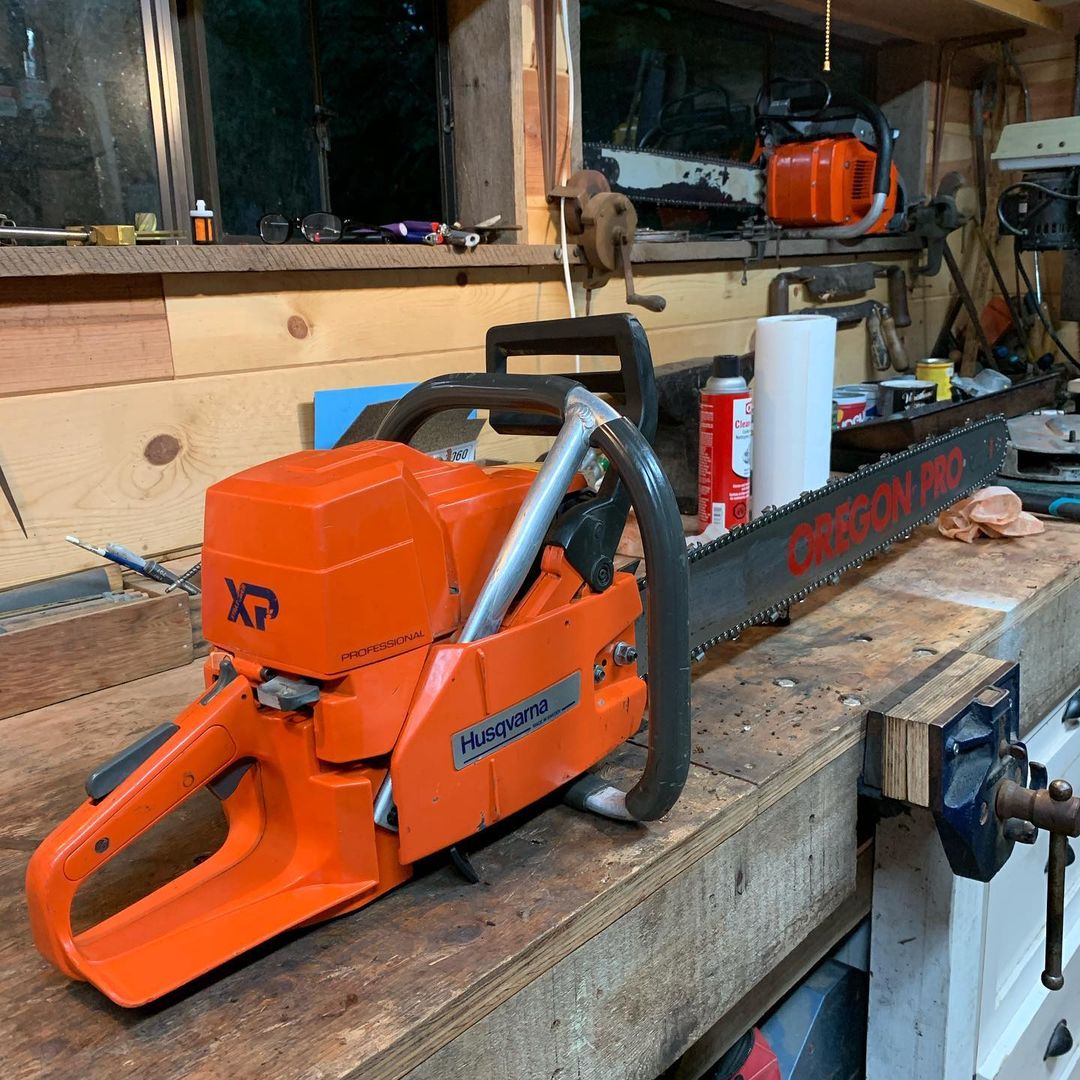 The Husqvarna 288XP Chainsaw is a popular professional chainsaw. If you have the opportunity to get your hands on one, don't pass it up!
Husky chainsaw enthusiasts all agree that it's one of the best Husqvarna chainsaws ever made. If you're willing to overlook the weight issue there's no reason it won't be great for you too. It may not be the best option if you need to use it all day every day, but for firewood or a bit of tree felling, it's a good option.
Let us know if you have any questions in the comments below and share your experiences with the saw!