The Stihl 031 AV is 49 cc mid-powered saw.
It was produced between 1971 and 1982 following the very short production run of the 030 (1970 – 1971).
Is it a good saw?
Of course, it is – it's a Stihl!
It's a bit on the heavy side for the power it delivers but is otherwise a good saw for firewood. It's even better if you have a model that has been converted to or came with an electronic ignition system.
The 031 pictured in this article was manufactured in 1980 and is from the collection of Edward Knapp. It's all original, including the bar, and hasn't been converted from the points and condenser ignition system.
Stihl 031 Chainsaw
As with most Stihl saws, there were a few versions of the 031.
All of them came with the AV designation (anti-vibration system), but there were another 5 models beyond the base version.
The versions available:
031 AV – the base version with breaker-controlled magneto ignition
031 AVE – electronic magneto ignition
031 AVEW – electronic magneto ignition and electronically heated handles
031 AVQ – breaker-controlled magneto ignition and chain brake
031 AVEQ – electronic magneto ignition and chain brake
031 AVEQW – electronic magneto ignition, chain brake, and heated handles
The base 031 AV is the one that you'll see and hear about most often.
In particular, people want to know how to change the points and condenser ignition to electronic ignition. This can be done by disconnecting the old system and installing a new ignition module – the NOVA chip is a popular option.
Electronic ignition was first introduced to Stihl saws in 1968 on the 041 AV. It took over a decade to phase out the old points ignition and roll out electronic on all new saws.
Stihl 031 Specs And Features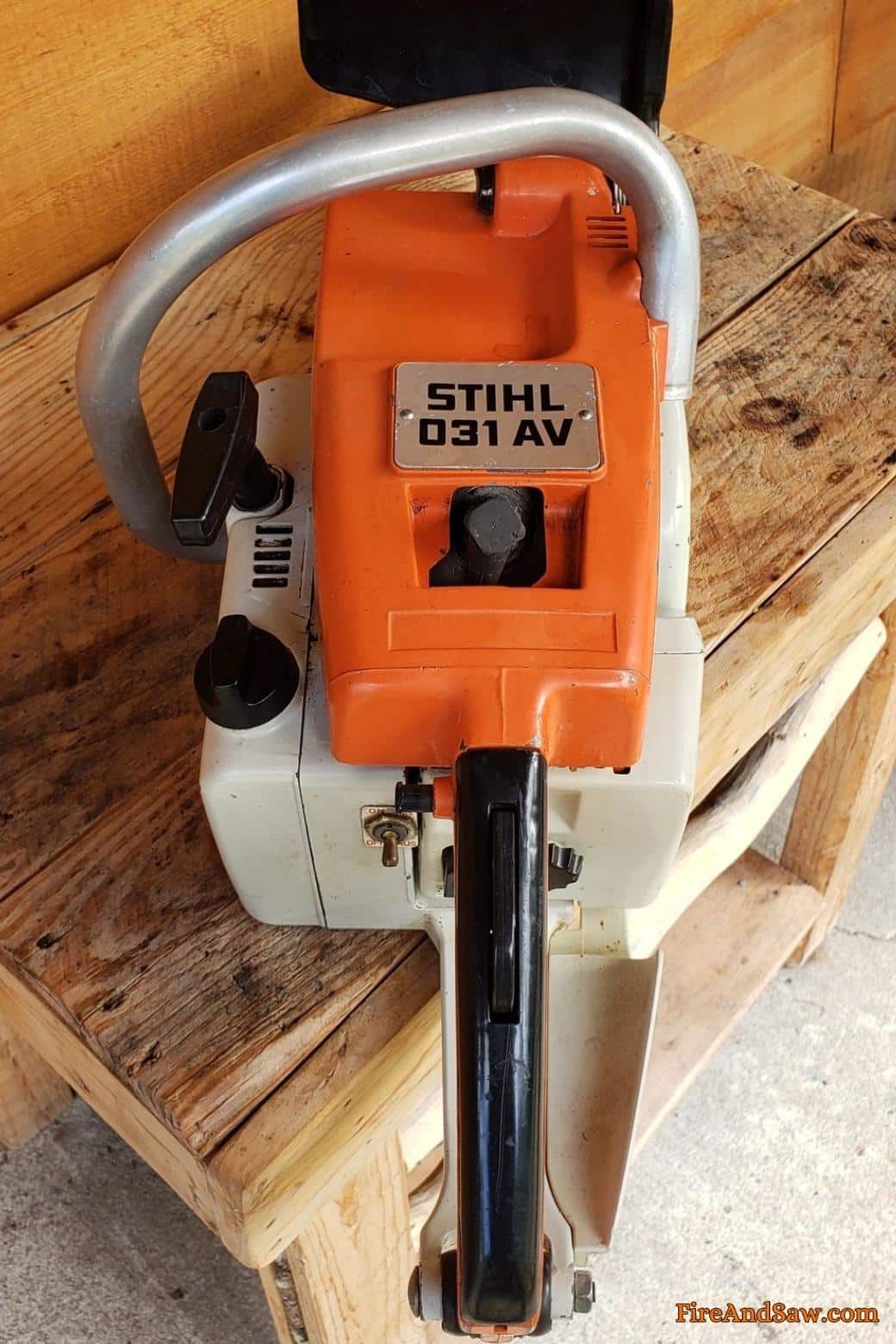 The exact features and specs will depend on the year of production and the version of the saw.
Stihl 031 AV features:
Automatic oiler
Anti vibration system
Handguard (chain brake optional)
Easy access air filter
It's recommended for use with a 16, 18, or 20″ bar (40, 45, 50 cm).
Stihl 031 AV specs:
Displacement: 49cc (2.93 cu. in.)
Powerhead weight: 14.5 lbs (6.6 kgs)
Max RPMs: 12,000
Idle RPMS: 2,700
Cylinder bore: 44mm (1.73 in.)
Piston stroke: 32mm (1.26 in.)
Fuel tank: 18.25 oz. (540 ml)
Carb: Tillotson HU-3C, G series
Magnesium crankcase
Nylon mesh air filter
Download the Stihl 031 AV manual here for ignition timing and breaker point settings.
Convert 031 AV Ignition System
A lot of people convert their 031 AV points and condenser ignition to electronic ignition.
This video is a good tutorial, and it'll also give you a bit of a laugh (just don't jump into it at the 4:04 or the 9:35 minute mark or you'll get a fright).
Signs you have a problem with your points system include:
Difficult or impossible to start the chainsaw
Runs rough when it is going
Misfiring or not being able to reach high revs
It's usually easier to convert the saw than work on the current system.
Removing the flywheel is usually the hardest part, and Taryl (the host of the video above) gives some good tips on how to do this.
You can use this Nova module from eBay or this Oregon chip on Amazon.
Here's a comment from someone who has completed the conversion:
For those looking to convert an 031 AV to electronic ignition, I just got done with a neat hidden installation.

The Nova II modules fit neatly out of the way in the air box. One hole only to drill. Just be sure to ground it to the coil and not the housing because of the rubber AV isolators. This location keeps the module protected and clean.

There is solid chainsaw but they are definitely a product of their time they don't have a whole lot of power and they don't cut very fast but they will still definitely get the job done.
I've seen people mount the module in a range of different places, but behind the air filter seems to be the best place.
And another comment:
The Nova chips work, but both times I used one I had to remove the flywheel key and adjust the timing.
Check out a few of the tutorials on YouTube to decide which setup would be best for you.
031 AV Parts
HL Supply Genuine Stihl Parts

OEM and aftermarket parts
Parts for most STIHL models
Call or message for advice

View On HL Supply

eBay Old/New Chainsaw Parts

OEM, aftermarket, and saws for parts
Great range
Buy from reputable sellers

View On eBay

Amazon Aftermarket Chainsaw Parts

Mostly aftermarket parts
Very cheap
Delivered quickly

View On Amazon
If parts can't be found at these retailers, the best place to ask is the Facebook groups.
As one guy said:
It's fairly cheap and easy to install an electronic ignition, but if it needs any major components like a new piston, jug etc., it may not make economic sense.
It's good to try and get these old saws running again, but you can very quickly end up underwater if it needs major work.
031 AV Review
Check out an early 031 AV and later model 031 AVE in action in this video from Kain Kustom Garage.
More info from the video:
They "made millions of them"
The older versions are also known as Red Tops (and it's not hard to see why)
Lower handles are a bit different between the two versions; the newer model has the footrest for starting
Often for sale on Craiglist and make for good firewood saws
The pros of the saw are that it's usually pretty affordable, it's suitable for processing a decent amount of firewood each year, and it's a good piece of Stihl history.
The cons are that it's heavy for the power it puts out, some parts can be hard to find, they don't run that fast, and the points ignition system can be finicky (if you have or are looking at the AV or AVQ versions).
But check out these positive and negative reviews from real users.
Positive reviews:
I loved my old 031!
The 031 supported my family and me for about 5 years. At the time it was a great saw!
I cut hundreds of cords with mine and used it to cut fire trails in the Coast Range of Oregon. It was a reliable saw that made me money. I thought after 20 years, I'd upgrade to the 036 Pro… now those were poor saws in my opinion.
Great saws I have 4 of them!
I had one I bought in 1977. I thought it was great, way better than the Homelite saws and McCulloch saws of the day.
Not a bad saw in its day. I had one it ran for 37 years – yes, really.
It's a big old heavy saw. They can still definitely get it I would recommend an 18″ bar and chain.
They were a good saw for their time! They were replaced in the early 1980s by the 032 which sold new for about $325.00 back then!
When you accept the saw for what it is and can do, most people are happy with it.
As to be expected though, there are those who have had issues with the saw, and here's what they say.
Negative reviews:
I love the Stihl 0 saws. They never complain. Except for the 031 I want to throw in the river!
For its displacement and weight, they're a total turd, which is unbecoming of most of the 0 series.
The 031 doesn't have a good resale value
Had ignition problems and I don't have the skills to deal with it. Sitting on the shelf now.
Costs more to maintain than buying a new saw
Stihl 031 Price
Some saws hold a lot of value but the 031 AV isn't really one of them.
Good working saws will still go for between $100 and $200, and one in mint condition might go higher, but they generally don't fetch big bucks.
It's another story if you have a NOS (New Old Stock) 031, as they do show up every now and again.
Unless an 031 AV has a lot of sentimental value, it doesn't make a lot of economic sense to spend too much on parts. If you managed to pick one up for free then you can justify spending a little more.
Because so many of the 031s were made it's not as collectible or desirable as some saws, but there are still thousands of guys out there who do enjoy having them in their chainsaw lineup.
Thanks to Edward for sharing his 031 AV with us – check out his Stihl 075 next!