The Poulan 2175 is a small lightweight 36 cc or 41.1 cc chainsaw that is "for occasional use only" (as the manual states).
There are different 2175 versions – the one pictured here is the 50th Anniversary version – but there is also a 2175 Wild Thing.
These saws are mostly the same, the names are a marketing label or a way of making more collectible and memorable chainsaws. But there is one that's 36 cc and one that's 41.1 (sometimes listed as 42 cc).
*Images come from eBay seller Sherman_Saws and are used with permission. This Poulan 2175 was for sale in October 2023 (listed for US $134.99).
Poulan 2175 50th Anniversary Wild Thing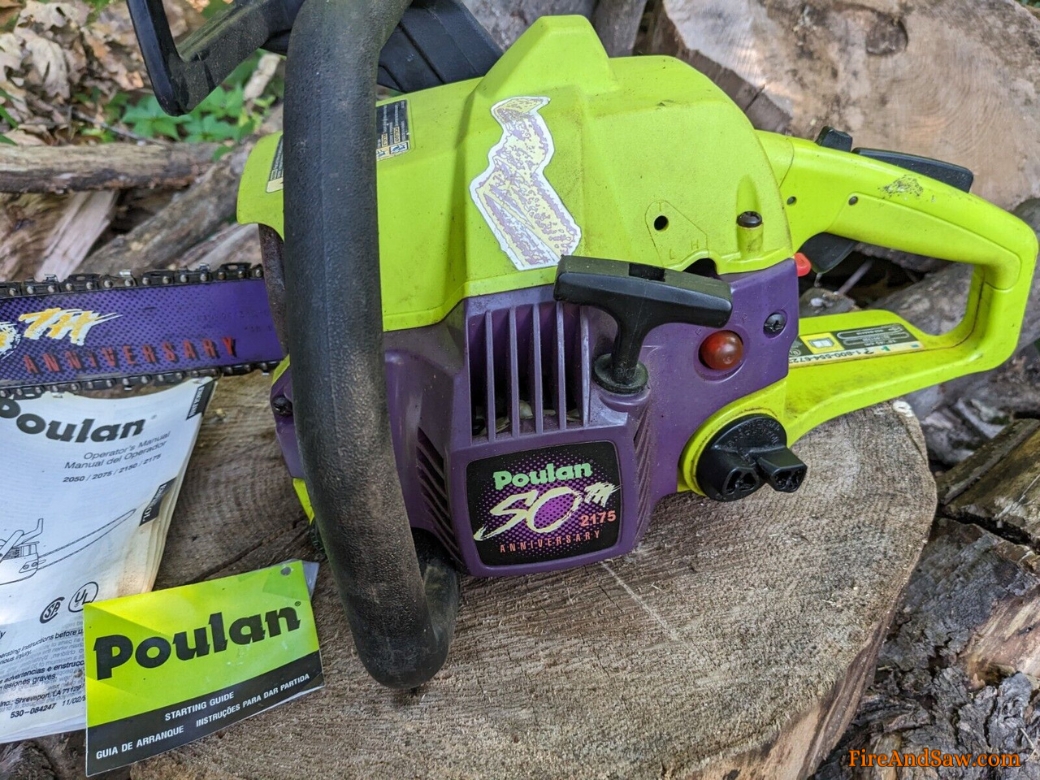 The Poulan 50th Anniversary 2175 was only made for one year, but it's said that 50,000 were made, so it's not exceptionally rare.
There are plenty out there, along with the other versions of the 2175. The 315 was another Poulan model with a 50th Anniversary version.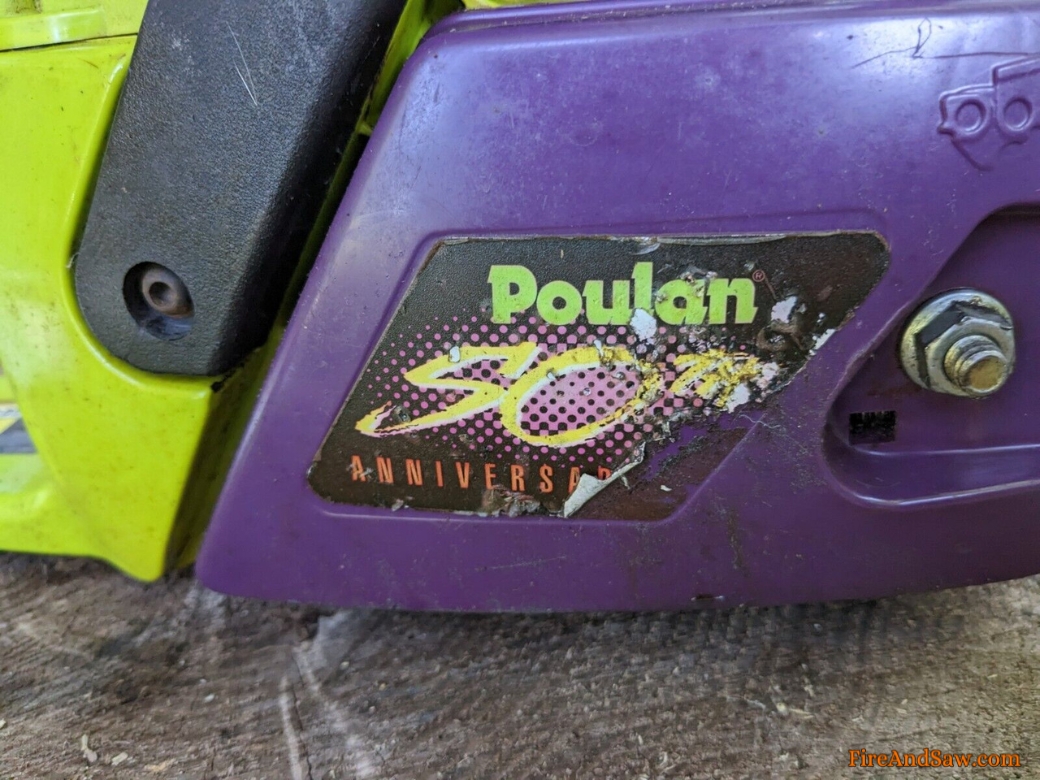 Poulan 2175s are not expensive to buy – plenty of guys pick them up for under $100.
On eBay they sell for between $100 – $200, but they can be found cheaper on other online marketplaces.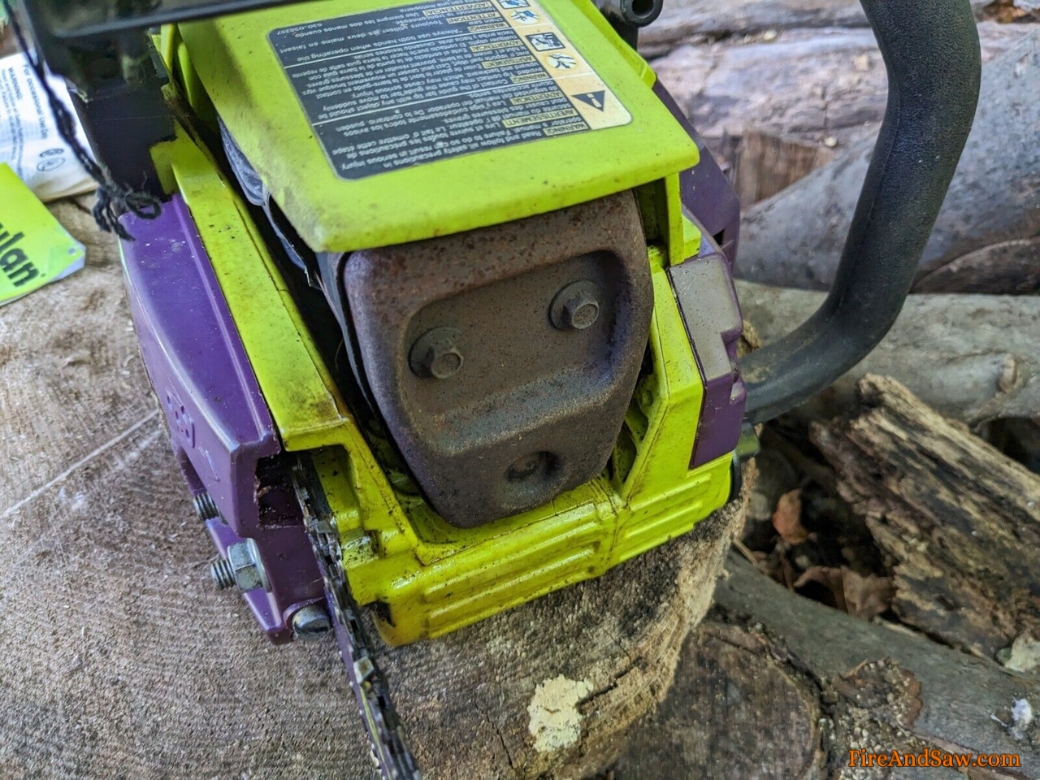 Parts for the Poulan 2175 are not hard to find as there were plenty of units produced.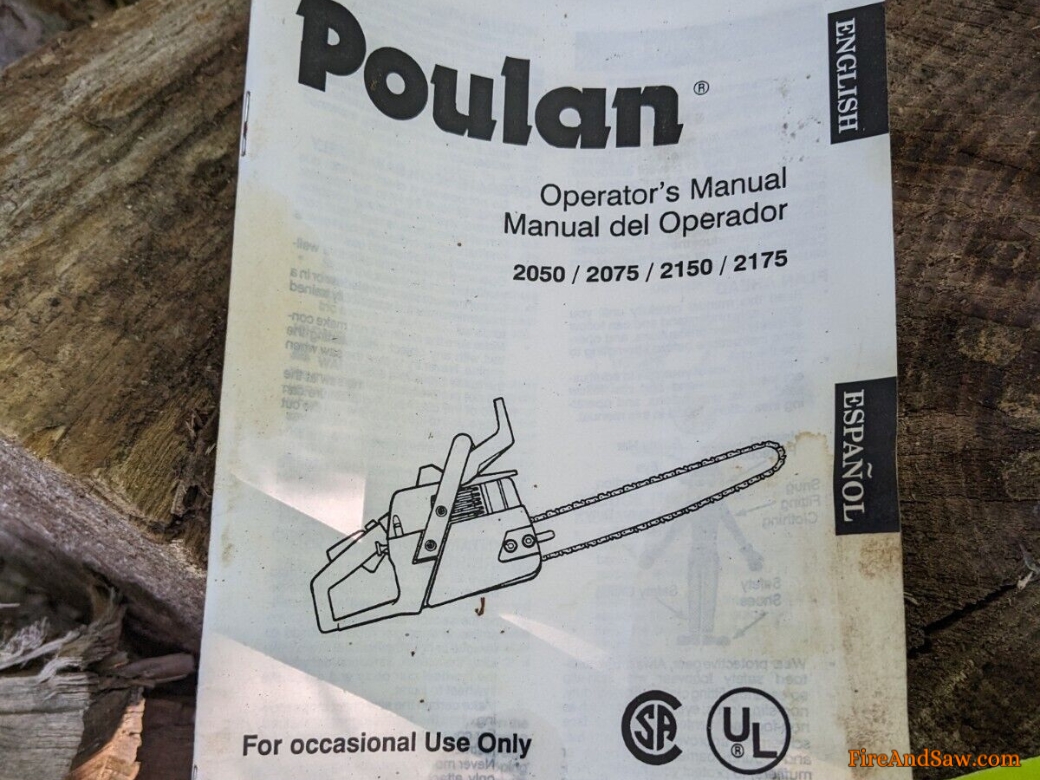 The 2175 shares a manual with other Poulan saws.
Download a digital version of the manual here. In terms of specs and features, there's not a lot of info in there.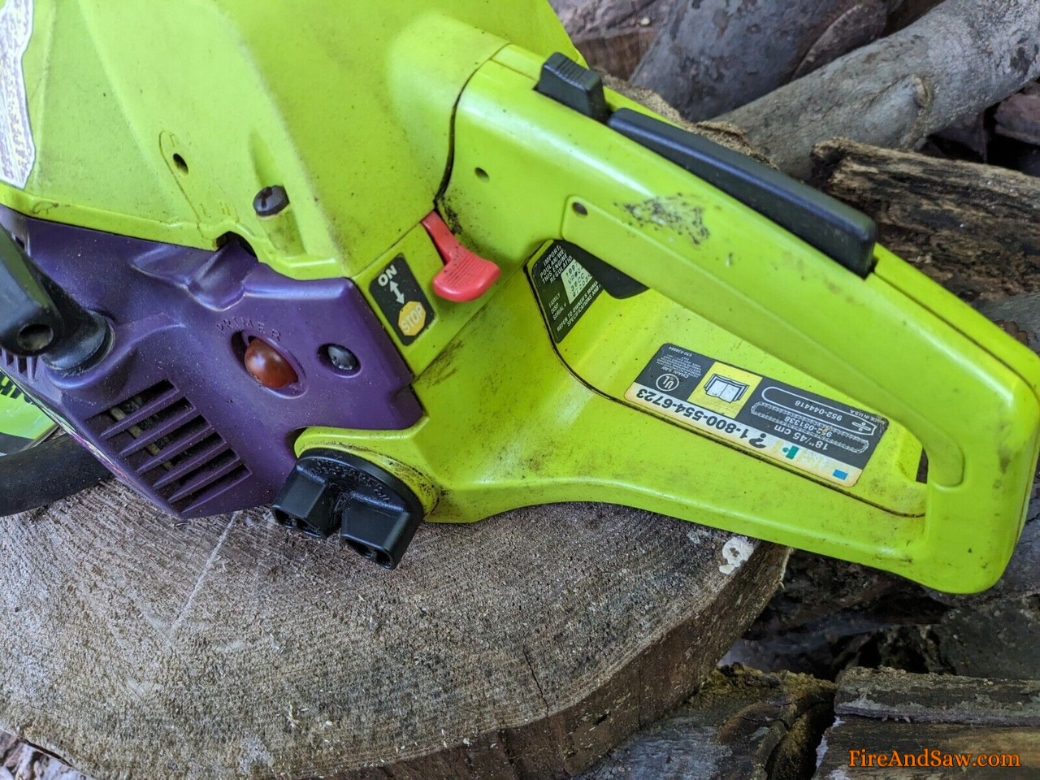 This Poulan 2175 was made in the USA.
When we asked if this was the 36 or 41.2 cc version, this was the answer from some Poulan fans:
Might be 36c c but more than likely the mass produced 42 cc engine.

Judging by the top cover its a non strato model with a Walbro WT324 carb. Good saws when they run. Put some grease around the edges of the air filter.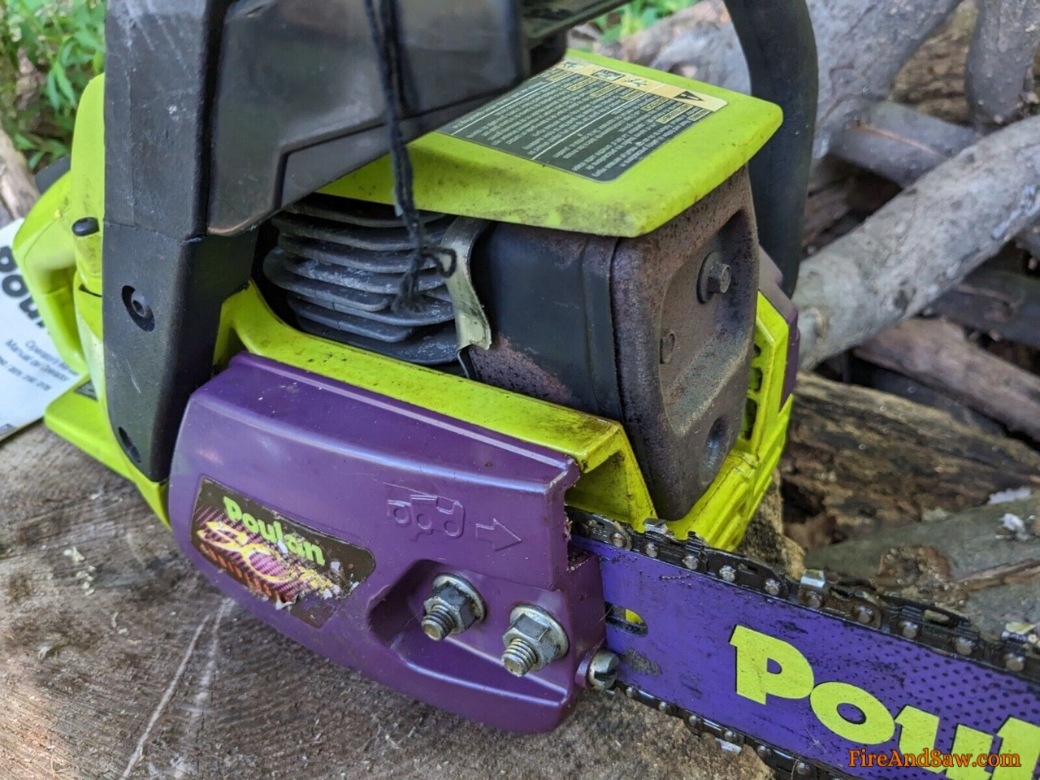 Elsewhere, someone else said this about the 2175 Wild Thing:
That is pre-strato saw. Those are awesome little saws and will rip if you open the muffler up and do some tuning…

Now, if you know how to port them (I don't) they say they will really go to town.
The 2175 weighs 10.4 lbs or 4.7 kgs making it very light and suitable for use as a pruning or light firewood saw.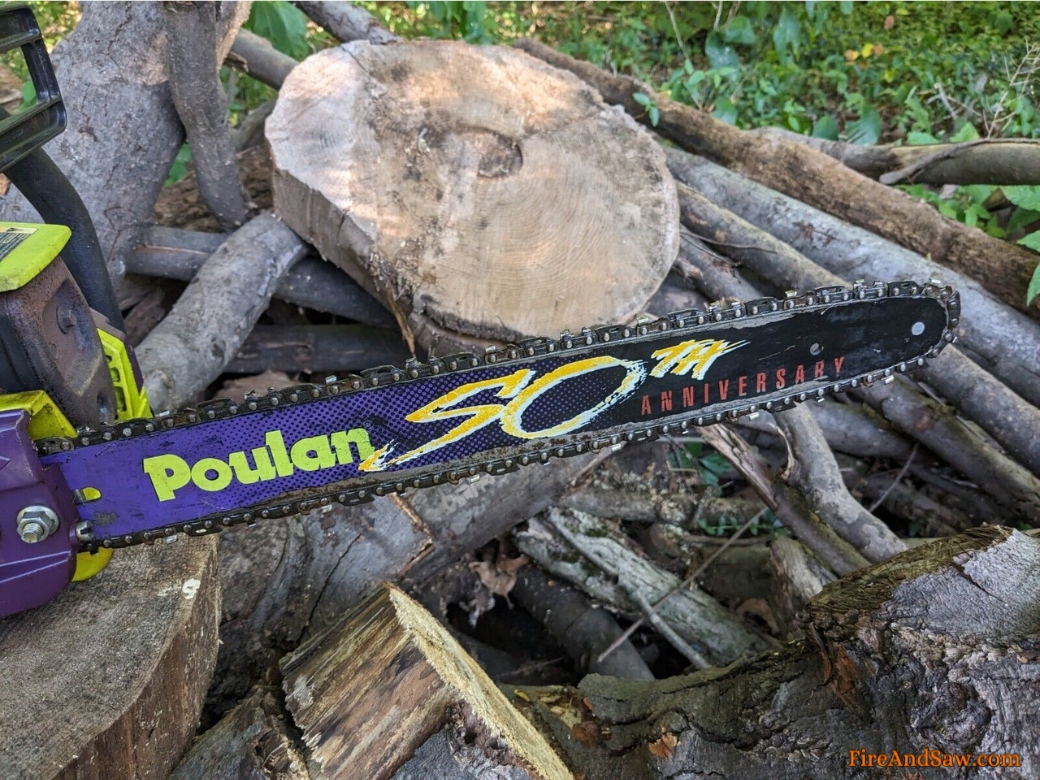 The 16 and 18-inch 50th Anniversary bars are popular with collectors.
This 16-inch replacement bar (Poulan brand) is suitable for the 2175 (though be sure to double-check).
Poulan 50th Anniversary Chainsaw
The Poulan 2175 itself is a chainsaw model that was marketed toward homeowners and light-duty users.
It's known for its versatility and was considered a decent option for those who didn't need a professional-grade chainsaw but still wanted a reliable tool.
The Wild Thing version was also popular and was primarily designed for homeowners.
Like the 50th Anniversary version, it was characterized by its unique color schemes (often bright green and purple) and was marketed as an affordable yet robust chainsaw for typical home use like trimming trees, cutting firewood, etc.
Neither of these saws are quite as popular as the Poulan 306 which was made famous as one of Leatherface's chainsaws in the Texas Chainsaw Massacre. That one get's especially hard to find around Halloween!