The 056 is an iconic Stihl with a good reputation.
It is an 81cc saw that didn't have a long production run, only being made between 1980 and 1985. There was a Super and Magnum version alongside the standard version of the saw.
While some people consider it to be kind of a dinosaur, others think it's one of the most capable and underrated chainsaws that isn't collected (compared to an 066 Magnum or 090, for example).
The 056 is not all that rare but still very cool in my opinion. Parts can be hard to get, which is standard with all saws of this age, and it was a great saw in its time.
The Stihl 056 pictured in this article is another one of Edward Knapp's chainsaws that he's shared with us. He keeps his saws all original, as much as possible.
Stihl 056 Versions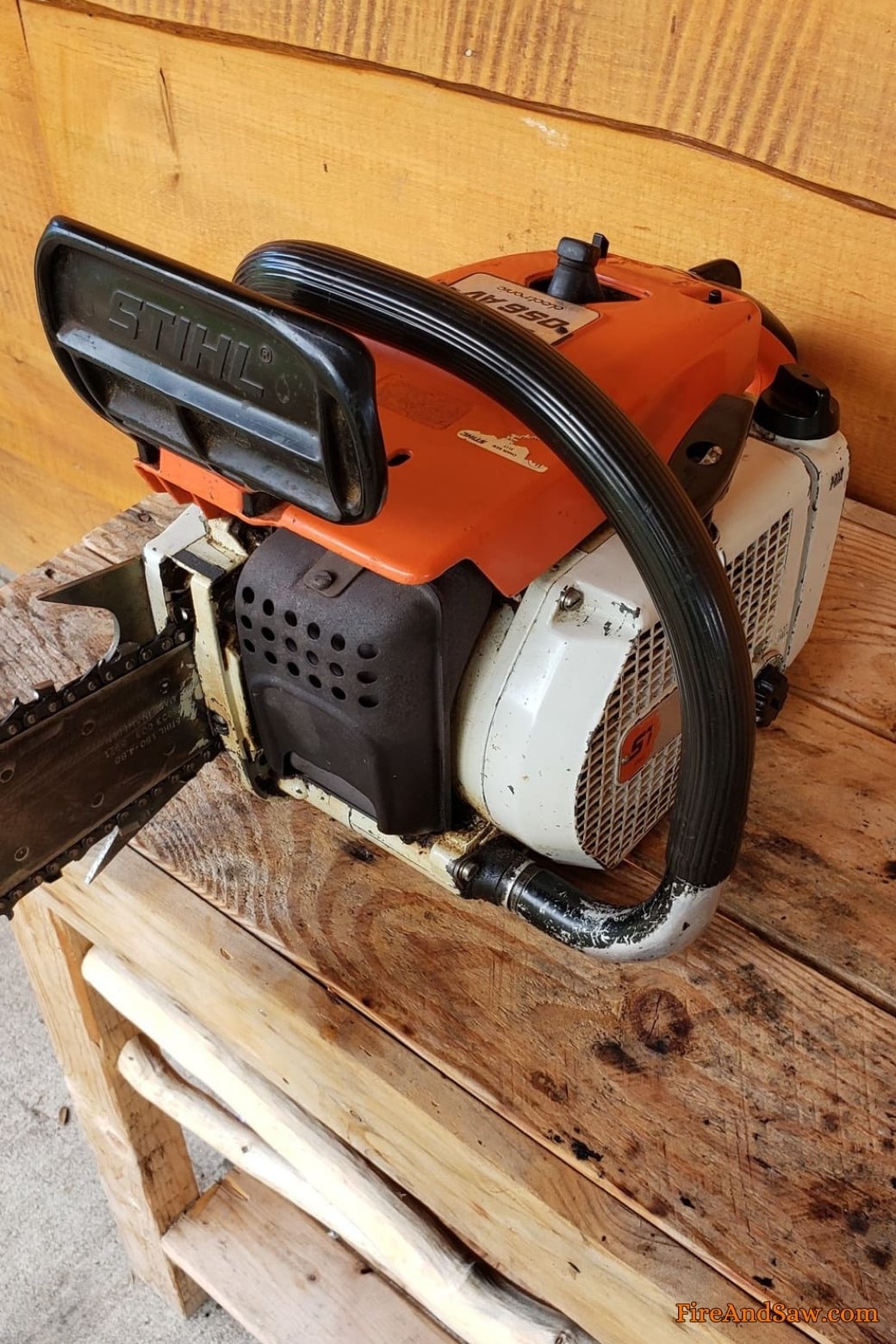 Edward's saw is an 056 AVE, and, as always, there were other versions.
The five 056 versions I'm aware of are:
056 AVE – standard with electronic ignition
056 AVSE – Super with electronic ignition
056 AVEQ – standard with electronic ignition and chain brake
056 AVSEQ – Super with electronic ignition and chain brake
056 AVMEQ II – Magnum with electronic ignition and chain brake
Of course, AV means anti-vibration which all 056s came with.
Super means the saw had slightly higher displacement resulting in more power. It's the same with the Magnum II in this case as well.
Here are the differences between the standard, Super, and Magnum.
| | | | |
| --- | --- | --- | --- |
| Stihl | 056 | 056 S | 056 Mag |
| CCs | 81 ccs | 87 ccs | 94 ccs |
| Bore | 52 mm | 54 mm | 56 mm |
| Stroke | 38 mm | 38 mm | 38mm |
| Weight | 18 lbs | 18.1 lbs | 18.52 lbs |
The stroke is the same on all versions, but the 056 Super and Magnum have wider bores than the standard version.
I don't think there was ever a Magnum I, only a Magnum II – let me know in the comment section below whether that's correct or not. I haven't seen a Mag I, at least.
Stihl 056 Specs And Features
"A very powerful muscle saw that was made in Germany" is how the Chainsaw Man describes the 056 in this video.
It has all of the best features that were available on Stihl saws in the early 80s. All of them had AV systems, automatic oil pumps, and magnesium cases.
Keep in mind that exact specs and features vary depending on the version of the 056.
Features of the Magnum shown in the video above:
Kill switch and choke on top of the saw
Throttle lock
Hand protector (in case a chain is thrown)
Footpad for starting
Chain brake (not on saws that aren't marked Q)
Wrap handlebars
Large falling spikes
The base model did not have Quickstop Chain Brake, though all models have electronic ignition systems.
Some people change it to a points and condenser ignition system (as the 031 AV came with) if they are unable to source replacement parts for the electronic.
Stihl recommended the 056 be used with a bar size of between 16 – 25″, but you'll see people going much larger than that, especially on the Magnum II.
The Stihl 056 specs are hard to list because they vary so much depending on the version.
I've listen the piston and stroke sizes above, along with the displacement (056 81cc; 056 S 87cc; 056 M 94 ccs).
You'll find parts numbers below in the tech notes and manuals.
Weight is difficult to pin down exactly as different manuals list different values, but the dry weight appears to be between 18 – 19 pounds.
You'll often see it listed as between 20 – 22 pounds, but this is the weight with a 14.5″ bar and chain.
Stihl 056 Review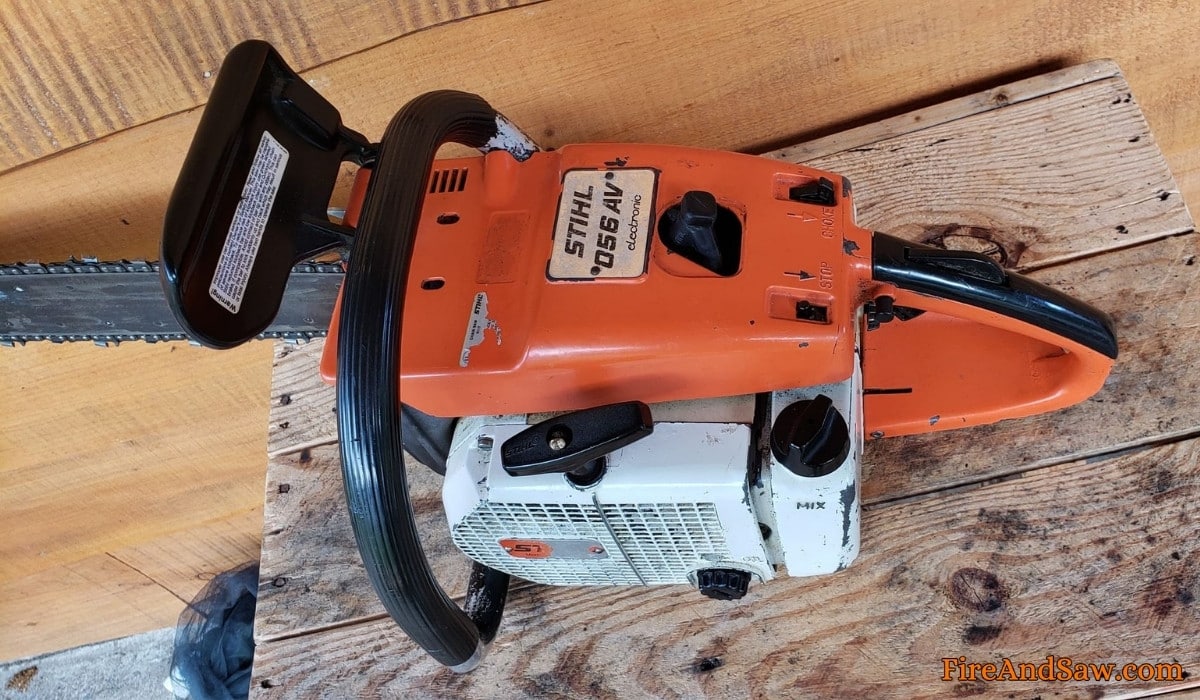 The Stihl 056 is reviewed very well, and that includes all versions.
The pros are that it is a powerful saw with a lot of history and nostalgia behind it. It's not an everyday logging chainsaw due to it's weight and the difficulty you'll have finding parts for it, but it's a great firewood saw or shelf queen.
The following comments are very typical of what you'll read about the 056.
Positive 056 reviews:
056 my favorite saw used for years logging.
That 056 is a beast of a saw!! Make sure the timing is right or you'll stretch some fingers!!
I still use the 056 Magnum to cut 90% of my wood and I cut at least 100 tonnes a year.
It's a great saw I have an 056 AVE. Love it, easy to work on, and very dependable.
Strong saws when running right.
Very strong and has lots of low-end torque when running well.
They are the absolute torque monster…
The 056 is an angry hot saw.
One of my favorite saws.
I love the 056, I still have one for big trees and used them logging back in the day.
I've cut hundreds of cords of wood commercially with them.
I just have to rebuild my carburetor on my Magnum and then I'm going to use it on my mill.
Raw low-end torque and they sound beautiful in the cut.
It's a good saw to pass on to the next generation:
My 056 was given to me by my father-in-law. It's one of my favorite saws. Has spunk like newer saws but also has the low end like the old ones. Normally has a 30″ bar on it.
And for those wondering if the 056 is collectible, I think this comment sheds some light:
I think people are finally figuring out this is one of the best vintage saws they made
The cons of the 056 are the typical things with all old saws.
It's heavy, parts are hard to find, some parts are finicky (as the ignition system can be on the 056), and it's lacking some of the modern features we all appreciate.
For example, this guy sums it up with his comment:
Great power but heavy. Awesome saws unless ignition goes out. Can't get parts to fix. My dad has one with a 25″ bar. I bought a 462 because I don't want the weight.
And this guy obviously isn't a fan:
Boat anchor! Heavy heavy! Why I got an 064!
But I must admit, the 064 is a nice saw as well!
Ultimately, as long as you know what you're in for when buying an 056, you can't go wrong. If you're expecting a saw with the best user comfort and easiest maintenance you'll be disappointed.
Stihl 056 Parts
HL Supply Genuine Stihl Parts

OEM and aftermarket parts
Parts for most STIHL models
Call or message for advice

View On HL Supply

eBay Old/New Chainsaw Parts

OEM, aftermarket, and saws for parts
Great range
Buy from reputable sellers

View On eBay

Amazon Aftermarket Chainsaw Parts

Mostly aftermarket parts
Very cheap
Delivered quickly

View On Amazon
If you can't find the 056 parts that you need from those retailers, the next best place to ask is the Stihl Facebook groups (of which there are many).
Some people choose not to use their 056 in order to preserve them, like this guy:
I retired mine even though it didn't get used but a few times. Bought it a few years ago for my collection and didn't want to wear it out. Parts are getting scarcer.
To help you identify the parts you need, here are the 056 manuals and guides.
Manuals:
The Tech Notes are helpful as they have info on the ignition systems for different versions, parts numbers, diagrams, and all that.
You will learn, for example…
Compared with the 056 and 056 S, the following assemblies were changed on the 056 AV Magnum II and are not compatible with the other versions:

1. The crankcase assembly, with bearing, has been modified to suit the larger cylinder

2. The new cylinder and 2.2 in (56 mm) piston are installed with a new cylinder gasket

3. The carburetor (WJ 4) has been adapted to suit the extra power of the new 056 Magnum II

4. The air filter assembly, 1115 120 1630, consists of two air filter elements 1115 120 1629, new, with enlarged cut-out, and 1115 120 1605, as on 056, 056 S

5. The new carburetor box cover, 1115 141 1020, differs from the one on the other versions of 056, in that it has two cutouts on its lower edge
This follows with a summary of all the new parts and their numbers.
Information on the ignition system includes…
A new electronic ignition system will be introduced on model 056 chain saws starting with serial number X 14 038 764. The previous Bosch Electronic Ignition System, 1115 400 0506, with Flywheel, 1115 400 1208, has been deleted and will be replaced by the SEM Module Plate, 1108 400 1208.

The new flywheel has fan blades and therefore also replaces the previous fanwheel. Like the original armature plate, the module plate is located behind the flywheel and secured by two screws.

The SEM module plate and flywheel have to be used as an assembly and are then interchangeable with the previous Bosch Ignition, 1115 400 0506, or SEM Ignition 1115 400 0507.
The service notes, diagrams, and images are all very helpful in this manual.
Stihl 056 Chainsaw Price
Price will always depend on the condition of the saw, your location, and how and where you buy it or market it.
I've seen guys buying or selling them for anywhere between $100 and $800.
On eBay at the time of writing, there is only one complete working 056 saw for sale for $350.
It's described as:
Rare 056 AV Super. Chainsaw has a newly rebuilt carburetor, fuel line, fuel filter, and choke rod. It runs good and comes with a 20″ bar and chain.
But the Stihl Chainsaw Fans FB group is probably a better place to ask if anyone has one they would sell.
Let me know if you have any questions below, or check out Edward's 111cc Stihl 075 next!