The STIHL 029 is a 54.1 cc, 3.7 horsepower chainsaw, while the STIHL 029 Super is a 56.5 cc, 3.8 horsepower chainsaw.
The 029 was produced from 1993, while the 029 Super came out in 1999. It was listed as the '029 Super Stihl Farm Boss Chain Saw' and was the earlier version of that later MS 290 Farm Boss.
Neither version of the 029 is a professional chainsaw. They are mid-range homeowner or farm and ranch chainsaws. They are good for firewood, felling mid-sized trees, and pruning.
*Check the latest 029 listings on eBay for pricing indications and parts.
Stihl 029 Versions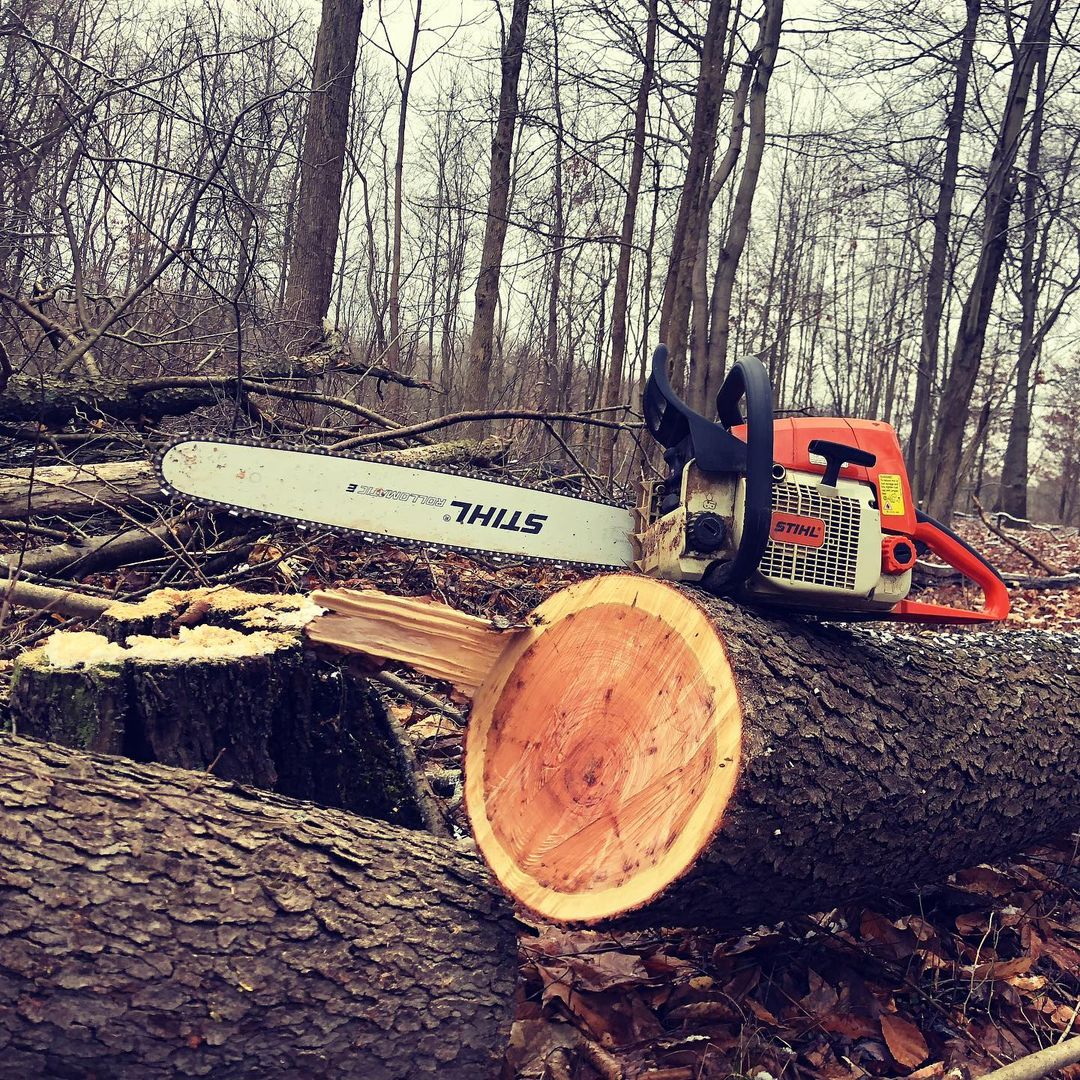 The two main versions are:
The original base model STIHL 029
The later big bore STIHL 029 Super (or 029 S)
We have an entire article on the meaning of Super on Stihl chainsaws which explains everything, but to summarize here, the 029 Super has a larger diameter bore than the non-Super version. This results in the S-version having more power.
| | | |
| --- | --- | --- |
| Specs | Stihl 029 | Stihl 029 S |
| CC | 54.1 cc | 56.5 cc |
| Cu In | 3.3 cu in | 3.45 cu in |
| HP | 3.7 hp | 3.75 hp |
| kW | 2.7 kW | 2.8 kW |
| Bore | 45 mm | 46 mm |
| Stroke | 34 mm | 34 mm |
| Weight* | 13 lbs / 5.9 kgs | 13 lbs / 5.9 kgs |
*STIHL sometimes listed the 029 and 029 dry weight as 13.2 lbs / 6 kgs. Extended specs and features are below.
The 029 Super is the better chainsaw simply because it has a better power-to-weight ratio. The two chainsaws weigh the same, but the 029 Super has more guts.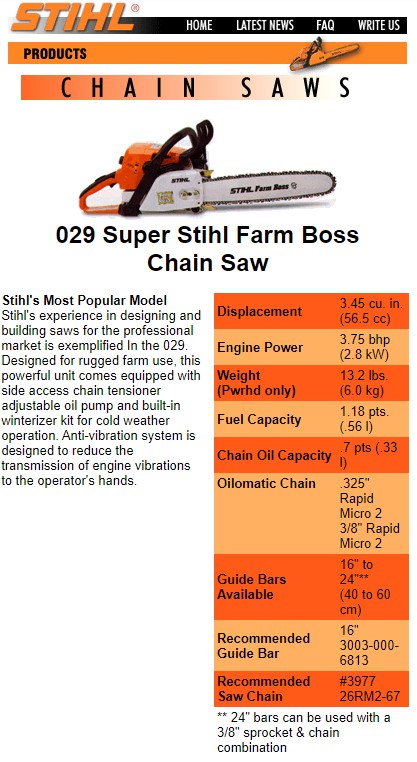 The 029 Super was described as:
Stihl's Most Popular Model

Stihl's experience in designing and building saws for the professional market is exemplified In the 029. Designed for rugged farm use, this powerful unit comes equipped with side access chain tensioner adjustable oil pump and built-in winterizer kit for cold weather operation. Anti-vibration system is designed to reduce the transmission of engine vibrations to the operator's hands.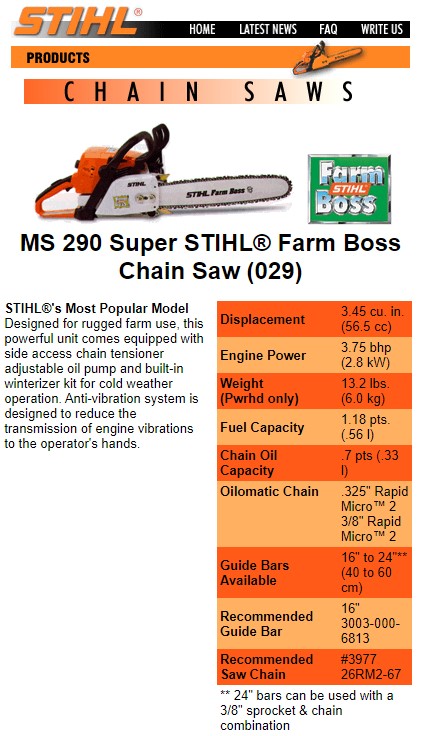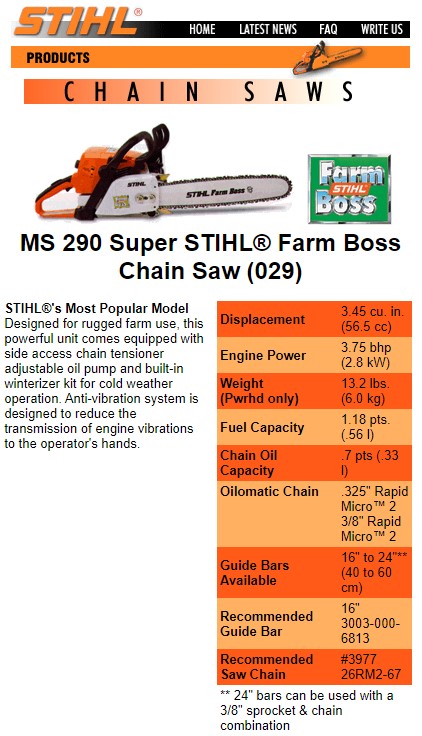 The "MS 290 Super STIHL® Farm Boss Chain Saw (029)" came out not long after the 029 S, so it did not have a long production run, and the one morphed into the other.
They are almost the same chainsaw; the 290 had flip caps vs screw caps on the 029, and the tank vent is different on the 290. Both the 029 S and MS 290 have the same engine.
Stihl 029 Reviews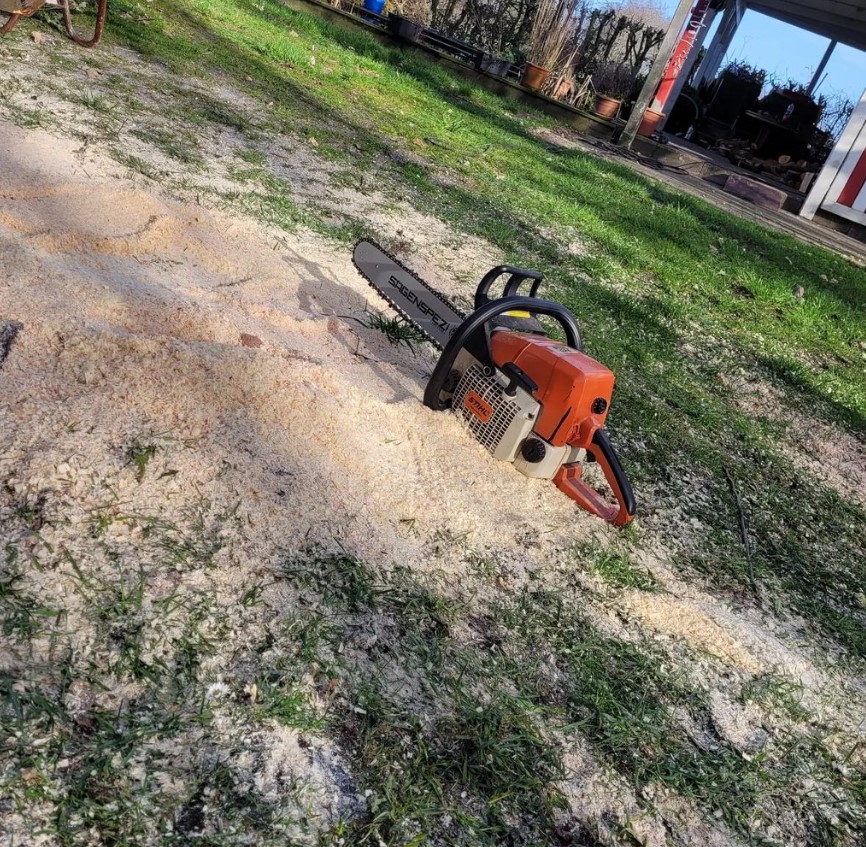 These reviews come from 029 users in the Stihl Chainsaw Fans FB group. Head over there for many helpful threads on the 029 and 029 Super.
Positives/pros/good reviews:
I love my 029! Bought it brand new in 95'. With an 18" bar it runs great.
I have a few 029s and an 029 Super. Great saws.
Those are tough saws and they last a long time if you take care of them.
I have an 029 I still work some. They are tough and dependable saws. For the right price I'd love a second one.
I bought mine with my first paycheck when I got out of school in 1997 so I could cut firewood. It doesn't owe me a dime.
They are dependable and cut very well. Hard to take apart if you ever need to, but not likely you'll ever need to.
029 Super is a good saw; got one at work and it's always my go-to. Never had any issues.
Good for firewood. Especially if you open the muffler up a little. They're pretty boggy.
They are OK!! But an 026 is a lot better!!
Great firewood saw I have the MS290 which is basically an 029 and it's great.
To be honest any 0 series Stihl is pretty bulletproof and very well built.
The thing I like about the 029 Super is that you can put an 039 cylinder and piston on it.
In answer to the question, Is the 029 a good chainsaw?", Michael responded:
Depends on what you want out of it. Nice saw for a tool box, big enough to get the job done, cheap enough if it walks off you will be able to get another one. No it's not an MS 461 or 500i, and no, it won't be happy with a big bar, but it works.

Pro-saw or non-pro saw, buy what works for you. If you don't use a saw every day to make money you'll probably be fine, but if you want to cut timber day in and day out, buy something better.
Douglas said:
It's a homeowner saw at an attractive price point. Clamshell design isn't for professional use, but is quite adequate for the occasional use.
Patrick said:
Mine runs and dies in the cut, piston all messed up, going to rebuild it into a 390. It's a heavy saw but a good one.
Quinn said:
Good saw, not fast but definitely a decent saw to have around. I think I have a few in the shop for loaners.
Jim said:
I have had an 029 and an 029 super for years and they are fantastic saws! I have heard from many people about how tough these saws are, even though they are not a pro saw.
Tim said:
I'd give anything that get my 029 back! Some jerk stole it from my cabin. Best saw I have ever owned!
And Larry said:
It was Stihl's best selling saw for the whole time they made it. Not a pro saw, just a firewood saw at a good price.
Negatives/cons/bad reviews:
029 and throw it back in the pond. The damn thing is a boat anchor and was resting in peace until some ass tried to make it chainsaw.
Heavy underpowered and prone to eating pistons.
One of the biggest pieces of s**t Stihl ever made
It is heavy for the power It has. The 029 will never be as good as the 028 it replaced IMO.
029 is very heavy for its output. Still a great saw. Just wouldn't want to tote it around in the woods much.
And James said:
Probably the worst saw that Stihl made. I have two of them that blew up. Out of 15 Stihl saws that I have those the only two that have blown up scored piston both of them.
But it is hard to find negative reviews of the 029 – it's known to be a reliable homeowner saw that is good for firewood and other occasional tasks around the home or farm.
Specs and Features
| | | |
| --- | --- | --- |
| Specs | Stihl 029 | Stihl 029 S |
| Displacement | 54.1 cc / 3.3 cu in | 56.5 cc / 3.45 cu in |
| Power | 3.7 hp / 2.7 kW | 3.75 hp / 2.8 kW |
| Bore | 45 mm | 46 mm |
| Stroke | 34 mm | 34 mm |
| Weight* | 13 lbs / 5.9 kgs | 13 lbs / 5.9 kgs |
| Idle RPMs | 2,700 | 2,800 rpm |
| Max RPMs | 13,000 | 13,000 rpm |
| Fuel Capacity | 0.56 L / 1.18 pts | 0.56 L / 1.18 pts |
| Chain Oil Capacity | 0.33 L / 0.7 pts | 0.33 L / 0.7 pts |
| Bar Length | 16 – 20 inches | 16 – 24 inches |
*STIHL sometimes listed the 029 and 029 dry weight as 13.2 lbs / 6 kgs.
Electronic magneto ignition (breakerless)
Bosch WSR 6 F or NGK BPMR 7 A spark plugs
0.5 mm electrode gap
Fully automatic oil pump
STIHL RAPID™ Micro™ 3 (RM3) chain
More information can be found in the Stihl 029 manual (download here).
Price And Parts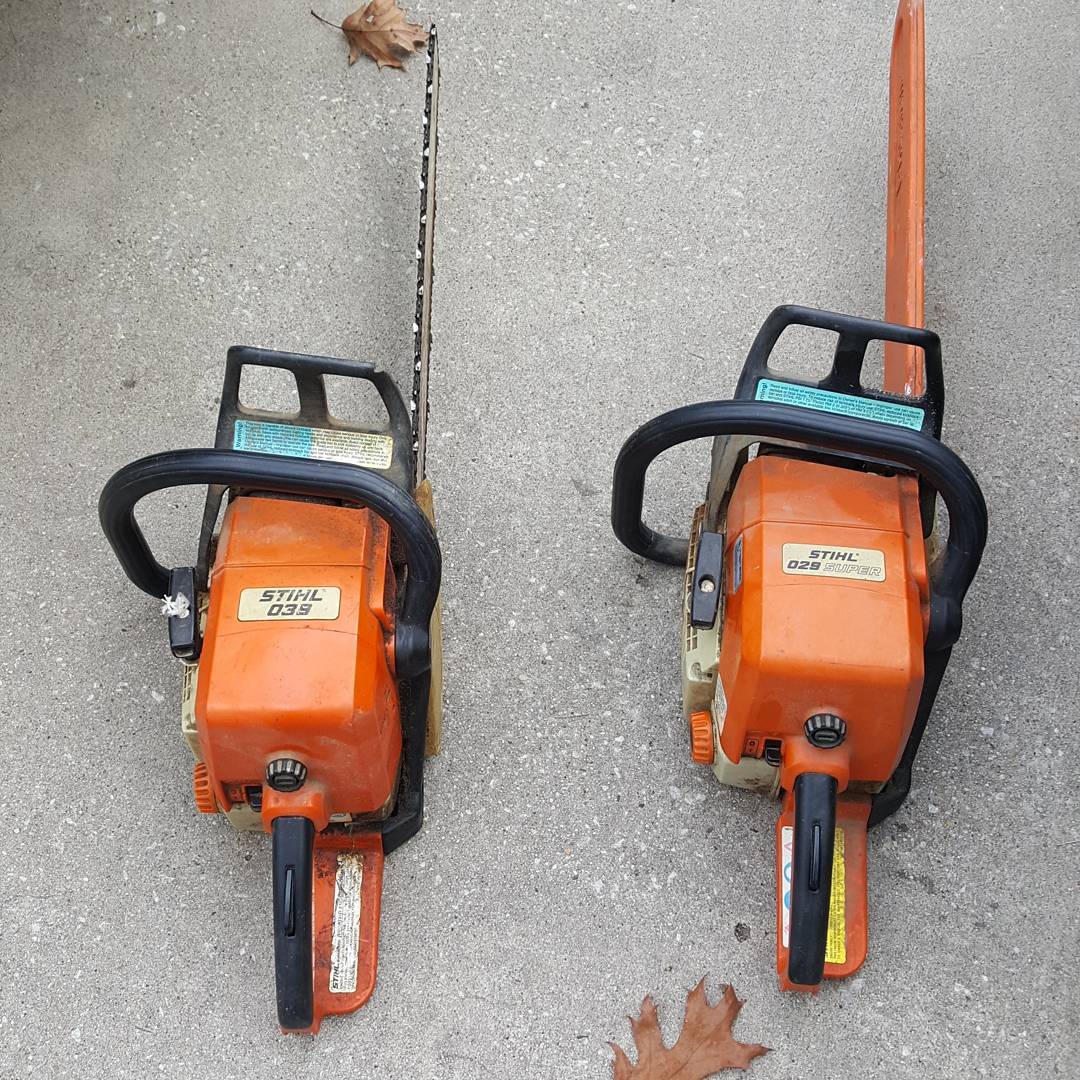 What is the Stihl 029 worth?
As always, it depends on the condition of the saw and where you are located. In the US, good used models can sell for between $200 and $300. Saws in worse condition will be worth under $100.
Here are some comments from different Stihl users on pricing:
I have a 029 and for farm use, it has been great. It is an older model but if it runs for $100. I would buy it.
Pristine shape, $300; starts and dies, maybe $150 on the high end.
I paid 25 for mine lol.
I would say a good condition 029 in these parts would fetch $200 most days.
I haven't given over $150 for an 029 in YEARS.
Compare the price of an MS 291, which is today's equivalent, and think about buying a new one if the 029 you're looking at is priced anywhere near that.
Parts for the 029 are not hard to come by… You'll find everything you need on eBay or in local Facebook groups. There were a lot of 029s and 029 Supers sold – not to mention the MS 290 – so parts are plentiful. Even Amazon has a lot of aftermarket 029 parts.
Stihl 029 Super Chainsaw
The STIHL 029 and 029 Super are both good chainsaws for homeowners or other light chainsaw users. They are part of the Farm Boss series of chainsaws which are the high-end homeowner chainsaws.
The newer versions of these chainsaws feature heavily in our worst Stihl chainsaws list, but this does not include the 029. The older versions of the Farm Boss series seem to be better than the new models.
Let us know your experiences with the 029 or similar saws in the comment section below. And feel free to ask any questions.