The STIHL HS 72 and HS 74 are gas-powered hedge trimmers – for your information, HS is the gas-powered hedge trimmer range designation, HSE is electric, and HL are extended-length hedge trimmers (which are gas).
The HS 72 and 74 are basically identical machines – they have the same identical 23.9 cc engine and everything else – the only difference is that the HS 74 has a rear handle twist lock. This is a lever for rotating the rear handle – an additional feature.
The HS 72 and 74 were made in both Germany and the USA, but information on the trimmer is hard to find. They were produced between 1992 – 1996, so it's not a long run.
*Images come from eBay seller Sherman_Saws and are used with permission. This Stihl HS 72 was for sale in October 2023 (listed for US $174.99).
Stihl HS 72 / 74 Hedge Clippers
The seller, Sherman_Saws says this about the HS 72:
This STIHL HS-72 hedge trimmers serial number-227892013 the machine runs great. This saw has been tested by starting it letting it idle and revved up then shut off and restarted and through the process again then several cuts were made.

Please view all photos closely for condition description. You are buying this saw as is where is NO RETURNS!!! It will be started and tested again before shipping out which I will make a video of. If it does not start it will not ship.

Depending on your location the machine may need to be tuned for your elevation. The saw will be emptied of gas mix and bar oil before shipping. Please remember it requires 2 stroke mixed (ethenol free preferred) gas mixed at 50:1.

Please check out our other eBay store Sherman_Saw_Parts for great new and used parts. Please feel free to ask any questions before purchasing any item. Thanks for your interest in our listing! Have a good day!
The HS 72 shares a manual with the HS 74. There is another version with the HS 74, HS 76, and the BG 72 (a gas-powered leaf blower).
We emailed STIHL to see if we could get the HS 72 / 74 manual, and they sent it through. You can download it here.
Specifications
The model pictured here is made in Germany (seen on the STIHL tag), but we've seen other HS 72s with "Made in the USA" labels as well.
HS 72 / 74 specifications:
Blade length: 42 cm / 16.5 inches OR 55 cm / 21.7 inches (HS 74 can also take 70 cm)
Displacement: 23.9 cc / 1.46 cu. in.
Power: 0.8 kW / 1.07 hp
Bore: 33 mm /1.20 inch
Stroke: 28 mm / 1.10 inch
Idle speed: 2800
Ignition type: electronic (breakerless) magneto ignition
Spark plug: NGK BPMR 7A or Bosch WSR 6F (heat range 200)
Carburetor: all position diaphragm with integral fuel pump
Fuel tank capacity: 0.37 L / 0.78 US pint
Electrode gap: 0.5 mm / 0.02 in
Air filter: foam and felt element (part #4137 124 2800)
Pre-filter: part #4137 124 1500
Fuel filter: part #0000 350 3503
Weight:
HS 72 with 42 cm blade: 5.2 kg / 11.2 lb
HS 72 with 55 cm blade: 5.3 kg / 11.7 lb
HS 74 with 42 cm blade: 5.2 kg / 11.5 lb
HS 74 with 55 cm blade: 5.4 kg / 11.9 lb
HS 74 with 70 cm blade: 5.6 kg / 12.3 lb
The recommended fuel oil mix for the HS 72 (and HS 74) is 50:1.
There are plenty of HS 72 and 74 parts on eBay at the time of writing.
This includes petrol hoses, engine covers, new blades, mufflers, air filter covers, blade brake assemblies, carbs, cutter guards, flywheels, and more.
Parts supply doesn't appear to be an issue, and they are also reasonably priced.
Stihl hedge trimmer blades can be replaced or sharpened.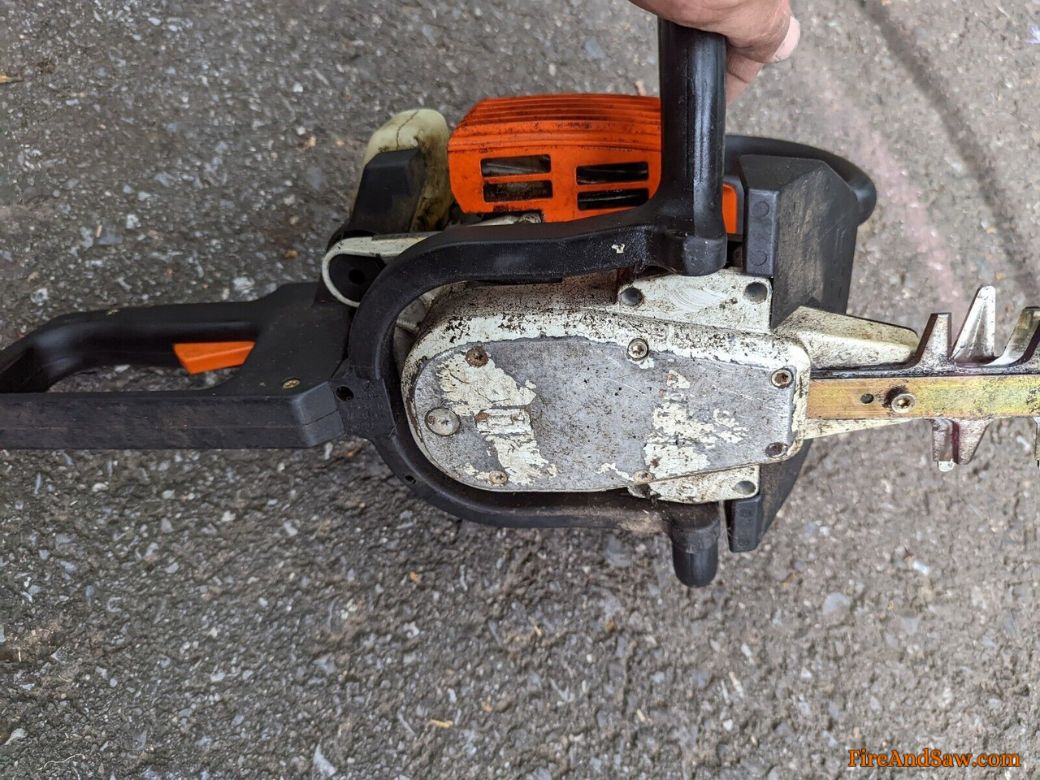 User 'cscltd' on ArboristSite shared (edited for clarity):
The HS 72, 74, 76 are rated pro models. Based on FS 76 Japanese trimmer engine.

The HS 45 is a home owner model.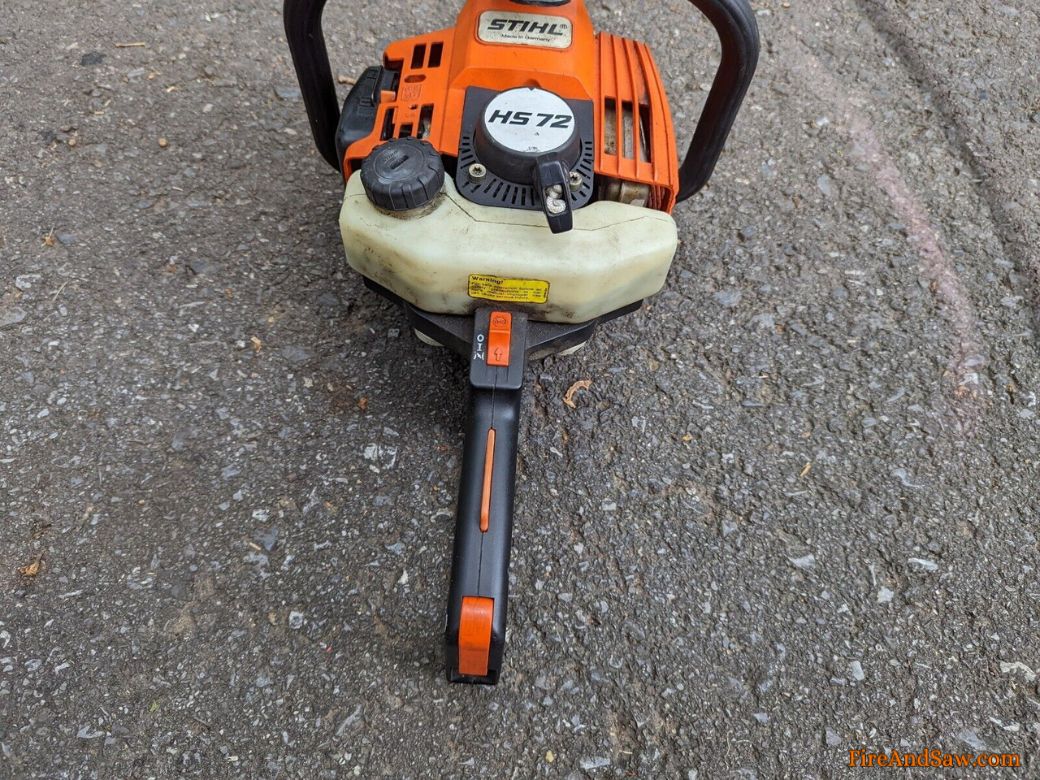 If the HS 72 Hedge Trimmer is anything like Stihl Chainsaws in the quality of build and performance, this will be an excellent product.
Stihl HS 72 / 74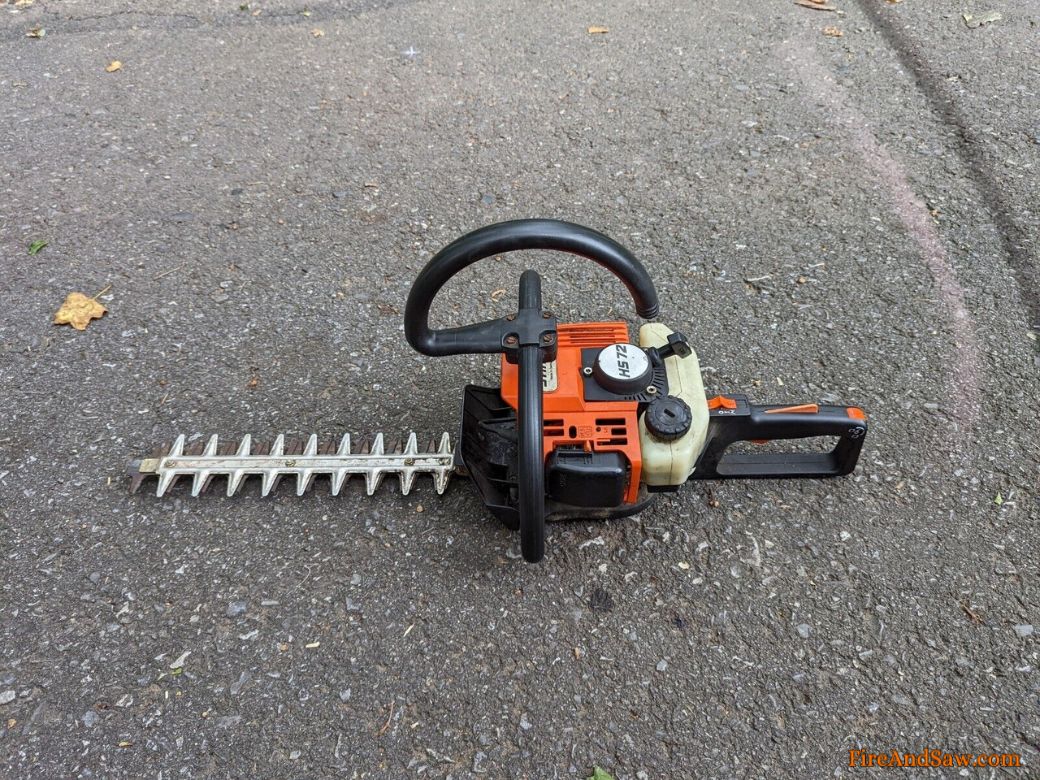 While it's hard to find any user reviews on the HS 72 and 74, they appear to run well in the few videos of it on YouTube.
Also, those who have run one appear happy with their performance. There's no doubt it will get light work done, but as it's only a 24 cc hedge trimmer, it's not for huge jobs.
The HS 76 is a more powerful version of the 72/74, but more commonly found models are the HS 75, 80, and 85. Personally, we use the DEWALT battery-powered hedge trimmer – it's also good for light work.
If you have an HS 72 (or have used one), let us know any more info in the comment section down below. We can add extra info to the main article and fill it out!