Fire glass is typically tempered glass manufactured in chunks and used decoratively in fireplaces and fire pits.
The glass is made to withstand extreme temperatures and harsh weather without getting damaged or even discoloring. In addition, fire glass emits no harmful smoke, ash, chemicals, or soot.
Fire glass, also known as fire glass rocks, fire pit glass, lava glass, or fire beads, is suitable for indoor and outdoor use in fireplaces and fire pits. It's also used in aquariums, landscaping, and art projects.
Most people think of fire glass as a thing of beauty, which is true. However, it also has practical uses.
Read on to learn more about fire glass, including the different types, installation processes, and answers to frequently asked questions.
Types of Fire Glass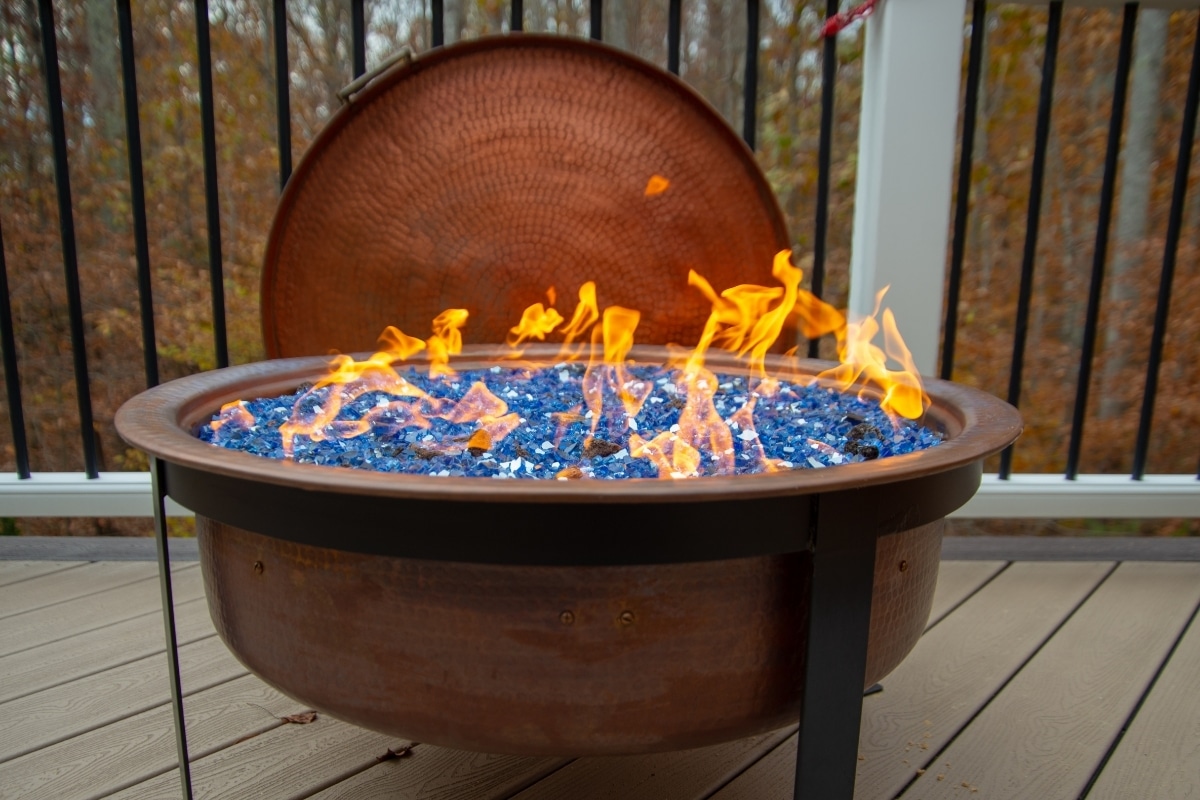 Fire glass is an essential asset you can use to invigorate scenes, light up a room, or even create a mood at night with its glimmer. The sparkle it emits can complement one of your ordinary corners too.
Fire glass comes in numerous colors, reflective properties, sizes, and shapes, including celestial fire glass. With such a variety to choose from, it makes it easier to fit your home with a fireplace or fire pit that suits your style and preference.
Fire Glass Sizing
Fire glass is available in three sizes—fine, medium, and large sizes.
When determining what size is best for you, you need to consider two factors:
The amount of space available between the shards
The homogeneity of fire glass within that space.
1. Fine Fire Glass
This small fire glass comes in shards of a quarter-inch in size.
Its versatility makes it the industry's standard. For example, it can work in large and small fire pits, even in the tiniest of fireplaces or installations, and offer a wide range of innovative features.
You can use fine fire glass in two to three tonal fire installations placed side by side. It gives a visual gradient between both areas, making your fire feature stand out more.
2. Medium Fire Glass
Medium fire glass features a diameter of just a little over half an inch. It's perfect for larger fire installations.
Compared to fine fire glass, it provides much more texture. You can also implement the two-tone trick successfully with medium fire glass in long installations or fire pits.
3. Large Fire Glass
Large fire glass sizes vary from one designer to another and can go up to two inches in width.
The glass is usually roughed up and possesses specific properties. If you have a traditional fire pit, especially with an earthy tone, these fire pit glass rocks are easier to use.
Large fire glass doesn't stand in the way of flames. Instead, it allows them a smooth path between its crystals, giving you more liquid, curvier, and glossier flames. Hence, it's best suited for use in deeper installations with smaller flames. These flames have liquid characteristics that this fire glass complements well.
Fire Glass Colors
Fire glass is available in a wide array of colors. The colors are usually long-lasting, brightening your place all night. Some of the most common fire glass colors are:
Sky blue fire glass
Black fire glass
Gold
Cobalt blue
Copper
Bronze
Red
You can find a wide variety of colors of fire glass on Amazon here.
Classic Fire Glass
This one provides a snaggy crystal look for a broken/crushed glass appearance. It's available in different colors and quarter and half-inch sizes.
Reflective Fire Glass
It's fire glass with a polished surface. The mirrored finish provided by its surface reflects light from the flames, resulting in a lively display of flames from your fire.
Interestingly, during the daytime, the reflective mirror reflects the sun too. That creates a magnificent look without necessarily having a fire burning.
Fire Beads
These provide you with a bead-style shape that is familiar to most people. Due to their contemporary appearance and shape, most people prefer these fire pit glass beads.
You can get them in a variety of colors. The "luster" appearance is available, offering you a more reflective appearance.
Recycled Fire Glass
Recycled fire glass is simply a refired fire glass. It follows the same process as other types of fire glass, creating a product of the same top quality and eco-friendliness.
It's available in various colors, and its size ranges from ½ – ¾ inches.
Zircon Fire Glass
The name zircon fire glass comes from the diamond-like shape it has. It has the shape of large zircon gems that gives it a lustrous appeal.
Once you use zircon fire glass in your fireplace, it creates a luxurious appearance, enhancing your fire feature.
How to Install Fire Glass in a Fire Pit
The procedure for fire glass installation is relatively straightforward. If you can follow the instructions below, you can do it with ease, whether you have a copper fire bowl or a cast iron fire pit. However, if in any doubt, consult a licensed contractor.
Step 1: Prep the Fire Pit
The first thing is to prepare your fire pit for fire glass. You can clean the place to remove any dirt that may have remained from the previous fires.
Step 2: Add the Filler
Before adding the filer, measure three to four inches down from the top of the firepit using a measuring tape or a ruler.
Then mark the distance with an object like a pencil and fill up your pit with sand filler or lava rock up to the mark. Some manufacturers even have their filer, which you can purchase as you buy your fire glass.
Step 3: Find a Suitable Location and Install Your Fire Burner
The most suitable location to install the fire burner is at the center of the fire pit. Install the fire pit burner at that location on top of your appropriate filler. The gas holes should point upwards to help maximize efficiency and flame size.
Always follow local building codes during burner installation. For example, a propane burner requires that you install a pan underneath it. It's also advisable to light the burner after installing it to examine the flame pattern before going to the next step.
Step 4: Install the Fire Glass
The last step in installing a fire glass in a fire pit involves pouring the fire glass into the fire pit.
A large bucket comes in handy in helping you have control as you pour the fire glass on top of your filler or lava rock. Once you're through, put on protective gloves and shape your fire glass as you like.
Most people prefer the mound shape where the highest point is at the center. You can now light your fireplace and enjoy once again as the flames dance above your most preferred fire glass.
20 Fire Glass FAQs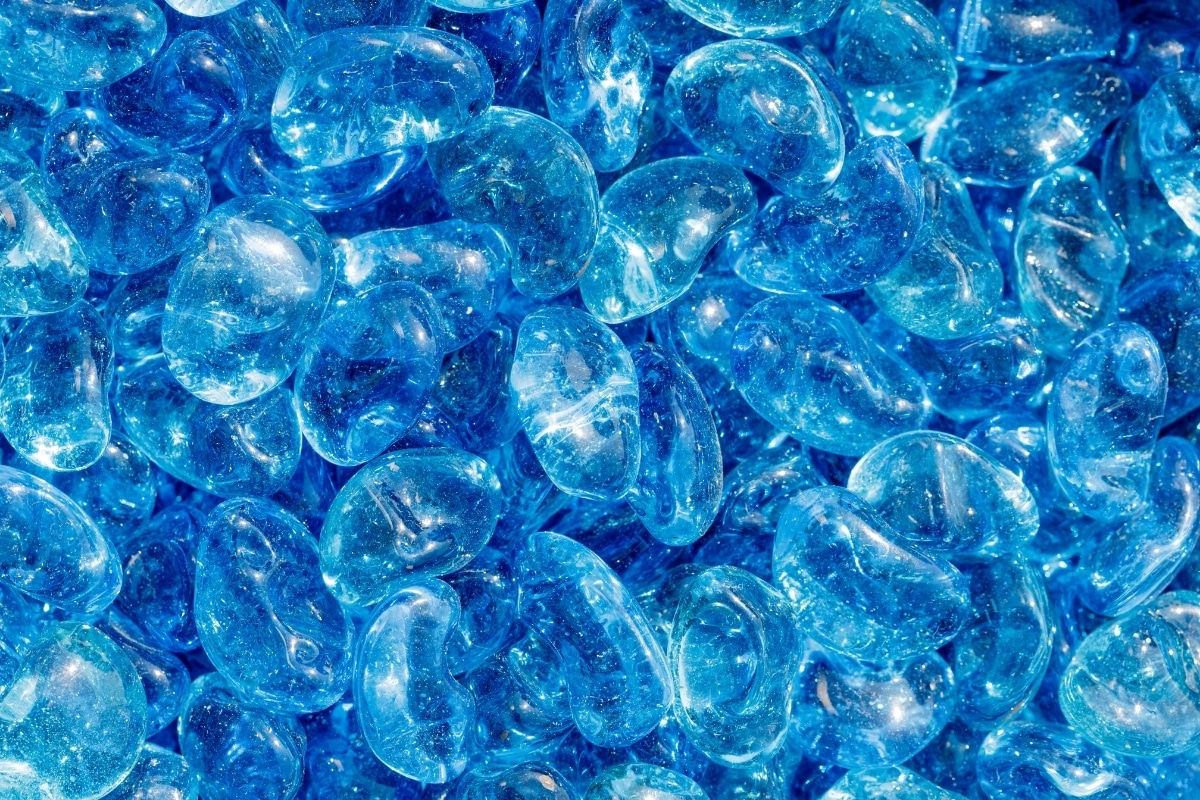 Below are some frequently asked questions about fire glass.
How is Fire Glass Used?
Fire glass serves both functional and aesthetic purposes.
Hotels, shopping centers, resorts, apartment communities, restaurants, and homeowners who want to improve the aesthetic value of their indoor and outdoor living places can use fire glass. It gives the atmosphere and designs an all-new look.
Fire glass is an excellent alternative to fake ceramic gas logs, wood logs, or any other burning material that's not friendly to a dancing flame's natural ambiance.
People even add it to large and small aquariums alike for color and decoration.
What Is the Difference Between Fire Glass and Regular Glass?
Fire glass and regular glass are not the same.
While regular glass is prone to heating up and exploding, fire glass heats more efficiently. These fire glass crystals are usually "fire-rated" or "tempered." Thus, they'll never burn or melt.
Another difference is fire glass doesn't discolor, unlike regular glass. Therefore, it's a better option for both indoor and outdoor fireplaces.
In addition, fire glass has more reflectivity, which allows it to absorb heat from the flames better, ultimately giving off more heat. Its smaller and more uniform crystals also allow fire glass to disperse heat more uniformly, making the room or space warmer.
In conclusion, while regular gas may be cheaper, it's less heat efficient.
What Do You Put Under Fire Glass?
Sand serves well as a suitable material to put under fire glass.
Compared to most other filer materials, sand is relatively cheaper, distributes heat excellently, and is easy to install. If using a propane burner, placing a pan underneath will suffice.
What Color of Fire Glass Looks Best?
When it comes to choosing the best-looking fire glass color, it's all about preference. That said, the most popular colors are blue, green, purple, and red.
For an intense look, you can opt for onyx black. Or choose copper and amber to create a rustic feel.
There are other factors you can consider to help determine which color of fire glass looks best. Keep in mind the best warm colors are yellow, orange, and red, while green, blue, and purple are the best cool colors.
How Much Fire Glass Do I Need for My Fire Pit?
According to most manufacturers, two to four inches deep of fire glass in a fire pit is enough.
You can use a filler such as sand in large applications. That way, you save on resources since sand is more economical. For example, you'll only need about two inches of fire glass to cover the filler. Nobody will even notice that there's something underneath.
As for how much fire glass you need to fill the space, almost all manufacturers have a calculator that you can easily use to determine how many pounds you need to fill your fire pit. With your pit's dimensions, you can easily purchase the right amount after calculation.
Always cover with a good fire pit screen to avoid sparks and ashes leaving the pit.
Can You Mix Fire Glass and Lava Rock?
In a natural gas or propane fire pit, you can use fire glass and lava rock together as they complement each other.
You can either mix them or layer them with fire glass on top of lava rock. Mixing the materials is helpful for large applications because fire glass on its own can be quite costly. Lava rock is cheaper, thus helping you cut costs.
Does Fire Glass Get Hot?
Fire glass heats up but doesn't explode, burn, or discolor. Its reflective surface allows it to absorb more heat and release it, efficiently warming the surrounding areas.
After you've put out the fire, the top layers of the fire glass cool, but the bottom crystals continue radiating heat.
Can You Use Fire Glass in a Wood Burning Fire Pit?
Not at all. The way it's designed, you can only use fire glass in a gas fire pit or gas fireplace insert.
Unless you convert your wood-burning fire pit into a propane or natural gas pit, it won't even light up if you try to use wood.
Just remember, fire glass is not a source of fuel but a decorative material placed in a fire pit to create a cleaner and more stylish appearance.
How to Light Fire Glass Without Gas?
It's impossible to light fire glass on its own as it's not a source of fuel. You require natural gas or propane as a source of fuel.
What are the Best Alternatives to Fire Glass?
Realistic fireplace logs, natural-looking fire stones, modern fireballs, and geometric shapes can serve in place of fire glass pretty well. Their heat radiation is phenomenal, and they also add flair to your outdoor and indoor fire features.
How Long Does Fire Glass Last?
When used with the right gas, fire glass undoubtedly withstands cracking, extreme temperatures, and changing color. That means it can last indefinitely.
The best gas for a fire pit is natural gas. While propane is also an option, fire glass is prone to cracking and discoloration when used with this gas.
Where Can You Buy Fire Glass?
Fire glass retailers are available both locally and online. If you cannot find one in your area, search for one online in your state or city. They'll deliver whichever type and the amount you want for your fire pit.
Can you Clean Fire Glass?
Yes, you can clean fire glass. If your fire glass gets too dirty, you can use water and soap to wash it and then let it dry. Alternatively, a quick rinse can also do the trick.
Nevertheless, it's worth noting that fire glass doesn't collect any ash or soot, so it won't end up smelling like a wood stove.
American Fire Glass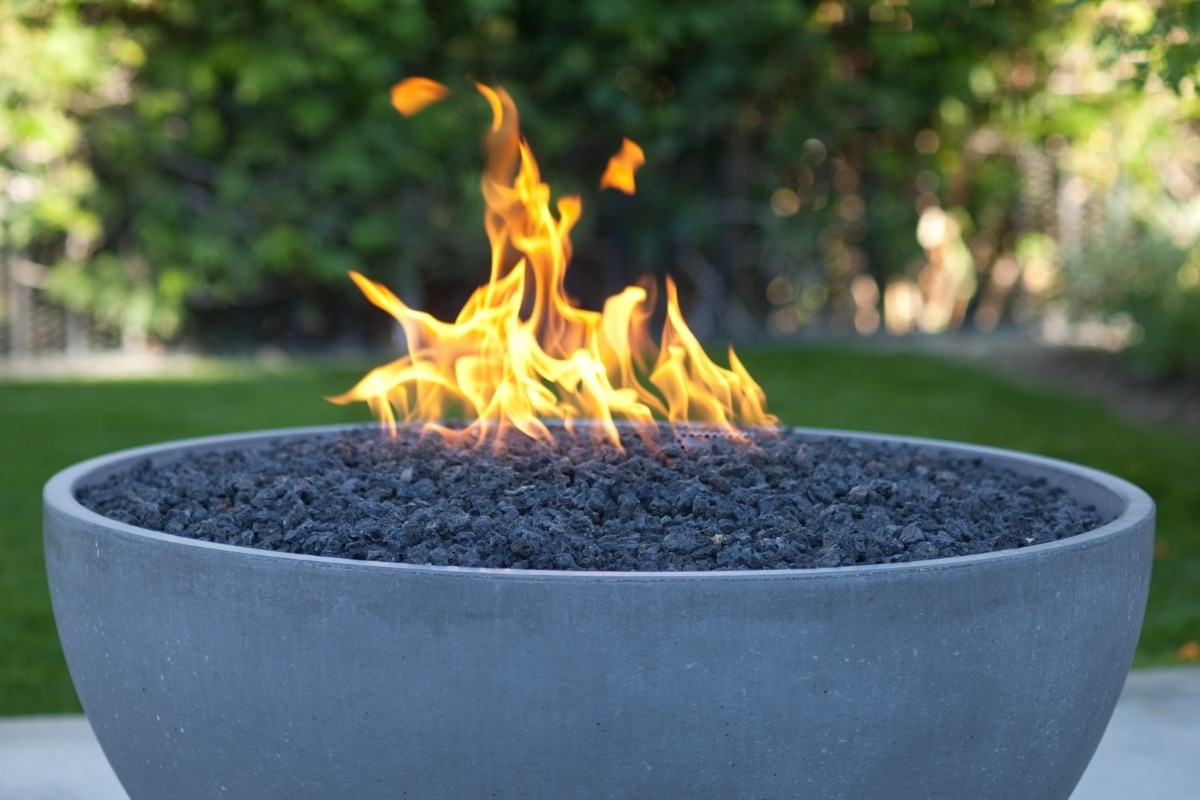 So if you came here asking 'what is fire glass?' hopefully that explains it!
American fireglass is one popular seller for all of these applications, or you can check out the massive selection on Amazon here.
However you are planning on using fire glass, make sure you read and follow the instructions that come with each specific brand and variety. If using it with a fireplace or fire pit, make sure it's rated correctly for your application.
If you have any further comments, please leave them down below. Lastly, check out these great Blue Rooster Chimineas as an alternative to a fire pit – they are pretty unique!