There are quite a few Stihl chainsaws that are NOT for sale in the USA.
These saws are also usually not found in all of North America, Europe, the UK, Australia, and New Zealand either.
Here are 8 such saws that you may or may not have ever heard of before…
Stihl Saws Not Allowed In North America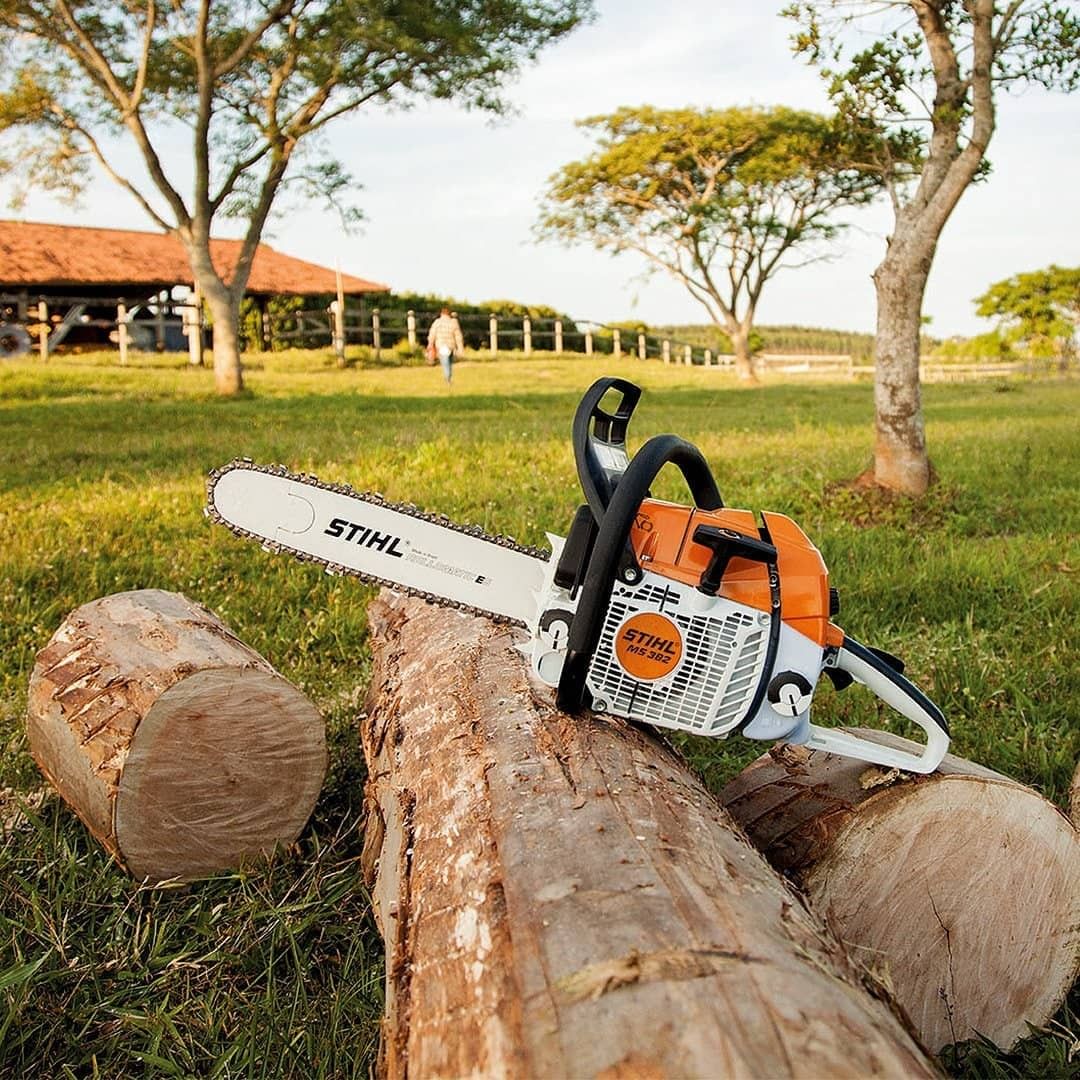 The main reason Stihl doesn't sell a saw in one place over another is due to emissions and environmental standards.
The EPA (US), CEPA (Canada), Environment Agency (UK), and equivalent agencies in Australia, NZ, and Europe have stricter emissions standards than countries like the Phillippines, Chile, and South Africa.
Sometimes a saw won't be sold in one region so as not to compete against another similar Stihl saw, but for the most part, it's related to regulations.
These are 8 saws that are being sold or were sold in countries other than North America.
1. Stihl MS380
3.3 – 3.9 kW/4.5 -5.3 hp (depending on the version)
72.2 cc
6 kg/14.5 lb
Made 1999 – 2007
The Stihl MS380 was (and still is) a popular forestry and firewood saw that came after the Stihl 038.
Stihl said about it:
Robust and reliable, equipped for big loads. Highly suitable for thinning medium stands. Good for harvesting big timber.
It's an interesting saw because it had an N version with a lower compression engine. Plus it was sold with different mufflers which also changed the power output, but was not designated with a letter.
2. Stihl MS381
3.9 kW/5.3 hp
72.2 cc
6.6 kg/14.5 lb
2007 – unknown
The 381 followed the 380 and had an additional couple of features:
This commercial Chainsaw provides power and performance for heavy-duty farming and commercial applications. Ideal for logging and cutting firewood. This saw has a decompression valve and ElastoStart for easier starting.
This model also had a low-compression version.
3. Stihl MS382
3.8 kW/5.2 hp
72.3 cc
6.6 kg/14.5 lb
Unknown years
The Stihl MS382 followed on from the MS381 (as you can guess).
Stihl said:
The STIHL MS 382 chainsaw is ideal for felling and preparing medium-density trees in the forestry, agriculture or plantation industries.

Weighing 6.2 kg with a power to weight ratio of 1.6 kg/kW, this high-performance saw is extremely easy to guide. The robust MS 382 stands for a high level of reliability and easy servicing.
One of the reasons this chainsaw was not sold in all countries was that it doesn't have a spark arrestor.
A chainsaw spark arrestor is a safety component, typically made of fine wire mesh or metal screen, designed to prevent the emission of flammable sparks from the chainsaw's exhaust system.
Installed in the muffler or exhaust outlet, it reduces fire hazards during operation by trapping and cooling sparks before they come into contact with combustible materials.
Not having a spark arrestor (or removing it) can lead to better engine performance.
4. Stihl MS650
4.8 kW/8.4 hp
84.9 cc
7.5 kg /16.5 lb
2011 – 2013
The MS650 is a powerful logging chainsaw that was sold very briefly in the US, but only very few.
Stihl said:
Very powerful saw. Extremely robust and hard-wearing, for the effective harvesting of big timber. Standard features include: Elastostart, Compensator, Decompression valve, Lateral chain adjuster and Quickstop chain brake.
My understanding is that was an emissions compliance saw… I could be wrong though
Comments from users:
It's like the 064 model of the 066 generations.
They have K&S cylinders with better porting than the 660 Mahle cylinders from what I've been told.
That was used a lot overseas where they did not have high octane.
650 is basically a 064 that weighs as much as a 066.
Meant to be a "budget" version of a 660. I had one, dang good saw but man was that thing heavy.
In a FB thread on the 650, David said:
52mm bore instead of the 54mm bore of the 660… so it's a little less CC's but they are obviously still a super strong saw… They didn't sell as many as it's the same size package with a little less power… the crank and bearings will last for 30 years in those models though because of that slightly less abuse on the bearings and a little less torque…
5. Stihl MS651
5 kW/6.8 hp
91.1 cc
7.4 kg / 16.3 lb
2013 – current
The Stihl MS651 followed on from the 650, but has had a much longer run.
It's still for sale in many countries and is described as:
The STIHL MS 651 is a high-performance saw for demanding applications in high-density stands. With the STIHL anti-vibration system and an HD2 filter with an excellent filtering effect.

The controlled-delivery high-performance oil pump delivers high quantities of oil for optimum lubrication.
In our MS651 review, we shared some of the ways it's different from the 661 and why it's not sold in the US. This has do with the quality of fuel in other countries not being as reliable as in the US, Canada, etc.
6. Stihl MS720
4.8 kW/6.5 hp
105.7 cc
10.8 kg/23.8 lb
2012 – current
About the MS720, Stihl says:
The MS 720 – lmproved design of the most popular livelihood chain saw STIHL 070. Equipped with the New Duromatic E guide bar (approximately 8% thicker) for less vibration.
It's a beast of a Stihl chainsaw not sold in the USA due to safety and emissions standards. It's popular for work in the jungle, especially for milling operations.
7. Stihl MS780
5.6 kW/7.6 hp
121.6 cc
9.8 kg/21.6 lbs
Unknown years
The MS780 is yet another big Stihl saw that's not for sale in the USA, UK, or Europe. It's popular in South America and South Africa, and made in Brazil.
The description says:
High-power saw for the toughest jobs in forestry. Decompression valve ensures effortless starting, HD2 filter guarantees a long filter life, tool-free fuel caps for safe and easy refuelling.
The 881, 880, and 780 all have the same displacement, but different power outputs. There is a 780 R version with a wrap handle.
8. Stihl MS070

4.8 kW/6.5 hp
105.7 cc
10.7 kg/23.7 lbs
1968 – current
The Stihl 070 (sometimes listed as the MS070) was sold in the US back in the 60s, 70s, and 80s, but has not been for many decades.
Not everyone believes the Stihl 070 is still being made in Germany, but it certainly seems to be. You can find it listed on many international Stihl sites.
The description says:
The most popular livelihood chain saw designed for harvesting, felling, trimming and all commercial and forestry applications, 90 cm guide bar, 46 RMX ripping saw chain.
But if you're looking at getting one, make sure it's not a fake 070.
Stihl Chainsaws NOT Sold In The USA
Those are 8 popular saws that cannot be bought new in the USA.
People can sometimes get them imported into the country, but usually, there's a similar model in the US that's just as good, if not better. Farmertec Holzfforma chainsaws are another option if you want a powerful but cheap chainsaw (perfect for milling).
Drop us a comment down below if you know of any other Stihl chainsaws that can only be found outside the US and we'll add them to the list!