The Husqvarna 281 XP chainsaw was made between 1986 and 2001.
It is an 80.7 cm3 / 4.9 cu. inch, 4.2 kW / 5.7 hp chainsaw recommended for use with an 18 – 28 inch bar. It's a professional chainsaw suitable for felling, clearing land, bucking, and any other heavy-duty use. At 7.5 kgs/16.5 lbs, it's not a light limbing or pruning saw!
The 281 XP pictured in this article is a green ex-British military/army chainsaw that was made in Sweden and Norway in 1989. It was listed on eBay for sale by user Greenwells Salvage in June 2023 where it attracted 24 bids and ultimately sold for GB £399.00 (approx. US$520). This saw had a seized engine so it went cheaper than a working model.
We got in touch with the account to ask if we could share their images here, to which they replied, "Yeah of course please feel free. I knew the saw was unusual but never thought I'd have this much interest!" – many thanks to Greenwells Salvage!
At the time of writing, there is another ex-army 281 XP on eBay UK that is listed as "Like mint" for £800 (approx. US$1,025). You can see that these military saws are very valuable and sold primarily as collector's items rather than as saws for regular use – though this is not the case for regular orange 281s. They are very useful saws.
Here are the pics!
Husqvarna 281 XP Military Version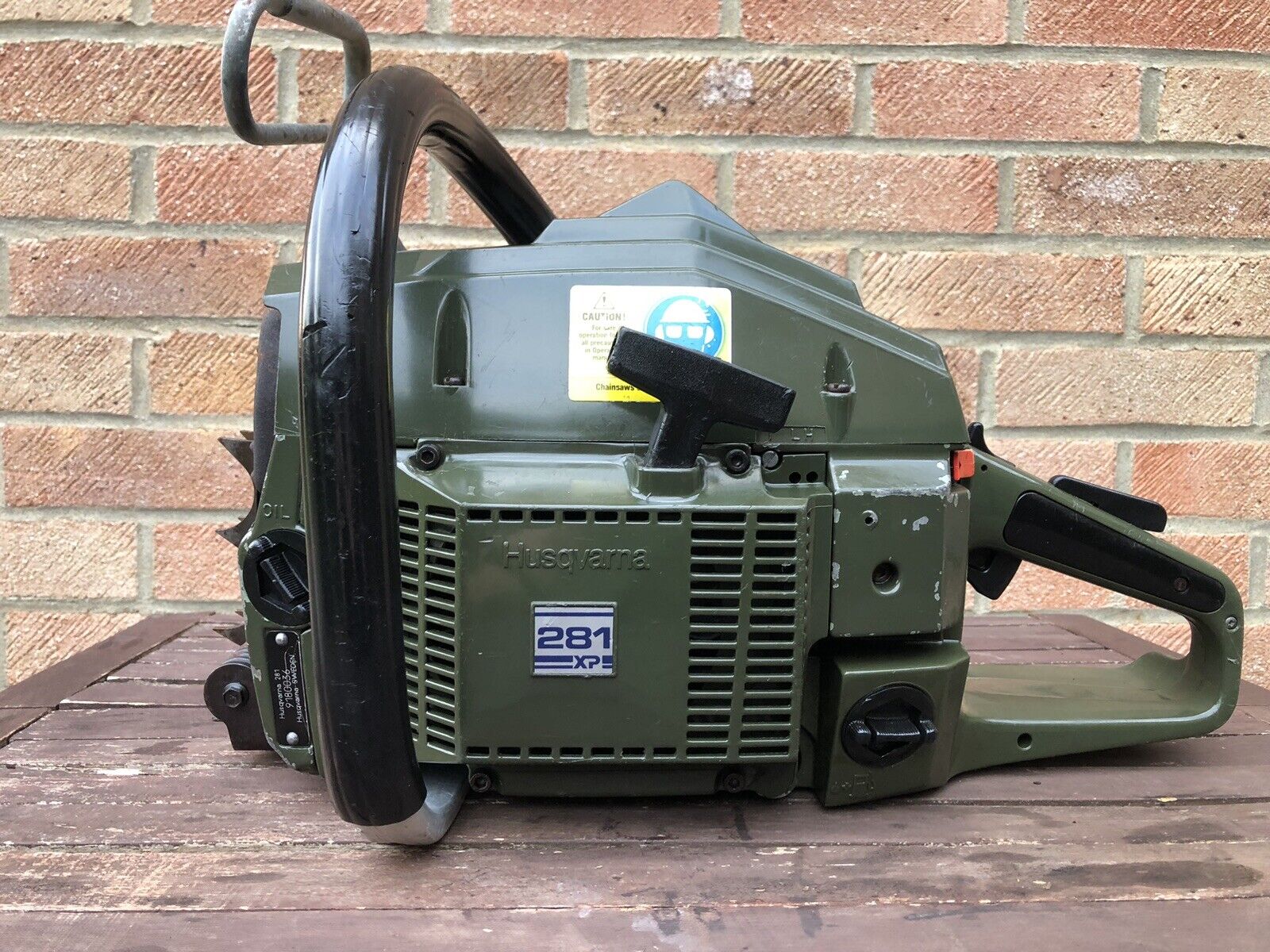 It is a very tidy example of a military 281 XP. Most of these saws no longer have complete original casings like this one. They will often have orange side covers instead of green due to being replaced.
If you have or are looking at a green 281 XP with some orange parts, you can paint or dye the orange chainsaw pieces to a matching green color.
The 281 XP manual says it can be run with an 18 – 28″ bar, though elsewhere it's stated that up to a 36″ bar is fine. This saw was sold on eBay without a bar or chain.
Green army saws are interesting – while no one's going to see them in the woods, they will most certainly hear them!
No signs of magnesium rot on this saw which is something to look for when buying an old chainsaw.
We can read the model tag to determine that this saw was made in the 45th week of 1989. It was the 36th saw off the line that week.
It doesn't say XP on the tag, but all 281s are XPs. Once the 288XP came out, the 281 was no longer designated XP. Some of them have Husqvarna 281 MI or 281 XP MI on the tag indicating that they are military chainsaws (if the green didn't give it away). So if you wanted to know what MI means on Husky saws, that's it!
While the bulk of the 281 XP would have been made in and assembled in Sweden, some parts, like the top cover, were made in Norway.
The clutch cover was made in Sweden.
It's surprising to see this saw still has stickers like 'Professional' on it.
Some army saws were originally regular orange 281 XPs and were then painted army green. This saw, however, looks to be green from the factory as there is no orange showing through the scratches.
The 281 has a nylon mesh cartridge air filter.
Overall, this is a great example of a 281 XP army edition chainsaw. As already mentioned, the engine was seized and will need some work, but it's certainly worth doing.
Some of these saws sell for thousands of dollars in the US, especially if they come with their army storage boxes and documentation. They are highly sought after. Being ex-Britsh army chainsaws, there are always more of them in the UK than in the US, making them harder to find and worth more in North America than in Europe and the UK.
Specs And Features
| | |
| --- | --- |
| Years Made | 1986 – 2001 |
| Engine Displacement | 81 ccm (4.9 cu. in.) |
| Engine Power | 5.7 (4.2 kW) |
| Cylinder Bore | 52 mm (2.05 in.) |
| Piston Stroke | 38 mm (1.49 in.) |
| Cylinder Type | Aluminum with Chrome plated bore |
| Intake Method | Piston ported |
| Powerhead Weight | 6.8 kg (15 lbs.) |
| Handlebar System | Anti-vibration |
| Chain Brake | Inertia activated |
| Clutch | Centrifugal |
| Drive Type | Direct |
| Construction | Die-cast Magnesium, injection molded Polymer |
| Magneto Type | Electronic SEM AM7 |
| Carburetor | Tillotson HS-228A, B, C series |
| Major Repair Kit | RK-23HS |
| Minor Repair Kit | DG-5HS/T |
| Air Filter System | Nylon mesh cartridge |
| Starter Type | Automatic rewind |
| Oil Pump | Automatic |
| Maximum Engine RPM | 12,500 max |
| Idle RPM | 2,500 |
| Ignition Timing | fixed |
| Flywheel/Coil Air Gap | 0.30 mm (0.012 in.) |
| Spark Plug Type | Bosch WSR7F/WS7F, NGK BPMR 7A, Champion RCJ 7Y |
| Spark Plug Gap | 0.50 mm (0.020 in.) |
| Crankshaft Main Bearings | Ball |
| Fuel Tank Capacity | 900 ml (30.4 fl. oz.) |
| Fuel Oil Ratio | 50:1 |
| Recommended Fuel Octane | Regular grade |
| Mix Oil Specification | Electrolux-approved oil, Husqvarna mix oil |
| Chain Pitch | 3/8 in. |
| Bar Mount Pattern | 17 link |
| Bar Size | 40 cm (16 in.) – 91 cm (36 in.) |
Download the 281/288 XP manual here.
Husqvarna said in their 2003 product listing:
Husqvarna 281XP is among the largest class of professional saws. Like all Husqvarna saws, the 281XP has an optimum power/weight ratio. High power in combination with rugged power and effective anti-vibration features are even more important when long, demanding work shifts and big dimensions are everyday fare.
Other Husqvarna army saws include the 154, 161 SE, 254, 444 SE, 266 SE, 268, and 272 XP, among others.
281 XP Review
Both the 281 XP and the ex-army 281 XP are very good saws that are reviewed well by users.
The army edition is a popular saw for collectors (as you can see in the FB post example above) and many guys are just waiting for their chance to own one.
The fellow who owns the saw in the FB post above shared the following in response to someone else who bought one with a scored piston:
I'm lucky enough to now own 3 army issue 281xp my pride and joy being one with only 30 hours on it box tools helmet and government paperwork.

I've been offered legitimately over £2500 for it and many saws the Americans love them . I rebuild vintage saws when I get little time.

You still got a bargain for what you paid for it but you must have known there were issues at that price other wise no normal person would part with it. Do bother cleaning up the cylinder or piston invest in a new one.

I'll see if I can locate an OEM at a good price for you I may have one. I have nine 281 XPs in total. It's nice to see another one. Don't skimp on it now you have it.
He loves the 281 so much that he has 9 of them!
Other comments in threads about the Army 281:
Fancy a swap? I don't need two kidneys.
The holy grail of Husqvarna in my book
Man I'd love that saw!
Ugh I need to find one of these.
Absolutely beautiful, what a dream. Nice saw!
The army 281 is a mighty saw.
Great saws, but working in woods they be hard to spot being green, I'd be losing saw all the time.
The regular, non-army 281 XP doesn't get quite the reaction as the green version, but it's still a good saw.
Comments on the regular 281 XP:
Got a 281 and a 288. The 281 walks all over the 288. Both stock just a muffler port. Both are great saws.
Have both a 181 and a 281xp great saws but wouldn't go as big as a 36 on them. Save that for the 3120.
People disagree with me but I swear the 181/281 has better torque than the 288. But all three 181/281/288 are some of my faves!

I agree, I prefer the 281/281, they actually make peak power 1000rpm higher than the 288.

I ran a 281 when I worked in the woods. One Hell of a Saw. Keep the rackers filed a bit low so it would CUT!
I reckon I'll use my 288 and 281 till I can't find parts anymore, I really like how simple they are to work on…
Nick said:
I just love them old 281 and the 288 XP. I really think that's my favorite saw to work with. Not to heavy for the power size of the saw. With a 24 to a 28 inch bar. Just an amazing saw. The only real problems I've ever had with these saws is the damn oil pump and the stupid O rings on the pump. Otherwise just an easy saw to work with.
Dan said:
Mine comes out pretty often I love it but not the most reliable anymore so I'm looking for something bigger and faster. But I probably won't sell the old girl as she puts a smile on my face when it's ripping through it.
And Tom said:
Cracking old saw – I just love to hear the pop pop pop that it and the 61 make while idling. Tough strong saw and reliable. Got mine ex army years ago – even had the instructions on how to destroy it to stop it falling into the hands of the enemy.
That last point is pretty awesome – the army saws originally came with "instructions on how to destroy it to stop it falling into the hands of the enemy"!
Husqvarna 281 Chainsaw
Overall, the Husqvarna 281 is a very popular chainsaw, whether you're looking at the Army version or the standard version. For the right price, it's definitely a saw worth buying.
Check out what's available on eBay here – at the time of writing, there are many good working chainsaws and others that are being parted out. The Army saws are rare and much more valuable than the regular saw, but they are up for sale semi-regularly. They're not impossible to find.
Let us know your experiences with the 281 in the comment section below, especially if you have a green one!