Where is the best place to buy Stihl chainsaw parts?
The chainsaw community is always growing and enthusiasm for these great machines is constantly increasing. There has been an upsurge of interest in older chainsaw models as well – especially Stihl chainsaws.
When picking up an older saw, you can always expect it to need a bit of fine-tuning and TLC. Or, the other big drive for Stihl chainsaw parts is from those wanting to modify old and new saws.
Chainsaw porting and muffler modifications are on the rise as people seek to get more power from their chainsaws. Whatever the reason is that you are looking for Stihl parts, here are the best places to look!
Parts For Stihl Chainsaws
HL Supply Genuine Stihl Parts

OEM and aftermarket parts
Parts for most STIHL models
Call or message for advice

View On HL Supply

eBay Old/New Chainsaw Parts

OEM, aftermarket, and saws for parts
Great range
Buy from reputable sellers

View On eBay

Amazon Aftermarket Chainsaw Parts

Mostly aftermarket parts
Very cheap
Delivered quickly

View On Amazon

HIPA Store Stihl Parts

Stihl parts including carb kits, ignition coils, chains, spark plugs, etc.
Tools for working on Stihl saws, trimmers, leaf blowers, etc.
Top selling carburetor adjustment tool kits

View On HIPA Store

Home Depot Stihl Parts

Quality OEM parts for Stihl
For many chainsaw models
Deliver or pick up from local store

View On Home Depot
You will find both OEM and aftermarket Stihl chainsaw parts for sale online, whichever of the Stihl chainsaw models you have. For those unfamiliar with those terms, here's what they mean.
Stihl OEM Parts
OEM stands for Original Equipment Manufacturer, and these parts are genuine or authentic.
The original manufacturer of the product makes these parts for repairs or modifications. They also cost more but will be far better quality overall.
Stihl Aftermarket Parts
Aftermarket parts, or non-OEM parts, are made by manufacturers other than the original maker.
These parts tend to be a lot cheaper and they are unlikely to perform as well. That's not to say they're always bad, because they're not. They simply tend to be products of lesser quality, accuracy, and performance.
1. HL Supply – OEM And Aftermarket Stihl Parts
HL Supply is a trusted supplier of Stihl chainsaw parts.
They actually stock parts for many chainsaw brands (Alpina, Dolmar, Echo, Homelite, Husqvarna, Jonsered, Makita, McCulloch, Oleomac, Partner, Poulan, and Shindaiwa). You will find almost any part you need for Stihl chainsaws, whatever model you have – unless you're looking for parts for the mythical Stihl 096.
They sell complete repair parts for each model, cylinder kits, overall kits, carburetors, and all the rest. Even little parts like bar oil feed pipes. You will need to check each listing as they stock both aftermarket and OEM parts for STIHL Whatever you want to repair, modify, or pimp your Stihl chainsaw, check out HL Supply first for the best range.
---
2. eBay – Stihl Chainsaws For Parts
As you would expect, eBay is one of the best places to buy new and used Stihl chainsaw parts. It's a bit hit-and-miss as to what you'll find from day to day, but there are always plenty of options. Old chainsaws that no longer work can be picked up very cheaply for parts.
Different sellers have both OEM and aftermarket parts. You will find used covers and casings for Stihl chainsaws, carburetor kits, bar and chain sets, used fuel tanks, throttles, and anything else you can imagine needing.
Even if you have one of the old Stihl chainsaws, such as the STIHL 090, you will likely find the parts you need here. Sometimes people are asking a bit much for what they're selling, keeping in mind you will most likely need to pay for shipping as well. But, if you have a good search around, it's likely you'll find what you need at a reasonable price.
---
3. Amazon – Aftermarket Stihl Parts
It's no surprise either that you can buy basically any Stihl replacement part on Amazon.
From a Stihl MS310 Carburetor kit to the new felling dogs for any Stihl chainsaw, they basically have it all.
Of course, the downside to buying Stihl parts from Amazon or eBay is that it doesn't come with any advice or chainsaw enthusiasm! Going to a Stihl parts dealer like HL Supply you know you're dealing with experts. You can ask questions and get product support.
However, Amazon is great for getting what you need quickly, and if you don't need any help then go for it. They mostly stock aftermarket parts from China, but you'll see some OEM parts from time to time.
---
4. Home Depot – Stihl Parts Online

Home Depot has an excellent range of OEM parts for Stihl chainsaws. There are serious items like carbs, cylinder assemblies, casings, or more run-of-the-mill parts like fuel caps, air filters, or chains for an MS 170.
You can choose to shop online or head into your local Home Depot – however, while not all parts will be available at all stores, you will likely be able to order them for pick up.
---
5. HIPA Store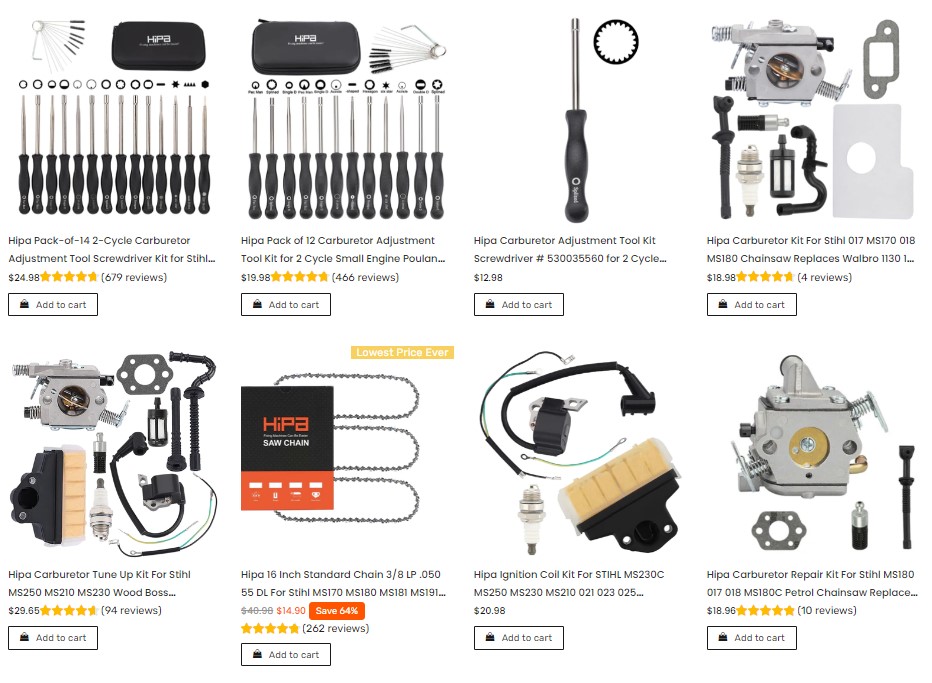 HIPA Store has a range of STIHL chainsaw parts, including:
Carb kits for the 017, MS 170, MS 180
Carb kits for the MS 210, 230, 250
Ignition coils for Stihl chainsaws, blowers, and trimmers
Just to name a few, but they're best known for their carb adjustment kits. Their 14-piece carb adjustment kit (HIPA Store here or Amazon here) is a top seller with over 650 reviews.
The Hipa Pack-Of-14 2-Cycle Carburetor Adjustment Tool Screwdriver Kit is a versatile set designed for tuning low and high-speed settings on 2-cycle small engines. Compatible with a wide range of brands like STIHL, Husqvarna, and Poulan, it works on various garden machinery including string trimmers, chainsaws, and leaf blowers.
The 14-piece kit contains different types of adjustment tools such as 7-teeth Splined and Pac man, and optionally includes extras like a carb cleaning kit, spark tester, and RPM tachometer, all housed in a convenient carrying case.
6. Sears Parts Direct – Parts And Accessories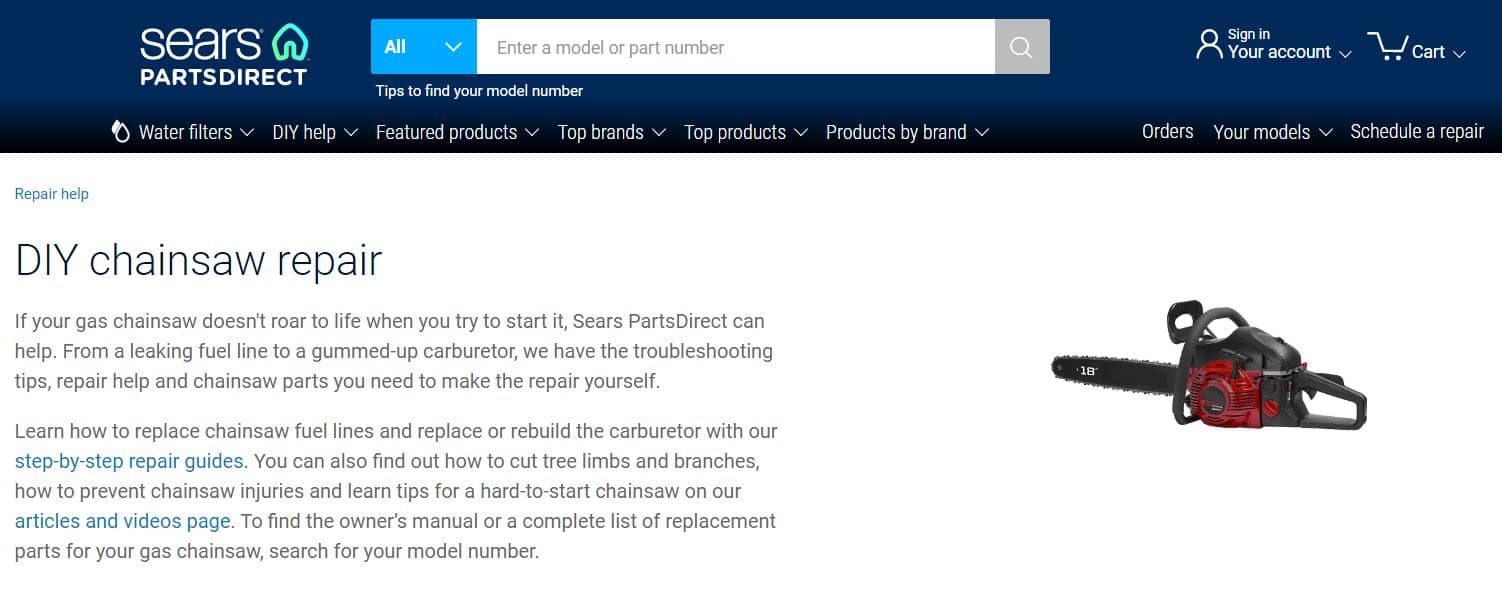 Sears Parts Direct is our first recommendation for new Stihl chainsaw parts. Compared to some outlets, they don't have a wildly extensive range of Stihl products, but what they do have is very good.
They do have a lot of chainsaw parts for other brands like Homelite, ECHO, and Craftsman chainsaws (Sears actually owned Craftsman chainsaws).
Best of all, their site is supplemented by a huge range of DIY chainsaw repair guides:
What to do if your chainsaw is leaking gas
Why your chainsaw isn't starting
Or how to rebuild a chainsaw carburetor
Make sure you check out their range of parts and guides to see if they can help you out today.
---
7. Stihl Dealer – Chainsaw Parts And Repair
Your local Stihl dealer is another good spot to go for Stihl chainsaw parts.
You might end up paying a bit more here, but at least you can pick it up today. You will also be able to ask questions and get advice. If it's something you're unsure of, they might even be able to do the work for you.
Stihl chainsaw dealers are often left with old and/or damaged machines for parts, some even take trade-ins for new saws. You never know what you'll find when you go looking for parts at your local Stihl Shop.
They will mostly have parts for more modern saws, like spark plugs for the MS 290, 310, 390 or chains for a Stihl MS251, rather than old Stihl parts, but they will also have sources in the community that they might share.
Some have even suggested looking for Stihl parts at the local Husqvarna dealer… what do you think?
---
Stihl Facebook Groups – Old Chainsaw Parts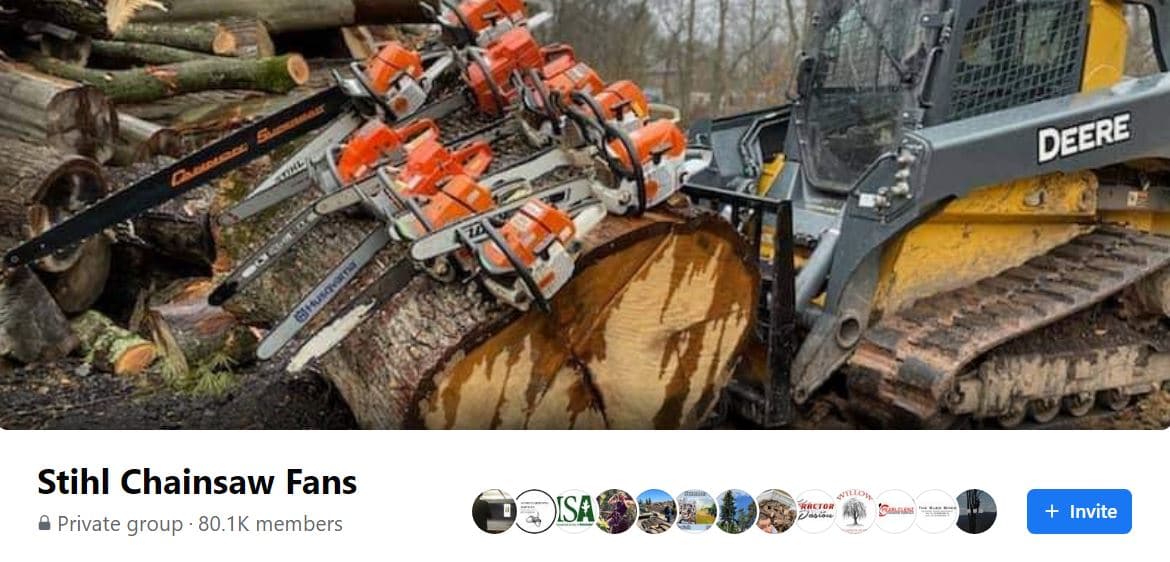 There are dozens, if not hundreds, of dedicated Stihl Facebook groups.
The largest is the Stihl Chainsaw Fans group which has over 80,000 members from all around the world in it. This might not be the best place to go looking for Stihl parts unless you can't find anything locally.
There are many statewide or city-wide chainsaw groups, many also dedicated just to Stihl Chainsaws. It's more than likely that someone in one of these groups has just the part you're looking for and no longer needs it. You'll even find parts for the oldest of saws.
Just the other day I saw a post in a local Facebook chainsaw group where a guy posted a pic of his antique chainsaw collection. While I didn't see any of the first Stihl chainsaws in his collection, he was asking to buy parts and saws if there were any on offer.
Because the collection was so impressive and people could see how much he treasured these saws, he was actually being given old chainsaws and parts left, right, and center!
Besides Facebook groups, Facebook Marketplace is also a good place to pick up used Stihl chainsaws and parts.
---
Stihl Chainsaw Parts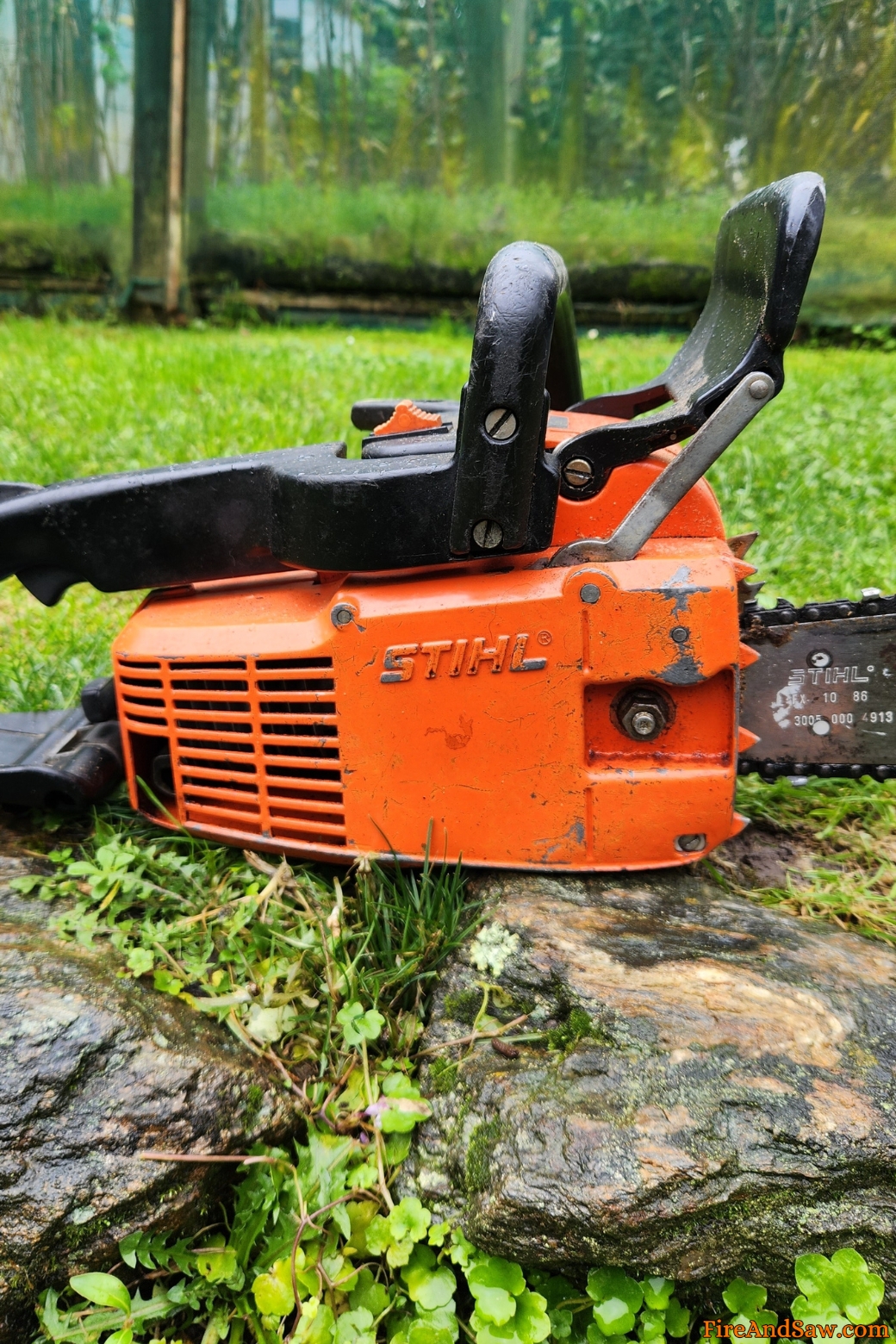 Those are 6 great examples of where to go to find parts for your Stihl Chainsaw – whether you have the Stihl 261 gas chainsaw, the Stihl MSA161 electric chainsaw, an old 011 AV, or anything else.
Buying Stihl parts online is very easy to do these days, and thankfully we can still find basically anything we need. Some of the older model chainsaws are getting harder and harder to find parts for, but they are still out there. You just have to look harder.
It's in these cases that FB groups can be the best place to find Stihl saw parts.
There are many Stihl parts out there, but they aren't all listed for sale. Some people can't be bothered and don't mind holding onto unneeded parts. However, when they see a question asking for a specific part I always see someone pop up to supply it.
All the best on your Stihl chainsaw modifications and repairs, and if there's somewhere we've missed that you like to go for parts, let us know down below. Lastly, have you ever heard why the chainsaw was first invented?